This Chocolate Cream Pie Recipe is a silky, smooth and decadent dessert that is perfect for any occasion! Homemade chocolate pudding is layered on a flakey pie crust. Top it with a light whipped cream topping and your favorite garnishes and you've got a chilled pie that is perfect for anything from cookouts to the Holidays!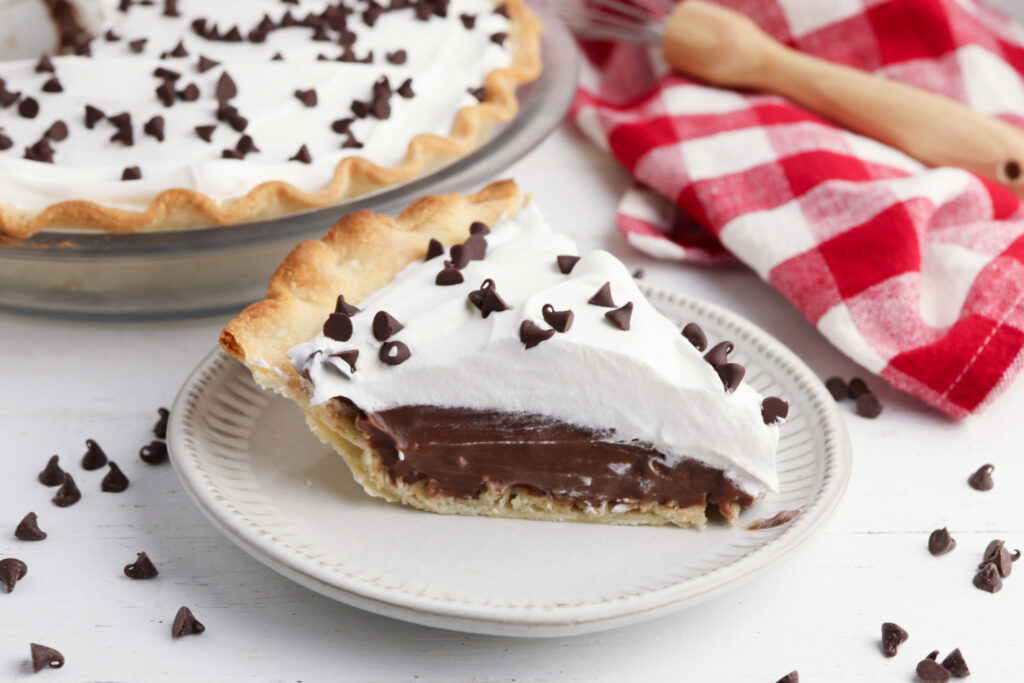 Why You Will Love Chocolate Cream Pie
RICH… BUT NOT TOO RICH: This is one of those great chocolate desserts that will satisfy even the most intense chocoholic, but it isn't too rich for your average dessert eater. I think it's that creamy chocolate pudding and the whipped topping that balances everything out!
PERFECT FOR ANY OCCASION: From a casual summer cookout to a formal holiday dessert table, this pie will work anywhere! There is ALWAYS room for chocolate pies!
GREAT TO MAKE AHEAD OF TIME: This is a great dessert for entertaining because you can make it ahead of time and let it just chill in the fridge before your guests arrive and it's ready to serve!
EASY: Yes. This is a HOMEMADE PIE. We aren't using any instant pudding or other shortcuts (aside from the pie crust!). Some of Chocolate Cream Pie Recipes call for just using Instant Pudding. We are all about shortcuts here at Bubba Pie, but we really think it's worth a little extra time to make this homemade pudding for your pie filling. Silky and rich. So yummy. But it is still an easy recipe that is pretty simple to follow. So this is still great for beginning bakers or to let your kids help out with.
Chocolate Cream Pie Recipe
Here are the ingredients you'll need to get started. Check out the recipe card below for step-by-step instructions.
MILK – We used 2% milk. You can use whatever you'd like because we are also pairing this with heavy cream, which will add fat, flavor and thicken things up.
HEAVY CREAM – Any brand is fine. I would not substitute anything for this. You'll really need the thickness and fat content of the heavy cream for this recipe to work.
CORNSTARCH – We will be mixing this into our pie filling to really help it set up and make sure it isn't runny. Making a cream pie with cornstarch is a MUST! You will add this to the milk and heavy cream and heat it over a medium-high heat.
EGG YOLKS – When added to the heated milk and cream, these egg yolks will also help thicken and set things up for for nice, firm yet light and creamy pie filling!
SUGAR – It's a pie. We need some sugar!
COCOA POWDER – This gives us an authentic, deep chocolate flavor in our pie.
SALT – Salt provides a great balance and complexity of flavor to most sweet dessert recipes.
BUTTER – Unsalted. If you only have salted, you can use that, but I'd maybe back of the amount of salt I'm adding to this recipe.
VANILLA EXTRACT – We really like to use quality vanilla extract in our recipes. Don't use the cheap stuff!
PIE CRUST – We used a premade, store bought 9 inch pie crust. If you'd like to make and use your own, go for it. Just make sure it has been fully cooled before putting the pie filling into it.
WHIPPED TOPPING – Again, Bubba Pie is all about easy recipes for everyone. So we used store bought whipped cream like Cool Whip in this recipe. But if you want to whip your own topping, more power to you!
MINI CHOCOLATE CHIPS – The garnish options for a chocolate cream pie are pretty endless. We just used mini chocolate chips on ours. Read below for some more ideas!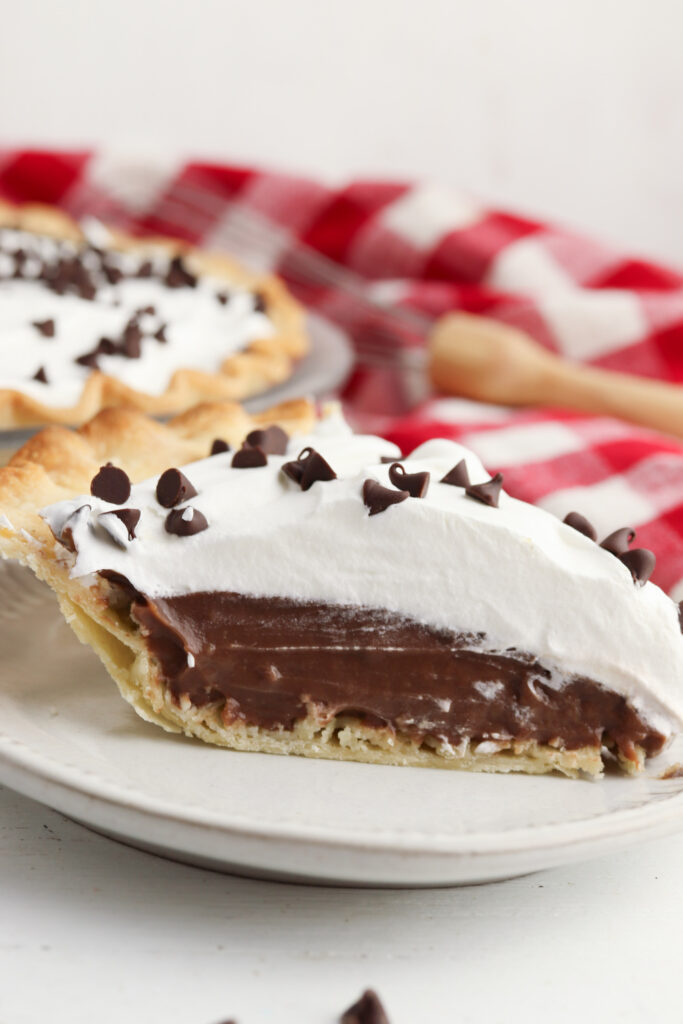 What Is The Difference Between A Chocolate Cream Pie and A Boston Cream Pie and a French Silk Pie?
Americans really love to mix and match ingredients, recipes and names of dishes. We are a melting pot, after all. The Boston Cream Pie originated in Boston back in the late 1800's. Back then, it actually was sometimes called a "Chocolate Cream Pie". Although now, they aren't anything alike. A Boston Cream Pie isn't even actually a pie, it's a cake that has a light vanilla cream or custard filling.
These days, a Chocolate Cream Pie is usually made with egg yolks and has a pudding/custard filling. This differs a bit from the French Silk Pie, which normally doesn't have any thickening agent in the pie filling (corn starch or egg yolks). So you'll get an even lighter "silkier" texture. But, as I stated above, the lines have been blurred. If you have any insight to these discrepancies, I'd love to hear them in the comments below!
Homemade Pie Crust Vs. Premade Pie Crust
If you've been on our site before, you know that we focus on simple, easy recipes that anyone can make. So, we usually opt for store bought pie crusts. No blind baking, no pie weights or beans… just so easy! There are plenty of recipes out there for homemade pie crusts if that is your thing. But, once again, if you are baking your own pie crust, you need to make sure it's fully cooled before you pour your chocolate pudding pie mixture in it. Some ideas would be: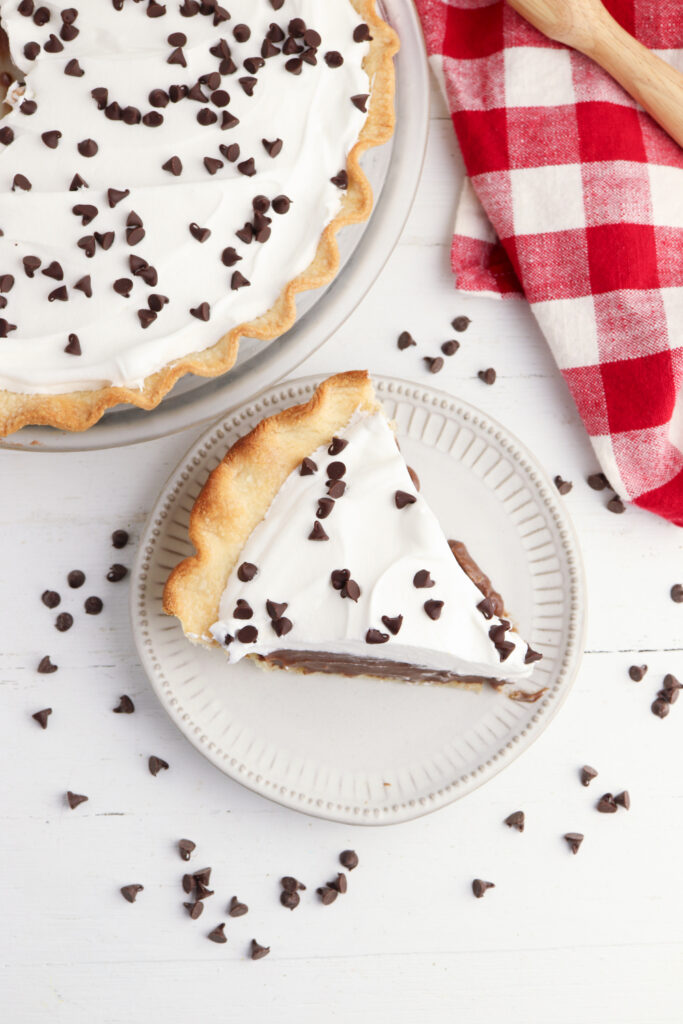 Storage and Freezing
You'll need to store leftovers in your refrigerator. This pie will stay good for 3-4 days. We love to use this pie dish that comes with it's own, fitted lid to help keep it fresh. Or just cover it with plastic wrap. You can make this pie ahead of time, I just wouldn't add the whipped topping until ready to serve.
Chocolate Cream Pie freezes well. Just wrap it in aluminum foil and it will stay good in your freezer for up to 3 months. Thaw it out in your fridge before eating. Or, some people like to eat it straight out of the freezer for a more frozen treat.
Why Is My Chocolate Cream Pie Runny?
Using the corn starch and the egg yolks go a long way to making sure you have a nice, firm pie filling. But the way you cook your pudding is SUPER important. It really isn't too hard at all, it just takes your attention. A lot of times, a runny pie happens because you didn't cook it long enough. You'll want to really watch your saucepan and cook until your ingredients bubbles (boil) in the middle. But you'll also need to be continuously stirring so you don't overcook the filling or scramble the eggs.
Toppings For Your Pie
We used Mini Chocolate Chips for our pie and it worked out great. But there are other options as well:
CHOCOLATE SHAVINGS – These can be really easy to make, just use a vegetable peeler and a quality bar of chocolate. They look so elegant and classy!
CHOCOLATE CURLS – Chill a bar of chocolate in the fridge for about 10 minutes. Use a spatula to press against the chocolate and it will begin to curl up.
NUTS – Sprinkle some sliced almonds, crushed pecans or walnuts on top.
OREO COOKIES – Either whole Oreos lodged in the whipped cream around the edge of your pie. Or crushed Oreos sprinkled all over. Yum!
COCOA POWDER – Save a little cocoa powder to dust onto your Whipped Topping.
CHOCOLATE SAUCE – Drizzle Chocolate Sauce over the top.
CHOCOLATE PEANUT BUTTER CUPS – Frozen, mini Reese's Peanut Butter Cups are crushed and sprinkled over top. Chocolate and peanut butter? Yes please!
We hope you absolutely LOVE this Chocolate Cream Pie Recipe. Please tell us your thoughts in the comments below. We respond to everyone and we love hearing from you!
Happy Eating!
LOOKING FOR MORE CHOCOLATE RECIPES?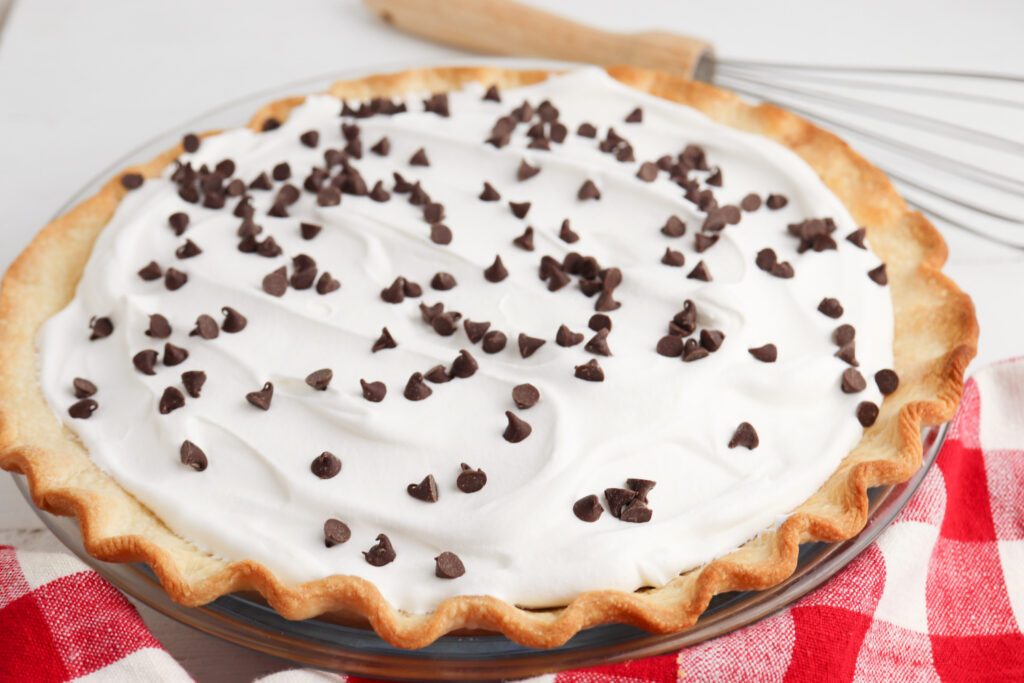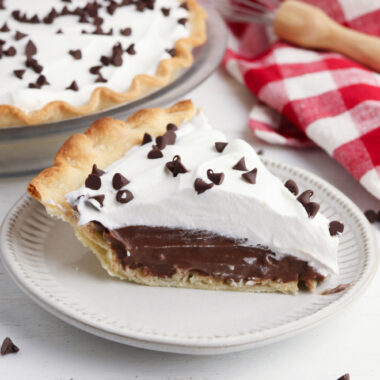 Rate this Recipe
Chocolate Cream Pie
This Chocolate Cream Pie is a silky, smooth rich dessert that is perfect for any occasion! This easy recipe has homemade chocolate pudding layered on a flakey pie crust. Top it with a light whipped topping and your favorite garnishes and you've got a chilled pie that is perfect for anything from cookouts to the Holidays!
Ingredients
2

cups

milk

1

cup

heavy cream

¼

cup

cornstarch

3

egg yolks

beaten

1

cup

sugar

½

cup

cocoa powder

½

teaspoon

salt

1

tablespoon

unsalted butter

1

teaspoon

vanilla extract

1 9-

inch

pie crust

baked

8

ounces

whipped topping

¼

cup

mini chocolate chips for garnish

optional
Instructions
Whisk together the milk, heavy cream, and cornstarch in a medium saucepan until the cornstarch is well mixed into the liquid.

Add the egg yolks, sugar, cocoa powder, and salt.

Cook over medium heat until the mixture begins to boil, stirring constantly.

Remove the pan from heat and add the butter and vanilla. Stir until the butter is melted.

Allow the filling to cool for around five minutes, then pour it into the prepared pie crust.

Place the pie in the refrigerator to chill for at least 4 hours or up to overnight.

Spread the whipped topping over the top of the pie and garnish with mini chocolate chips.
Nutrition
Love this recipe?
Follow @bubbapie for even more delicious recipes!!