These Pumpkin Cinnamon Rolls are the perfect breakfast treat on a Fall morning! Soft, gooey Cinnamon Rolls are infused with pumpkin flavors and topped with cream cheese icing!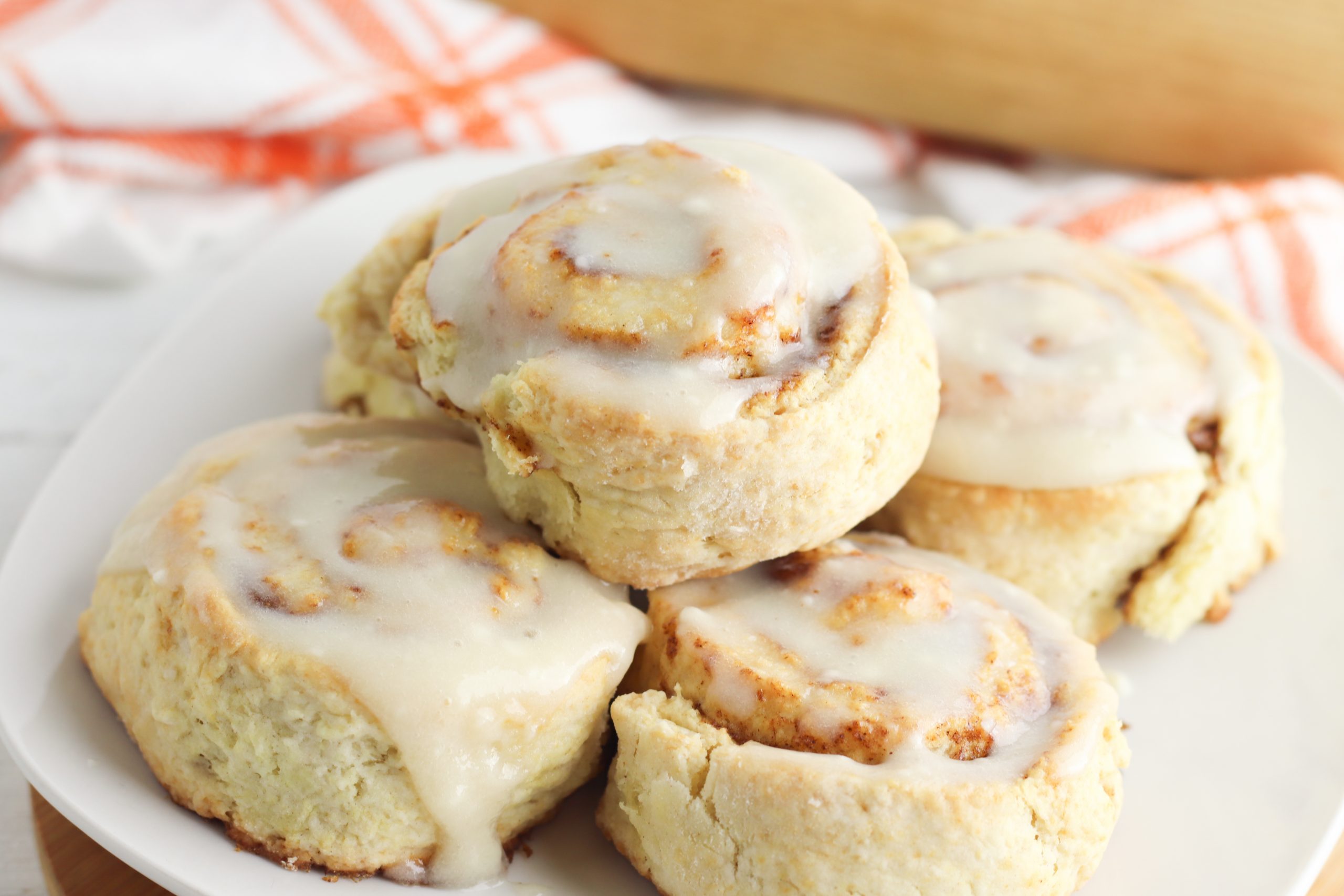 Why You Will Love These Pumpkin Cinnamon Rolls
EASY – With just a few, common pantry ingredients, we are willing to bet you already have most of what you need for this Cinnamon Roll Recipe! And it'ts so simple to make! It's a great recipe for beginners or to let the kids help out with.
FULL OF FALL FLAVORS – Pumpkin, cinnamon, butter and pumpkin pie spice team up to give these Cinnamon Rolls their unique flavor that is perfect for the Fall Season!
DELICIOUS – There are just like your favorite Cinnamon Rolls, but they have just a hint of Pumpkin Flavor. I love how it's not overpowering, but you can definitely taste the pumpkin!
Pumpkin Cinnamon Rolls
Is there anything better than walking down into the kitchen in the morning and smelling freshly baked Cinnamon Rolls. Or even just walking past a Cinnabon in the mall! This is a comfort food website and there is just something about Cinnamon Rolls that make you feel like everything is going to be just fine. Even on the coldest, most blistery Fall mornings.
I've always felt that Pumpkin and Cinnamon go hand in hand. There is just something about these two ingredients coming together that I absolutely LOVE. So this recipe was a no-brainer for me. For step-by-step instructions, check out the printable recipe card below. But here is what you'll need to get started:
FOR THE ROLLS:
All Purpose Flour
Butter, cut into small pieces
Sugar
Baking powder
Salt
Baking soda
Milk
FOR THE FILLING:
Butter, melted
Brown sugar
Pumpkin pie spice
Ground cinnamon
Pumpkin puree
FOR THE GLAZE:
Cream cheese, softened
Vanilla extract
Powdered sugar
Milk
How To Store Pumpkin Cinnamon Rolls
Honestly, these rolls are best served fresh out of the oven. Otherwise, putting them in the microwave for about 20 seconds before serving is advised. You can store them in an airtight container at room temperature and they should be good for about 3 days.
You can freeze these rolls, but not after you've put the Cream Cheese Frosting on top. Let them cool out of the oven completely, then wrap tightly in aluminum foil or freezer wrap. I'd wrap them all individually so you can take them out as needed. Don't forget to label and date them! They should be good in the freezer for up to 3 months.
Can You Make These Ahead Of Time?
If you want to skip out on waking up a little earlier in the morning to make these, you can make them at night and keep the dough in the fridge covered in your baking dish. Once again, you can make them up to step 6 and the dough should be good in the refrigerator for up to 12 hours. Wake up in the morning and pop them in the oven.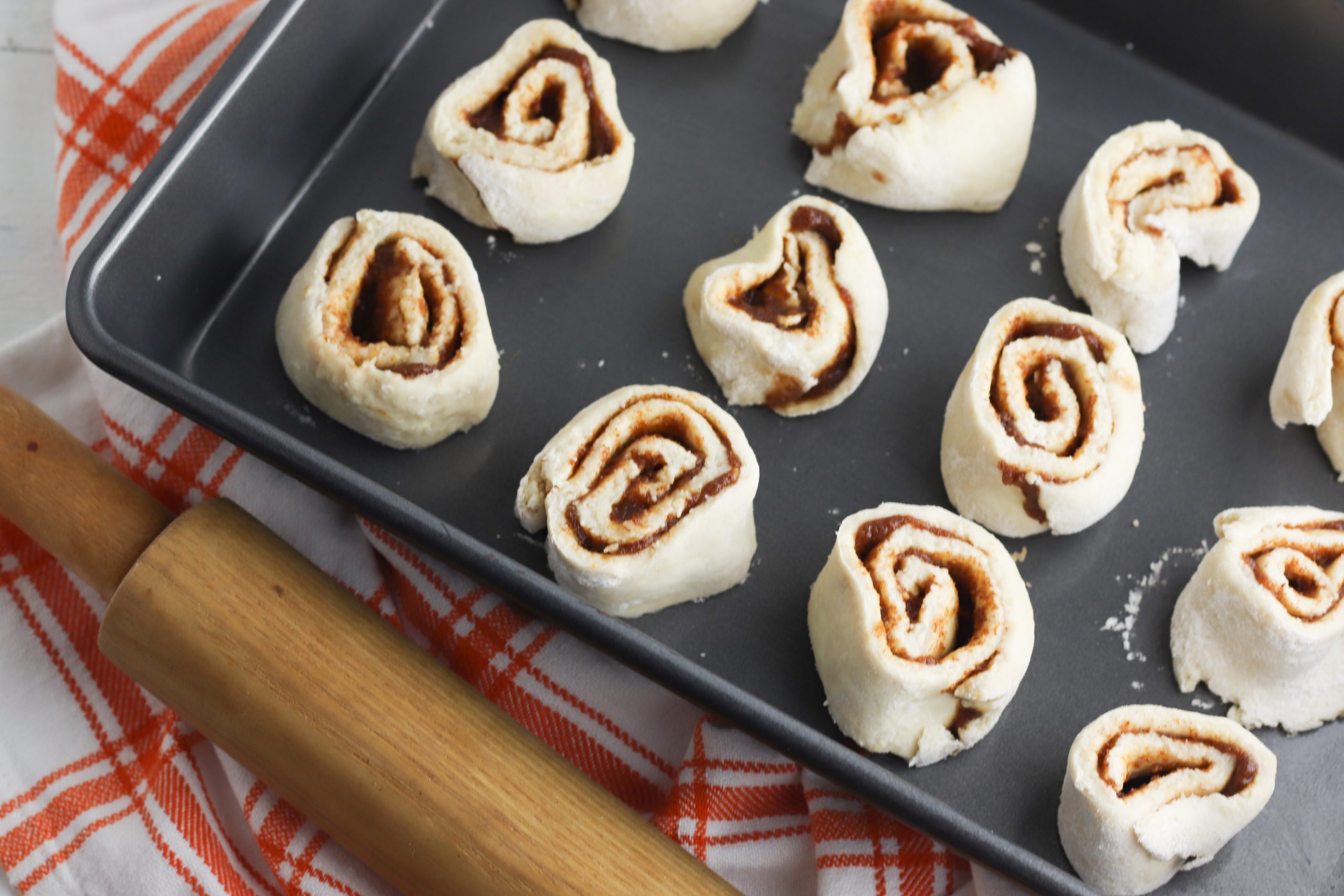 Notes, Tips and Variations
ADD NUTS!- Our son is allergic to tree nuts, so we aren't able to do this. But finely chopped walnuts or pecans would be delicious on these Pumpkin Cinnamon Rolls. Almond slivers could wok too! You can also sprinkle some cinnamon sugar on top as well!
HEAVY CREAM IN THE FROSTING- You can substitute the milk for Heavy Cream in the frosting if you'd like a thicker, creamier recipe. It's delicious but your gonna be adding some calories to this dish!
MAPLE ICING- If you really want to dive into the tastes of Autumn, try subbing out the vanilla extract in the glaze for 1/4 cup of real Maple Syrup. And I mean REAL Maple Syrup. I've been known to cut costs in my recipes, but something are worth the extra money. Real Maple Syrup is one of those things!
WORKING WITH THE DOUGH – The dough may be very soft when you are working with it to roll it out into a rectangle. You can roll the dough balls around in a bowl with grease to make them easier to work with. Once you roll your dough up into logs, it can also be challenging to slice it into rolls. I like to use a serrated bread knife for this.
Tools To Help With This Recipe
I hope you enjoy this recipe for Pumpkin Cinnamon Rolls. If you make them, I'd love to hear how they turned out in the comments section. Happy Fall and stay warm!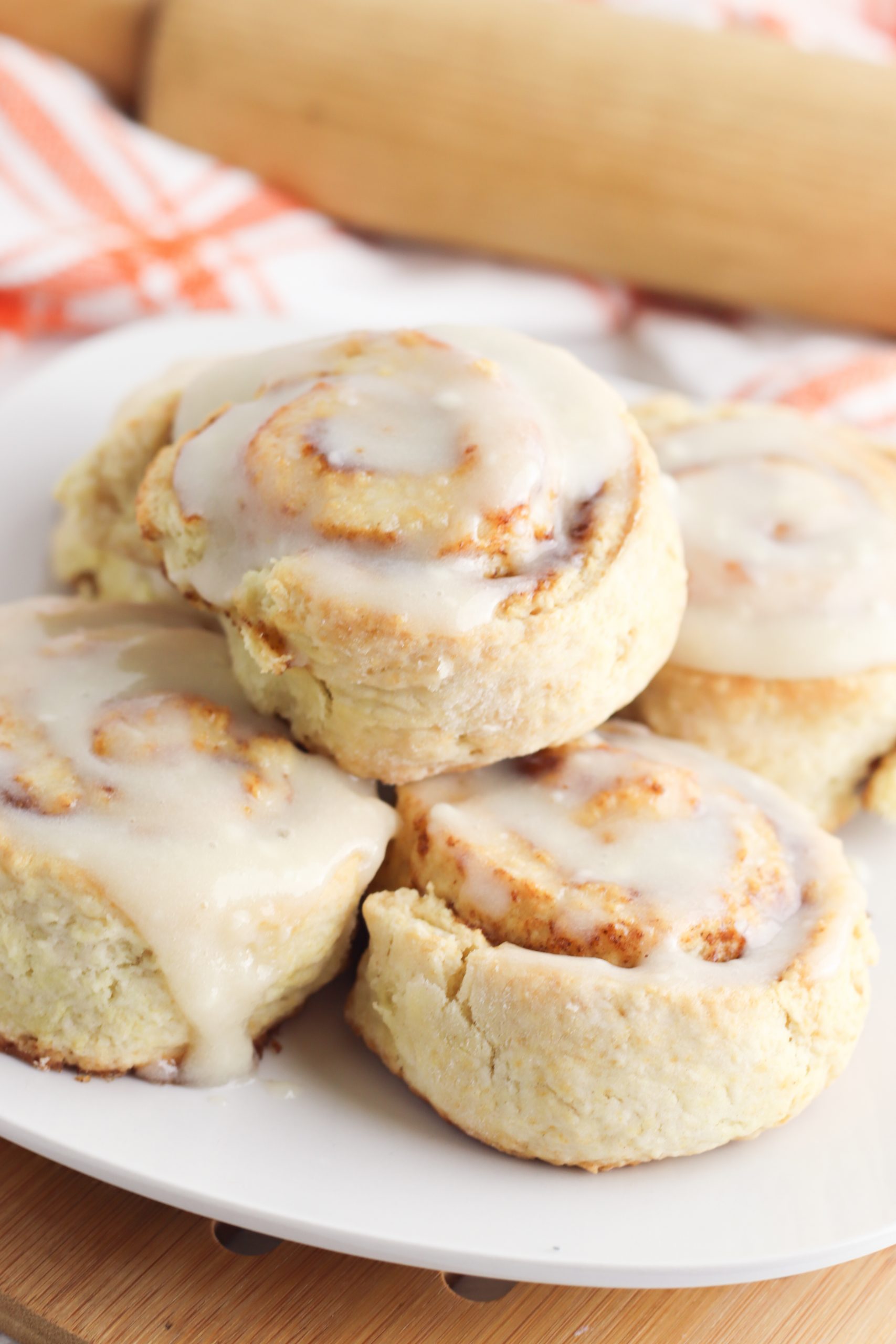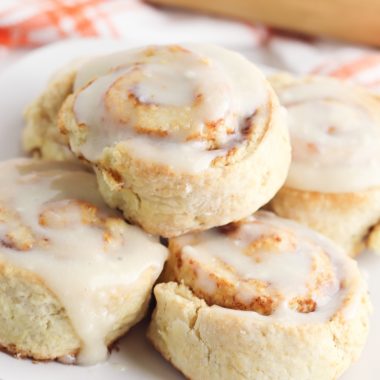 Rate this Recipe
Pumpkin Cinnamon Rolls
Loaded with Fall Flavor, these Pumpkin Cinnamon Rolls are the perfect comfort food for breakfast on a cold Autumn morning. Ooey Gooey Pumpkin Cinnamon Filling is baked in with freshly made rolls and topped with a sweet Cream Cheese Frosting. Yum!
Ingredients
For The Rolls
2

cups

flour

½

cup

butter

cut into small pieces

2

tablespoons

sugar

3

teaspoons

baking powder

½

teaspoon

salt

¼

teaspoon

baking soda

2/3

cup

milk
For The Filling
2

tablespoons

butter

melted

½

cup

brown sugar

1

teaspoon

pumpkin pie spice

1

teaspoon

ground cinnamon

¼

cup

pumpkin puree
For The Icing
2

ounces

cream cheese

softened

½

teaspoon

vanilla extract

1 ½

cups

powdered sugar

3 to 4

tablespoons

milk
Instructions
Preheat oven to 375 degrees and grease an 11x9 pan with butter.

Add the flour and butter to a large bowl and use a pastry blender or fork to blend until the mixture resembles coarse sand. Stir in the sugar, baking powder, salt, and baking soda until combined.

Add the milk and stir until a loose dough begins to form. Transfer the dough to a lightly floured surface and knead until a ball forms.

Make the filling by whisking together the butter, brown sugar, pumpkin pie spice, and ground cinnamon until well combined. Add the pumpkin puree and stir until mixed.

Separate the dough into two equal balls. Roll out the first ball until the dough is around ¼ inch thick rectangle.

Spread half the butter mixture over the top of the dough and roll the dough into a log shape.

Repeat the process with the remaining dough.

Use a sharp knife to cut the log into six equal pieces. Place each piece in the prepared pan, leaving space between each roll for the cinnamon rolls to spread as they bake.

Place the cinnamon rolls in the preheated oven and bake for 25 to 30 minutes, until they are golden brown on top and cooked through.

While the cinnamon rolls are cooking, make the glaze by beating together the cream cheese, powdered sugar, vanilla, and milk. Add more milk if needed to thin the glaze.

When the cinnamon rolls are done baking, spread the glaze over the top of each cinnamon roll before serving.
Nutrition
Love this recipe?
Follow @bubbapie for even more delicious recipes!!