This traditional Chocolate Zucchini Cake recipe is so delicious and easy to make! Made with 1 whole cup of shredded Zucchini and Greek Yogurt, it is healthier compared to other chocolate cake recipes. This one is topped with chocolate frosting but you can substitute chocolate chips for an even healthier dessert.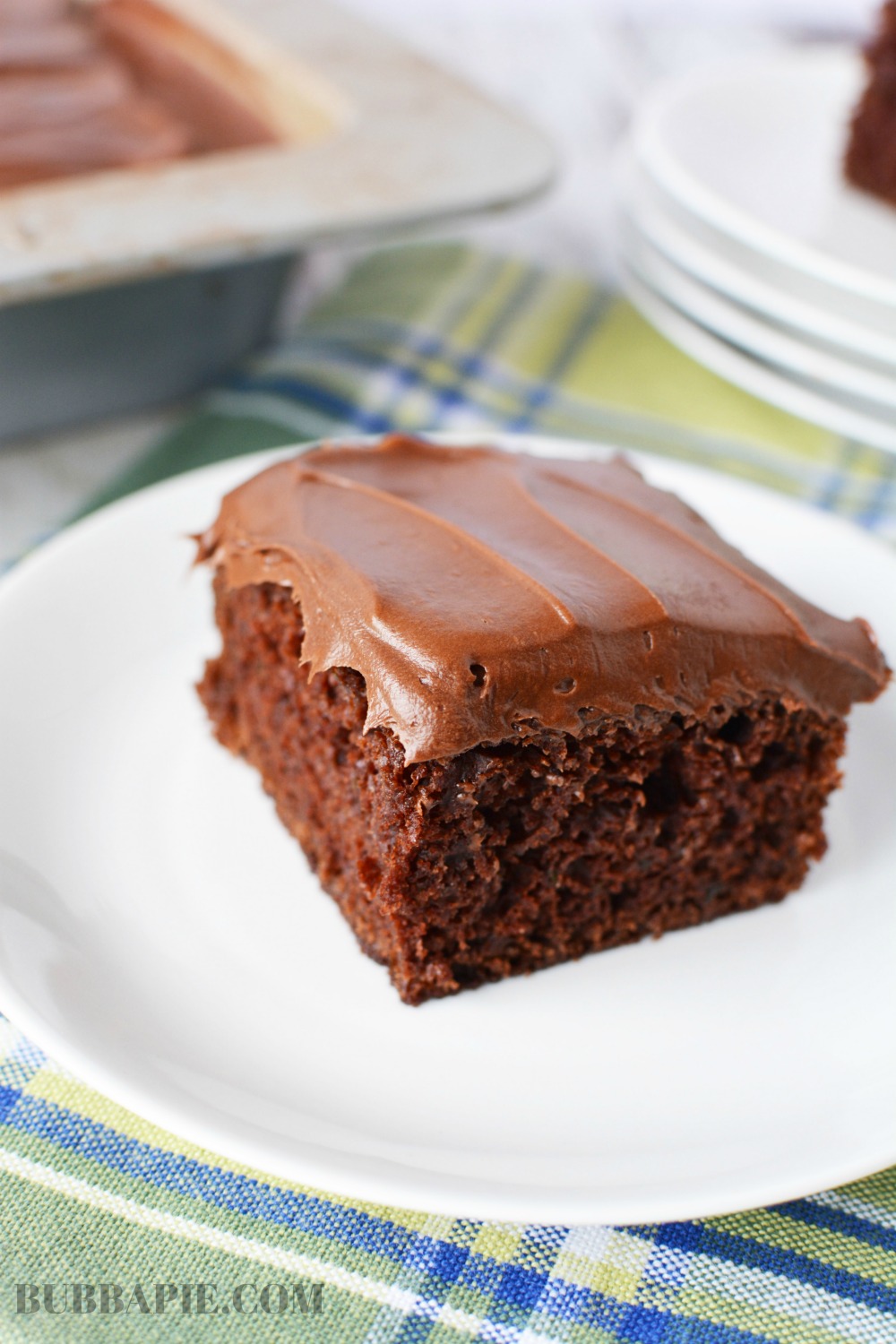 Fun Cake Recipes
When it comes to pastries or baked goods, there are a TON of different ways to make them. One fun and inventive way is to use fresh fruits or even vegetables in your baking recipes. We've all heard of Banana Bread or even Carrot Cake (I actually love these soft, zesty Carrot Cookies!), right!?! But you can get even more inventive! For instance, this bright and sweet Pineapple Sunshine Cake makes the perfect summer dessert recipe or these Pumpkin Chocolate Chip Muffins are an awesome Fall Treat.
I honestly wouldn't have thought to start putting vegetables in my dessert recipes if I hadn't grown up with my Mother's famous Chocolate Zucchini Cake Recipe. And I'd love to share it with you today!
Chocolate Zucchini Cake
Every year for my birthday I would request my mom make me a chocolate zucchini cake, I absolutely loved it! Zucchini? In a cake?  Yep!
If you have never tried one, the zucchini makes the cake moist and gives it such a wonderful flavor. When I made this for my kids, I didn't tell them what was in it, and they gobbled it up!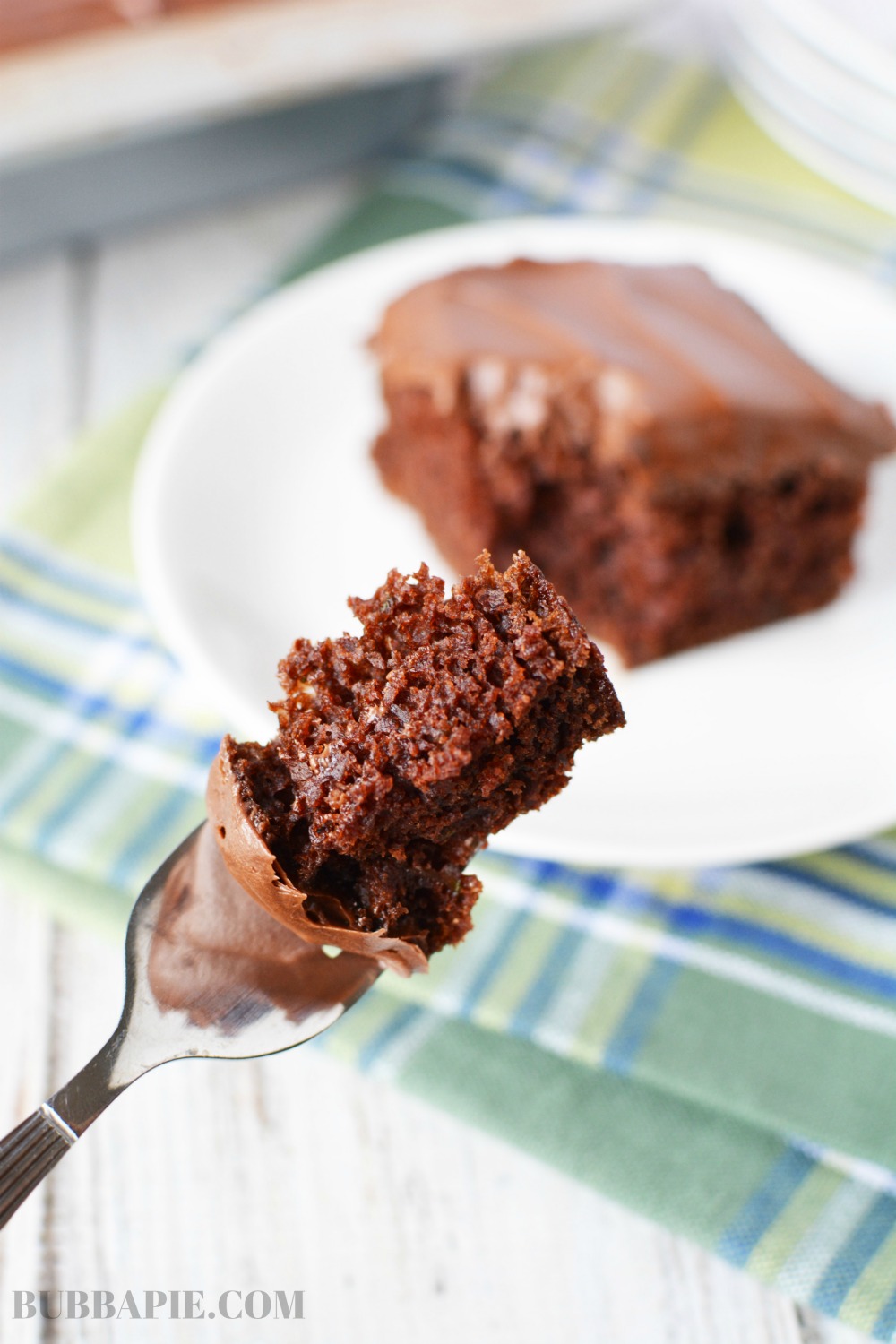 What Ingredients Will You Need For This Recipe?
I'm not going to mislead you, this is a DESSERT recipe, not healthy food. And this is a comfort food recipe site. But what I love about this recipe is that it does add some ingredients in to make this a tad bit healthier for you, like the Zucchini and the Greek Yogurt. And, I've got some tips to shave off a few extra calories if you want to as well!
Chocolate Zucchini Cake Ingredients:
Flour
Cocoa Powder
Cinnamon
Baking Powder
Baking Soda
Salt
Sugar
Egg
Vegetable Oil
Vanilla
Greek Vanilla Yogurt
Zucchini
Chocolate Frosting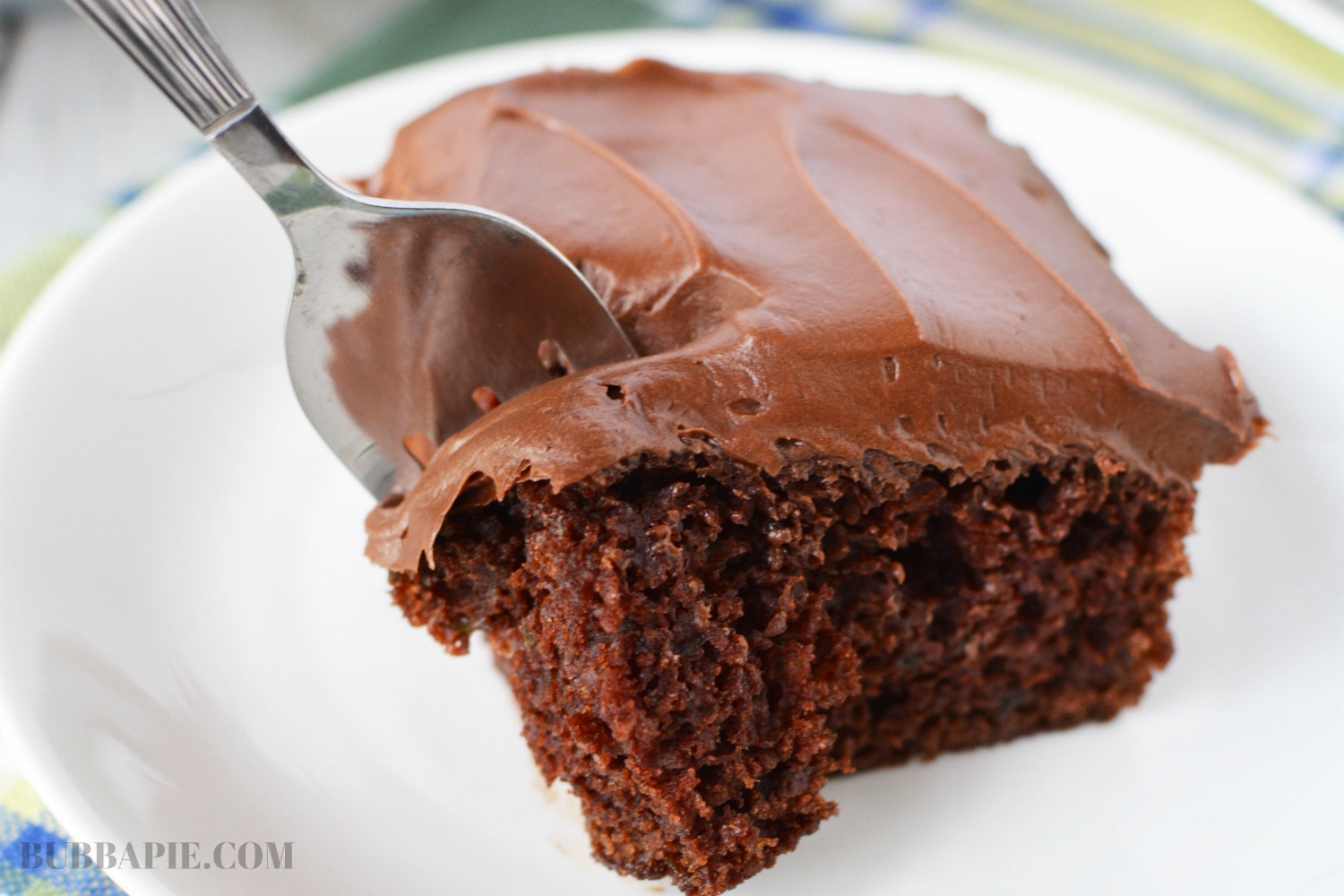 Can I Freeze This Cake?
Yep, if you need to make this ahead of time and freeze it before you need it, there should be no problem doing this. Like all cakes, you really don't want to freeze it AFTER you have decorated it. You want to apply the frosting to the cake as close as possible to when you are going to serve it.
In order to freeze the cake portion, simply:
Allow it to completely cool.
Wrap it in Saran Wrap or Press'n Seal
Store in a freezer safe container.
If you are forgetful like me, you may want to label the type of cake it is (if you make and freeze a lot of cakes?!?!). But you definitely want to put the date on it. You cake should be safe in freezer for 3-4 months. You can thaw the cake by simply leaving it in the refrigerator overnight or a couple of hours at room temperature.
Chocolate Zucchini Cake: Notes and Variations
CHOCOHOLIC? Add an extra burst of chocolate by folding chocolate chips into the batter. Any sort of chocolate chip should work, but I think semi-sweet or dark chocolate is best. You can even use the mini-chocolate chips if you want!
NON-CHOCOHOLIC? If you want to dial back on the frosting (and calories) you can do what my mom did. Instead of frosting the cake, she would sprinkle some chocolate chips on top while it was still warm. They would melt into a nice, thin layer of chocolate.
CUPCAKES! This can easily be converted into a cupcake recipe! Just put the batter into a lined cupcake pan and bake at the same temperature for 16-18 minutes. Just give it the "toothpick test" to make sure they are done before taking them out. This recipe should make about 18-20 cupcakes.
NO GREEK YOGURT? NO WORRIES! Don't have Greek Yogurt on hand? You can substitute Sour Cream if needed.
CUT SOME CALORIES? You can also cut some more calories by substituting some of the oil for unsweetened Applesauce. I wouldn't replace ALL of the oil though.
ROOM TEMPERATURE EGGS With baking, it's often the little things that really help out. Having eggs at room makes for a lighter and fluffier recipe. You can simply put them in a bowl of warm water for about 10 minutes while you are preparing everything else!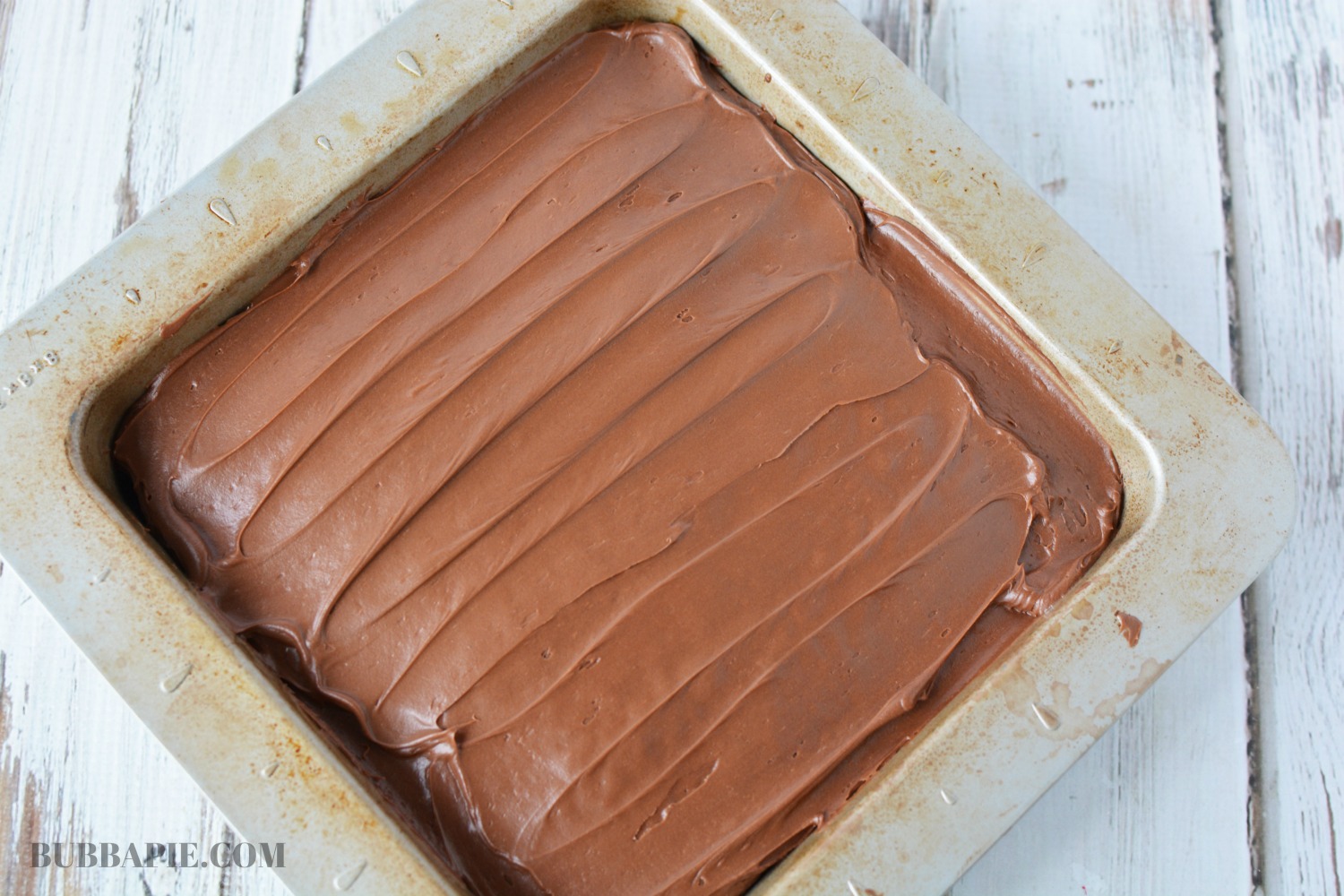 Tools To Help With This Recipe
I hope you enjoy this Chocolate Zucchini Cake recipe! Who knew that Zucchini and Chocolate Cake could get along so well together. Please let me know how this turned out for you in the comments. Happy baking!
FOR MORE DECADENT DESSERTS, CHECK OUT: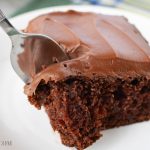 Chocolate Zucchini Cake
Ingredients
1

cup

flour

1/4

cup

unsweetened cocoa powder

1

teaspoon

cinnamon

1/2

teaspoon

baking powder

1/2

teaspoon

baking soda

1/2

teaspoon

salt

1

cup

sugar

1

egg

room temperature

2

tablespoons

vegetable oil

1

teaspoon

vanilla

1/3

cup

Greek vanilla yogurt

1

cup

shredded zucchini

1/2

tub chocolate frosting
Instructions
Preheat oven to 350 and grease a square 8x8 or 9x9 baking pan. Set aside.

In a small bowl, combine flour, cocoa powder, cinnamon, baking powder, baking soda, and salt and mix well.

In a separate, and larger mixing bowl, add sugar, egg, oil, and vanilla and mix well. Stir in yogurt.

Add dry flour mixture and stir well.

Pour batter into prepared pan and smooth with the back of a spoon so it's even in the pan.

Bake for 20 minutes or until a toothpick inserted in the center comes out clean.

Let cool completely before frosting and cutting into 9 squares.
Nutrition Facts
Chocolate Zucchini Cake
Amount Per Serving
Calories 152
* Percent Daily Values are based on a 2000 calorie diet.