These Pumpkin Rice Krispie Treats are such a simple dessert with only 5 ingredients! These classic treats from our childhood are infused with pumpkin for a subtle boost of Fall flavor!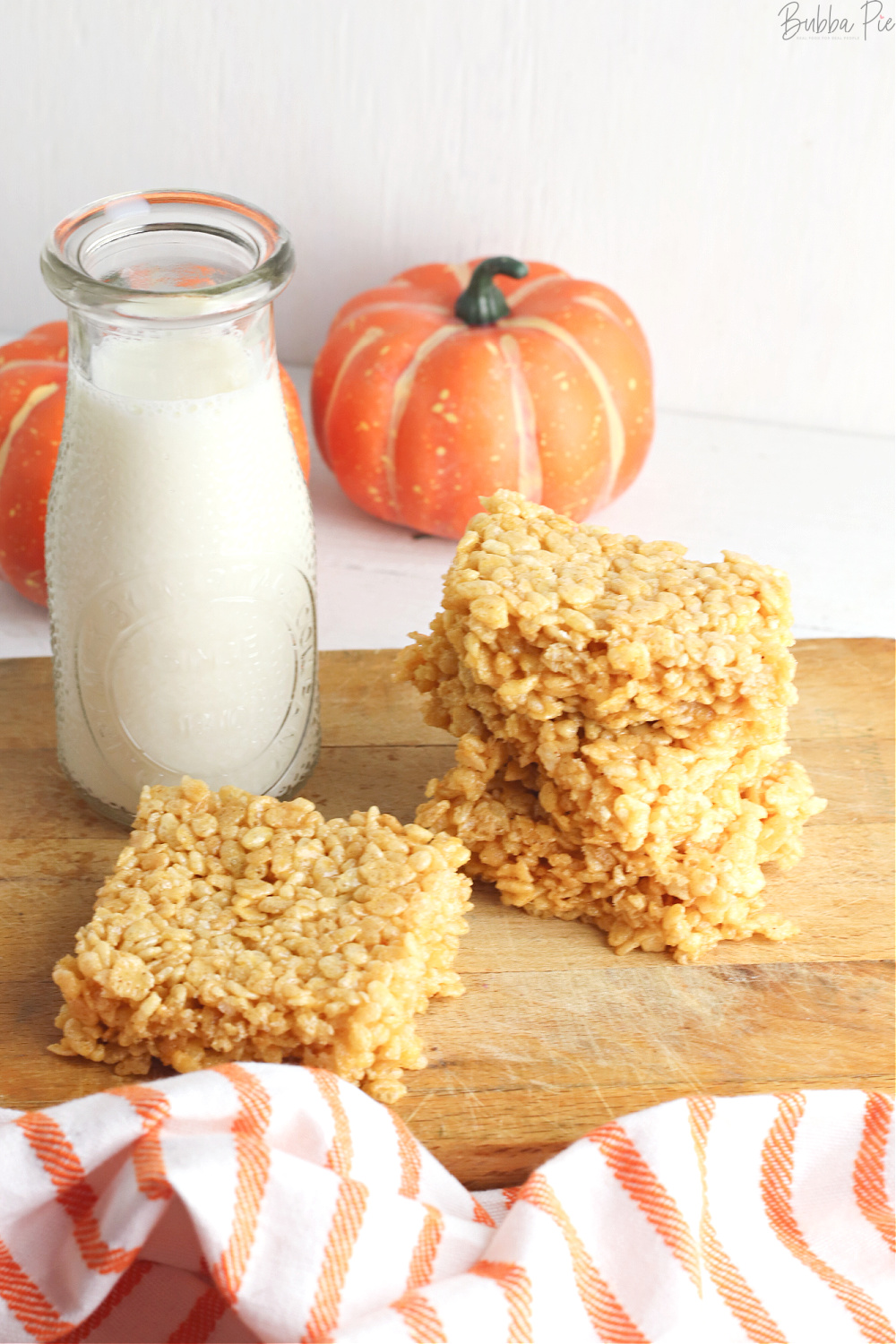 Why You Will Love Pumpkin Rice Krispie Treats
FULL OF FALL FLAVORS – We are at that time of year when we like just about everything with a bit of pumpkin spice added. Giving a pumpkin boost to this classic treat makes them perfect for a Halloween party or a Thanksgiving dessert.
EASY – With just a couple minutes of prep and only 5 ingredients, this is a simple, easy recipe that even the kids can help out with!
PERFECT TO SHARE – Bring them in for the office Halloween Party, potluck or pitch in. Or make some as gifts for friends, neighbors and family!
Pumpkin Rice Krispie Treats
These Pumpkin Rice Krispie Treats are the perfect recipe for the Fall. I love that they just have a hint of pumpkin flavor that isn't overbearing. They are sooo easy to make, only take 5 ingredients and are a great, kid friendly recipe so you can spend some fun time in the kitchen with your little ones on a cold October day!
For step-by-step instructions, check out the printable recipe card below. But here is what you'll need to get started.
PUMPKIN PUREE – Just need two tbsp to add a dash of pumpkin flavor. Make sure you are using pumpkin puree and not pumpkin pie mix. They are not the same.
BUTTER – Unsalted butter. Melt butter in a large saucepan or stockpot to make your treats.
MINI MARSHMALLOWS – You can use regular sized marshmallows if that's all you have. But the mini ones melt better.
RICE KRISPIES – Or any crisped rice cereal.
PUMPKIN PIE SPICE – If you don't have pumpkin pie spice, check out the homemade recipe below.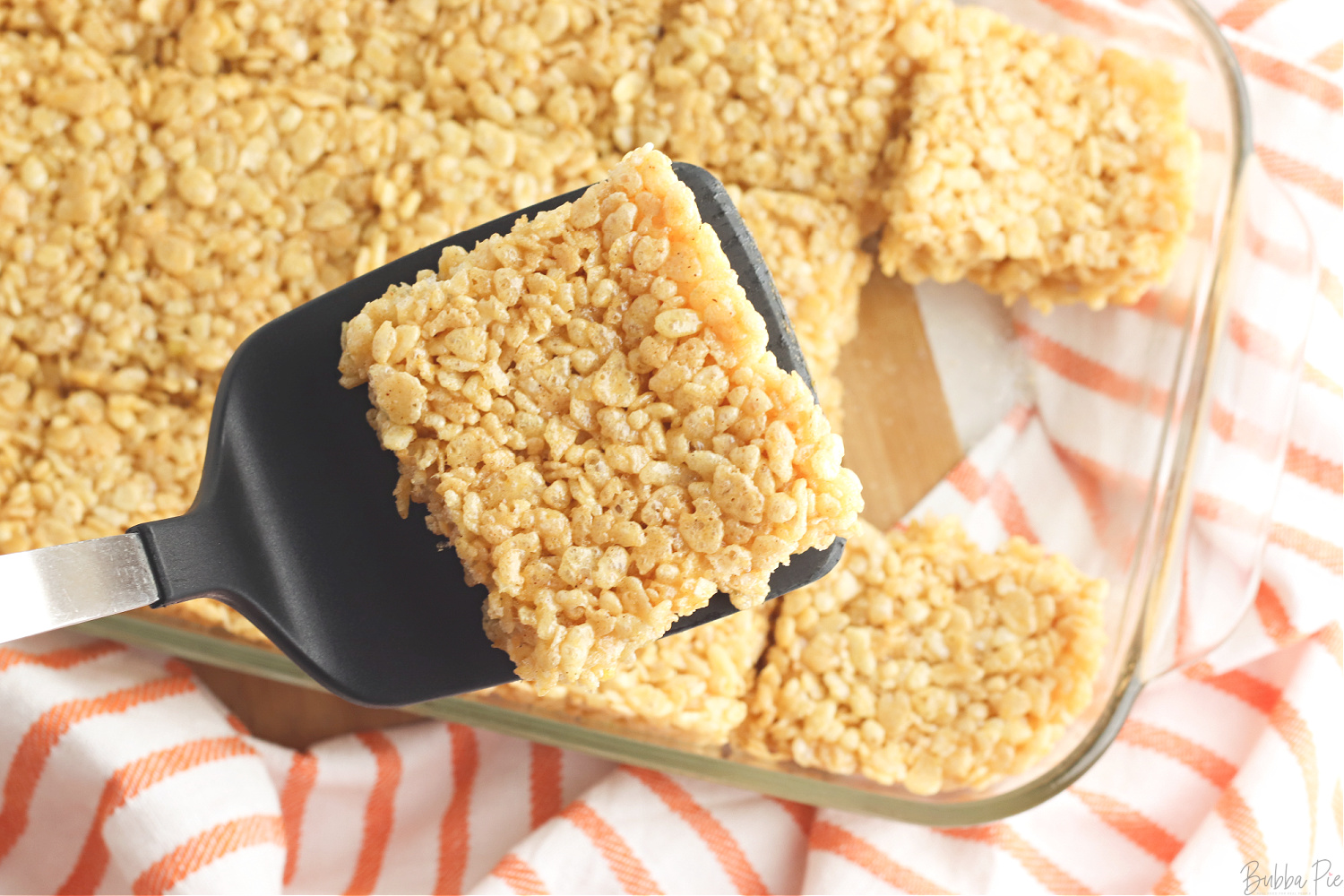 Notes, Tips and Variations
As usual, we have kept things pretty simple and straightforward with this recipe for Pumpkin Rice Krispie Treats. But that doesn't mean you can't get creative with this recipe. Here are some ideas:
NO PUMPKIN PIE SPICE?-You can sub this ingredient and get just about the same result by adding 1/2 tsp cinnamon 1/4 tsp nutmeg and 1/4 tsp allspice.
DECORATE- These would look and taste great with some icing on top. A standard sugar icing or a white chocolate drizzle would be delicious!
MAKE THEM INTO PUMPKIN SHAPES! – Or, use a Pumpkin Shaped Cookie Cutter to make them into mini pumpkins. You can even use some icing to make a stem and a leaf on top. And add a couple drops of orange food coloring to give an even darker orange color.
LEFTOVER PUMPKIN PUREE- As I mentioned above, we are making a ton of Pumpkin flavored desserts this time of year. And they all take different amounts of Pumpkin Puree. What I love about this recipe is that it only takes 2 tbsp. So, it's a great recipe to have in your pocket if you have just a bit of Pumpkin Puree left over from another recipe!
MAKE AHEAD OF TIME- This is a recipe that will definitely need to sit for an hour to firm up before you can eat it. So, plan accordingly if you are making this for guests.
PREPARE YOUR BAKING DISH – Make sure you use cooking spray or spread butter into your baking dish to prevent sticking.
STICKY HANDS? – Making these treats can be a sticky process. Spray your hands with cooking spray to help!
Tools To Help With This Recipe
I hope you enjoy this Pumpkin Rice Krispie Treats Recipe! Have a great Fall season and stay warm out there!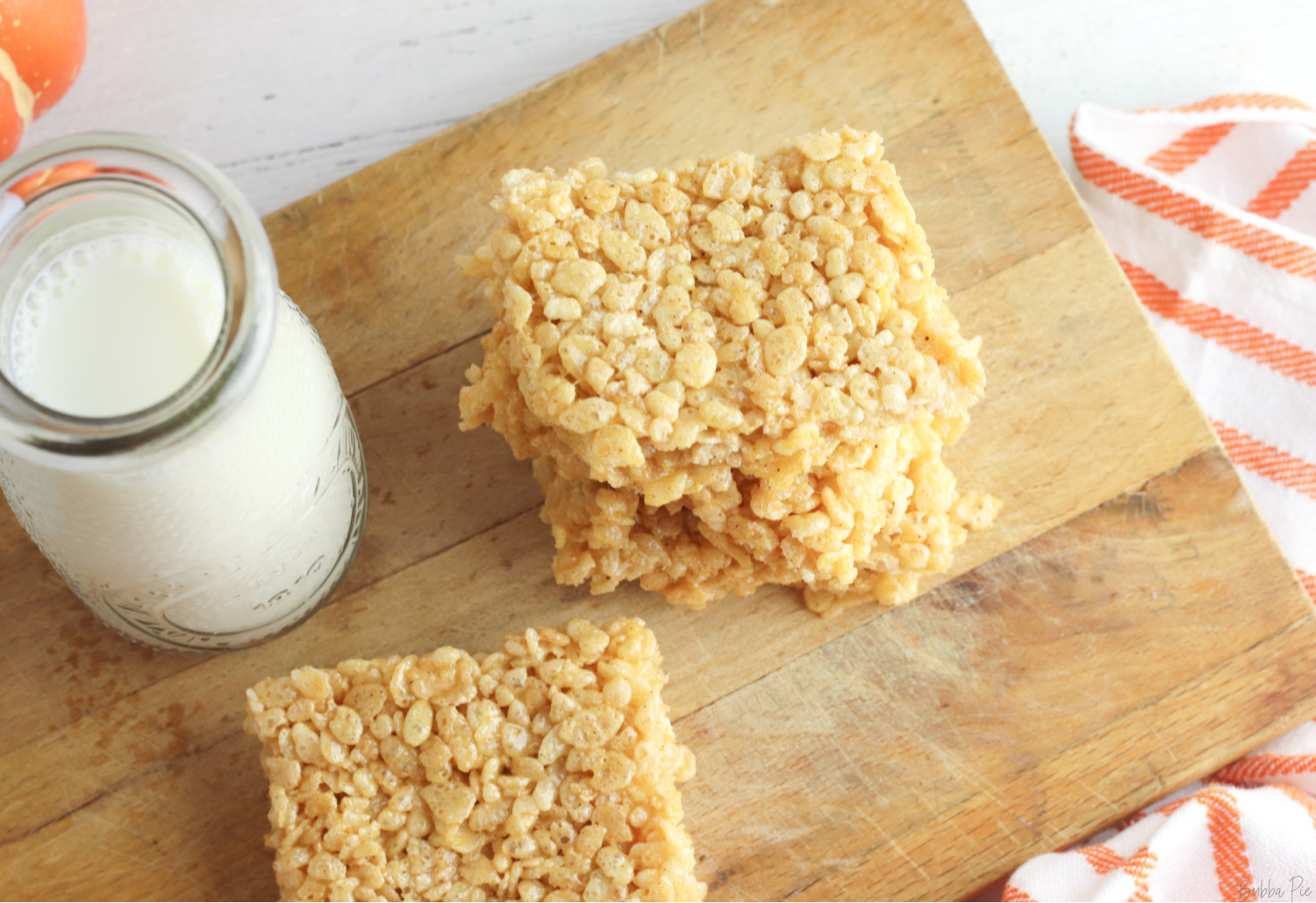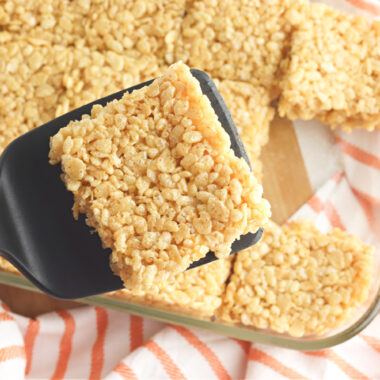 Rate this Recipe
Pumpkin Rice Krispie Treats
Dip one toe into traditional Fall flavors and another toe into your childhood with these Pumpkin Rice Krispie Treats. With only 5 ingredients, you'll be able to infuse these classic treats with a subtle flavor of pumpkin.
Ingredients
2

tablespoons

pumpkin puree

3

tablespoons

butter

1 16-

ounce

package mini marshmallows

6

cups

Rice Krispies

½

teaspoon

pumpkin pie spice
Instructions
Spread the pumpkin puree over a paper towel to soak excess moisture out of the pumpkin.

In a large stock pot, heat the butter over medium heat. When the butter is melted, add the mini marshmallows and stir until they begin to melt.

When the marshmallows are melted, remove from heat and stir in the pumpkin and pumpkin pie spice until well combined.

Add the Rice Krispies and stir until evenly coated.

Press the mixture into a 9x13 dish and allow to rest for at least one hour before cutting and serving.
Nutrition
Love this recipe?
Follow @bubbapie for even more delicious recipes!!