This Southern Bread Pudding Recipe is the ultimate comfort food. Super simple to make, this homemade classic recipe makes the perfect dessert for just about any occasion.

What Is Southern Bread Pudding?
I remember asking this the first time I ever saw this on a menu. I knew what bread was, and I knew what pudding was. But I couldn't picture the two together.
Bread Pudding, it turns out, is extremely popular in a ton of different countries and can be found under just as many different names. From a "Wet Nelly" in the UK to a Schwarzbrotpudding in Germany and everywhere in between. Here in the United States, it is very popular down south. There are both sweet and savory versions, the former served as a main course and the latter as a dessert.
It's usually a combination of bread (sometimes hard or stale), custard (milk or cream, vanilla and sugar), spices and eggs combined with some sort of sweet sauce. This could be a rum or whiskey based sauce, a caramel sauce or the traditional vanilla sauce.
It's best served warm with dollop of ice cream on top!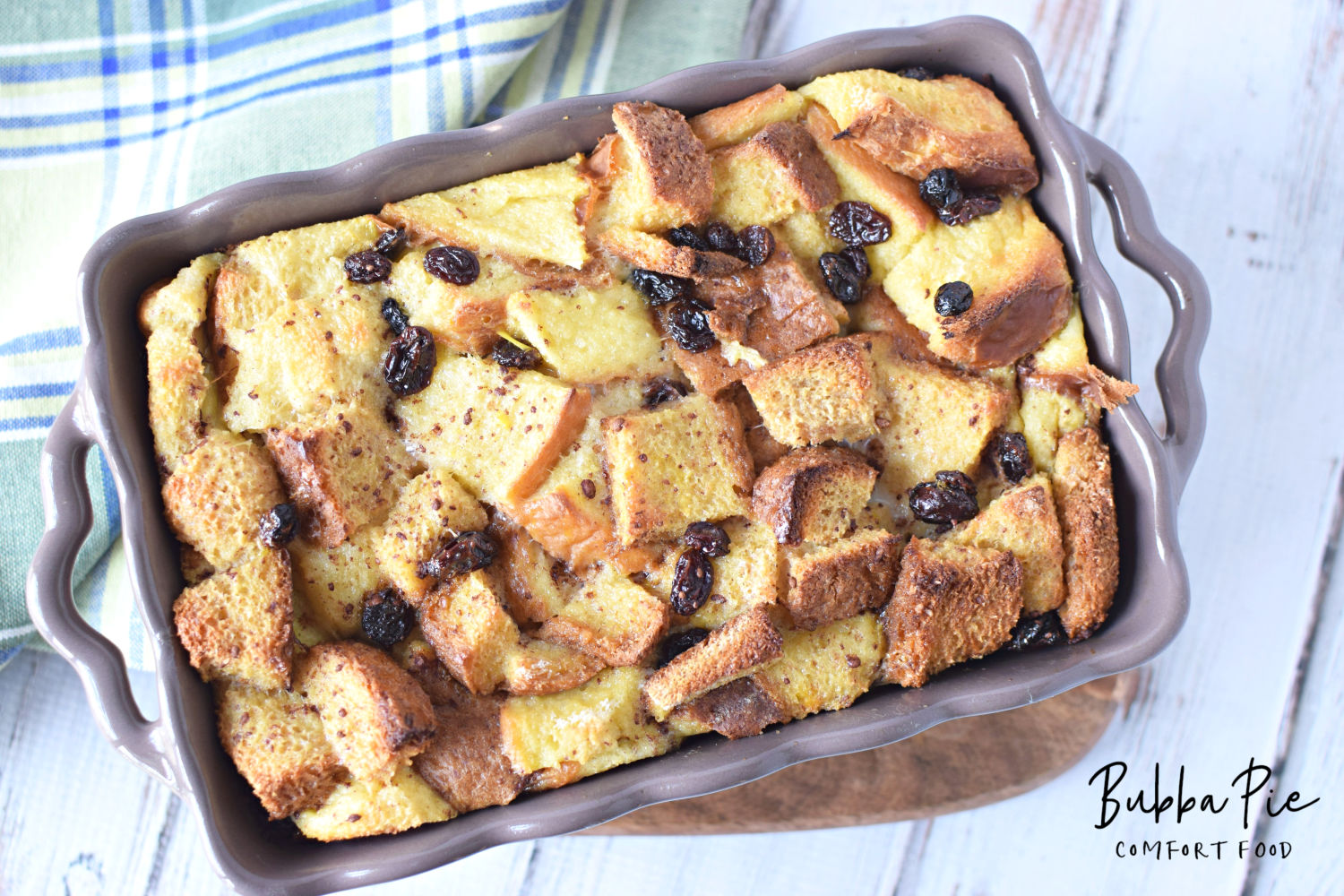 What Kind of Bread Is Best For Bread Pudding?
You are going to want to pretty stout bread that will be able to stand up to the liquid being introduced. You don't want it to end up too soggy. This is why some people choose fairly hard or even a bit stale bread. Some good examples would be Challah, Brioche, or even French Bread.
You will definitely want bread that you can buy in a loaf and that will be easy to cube. I'd avoid sliced sandwich bread at all costs.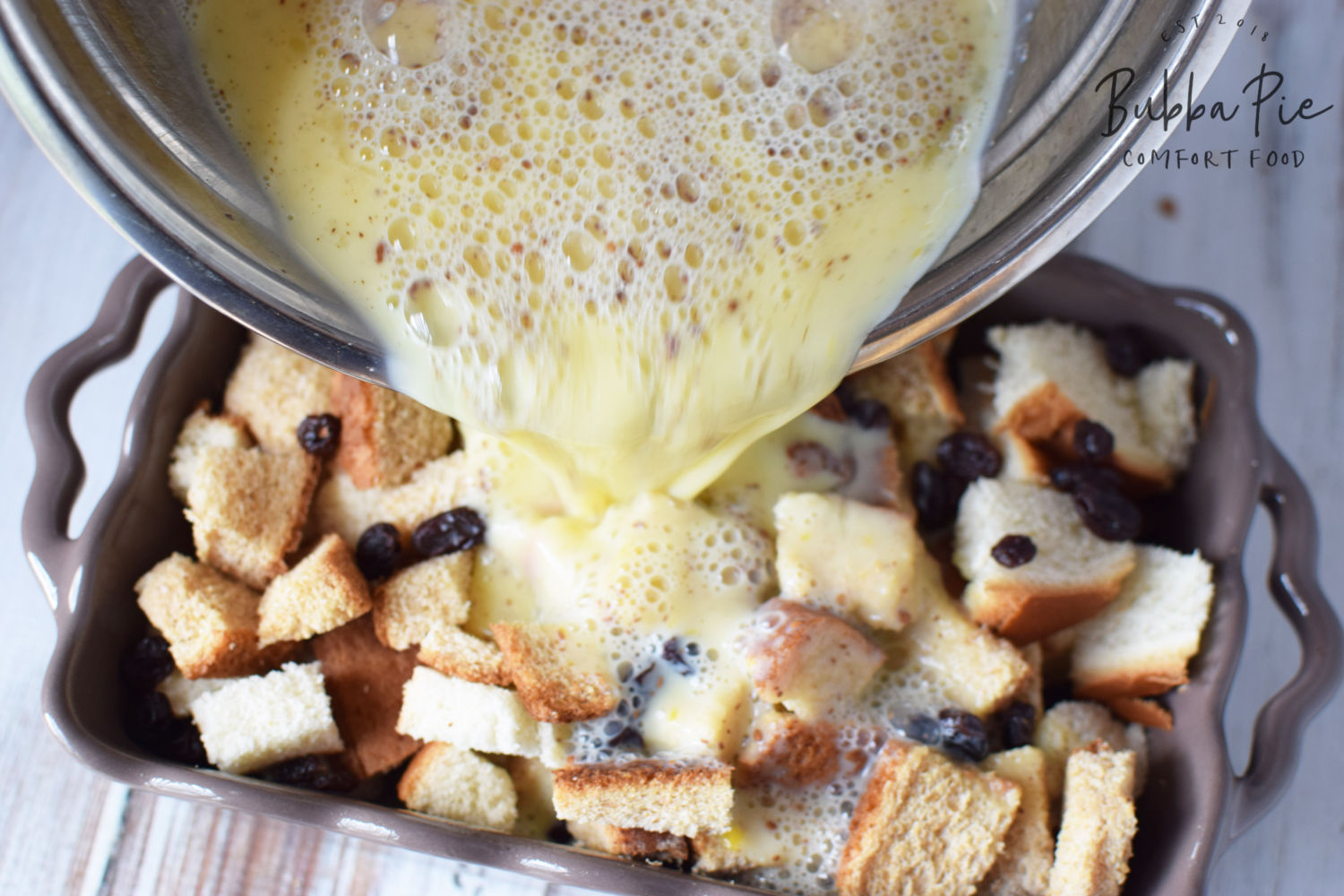 Southern Bread Pudding Recipe
I never put a lot of thought about exactly what ingredients you need for a bread pudding recipe.  But, like a lot of great comfort food, it really is pretty simple.  Most of these ingredients, you probably have in your kitchen right now.  It always boggles my mind to think about how many great things that I could make right this minute without even having to go to the store.  I've had the ingredients to make this bread pudding recipe all this time, and it never occurred to me to combine them together in this way to get this result.  That is the beauty of cooking. Here is what you will need:
Bread (Hard or Stale Bread)
Raisins
Eggs
Milk
Sugar
Vanilla
Cinnamon
Notes and Variations
Mix It Up! Feel free to use two different kinds of breads for some different textures in your dish.
Dried Fruits! We have raisins in this recipe but you can omit them if you'd like. Or try some different dried fruits instead! I think dried apricot would be awesome in this dish!
Nuts! We have some nut allergies in this family, but putting in some walnuts or slice almonds sounds delicious.
Add Nutmeg. I've seen some recipes that add 1/2 tsp of nutmeg in. Give it a try if that sounds good!
Honey. Try drizzling with some warm honey just before serving. Yum!
Suggested Bakeware: We love to bake casseroles in our

Le Creuset Casserole Dish

because it comes with a lid! You can just keep your leftovers right in your casserole dish in the fridge! Or, if you are looking for something a little less expensive,

this one works great too

!

Or, you can get this 6 piece non-stick oven bakeware baking set. It comes with just about ANY pan you'll ever need to bake with! From muffins to bread loafs to cookie sheets. And it's only $26.00!!!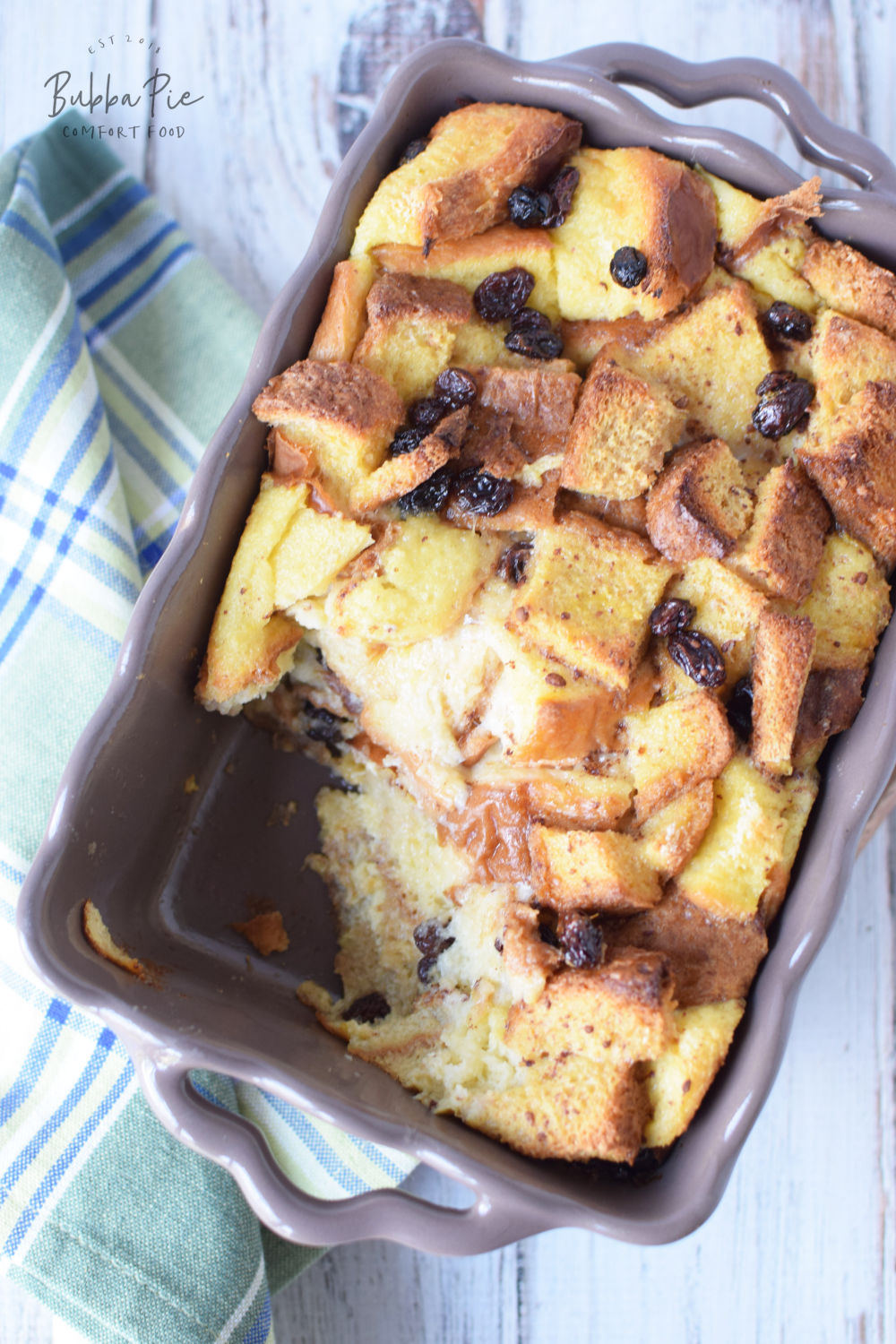 I hope you enjoy this easy bread pudding recipe.  Let me know what you think!
For more delicious bread recipes check out: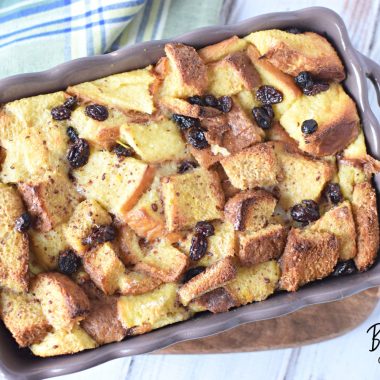 Rate this Recipe
easy bread pudding recipe
This easy bread pudding recipe is the ultimate comfort food. It is super simple to make and is the perfect dish to warm you up inside on a cold day.
Ingredients
4

cups

1" bread cubes

-I use 4 slices white bread and 4 slices wheat bread

1/3

cup

raisins

-you can also use dried cranberries or dried cherries

4

eggs

2-1/2

cups

milk

1/2

cup

sugar

1

teaspoon

vanilla

1/2

teaspoon

cinnamon
Instructions
Preheat oven to 350 and grease a 12 X 9 casserole dish with nonstick cooking spray.

Layer bread in dish with raisins. Continue until dish is full.

In a separate mixing bowl, add eggs and beat well.

Stir in milk, sugar, vanilla and cinnamon.

Pour mixture over bread making sure to coat all pieces. If necessary, push the back of a spoon into the pan to make sure all the bread is coated in the egg mixture.
Nutrition
Love this recipe?
Follow @bubbapie for even more delicious recipes!!