These carrot cookies are a delicious, easy dessert recipe. Soft and chewy, they are made with fresh carrots with hints of cinnamon, nutmeg and ginger!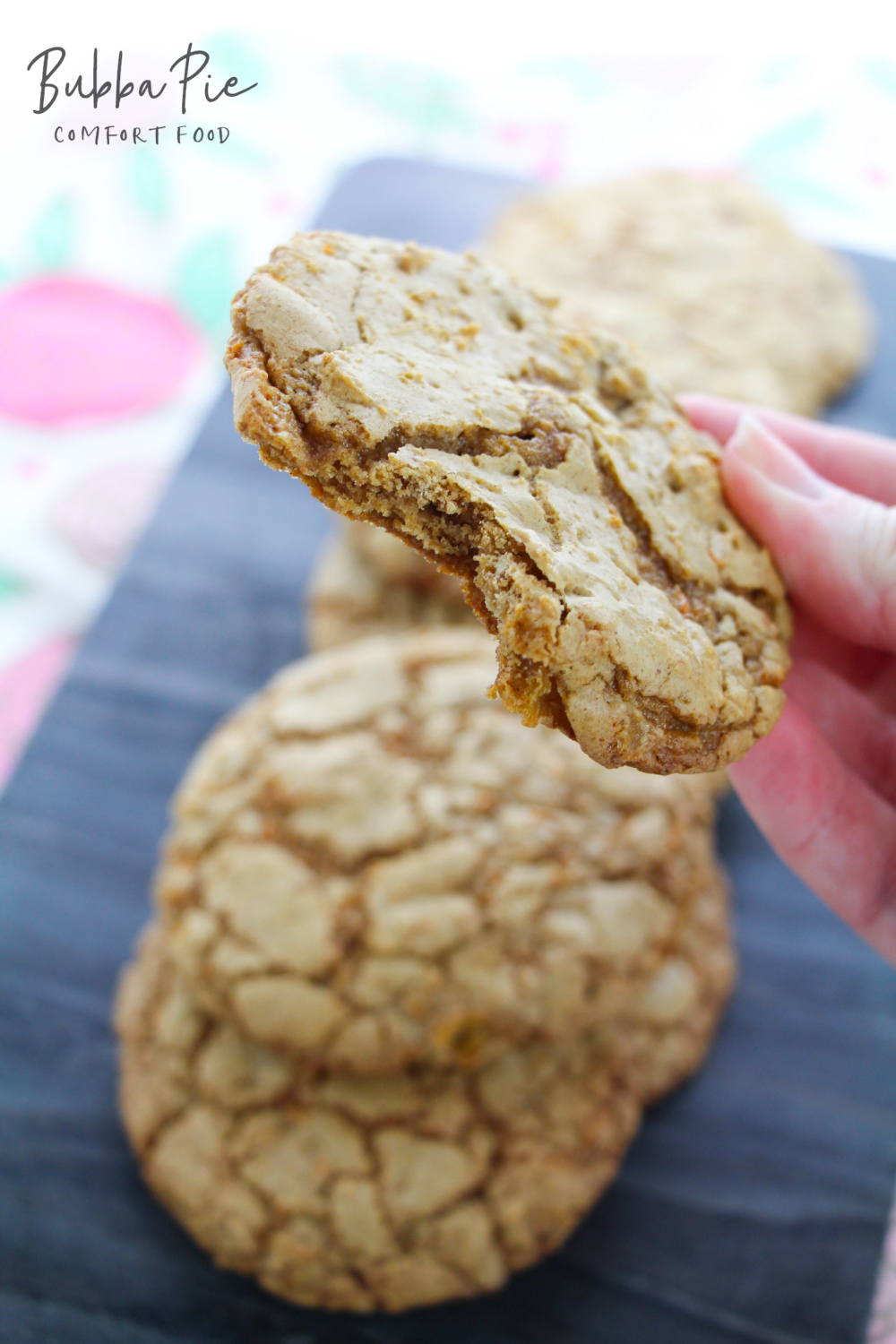 Cookies + Carrots?  Yes Please!
I have a serious Carrot Cake addiction. I used to work at the Cheesecake Factory, who has the BEST CARROT CAKE EVER! While it is soooo good, it has 122 grams of fat per serving so it isn't something we can eat every day. I needed a way to get my carrot fix without having to have a whole slice of cake. Something…. bite sized.
So, it occurred to me that these carrot cookies would be fun to get our carrot cake fix in small doses.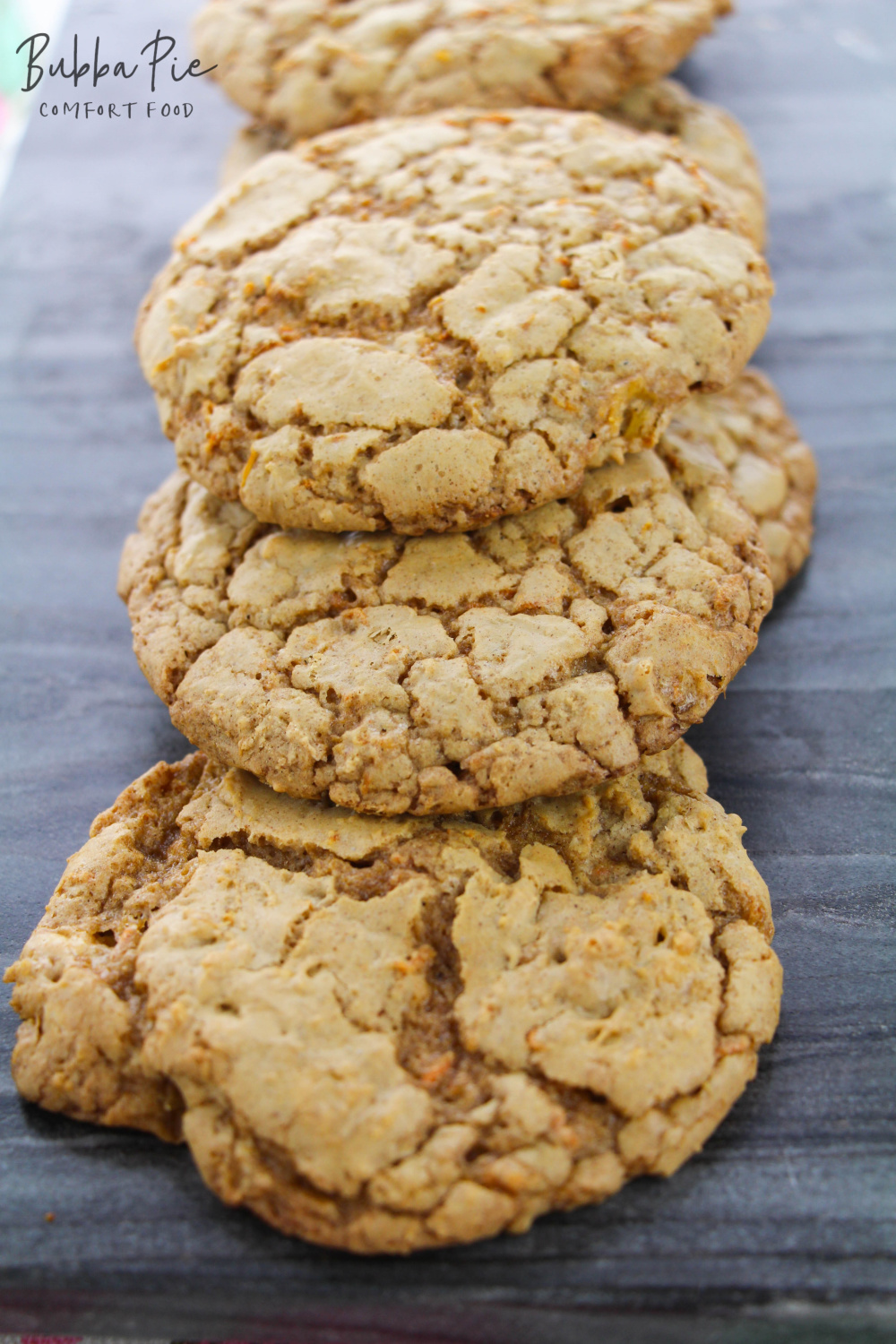 Carrot Cake Cookies
These carrot cake cookies work just fine all by themselves. There are also a couple different things you can do to liven these cookies up if you want to.  You can put some cream cheese icing on top.  Either slather a whole bunch on top or drizzle it on.  If you're really feeling reckless, these carrot cookies are great to make "sandwiches" with.  Just take two of them and put come icing between them.  Yum!
In fact we also have a delicious recipe for CARROT CAKE BREAD that we put Cream Cheese Icing on. Check out that recipe too!
Since it is the new year and we are trying to eat a little healthier, we decided not to go the icy route for this batch, but I can certainly see us trying it out later on!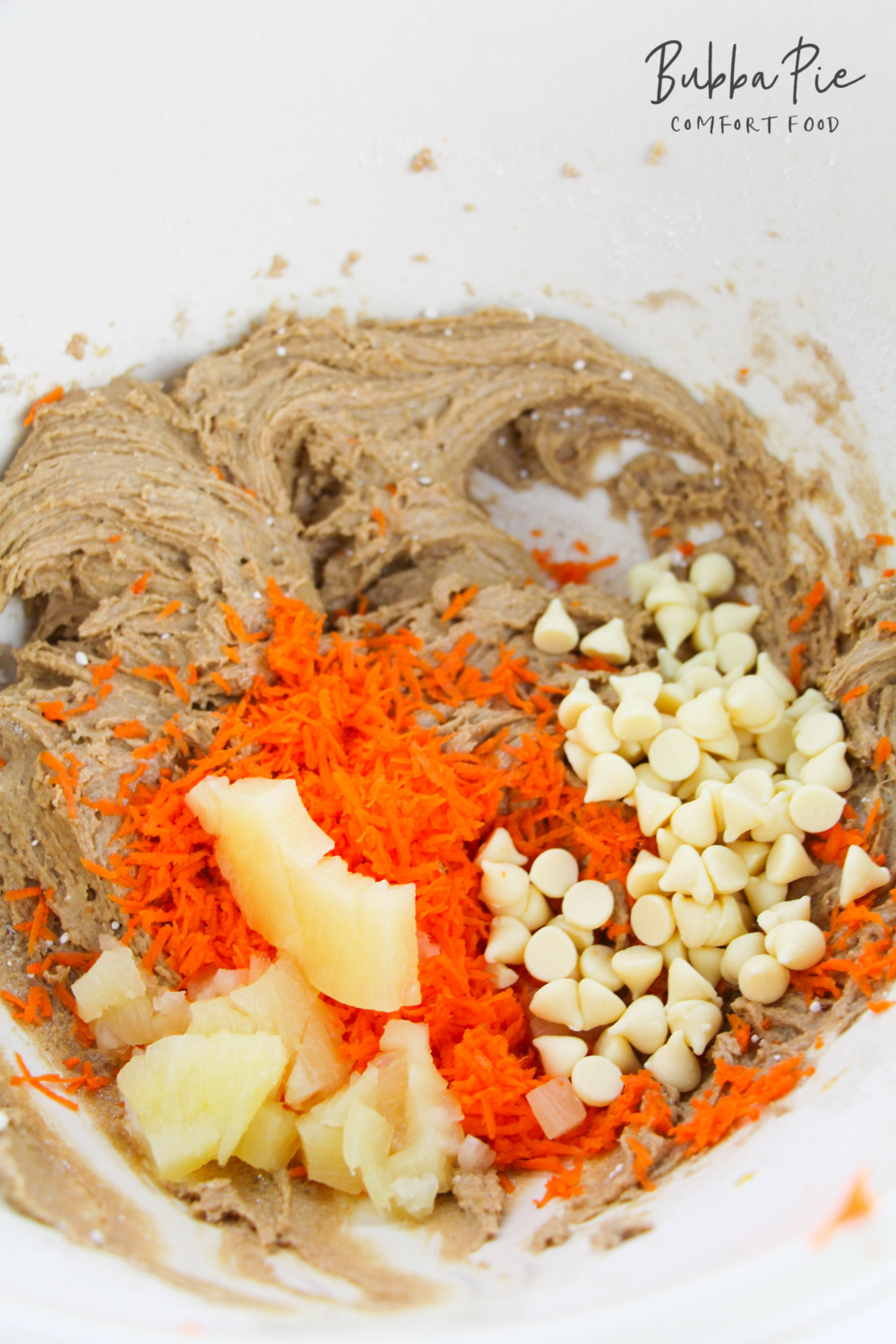 Carrot Cake Cookies Ingredients
We try to keep things as simple as possible on this site. Isn't that what comfort food is all about?  Most of these ingredients, you should hopefully already have in your kitchen (everyone should have some carrots laying around, right?).  But you may need to head to the store for some of this.  Otherwise, pretty simple stuff:
2 1/2 cups flour
1 1/2 cups white sugar
1 teaspoons baking powder
1/2 teaspoon salt
2 teaspoons cinnamon
1/2 teaspoon nutmeg
1/2 teaspoon ginger
1/3 cup oil of choice
2 eggs
2 teaspoons vanilla
1/4 cup crushed pineapple
1 carrot, grated
1/2 cup white chocolate chips, or more as desired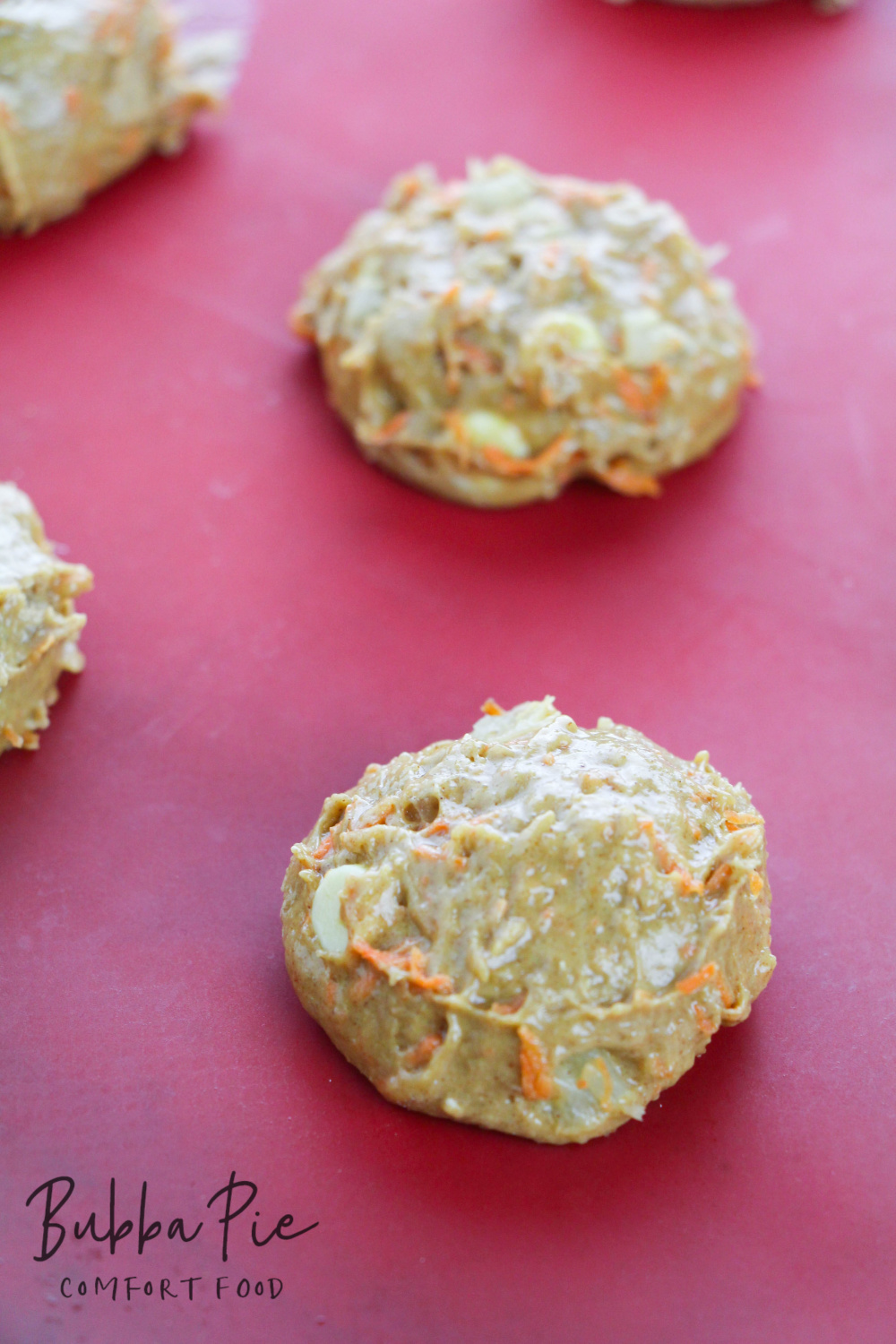 Storage and Freezing Carrot Cookies
If you aren't putting any cream cheese frosting on them, they can be kept at room temperature in an airtight container. They should stay good for about 5 days. If you are putting cream cheese frosting on them, it's best to store them in the refrigerator.
You can freeze the cookie dough of you'd like. Wrap in freezer wrap and then put in a freezer bag. Allow to thaw overnight in the refrigerator and then bake as directed below.
Notes, Tips and FAQs
CARROTS- You will want to use grated fresh carrots for this recipe. DO NOT buy the pre-shredded ones, they will be too dry. You'll also want to get them grated as finely as possible. Use a food slicer for best results.
PINEAPPLE– I think that the secret to this recipe is the pineapple.  It moistens the cookies up a bit and gives them a little more "zing".
CHOCOLATE CHIPS– Also, you can play around with the number of white chocolate chips that you use.  If you're going to put the icing on the cookies, you may want to omit the white chocolate chips altogether.
I hope you enjoy this carrot cake cookie recipe.  Let me know what you think!
LOOKING FOR MORE DELICIOUS COOKIES? CHECK OUT: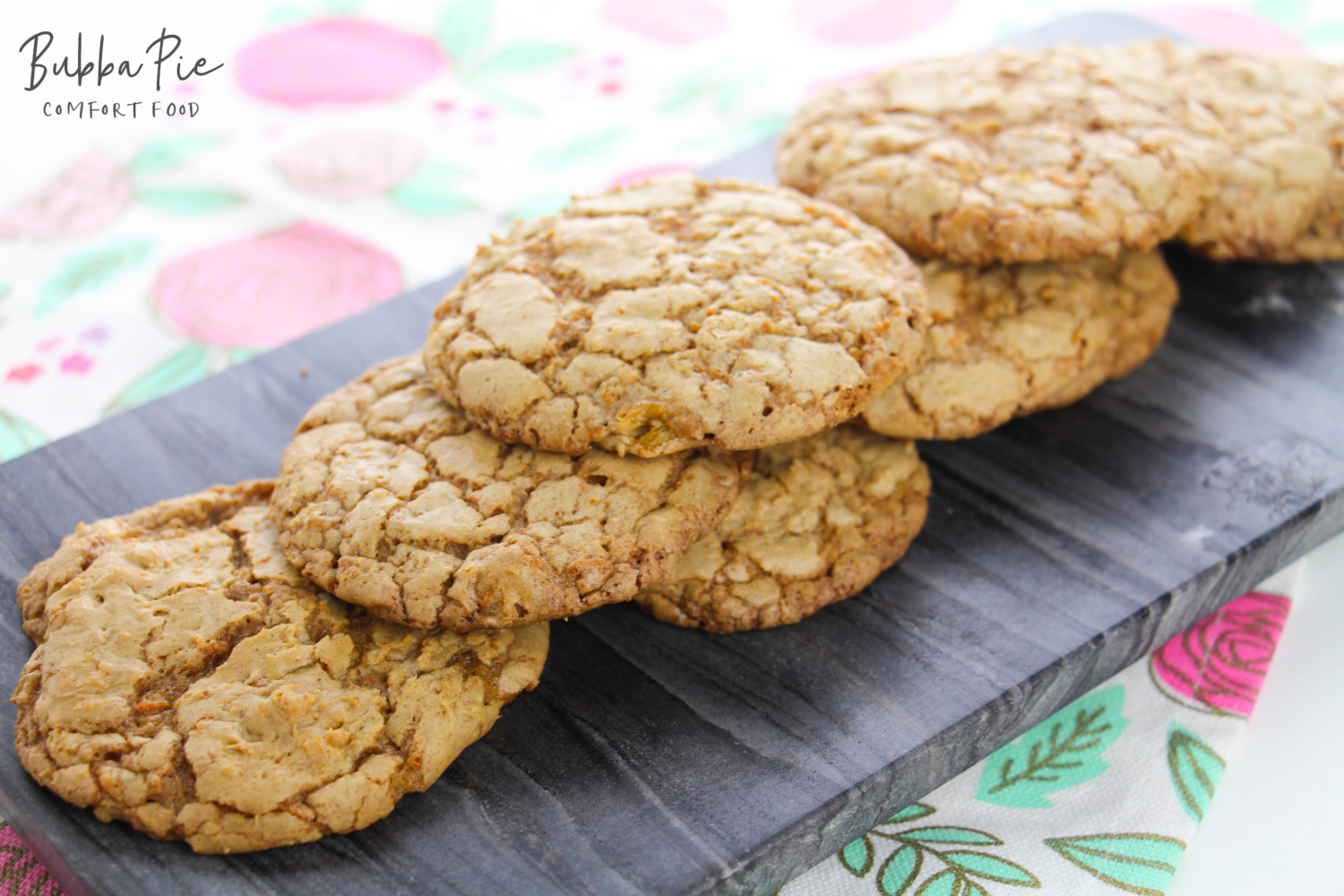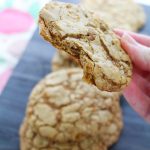 Easy Carrot Cookie Recipe
This carrot cookie recipe is a fun an unique dessert that tastes delicious. It is zesty, sweet, crunch and soft all at the same time!
Ingredients
2 1/2

cups

flour

1 1/2

cups

white sugar

1

teaspoons

baking powder

1/2

teaspoon

salt

2

teaspoons

cinnamon

1/2

teaspoon

nutmeg

1/2

teaspoon

ginger

1/3

cup

oil of choice

2

eggs

2

teaspoons

vanilla

1/4

cup

crushed pineapple

1

carrot

grated

1/2

cup

white chocolate chips

or more as desired
Instructions
Preheat oven to 350F

Line two cookie sheets with parchment paper or silicone baking mats and set aside.

Also set up two cooling racks.

Stir together the flour, white sugar, baking powder, salt, cinnamon, nutmeg and ginger until well combined.

Mix in the oil, eggs and vanilla, and continue beating for 2 minutes until well combined and no dry patches exist.

Mix in the pineapple, grated carrot and white chocolate chips.

Use a 1 Tablespoon cookie scoop to portion out the batter onto your prepared cookie sheets.

Bake for 8-12 minutes, until the cookies are cracked on top and cooked through.

Cool on the cookie sheets for 2 minutes before transferring to the cooling racks to cool completely.
Nutrition Facts
Easy Carrot Cookie Recipe
Amount Per Serving
Calories 119
* Percent Daily Values are based on a 2000 calorie diet.