This Blueberry Cobbler with Cake mix as so easy and delicious, it may be your new favorite dessert! Also called a Blueberry Dump Cake, it's only got 4 ingredients and takes just a couple of minutes to prepare!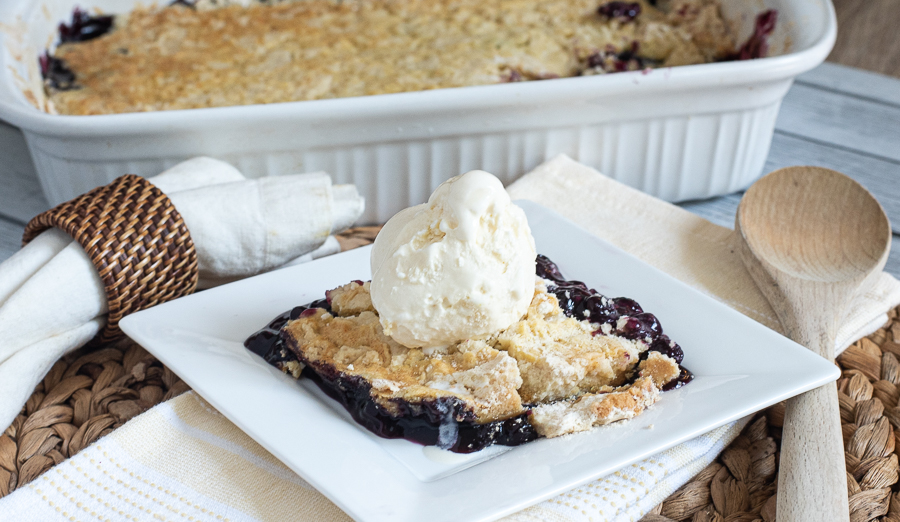 Why You Will Love Blueberry Cobbler with Cake Mix
SIMPLE AND QUICK – Really, you just need 3 ingredients for this recipe! We add the vanilla extract for extra flavor, but it's not necessary! And it can be ready to go in your oven to be baked to bubbly perfection with about 3 minutes of prep time! It's a great recipe for beginners or one to let the kids help out with!
EASY CLEAN UP – And everything is made right in the baking pan! So cleaning up is… well.. there really isn't anything to clean up! Just throw away the boxes and cans!
INEXPENSIVE – Assuming you already have the butter and the vanilla extract (which you don't even need). You'll probably just have to buy the cake mix and the Blueberry Pie Filling! That cost me about $8 at the store. And this dessert feeds around 8-10 people!
DELICIOUS – That crispy, buttery topping is something you have to taste to believe! And it's layered on the sweet, tart blueberry filling. Yum and yum!
The Difference Between a Crumble, a Dump Cake, a Cobbler and a Crisp?
First of all, from what I can tell, a Crumble and a Dump Cake are basically the same thing.
Otherwise, over the years, the lines have been blurred a bit. Traditionally, a "Cobbler" is has a layer of buttery, biscuit-like topping above a layer of fruit. As the pastry cooks, the fruit will bubble up and the result sort of looks like a "cobblestone" street.
As far as crumbles and crisps: these days they are pretty much used interchangeably. But, historically, a "crisp" out contain oats and a crumble would not. The oats would "crisp" up as it bakes and that is where you get the name!
Blueberry Cobbler with Cake Mix
Here at Bubba Pie, we love to make things simple! And this Blueberry Cobbler Dump Cake is the sort of dessert recipe we can get on board with! We LOVE using cake mix for easy dessert recipes! In fact, we've made an Apple Cobbler, a Peach Cobbler and a Cherry Cobbler all with Cake Mix!
For step-by-step instructions, check out the printable recipe card below. But here are the ingredients you'll need to get started:
BLUEBERRY PIE FILLING – Any brand will do. You'll need two 21 ounce cans.
VANILLA EXTRACT – As I mentioned above, this is optional to stir into the blueberry pie filling. We always like to add this to store bought pie fillings. It gives it a little more of a homemade taste.
YELLOW CAKE MIX – Again, any brand: Duncan Hines, Betty Crocker, etc… You gluten-free Cake Mix to make this Gluten Free. Or use Sugar Free Cake mix to lower the sugar content of this dish.
BUTTER – Unsalted. We freeze our's before use. Read below for more on this.
Storage, Freezing and Leftovers
Store leftover cobbler in an airtight container in the refrigerator. It should be good in your fridge for about 5 days.Blueberry Cobbler DOES need to be refrigerated. I would not leave it out for more than an hour. As it is best served warm, you can reheat it in the microwave just fine.
I don't think this Blueberry Cobbler would freeze very well. As it thaws, I'm afraid that topping would get soggy and soft.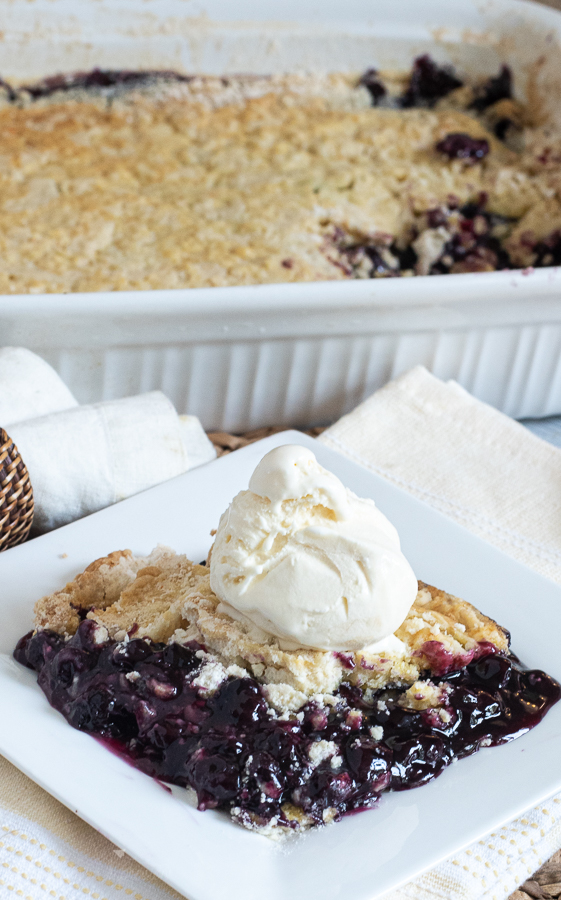 A Note On Add Butter To The Cake Mix
You'll need to combine butter to your cake mix powder in order to get that crumbly topping. There are 3 ways to do this:
CUT THIN SLICES AND SPREAD THEM AROUND – A lot of people do this and it's super easy! Sometimes, the butter doesn't melt evenly as it bakes and you'll end up with parts of your cobbler that are still powdery with dry cake mix. Keep an eye on it as it's baking, and add pats of butter where needed.
MELT BUTTER AND MIX WITH CAKE MIX – You can also melt your butter and then stir the melted butter in the cake mix. This is the best way to ensure all the butter will melt evenly around the top of the cobbler. You'll get a more "cakey" result with this, and won't get that harder crust you'd get with butter melting on top.
SHAVE FROZEN BUTTER – The best way is to freeze a stick of butter and use a grater to grate the butter evenly on top. This really helps to make sure all the butter will melt where it's needed and you'll still get that nice, buttery crunch on top of the cobbler.
Notes, Tips and FAQs
CAN YOU USE FRESH BLUEBERRIES OR FROZEN BLUEBERRIES FOR THIS RECIPE? – Yes, you'll need about 4 heaping cups of fresh or frozen blueberries. I'd combine them with 1 cup of white sugar to help make the syrup you'll need to get the results you want for this cobbler recipe. Some people also like to combine one can of blueberry pie filling and 2 cups of fresh blueberries.
DO YOU NEED TO USE YELLOW CAKE MIX? – Nope! Use any cake mix you want for this recipe! I've heard that some people love to use Lemon Cake Mix with the blueberries! Or White Cake Mix or French Vanilla would work too!
ADD NUTS – Sprinkle some crushed pecan or walnuts on top for some extra crunch and flavor!
SERVE WARM – Of course, this dessert is best served warm with a scoop of vanilla ice cream or whipped cream!
CAN YOU MAKE BLUEBERRY COBBLER WITH CAKE MIX IN A CROCKPOT? – Yes! Just follow all the directions, except put the ingredients in your slow cooker. Cook on low for 6 hours or high for 4 hours. Note that you probably won't get that crispy topping that you would in a conventional oven.
We hope you enjoy this Blueberry Cobbler Recipe with Cake Mix! Please let us know how it turns out for you in the comment section. Happy Eating!
LOOKING FOR MORE EASY, QUICK DESSERT RECIPES WITH CAKE MIX?: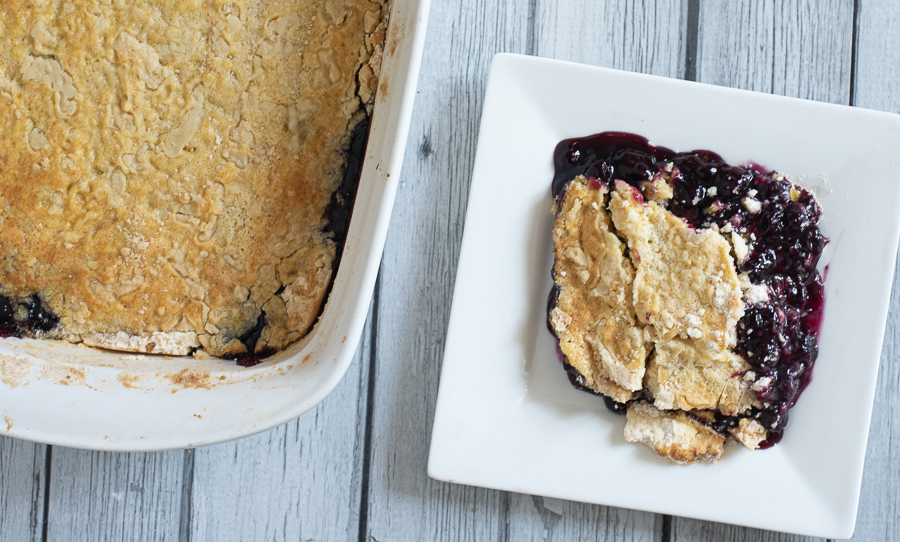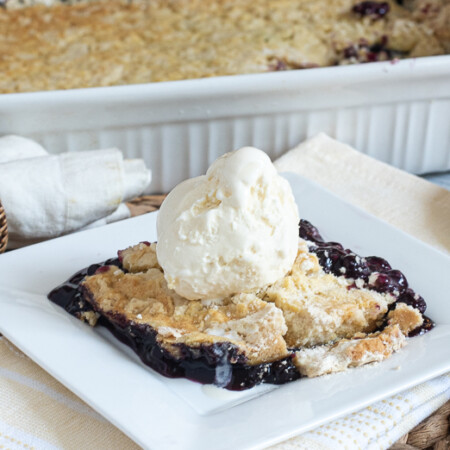 Rate this Recipe
Blueberry Cobbler with Cake mix
This Blueberry Cobbler with Cake mix as so easy and delicious, it may be your new favorite dessert! Also called a Blueberry Dump Cake, it's only got 4 ingredients and takes just a couple of minutes to prepare!
Ingredients
2

cans blueberry pie filling

21 oz each

1

tsp

vanilla extract

1

Box yellow cake mix

one stick of butter. Frozen.
Instructions
Preheat oven to 350 degrees.

Prepare a 9X13 baking dish with non-stick cooking spray.

Pour both cans of Blueberry Pie filling in the baking dish.

Stir in Vanilla Extract.

Pour Cake Mix evenly over the Blueberry Pie Filling.

Grate frozen butter evenly of Blueberry Pie Filling.

Bake at 350 degrees for 50 mins or until the top is golden brown.

Serve warm with ice cream.
Nutrition
Love this recipe?
Follow @bubbapie for even more delicious recipes!!