This Mug Cake with Cake Mix is the quickest, easiest dessert ever! With just 3 ingredients and about 2 minutes of prep time, this yummy recipe is the perfect way to satisfy any emergency sweet tooth cravings!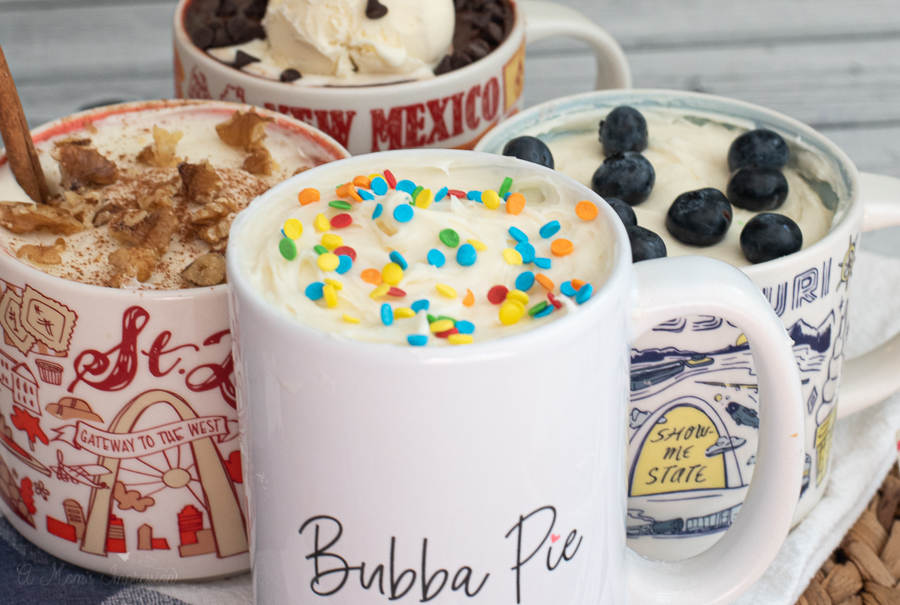 What Is A Mug Cake?
Mug cakes are one of the latest dessert craze to take over the internet! Mug Cakes are exactly what they sound like… Cakes made entirely in mugs! People like them because they are single servings, you can make them however you want and the are baked in the microwave in just about 90 seconds!
This makes them perfect for parties, where everyone can design and make their own mug cake. They are very kid friendly to SUPER delicious!
Mug Cake with Cake Mix
But, if you read this blog a lot, you know that we love to take easy, fun recipes and make them even MORE EASY AND FUN! This is where cake mix comes in! When using cake mix for a Mug Cake, it should really only take you about 3 minutes from start to finish to make your own, custom baked cake!
*All mug sizes are different. And will need different portions of these ingredients. For a note about measurements, see below.
For step-by-step instructions, check out the printable recipe card below, but here is the simple ingredients you'll need to get started:
CAKE MIX – Any variety of cake mix will work! For the cakes pictured here, we used Red Velvet Cake Mix, Funfetti Cake Mix and Carrot Cake Mix! Other options are Yellow Cake Mix, Spice Cake Mix, Vanilla Cake Mix, Chocolate Cake Mix, Strawberry Cake Mix or Angel Food Cake Mix. But you can also use Gluten-Free Cake Mix or Sugar Free Cake Mix for dietary considerations.
WATER – Mixes in with your cake mix to create the batter.
OIL – There are actually some version of Mug Cakes that don't even use oil. But we think it helps keep the cake extra moist. We just used Vegetable Oil, but you can probably use just about any oil you'd like.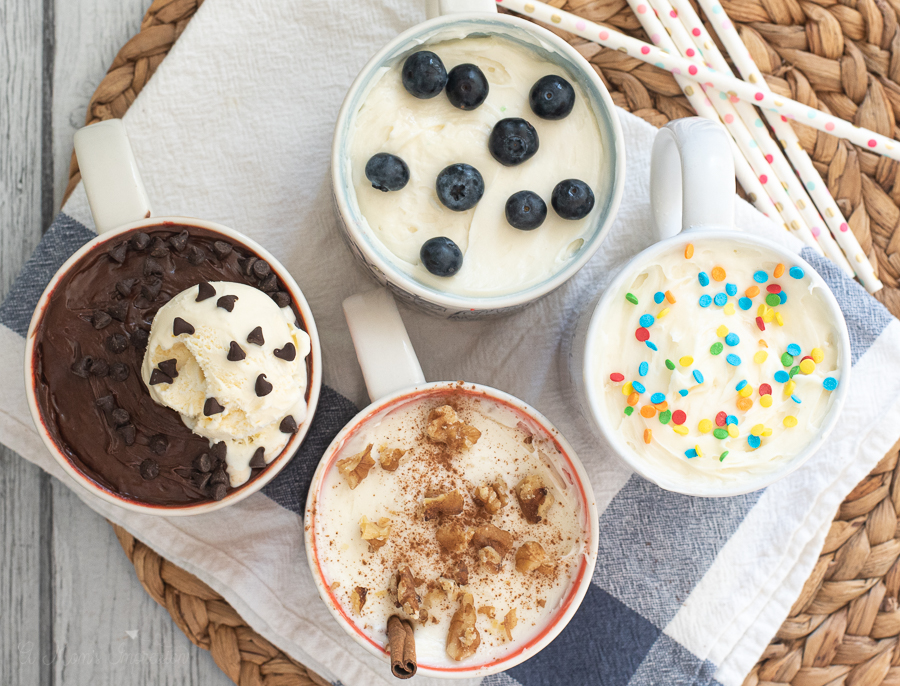 How Do You Make The Best Microwave Mug Cake?
We did quite a bit of testing and have found that getting the correct ratio of cake mix powder to water to oil is the most important thing. We used 15 oz coffee mugs and used 9 tablespoons of cake mix, 6 tablespoons of water and 2 tablespoons of oil. We found this ration yielded the best results.
From here you can scale up or down according to the size of your coffee mug.
Can You Make Mug Cakes In The Oven?
First, I would be careful that your coffee mug is oven safe. Some are not. We have not tried making these in the oven (the whole point of them is to be a quick treat in the microwave). But, if you want to try, I'd stick to a lower oven temp (around 350-375 degrees) and bake them for 14-16 minutes. Just keep an eye on them.
Do You Need To Put Eggs In Mug Cake?
Nope! You'll notice no egg in this recipe. It really isn't needed! You just need water and oil. This mug cake comes out tasting exactly like any other cake you've ever had: delicious!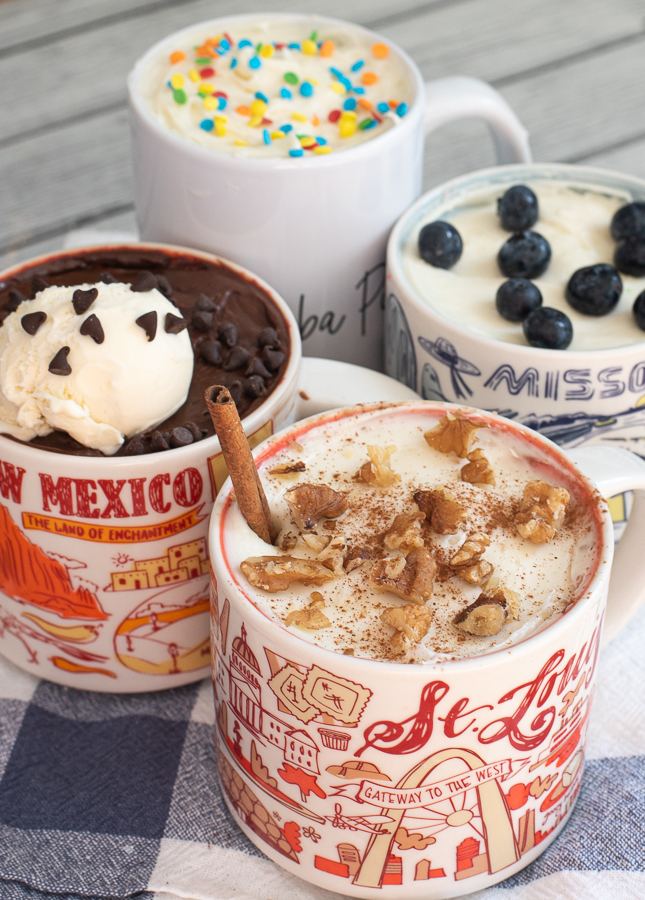 What Toppings Can You Put On Your Mug Cakes?
Really, the options are limitless. And it will depend on what kind of cake mix you are using and what flavors you are craving. But some ideas could be:
ICING
FROSTING
CREAM CHEESE FROSTING
CHOCOLATE CHIPS
CHOCOLATE SYRUP
CANDY BARS
SPRINKLES
NUTELLA
WHIPPED CREAM
SHREDDED COCONUT
ICE CREAM
PEANUT BUTTER
FRUIT (STRAWBERRIES, BLUEBERRIES, ETC..)
Notes, Tips and FAQs
STIRRING YOUR CAKE BATTER – This dessert can be totally made in the coffee mug you will eat it out of. And just use the spoon or fork you'll be eating with to stir it up! There should be minimal cleanup or dishes with this recipe!
CAN I USE ANY MUG FOR A MUG CAKE? – First, you'll want to make sure that it is a microwave-safe mug. After that, just be aware of the size of your mug and be conscious of the amount of ingredients you'll need. Read above for our notes about portions.
MIX-INS – In addition to all the toppings you can put on your mug cakes, there are tons of mix-ins as well! Anything from chocolate chips and candies to fruit and spices!
We hope you enjoy this Easy Mug Cake Recipe! Let us know how it turns out in the comment section! Happy Eating!
LOOKING FOR MORE EASY RECIPES? CHECK OUT: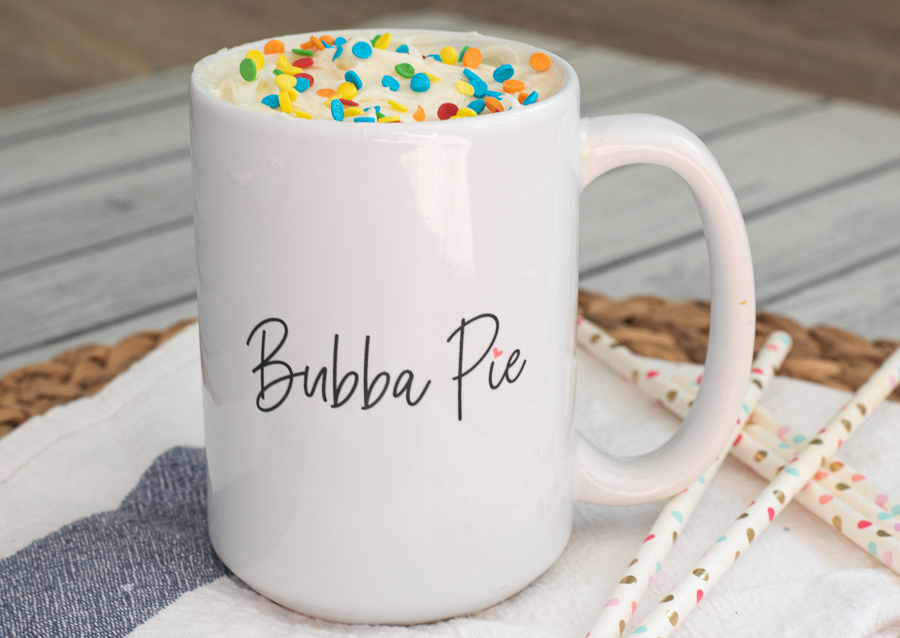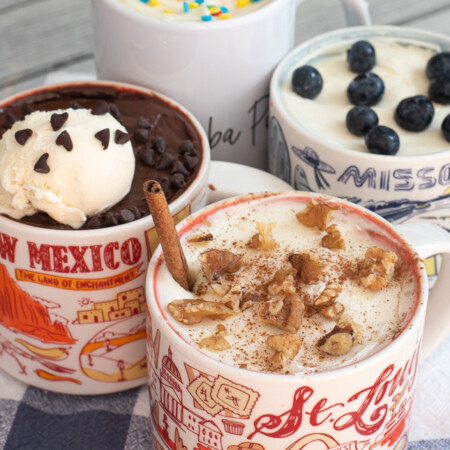 Rate this Recipe
Mug Cake with Cake Mix
These Mug Cake with Cake Mix are the quickest, easiest dessert ever! With just 3 ingredients and about 2 minutes of prep time, this easy recipe is the perfect way to satisfy any emergency sweet tooth cravings!
Ingredients
9

TBSP

CAKE MIX

6.5

TBSP

WATER

2.5

TBSP

OIL
Instructions
Dump cake mix into mugs.

Add water to cake mix.

Add oil to cake mix.

Microwave for 1:20 to 1:30.

Let the cakes fully cool and top with desired toppings.
Nutrition
Love this recipe?
Follow @bubbapie for even more delicious recipes!!