Your gonna flip over this delicious recipe for a Peach Upside Down Cake. Sweet peaches are mixed with cinnamon and brown sugar and baked into a delicious cake. Yummy, moist and a perfect summer cake recipe, you've got to try this one!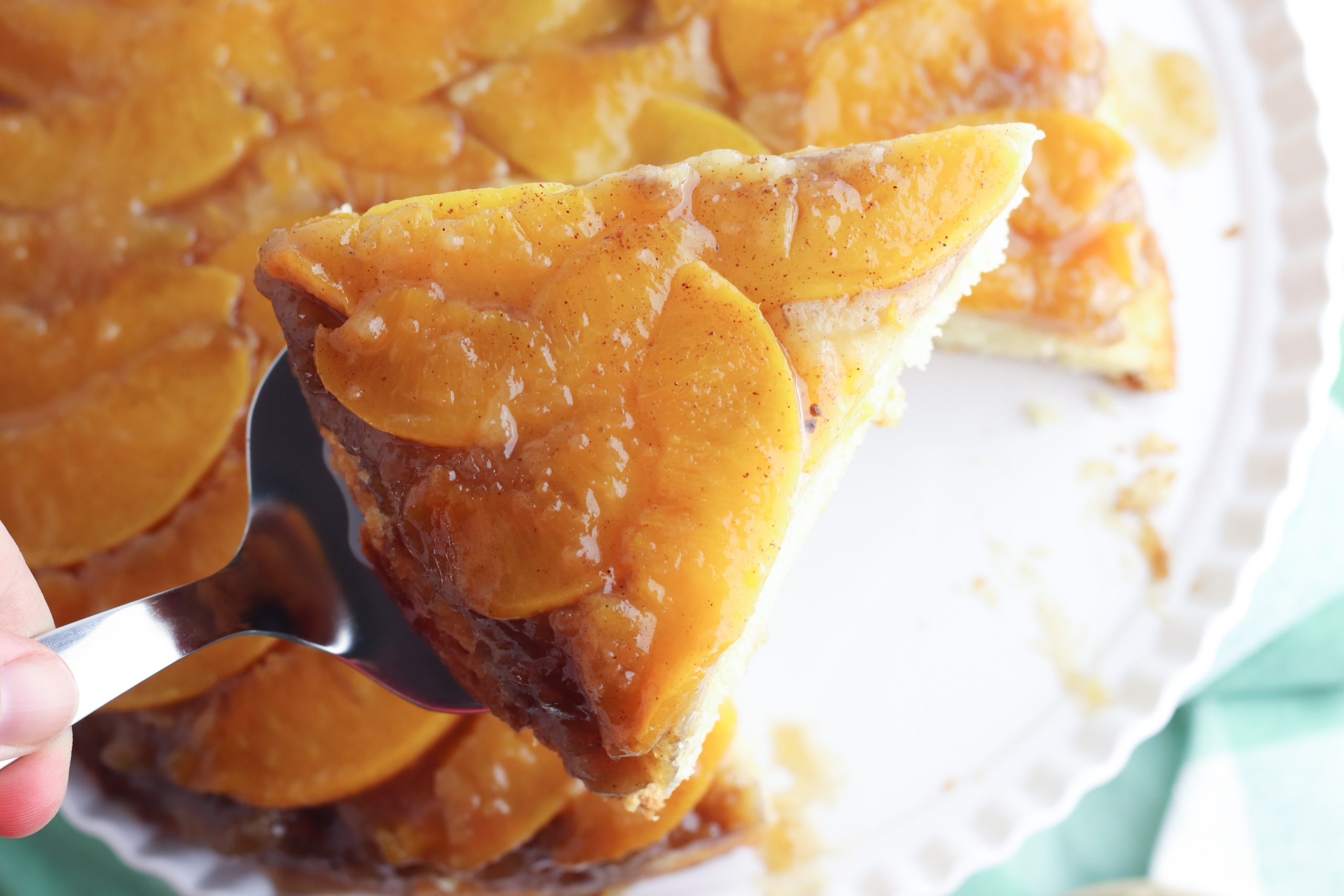 Why You'll Love This Recipe
Nothing says "summer" quite like a nice, sweet and juicy peach. And, today, we've got a fun recipe that features this delicious summer fruit: Peach Upside Down Cake.
FUN –Bring this Upside Down Peach Cake to your next cookout, pitch in or party and wow your guests. It's got a bright, fun and vibrant color and taste!
DELICIOUS – The combination of caramelized peaches mixed with cinnamon and brown sugar all laying on top of the fluffiest, moist cake ever? You're going to fall in love.
What Is An Upside Down Cake?
So, what is an upside down cake? It's super simple and they've been making these cakes for hundreds of years. Back in the day, they would add fruit to the bottom of a cast iron skillet and then bake the cake batter on top of it. Then, once the cake is done, flip it over so that the cake part is on the bottom and the fruit is on top. All the juices and flavors of the fruit get infused and baked in with the cake and it is, quite simply, delicious. One of the most famous of these recipes is the Pineapple Upside Down Cake.
While there is nothing wrong with Pineapple, we feel that's been done so many times. We thought it would be fun to share something a little different: Peach Upside Down Cake.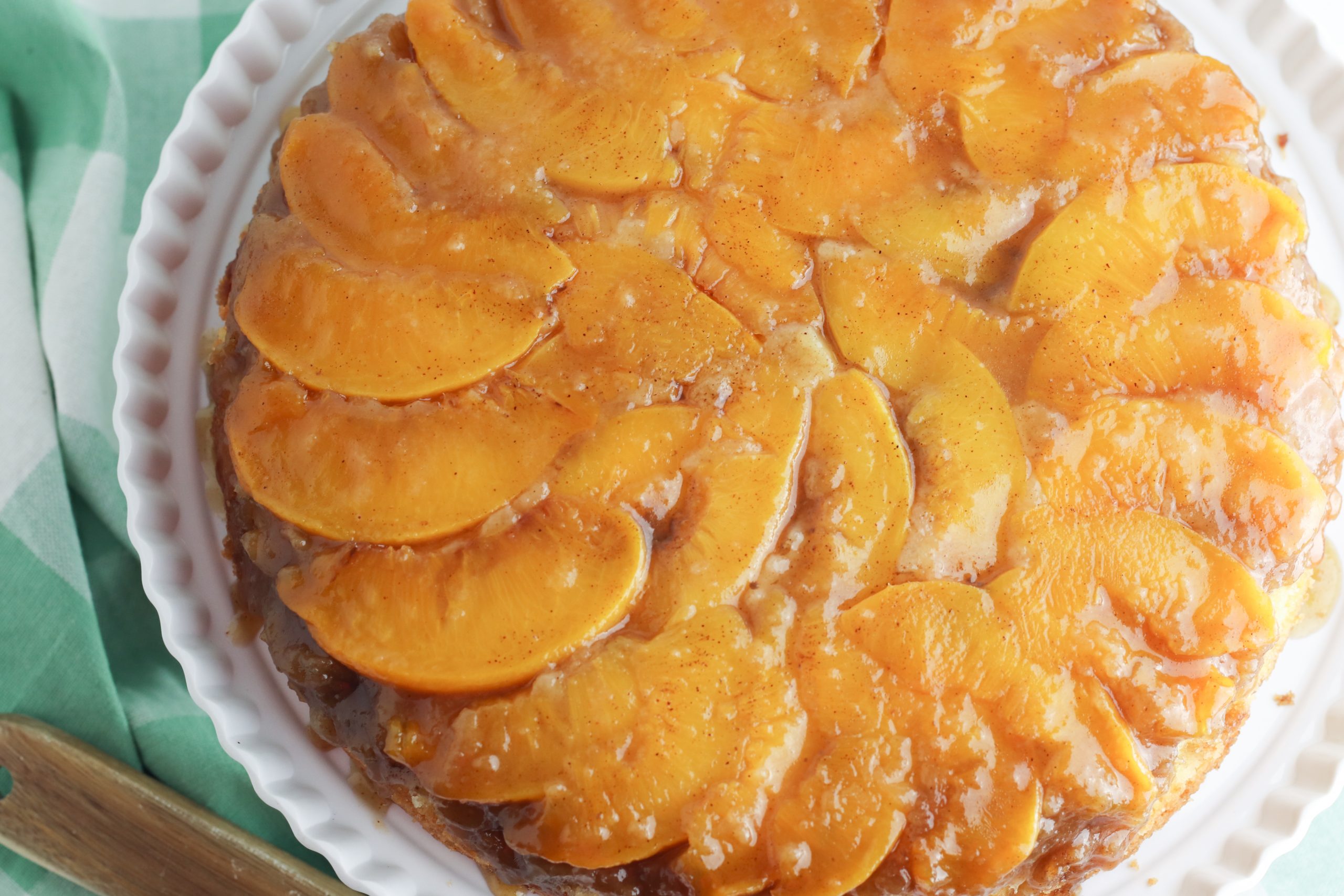 How To Make Peach Upside Down Cake
This is a super quick and super easy recipe. For step-by-step instructions, check out the printable recipe card below!
INGREDIENTS FOR THE PEACH LAYER:
BUTTER – We use unsalted butter. Melted.
BROWN SUGAR – When measuring out your brown sugar, make sure it's packed into the measuring cup so you know your putting the right amount in.
CINNAMON – Spoiler alert: if you bake some succulent sweet peaches together with cinnamon, really good things happen.
PEACHES – Use fresh or canned peaches for this recipe. If using canned peaches, make sure you drain they syrup out first.
INGREDIENTS FOR THE CAKE:
FLOUR – All purpose flour. The best way to measure flour is to scoop it into the measuring cup so it doesn't packed in. Or, even better, weight it.
BAKING POWDER – Our leavening agent that will help make this cake so fluffy and delicious!
SALT – The peaches and sugar are pretty sweet. Sodium is an important ingredient to help balance everything out!
BUTTER – Unsalted. Let you butter soften to room temperature before using.
SUGAR – Regular, white cane sugar.
VANILLA EXTRACT – Some people like to substitute almond extract here, which you can do. Or you can do a combination of almond and vanilla extract.
LARGE EGGS – Allow eggs to get to room temperature before using.
MILK – If looking to avoid or reduce dairy, you can substitute with Almond Milk if you want.
CREAM OF TARTAR – Combined with the baking soda, it becomes a leavening agent and really help the cake rise and become soft and fluffy.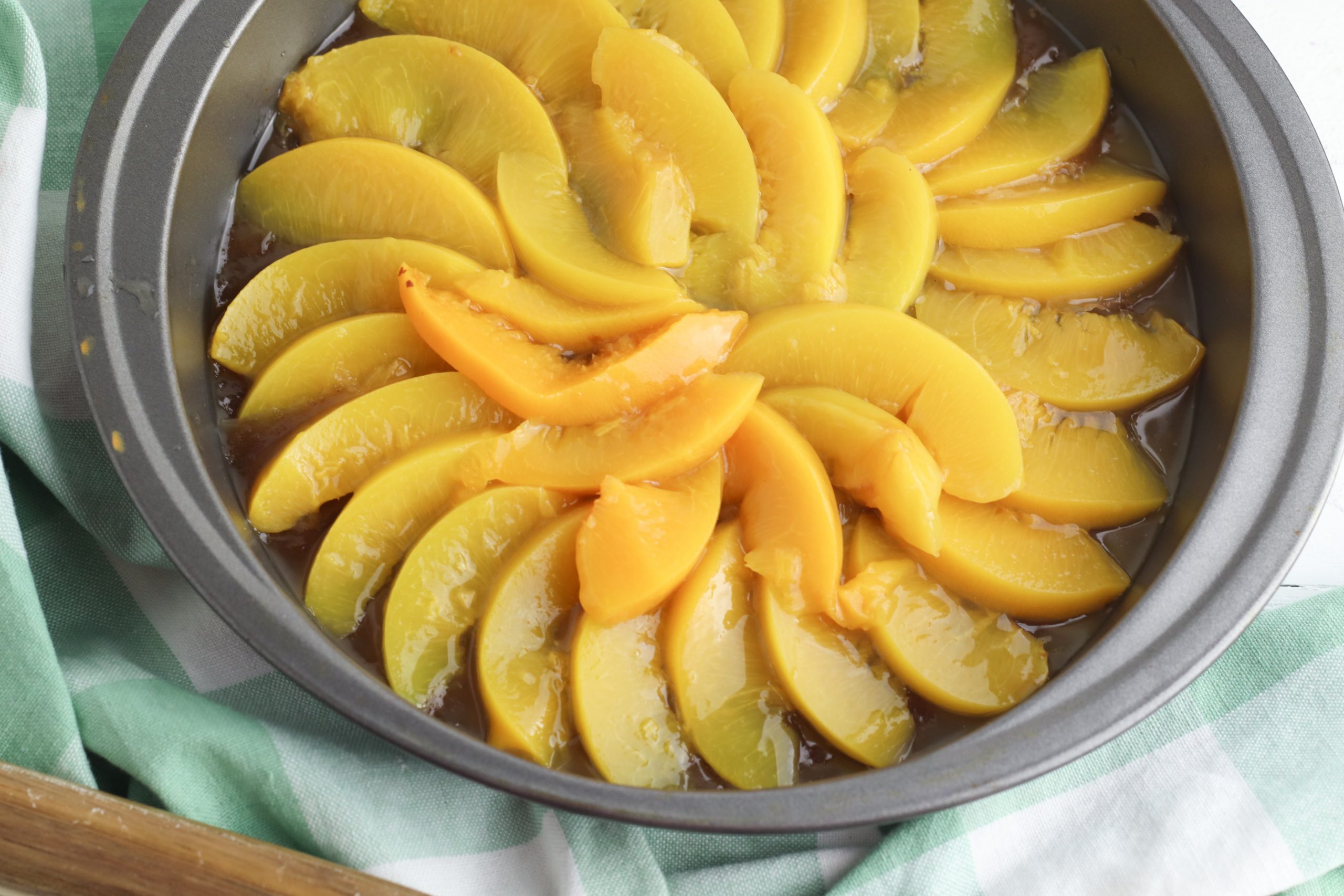 Notes, Tips and Variations
CAN YOU USE FRESH PEACHES? – Yep, we are using canned peaches for our recipe. As I've mentioned before on this blog, we are all about easy and quick recipes. Obviously, summer is a great time to find fresh peaches to use for dessert recipes as well. If you want to sub out our canned peaches for fresh, peeled peaches, go ahead. And, if you use fresh peaches, you can slice them to your desired thickness. And, finally, make sure you are using RIPE peaches. They should be nice and soft to the touch. Underripe peaches will not work with this recipe!
HELP, MY CAKE IS STICKING TO THE PAN! – It's important to REALLY let the cake rest after coming out of the oven. I know it's tempting to dive in! If your cake does suffer some injuries, no worries, just peel it out with a spoon and gently place it where it is supposed to go on top of your finished cake. You can cover it with powdered sugar. Or whipped cream and/or ice cream when serving.
ADD NUTS – Looking to add some texture, you could try adding nuts to this recipe. Walnuts, pecans or almond slices would be delicious! You can stir them into the batter, bake some into the cake along the layer of the peaches or top with chopped walnuts after it's done baking.
Storage, Leftovers and Freezing
Store this Peach Upside Down Cake in the refrigerator in an airtight container. This one works perfectly.  It should be good for about 3 days. It's fine to eat cold or you can put it in the microwave for a couple of seconds to heat it back up.
You can freeze this cake. The peaches may brown a bit, but you can cover with Whipped Cream or fresh peaches when you thaw it out. Wait until cake fully cools before freezing. If possible and if you can spare the pan, I'd actually put it back in the pan and freeze it that way. Once frozen, you can take it back out of the pan and wrap it tightly in Saran Wrap and put in a freezer bag.
I hope you enjoy this recipe for Peach Upside Down Cake. I'd love to hear how it turns out in the comments section. Thanks for reading!
Items To Help With This Recipe
LOOKING FOR MORE PEACH DESSERTS? CHECK OUT: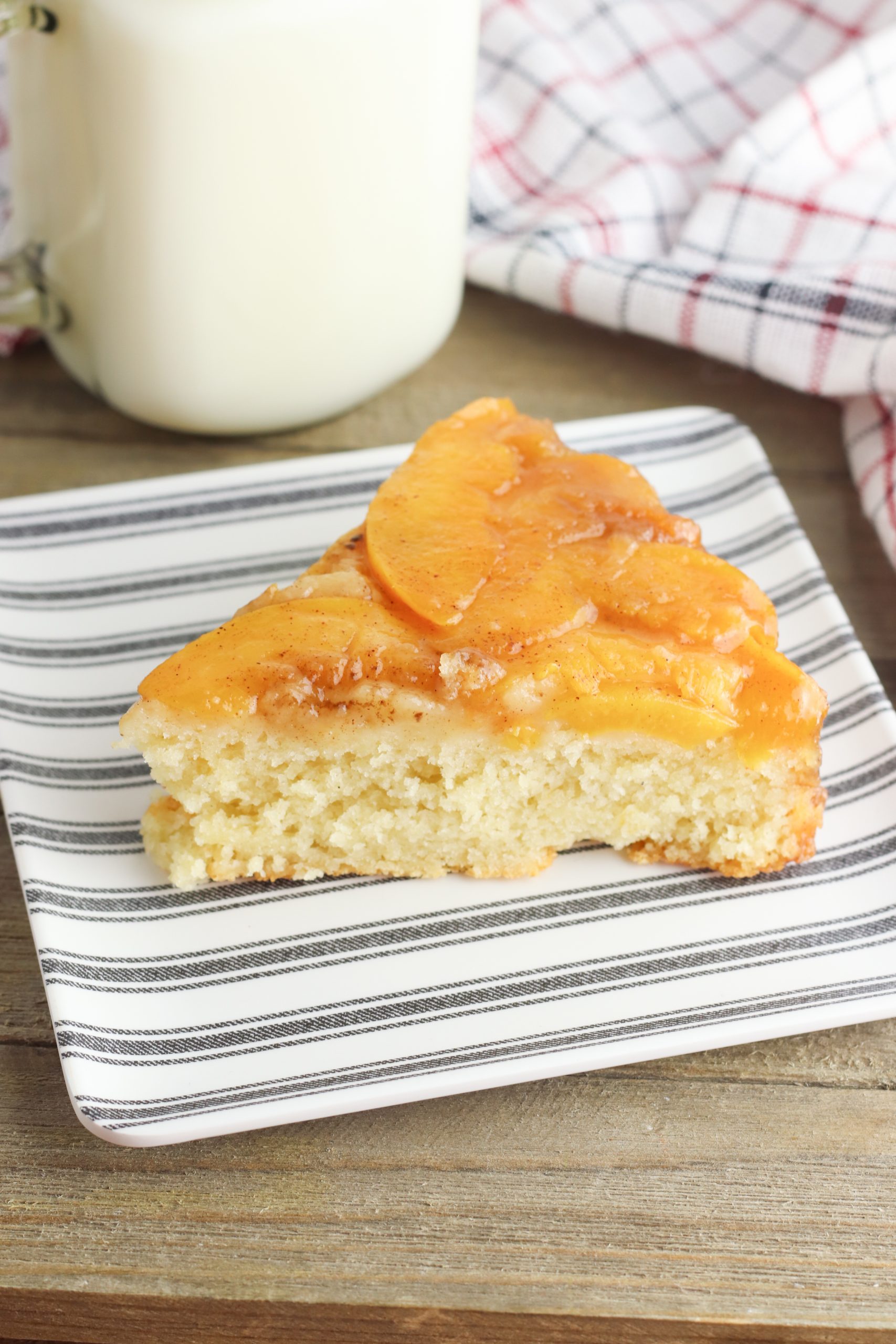 LOOKING FOR MORE FUN SUMMER COMFORT FOOD RECIPES? CHECK OUT: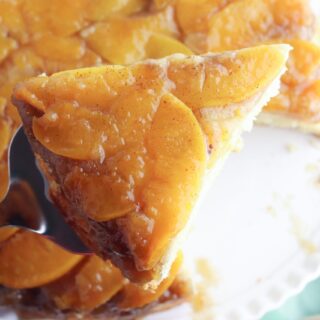 Rate this Recipe
Peach Upside Down Cake
Your gonna flip over this delicious recipe for a Peach Upside Down Cake. Sweet peaches are mixed with cinnamon and brown sugar and baked into a delicious cake. Yummy, moist and a perfect summer cake recipe, you've got to try this one!
Ingredients
Ingredients for the Topping:
4

tablespoons

unsalted butter

melted

½

cup

brown sugar

packed

1

teaspoon

cinnamon

1 15-

ounce

can peaches

drained and thinly sliced
Ingredients for the Cake:
1 ½

cups

flour

2

teaspoons

baking powder

¼

teaspoon

salt

1

stick

1/2 cup butter, softened

1

cup

sugar

1

teaspoon

vanilla extract

2

eggs

separated

½

cup

milk

¼

teaspoon

cream of tartar
Instructions
Preheat oven to 350 degrees.

Melt butter in microwave. Combine melted butter, brown sugar, and cinnamon. Pour the mixture in the bottom of a 9-inch cake pan.

Top the butter mixture with the sliced peaches.

In a medium bowl, whisk together the flour, baking powder, and salt.

In a separate bowl, beat together the butter and sugar until light and fluffy. Add the vanilla and egg yolks and beat until combined.

Add half the flour mixture to the butter mixture and beat until combined. Add the milk and beat again. Pour the remaining flour mixture into the bowl and mix until combined.

In a separate bowl, combine the egg whites and cream of tartar. Beat the mixture on high speed until stiff. Pour the mixture into the batter and fold in until just combined.

Pour the batter over the peaches and spread evenly, being careful not to disturb the peaches.

Bake in the preheated oven for 45 minutes, until a toothpick inserted into the center of the cake comes out clean.

Allow to cool slightly, then run a knife around the edge of the pan to loosen the cake. Flip the pan over to invert it onto a serving plate. Serve warm or at room temperature.
Nutrition
Love this recipe?
Follow @bubbapie for even more delicious recipes!!