This Banana Roll is a fun, delicious dessert that looks fancy but is actually so easy to make! A cream cheese banana filling is rolled up in a soft, moist banana infused cake. A great dessert for any occasion!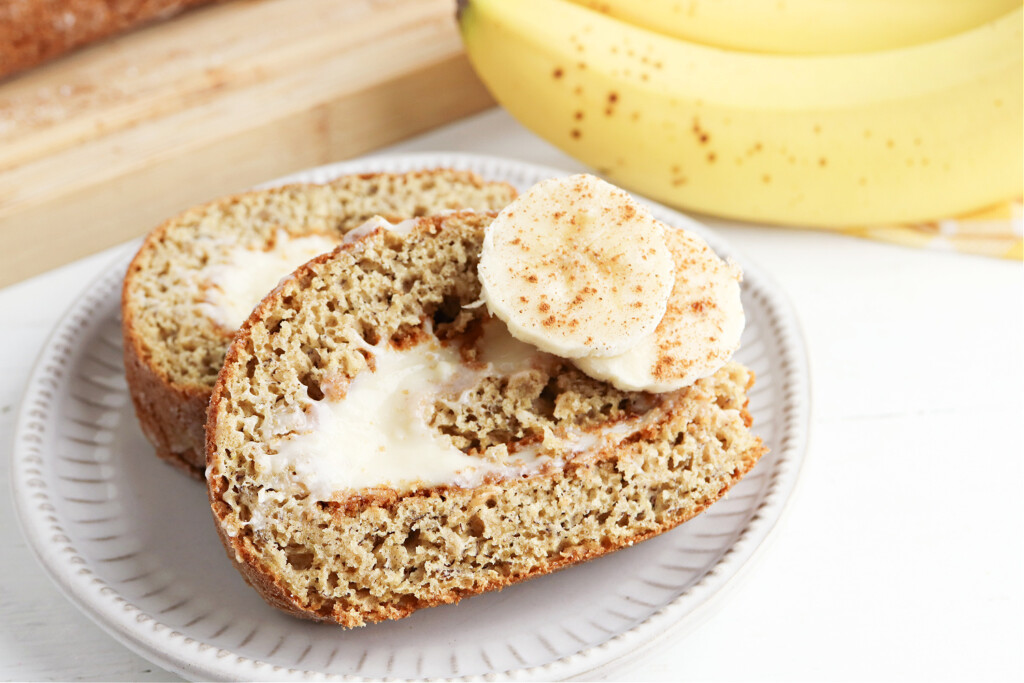 Why You Will Love This Banana Roll
FUN, NEW RECIPE – This is a great recipe if you are looking for something different to serve for dessert at your next dinner party, pitch in or potluck. You can pre-cut the roll into slices and it's really easy to serve and share.
LIGHT AND CREAMY – Not too rich or dense, there is always room for this Banana Roll! The light and fluffy cake and the creamy filling are the perfect ending to any meal!
EASY TO IMPROVISE – We garnish our with some banana slices, powdered sugar and cinnamon. But there are lots of ways to make this banana roll even more fun. Read below for some inspiration!
Banana Roll Recipe
This recipe basically takes two steps. First you have to make and bake the cake that you will be rolling up. You WILL need a jelly roll pan for this recipe. We use a 15X10X1 inch jelly-roll pan. You CANNOT use a cookie sheet. The next step is to make your filling. Once everything is baked, cooled and ready to go, just smear the filling onto the cake, roll it up and let it chill in the fridge until ready to serve. While this is an easy, straightforward recipe, it does take some time. This isn't something you can throw together at the last minute.
For step-by-step instructions, check out the printable recipe card below. But here is what you'll need to get started:
Ingredients for the Cake:
EGGS
WHITE GRANULATED SUGAR
ALL-PURPOSE FLOUR
SALT
BAKING POWDER
BAKING SODA
CINNAMON
RIDE BANANA, MASHED
For the filling:
CREAM CHEESE, SOFTENED
POWDERED SUGAR (CONFECTIONERS SUGAR)
REAL MAPLE SYRUP (NOT PANCAKE SYRUP)
For topping (optional):
FRESH BANANA SLICES
POWDERED SUGAR
CINNAMON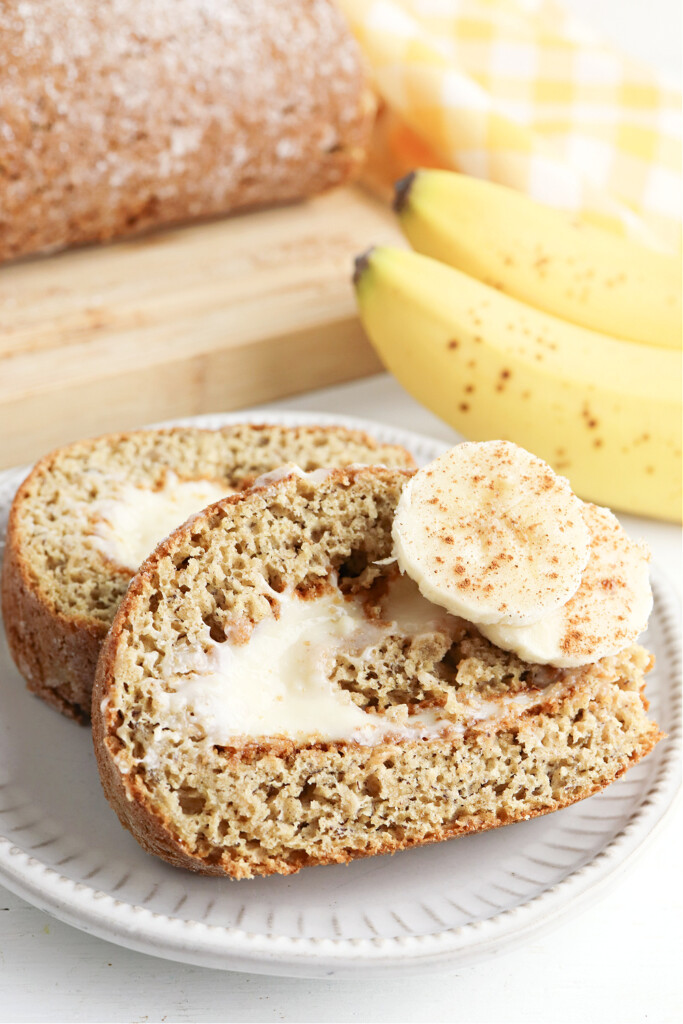 Storage, Leftovers and Freezing
Store you Banana Cake Roll in an Airtight Container in the refrigerator. This cake does need to stay chilled, so don't serve it out at room temperature for more than an hour or two.
A Banana Roll does freeze well. Wrap it in parchment paper or plastic wrap and put it in a freezer bag or freezer safe container. It will be good in your freezer for about 4 months. Thaw in the fridge (or eat as a frozen treat!).
What Are The Best Toppings For A Banana Roll?
Like I mentioned above, we top our Banana Roll with powdered sugar, slices of fresh banana and we sprinkle some cinnamon on top. But some other ideas would be:
CARAMEL SAUCE
CHOCOLATE SAUCE
WHIPPED CREAM OR COOL WHIP
WALNUTS, ALMOND SLICES OR PECANS
ICE CREAM (VANILLA OR CARAMEL WOULD BE PERFECT!)
Notes, Tips and FAQs
PARCHMENT PAPER – Parchment paper really is your best friend in this recipe. Make sure you are using it in your Jelly Roll Pan. If you don't you are really gonna have trouble getting that cake out in one piece. You can also use it in place of your tea towel when you roll your cake up after it's baking.
CAN THIS CAKE BE MADE GLUTEN FREE? – You can replace the regular flour with Gluten Free Flour to make this Gluten-Free.
CREAM CHEESE – You really need to make sure your cream cheese is fully softened or it will be hard to work with. To make this dessert a little light, you can try using light cream cheese. But do NOT use Fat Free Cream Cheese. Also, you can try using flavored cream cheese such as this Brown Sugar and Cinnamon Cream Cheese or Honey Pecan Cream Cheese.
LET THE CAKE FULLY COOL – It's important to let your cake fully cool before you put the cream cheese filling on it. Otherwise the filling will melt and you'll have a mess on your hands. To speed up cooking, you can dump the cake on a wire rack.
We hope you enjoy this Banana Roll Recipe! Let us know how it turns out in the comments section!
LOOKING FOR MORE BANANA DESSERTS? CHECK OUT:
OR, FOR THE ENTIRE LIST OF ALL OUR BANANA DESSERTS (THERE IS A LOT OF THEM) CHECK OUT OUR BANANA DESSERTS ROUNDUP!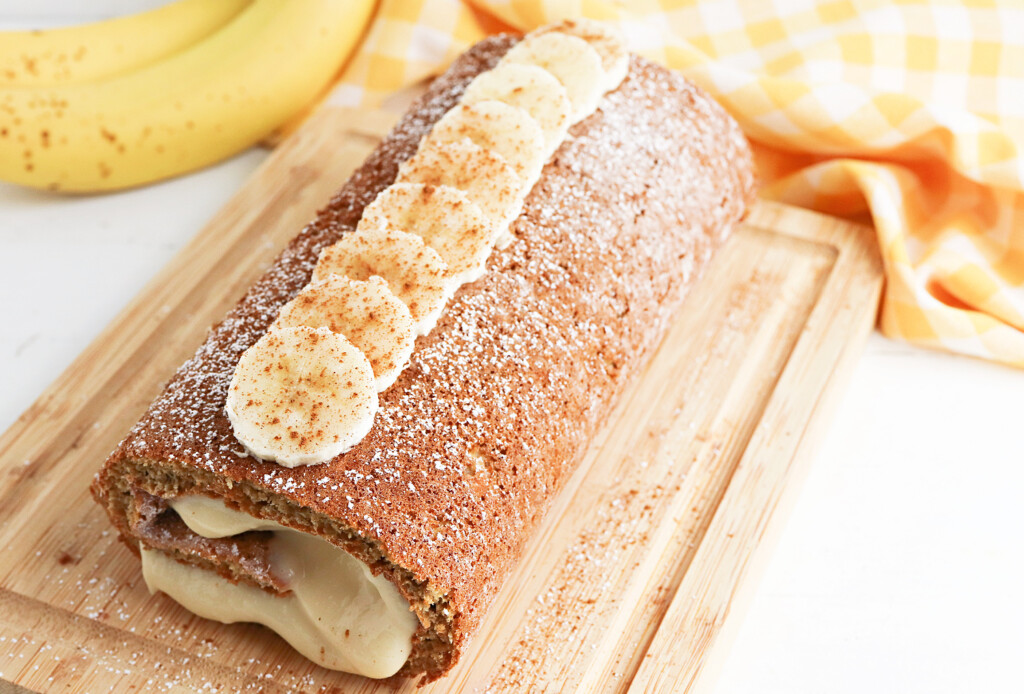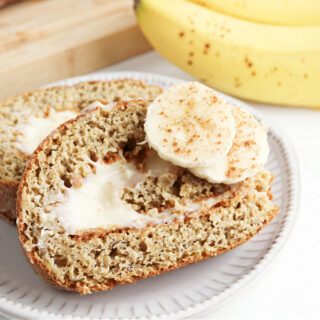 Rate this Recipe
Banana Roll
This Banana Roll is a fun, delicious dessert that looks fancy but is actually so easy to make! A cream cheese banana filling is rolled up in a soft, moist banana infused cake. A great dessert for any occasion! PIC
Ingredients
Ingredients for the Cake:
2

eggs

separated

3/4

cup

sugar

divided

1

cup

flour

1/2

teaspoon

salt

1/2

teaspoon

baking powder

1/2

teaspoon

baking soda

1

teaspoon

cinnamon

1/2

cup

banana

mashed
For the filling:
8

ounces

cream cheese

softened

1

cup

powdered sugar

1/4

cup

maple syrup
For topping:
Banana slices

Powdered sugar

Cinnamon
Instructions
Preheat the oven to 375. Line a jelly roll pan with parchment and spray it with nonstick cooking spray.

Separate both eggs and place the whites in the bowl of a stand mixer. Using the paddle attachment, whip the egg whites on high speed until soft peaks form. Gradually add 1/4 cup of the sugar and beat on high until stiff peaks form. Transfer the mixture to a clean bowl.

Add the egg yolks to the bowl of the stand mixer and whip on high speed with the paddle attachment until thick and pale yellow, around 5 minutes. Gradually add in the remaining 1/2 cup of sugar, beating continuously.

In a small bowl combine the flour, salt, baking powder, baking soda, and cinnamon. Whisk until well combined.

Slowly stir the mashed banana into the egg yolk mixture, then add the flour mixture and stir until mixed.

Fold in the egg whites, stirring gently until well combined.

Pour the cake batter into the prepared pan and bake for 8 to 12 minutes. When the cake is done baking, the edges will begin to pull away from the sides of the pan and the center will spring back when pressed.

Flip the warm cake over onto a clean towel lightly dusted with powdered sugar. Carefully roll up the cake around the towel.

Allow the cake to cool for around 30 minutes.

While the cake is cooling, prepare the filling. Beat together the cream cheese, powdered sugar and maple syrup until smooth and well combined.

When the cake is finished cooling, unroll it and remove the towel. Spread the filling evenly over the cake and re-roll it around the icing.

Transfer the cake to the refrigerator to chill for at least 30 minutes before slicing and serving.

Before serving, top the cake with banana slices and sprinkle with powdered sugar and ground cinnamon, if desired.
Nutrition
Love this recipe?
Follow @bubbapie for even more delicious recipes!!