This Lemon Blueberry Bundt Cake is a zesty, flavorful dessert that combines the slightly sweet tart of lemons with delicious, fresh Blueberries. Topped with a delicious Lemon Glaze, it's the perfect treat for any festive occasion!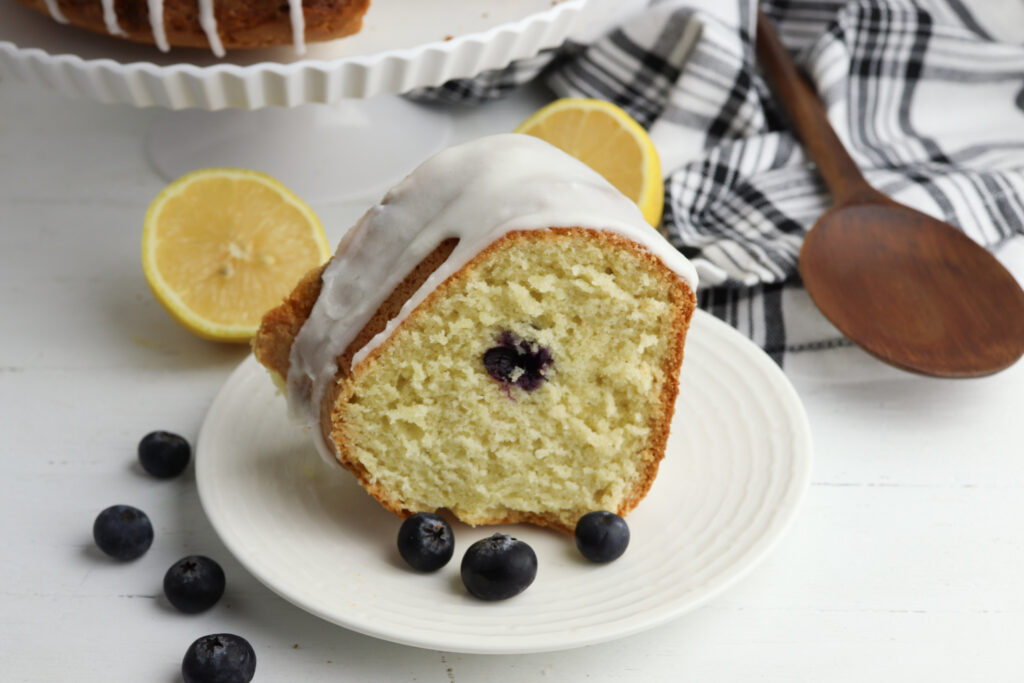 Why You'll Love Lemon Blueberry Bundt Cake
DELICIOUS – Lemon and Blueberries are just one of those flavor combinations that go perfectly well together. This dessert is light, fresh and the perfect ending to any meal!
EASY – We love Bundt Cakes because they are so darned easy to make. And they are so simple to decorate. You really just need to pour some glaze over the top and it will look like it came from a professional bakery! And you'll love our lemon glaze that we made!
PERFECT FOR ANY OCCASION – It's fun, fresh flavors make this a great dessert for any festive occasion! From a baby shower to a graduation party or an outdoor cookout or BBQ!
A couple years ago, we posted this recipe for Lemon Blueberry Cupcakes. It's one of my favorite desserts! It only made sense to make a bundt cake version.
This cake is zesty and vibrant, but not at all too sweet. It's just the right balance of all the flavors. And we make it with sour cream, which helps this cake stay moist for days!
Lemon Blueberry Bundt Cake Recipe
Full is simple, homemade ingredients. This cake is a cinch to throw together and get in the oven. For step-by-step instructions, check out the recipe card below. But here is what you'll need to get started.
FLOUR – Regular All Purpose Flour works. When measuring the flour, remember to scoop it into the measuring cup, and not pack it in. Or else you'll be using too much flour and your cake will be dense.
SALT – Salt is super important when baking to balance with the sweetness of the recipe.
BAKING POWDER – Using baking powder and baking soda combined ensures this cake will rise and be nice and fluffy without too much acidic aftertaste. Using both also helps the cake to brown perfectly and helps to give it that tangy taste we love.
BAKING SODA – See above.
BUTTER – Unsalted butter. Make sure you get it to room temperature before combining.
SUGAR – White, granulated sugar.
EGGS – We use 4 large eggs to help bind things together. Also, these should be room temperature before mixing in with the batter.
LEMON ZEST – You'll need lemon juice and lemon zest. We recommend zesting the lemons before juicing them.
LEMON EXTRACT – We are all about cheap, easy ingredients. But most people agree that Lemon Extract is one of those things where you should try to get the best quality. Generally, Watkins is considered one of the best!
LEMON JUICE – Fresh Lemon Juice, combined with quality lemon extract and lemon zest gives this cake it's natural, delicious lemon flavor.
MILK – We used 2%. But you can use whatever you'd like.
SOUR CREAM – This is our ingredient that keeps this cake nice and moist! If you need to, you can substitute for greek yogurt to lighten things up. Also, make sure your Sour Cream comes to room temperature before mixing into the batter.
BLUEBERRIES – Find the plumpest, juiciest blueberries you can!
INGREDIENTS FOR THE GLAZE
POWDERED SUGAR – Also called confectioner's sugar.
HEAVY CREAM – We don't recommend any substitutions here. You're going to need the fat of the heavy cream for this glaze.
LEMON JUICE – We used 3 tbsp. But you can adjust according to how much flavor you want.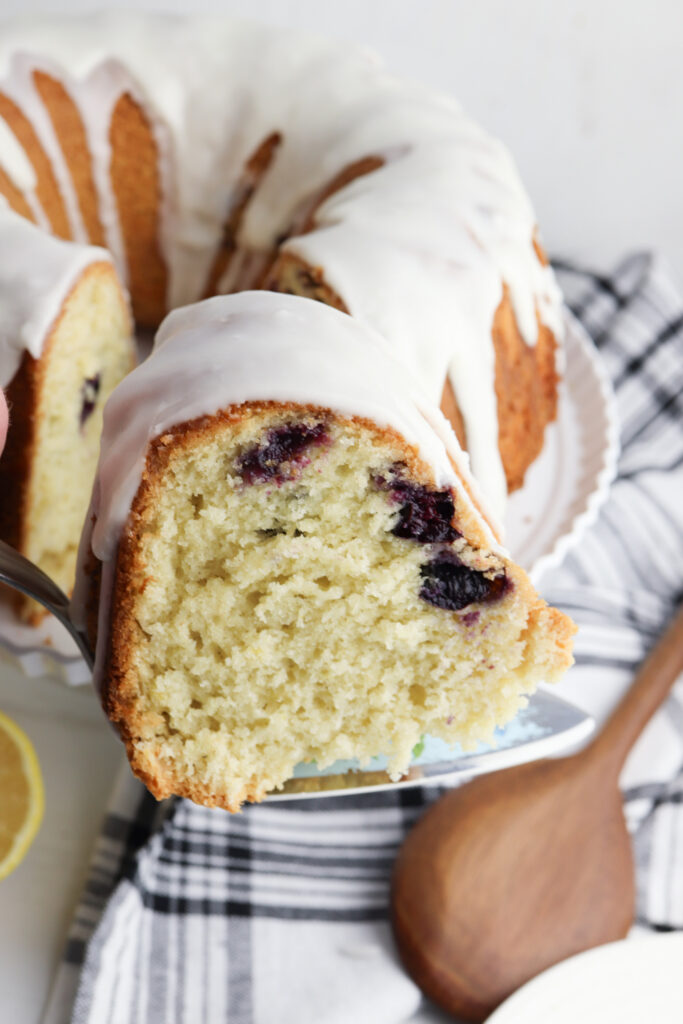 Can You Use Frozen Blueberries For This Bundt Cake?
Yep! You sure can. No need to thaw them. This MAY result in just a couple extra minutes of baking time. So keep an eye on the cake. Whether you use frozen or not, we recommend tossing the blueberries in a handful of flour. This prevents them from falling and clustering at the bottom of the cake when baking. And it prevents bleeding from the frozen blueberries.
Storage and Freezing
This cake is totally fine stored in an airtight container at room temperature. It should be good for about 4 days on your counter. You can store it in your refrigerator and maybe get a day or two more out of your shelflife.
You can freeze Lemon Blueberry Bundt Cake. Allow the cake to fully cool. Cut into individual slices. Wrap in freezer wrap, a freezer bag or both and store in your freezer for up to 4 months. You can allow to thaw at room temperature.
Notes, Tips and Suggestions
GREASE THE PAN! – One important tip for making bundt cakes is to thoroughly grease the pan before you pour batter into it. Use some softened butter and a paper towel or a brush to really apply it to all the nooks and crannies in the pan. Or use a baking spray that has flour in it.
DON'T OVERMIX – Mix the wet and dry ingredients together until JUST incorporated. If you over mix it, the cake will be dense and dry. This goes the same for when you fold the blueberries in.
SERVING – I love to warm a lot of my cakes up before eating. But, honestly, this cake tastes best at room temperature.
SUBSTITUTE BERRIES? – You can certainly try swapping out the blueberries for Strawberries, Raspberries, Blackberries or anything else that sounds good.
ALLOW TO COOL – And make sure to allow the cake to fully cool before pouring the glaze on top. And, allow the glaze to fully set before slicing. I like to put mine on a wire rack to help with this process.
GETTING TOO BROWN? – Towards the end of baking, keep an eye on your bundt cake. If it looks like it's getting too brown, you can tent some aluminum foil on top of it.
We hope you enjoy this recipe for Lemon Blueberry Bundt Cake. Please let us know how it turned out in the comment section. Happy Eating!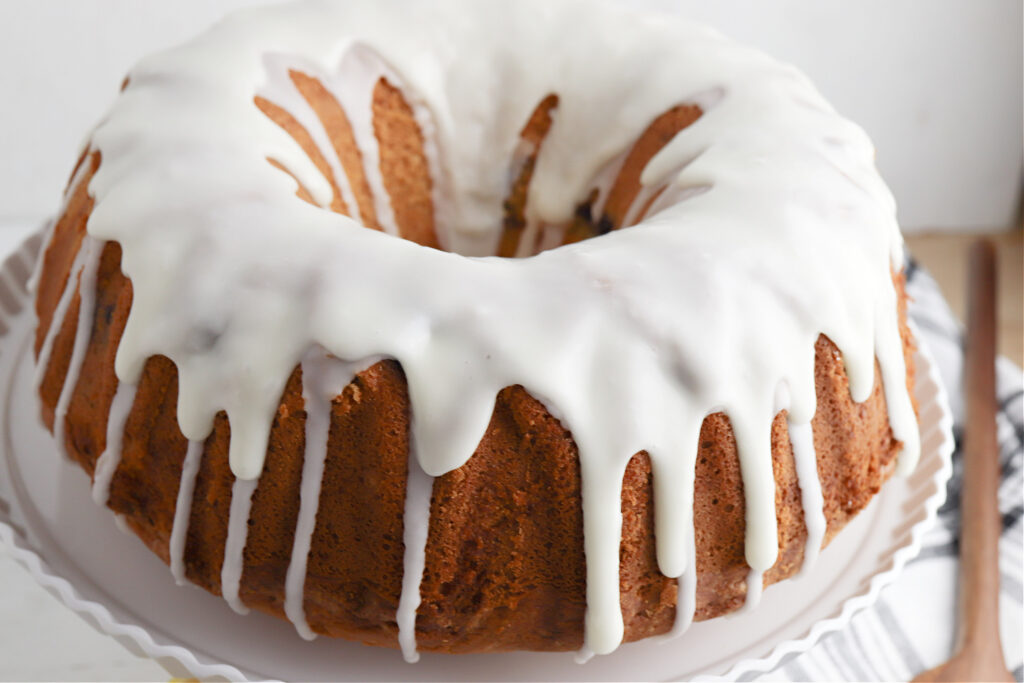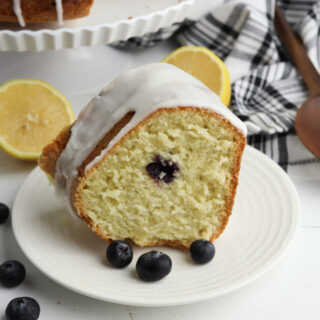 Rate this Recipe
Lemon Blueberry Bundt Cake
This Lemon Blueberry Bundt Cake is a zesty, flavorful treat that combines the slightly sweet tart of lemons with delicious, fresh Blueberries. Perfect for dessert, a snack or even a breakfast treat!
Ingredients
3 ½

cups

flour

1

teaspoon

salt

1

teaspoon

baking powder

½

teaspoon

baking soda

1

cup

butter

softened

2

cups

sugar

4

eggs

1

teaspoon

lemon zest

1

teaspoon

lemon extract

2

tablespoons

lemon juice

1/2

cup

milk

½

cup

sour cream

1

cup

fresh blueberries

1 ½

cups

powdered sugar

1

tablespoon

heavy cream

2

tablespoons

lemon juice
Instructions
Preheat the oven to 350 degrees and spray a 12-cup Bundt pan with nonstick cooking spray.

Set aside one tablespoon of flour, then whisk together the remaining flour, salt, baking powder, and baking soda together in a medium bowl.

In a separate bowl, beat together the butter and sugar until creamy.

Add the eggs, one at a time, beating between each addition.

Mix in the lemon zest, lemon extract, and lemon juice.

Add half the flour mixture and beat to combine.

Add the milk and beat to mix

Add the remaining flour mixture and beat to combine.

Add the sour cream and beat until well mixed.

Toss the blueberries with the reserved one tablespoon of flour, then carefully stir them into the batter.

Pour the batter into the prepared Bundt pan and bake for 55 to 60 minutes, until a toothpick inserted into the center of the cake comes out clean.

Allow the cake to cool in the pan until the pan is safe to touch, then flip the cake over onto a wire cooling rack to cool completely.

When the cake is cool, prepare the glaze by whisking together the powdered sugar, heavy cream, and lemon juice. Spoon the glaze over the top of the cake.
Nutrition
Love this recipe?
Follow @bubbapie for even more delicious recipes!!