The holidays just got a little easier with these 13 Instant Pot Thanksgiving Side Dishes. From sweet potatoes to cranberry sauce and from brussels sprouts to butternut squash, there is nothing you can't make for Thanksgiving in your pressure cooker!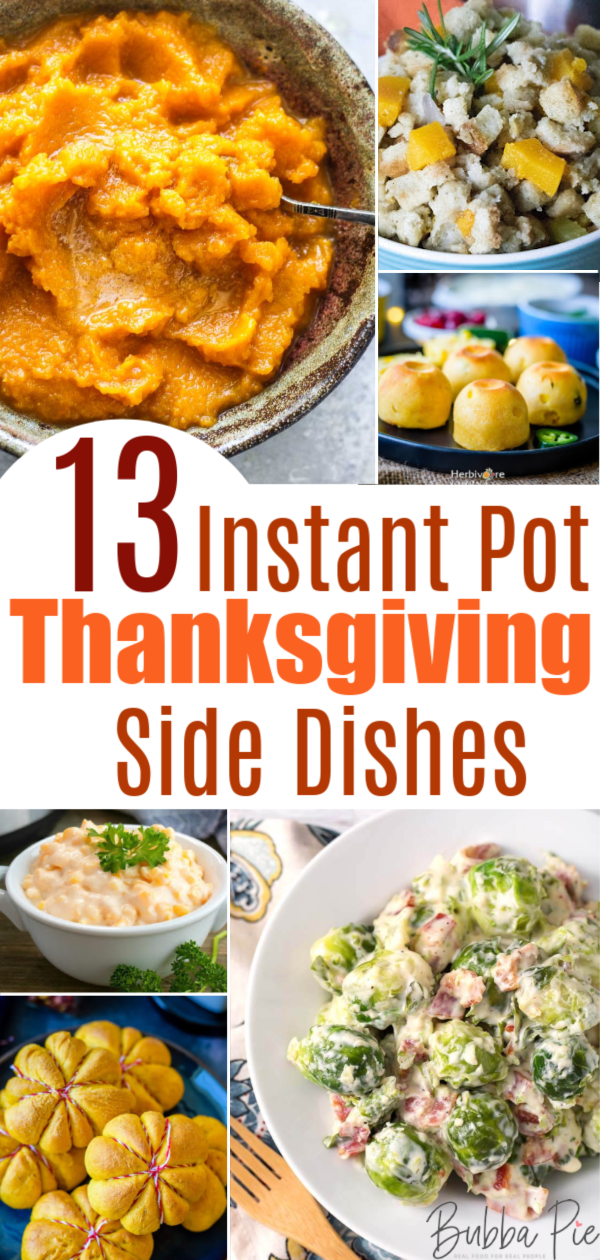 ANOTHER GREAT RECIPE TO CHECK OUT IS MY SLOW COOKER CHEESY POTATOES!
As much as we all love Thanksgiving, most of admit that it can get a little stressful.  This is especially true if you are the one hosting the Thanksgiving meal. Just cooking the turkey is enough to give me severe anxiety. And that doesn't even account for all of the sides! Lately, I've been so relieved to discover that there are a ton of Thanksgiving side dish recipes that can be made in my Instant Pot. This has made things so much easier!
Related Recipes: Easy Instant Pot Taco Meat
What Is An Instant Pot?
If you haven't jumped on board the Instant Pot craze, let me fill you in. The Instant Pot is an electric pressure cooker that uses very hot pressurized air to cook your food. The result is that you can cook a lot of dishes in a much shorter time span than normal. And we all know that every second counts on Thanksgiving day! Not only that, but since everything is being cooked in an airtight container, you get results that are tender, flavorful and perfect almost every time.
I also love that my Instant Pot doesn't take up much space on my counter or stored in my pantry. And it can do just about anything! It can make breads, meats, vegetables, rice, soups and even yogurt!
So, if you feel like you need a little help preparing Thanksgiving (but you can't stand the thought of your mother-in-law in the kitchen all day!), then I check out some of these great Instant Pot Thanksgiving Side Dishes below!
Instant Pot Thanksgiving Side Dishes