This smooth, silky and creamy Pumpkin Mousse Recipe makes a delicious alternative dessert to traditional pumpkin pie. Only 6 ingredients and a couple minutes of prep make this the perfect dessert full of Fall Flavors!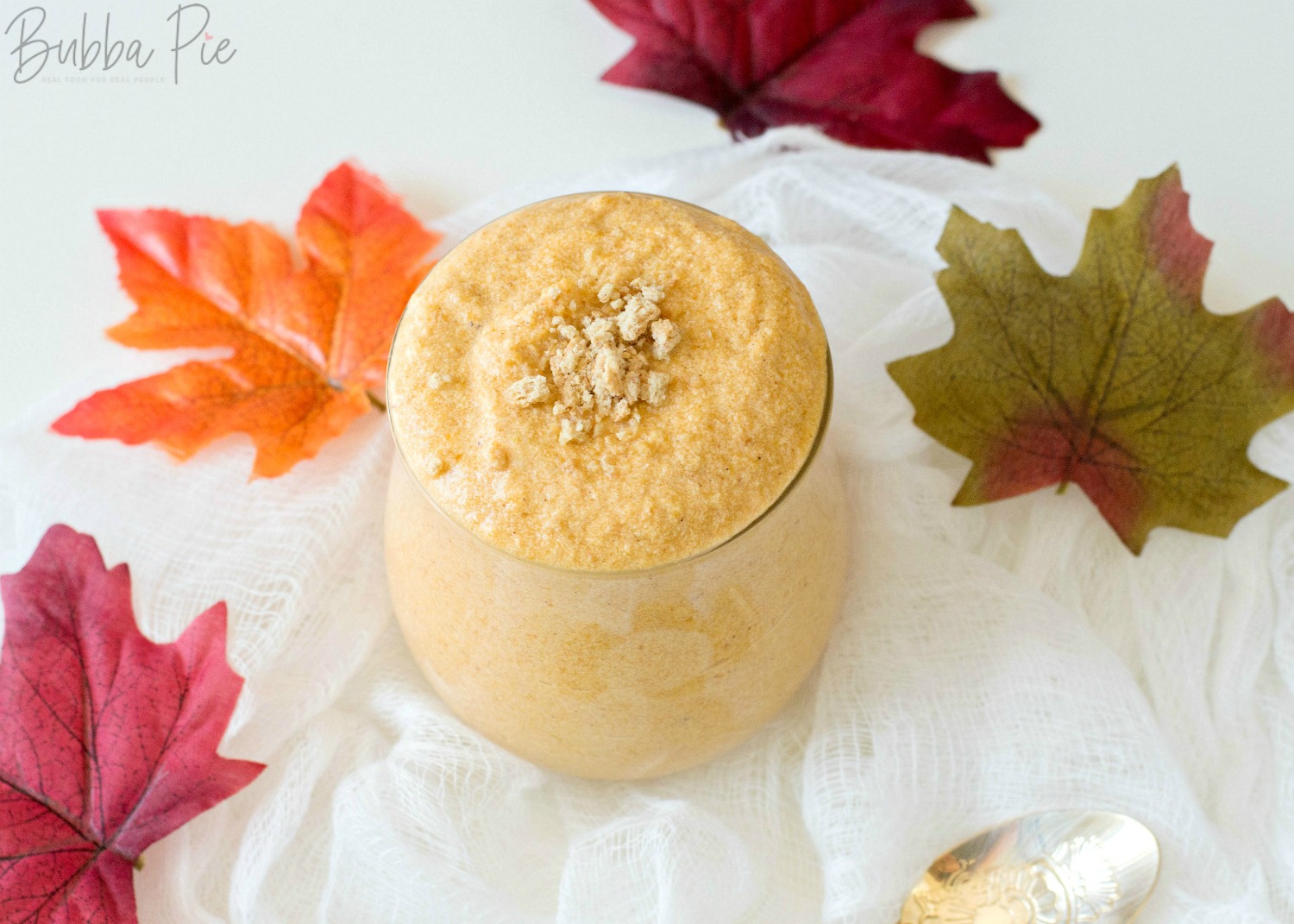 Why You'll Love This Recipe
LIGHT AND CREAMY – Light, airy and perfectly fluffy, this Pumpkin Mousse has all the Fall flavors of Pumpkin Pie or Pumpkin Cheesecake without filling you up even more. We actually made the Pumpkin Cheesecake Bites for just that purpose. You can get your pumpkin fix without having to commit to a full slice of pie or cheesecake.
QUICK AND EASY RECIPE – This recipe is super easy and takes just a couple minutes to whip up! And, it's a great recipe to make ahead of time, so it's ready to serve as soon as dinner is over. In fact, this Pumpkin Mousse tastes better after a couple hours chilling in the fridge.
VERSATILE – And it is so versatile! Serve them in a ramekin, a stem glass, a wine glass, a small serving dish, a champagne flute or even scoop it all into a no-bake pie crust to make a Pumpkin Mousse Pie! You could even put them on little serving spoons and hand them out to guests as tiny little bites.
And, lastly, this recipe is gluten-free as long as you leave off the graham cracker garnish!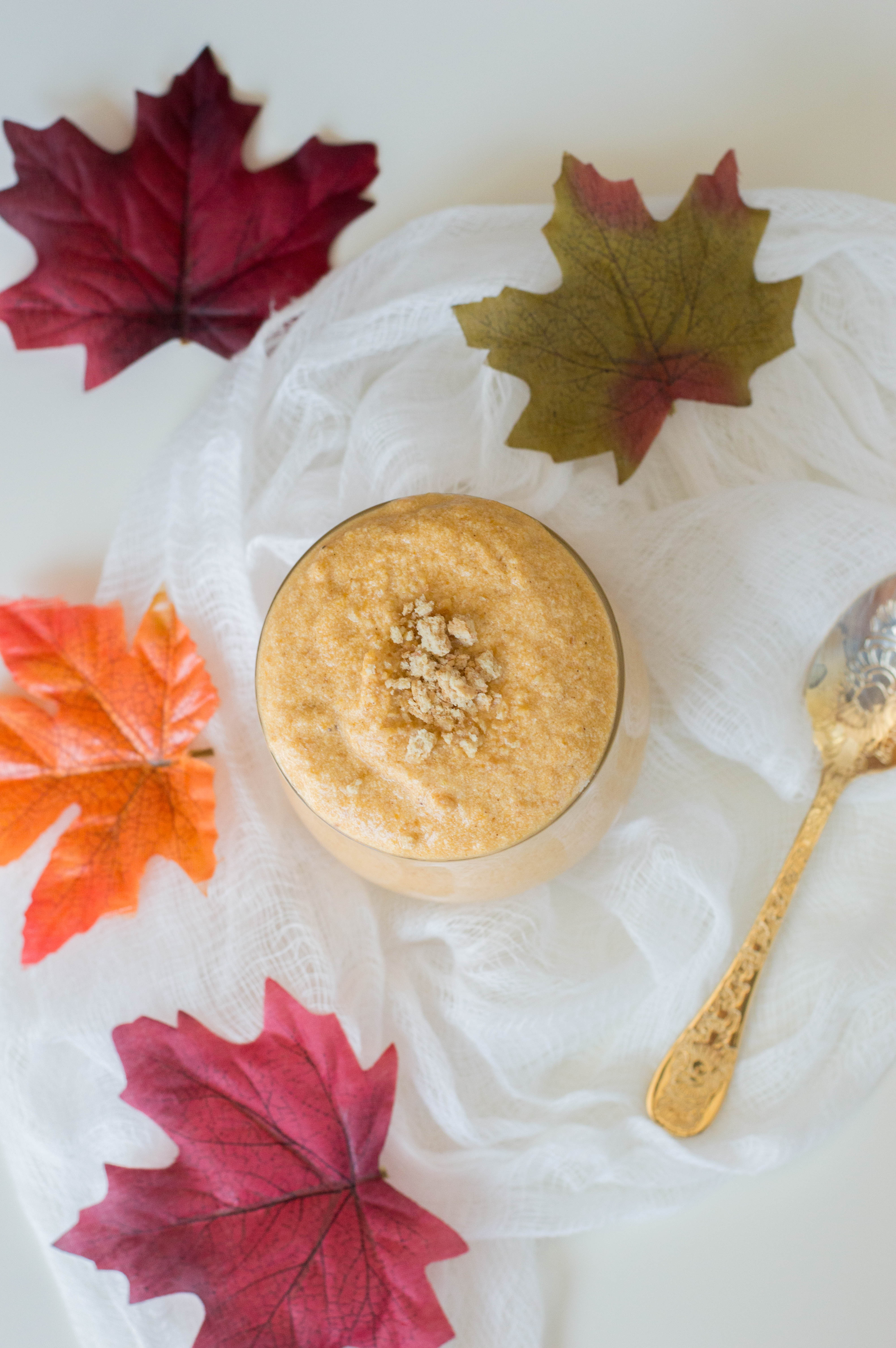 Pumpkin Mousse Recipe
It is super easy to make and doesn't take a ton of ingredients. You probably actually have most of these ingredients in your kitchen right now!
PUMPKIN PUREE – Do not use Pumpkin Pie Filling for this recipe. You will get a different result. Simply whisk this with the sugar, cinnamon and nutmeg over a medium heat and then let cool before adding heavy cream.
HEAVY CREAM – I would not substitute for any lighter cream in this recipe.
SUGAR – Adds the perfect sweetness to balance with the Fall flavors!
CINNAMON – Tastes delicious with the Pumpkin!
NUTMEG – Gives an extra boost of Autumn Flavor.
VANILLA EXTRACT – Adds depth of flavor.
To expedite the process, we always recommend using an electric mixer.
We don't add any pumpkin pie spice to or recipe. But if you want an extra boost of flavor, go for it and and a little bit.
Serving, Storage and Freezing
While you can make this a couple hours, or even a day ahead of time. Wait to put any garnishes on it until right before serving.
When serving Pumpkin Mousse, I wouldn't leave it out in room temperature for more than 2 hours. Otherwise, it may start to go bad and bacteria may start to grow.
You should store it in your refrigerator in an airtight container when not serving. Leftovers should be good in your fridge for up to 4 days.
I would not freeze this recipe. Many of the ingredients may separate when you thaw it out.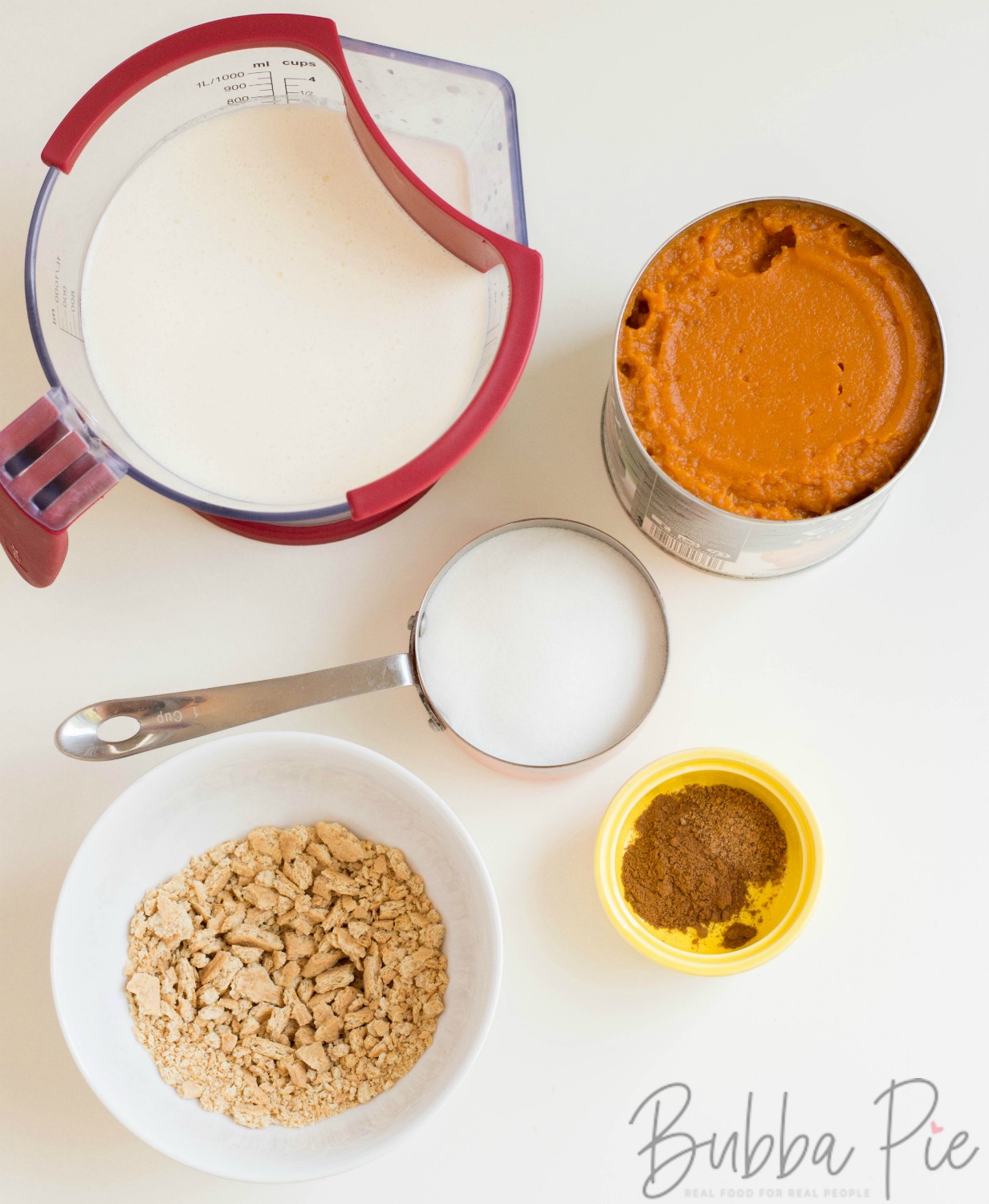 Garnish Ideas
The really fun part of this Pumpkin Mousse Recipe is to discover all the delicious garnishes to put on top. From adding tons of flavor to lacing this dessert with some elegant looks, there are tons of options.
WHIPPED CREAM – Add a dollop of whipped topping for some fresh color and flavor.
GRAHAM CRACKERS – We kept ours pretty simple with crushed graham crackers. Another thing you can do with Graham Crackers is to put them all at the bottom of the cup, which would make a sort of crust. Yum!
CHOCOLATE CHIPS – Mini chocolate chips on your whipped cream is a great idea. I actually love the flavors of chocolate and pumpkin together.
CINNAMON – Sprinkle a small amount of cinnamon top of the mousse or whipped cream.
PUMPKIN SPICE – Sprinkle some Pumpkin Pie Spice on top for added Fall flavor!
NUTS – Crushed Pecans, Walnuts or Almonds would work great.
COOKIES – Crush up some oreos, chocolate wafers or ginger snaps.
MAPLE SYRUP – Drizzle Maple Syrup on top of it.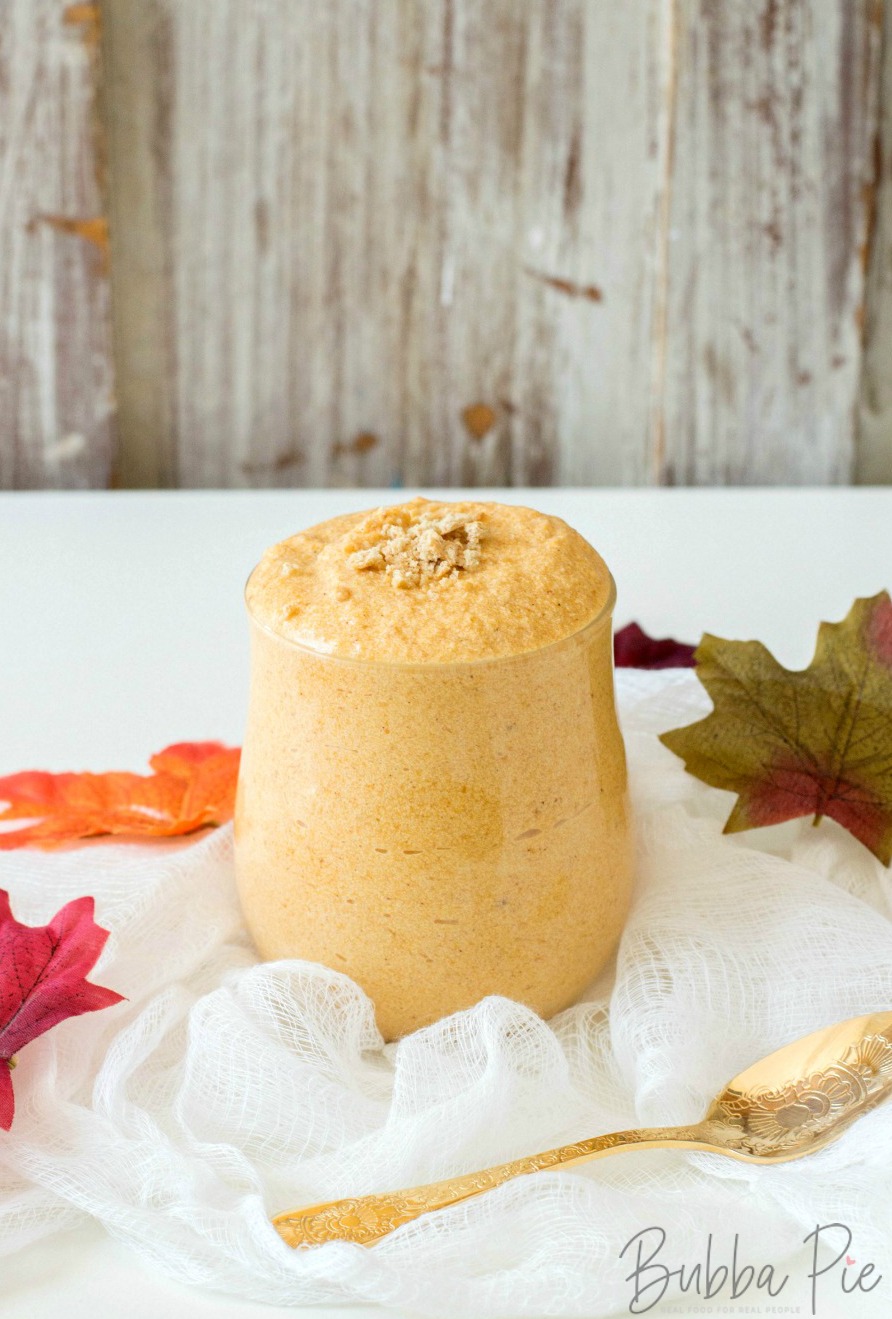 This recipe can easily be doubled or tripled if you have a larger crowd to feed. We hope you enjoy this recipe for Pumpkin Mousse! Please let us know how it turned out in the comments section!
LOOKING FOR MORE PUMPKIN RECIPES OR PUMPKIN DESSERTS? CHECK OUT: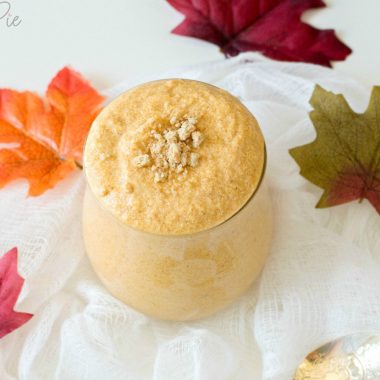 Rate this Recipe
Pumpkin Mousse Recipe
This smooth, silky and creamy Pumpkin Mousse Recipe makes a cool alternative Thanksgiving dessert to traditional pumpkin pie.
Ingredients
2

cups

pumpkin

not pumpkin pie filling

3

cups

heavy cream

¾

cup

granulated sugar

1

tsp

cinnamon

¼

tsp

nutmeg

1

tbsp

vanilla extract

½

cup

graham crackers for garnishing
Instructions
Combine pumpkin, sugar, cinnamon & nutmeg in a medium saucepan. Mix and allow to simmer.

Remove from heat and allow for the pumpkin mixture to cool down completely.

In a bowl, beat cream and vanilla until it forms semi-stiff peaks.

Fold pumpkin mixture into whipped cream.

Chill mousse in the fridge for about 1 hour and then use an electric beater to mix some more.

Garnish with graham crackers. Serve and enjoy!
Notes
This recipe yields 4-6 servings, but you can always put them in smaller cups if you have a larger crowd. Also, there is no whipped cream topping on this version, but I'm sure it would taste fantastic. You could use store bought whipped cream or your own recipe.
And finally, wait to garnish with the graham crackers until ready to serve so that they don't get soggy!
Nutrition
Love this recipe?
Follow @bubbapie for even more delicious recipes!!