This incredibly easy Herb Butter Turkey Recipe will take all the stress out of preparing your Thanksgiving Dinner. With just a few simple ingredients and a couple minutes of prep, you have super tender meat surrounded by a crispy, golden skin.  Read below for m simple instructions for mouthwatering results that everyone will love.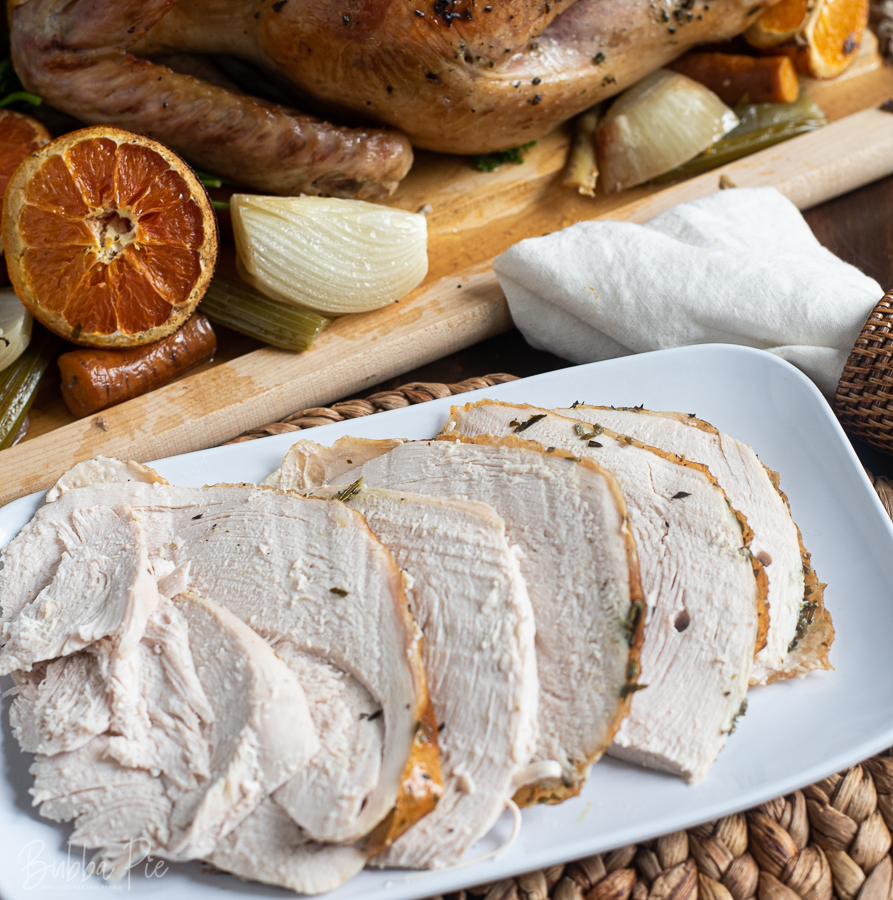 Cooking the Thanksgiving Turkey is often one of the most anxiety inducing culinary experiences. You're roasting a pretty big bird for a lot of people. There isn't much room for failure. But, with this turkey recipe, you can take all of the stress out of the kitchen!
Cooking a Turkey for Thanksgiving can actually be incredibly easy and stress free. If you come to this blog a lot, you know that we like to take delicious food and make it as simple and straightforward as possible. And that is what we've done with this Herb Butter Turkey Recipe.
Herb Butter Thanksgiving Turkey
The process here is simple. And you are going to get awesome results on your first try. You literally CANNOT mess this Turkey up! You simply make a Herb Butter, lather it on your turkey inside and outside the skin. Stuff it with some fresh veggies. Load it on top of some more fresh veggies in the roasting pan. Throw it in the oven. There you go! Ready to get started? Here is exactly what you will need:
12-14 lb Turkey (thawed)
6 tbsp Butter (salted or unsalted, your choice)
1 tsp Fresh Thyme
1 tsp Fresh Rosemary
1 tsp Fresh Parsley
1 Stalk Celery
2 Oranges (very fresh and juicy)
4 Large Carrots
2 Large Onions
3 Cups Chicken Stock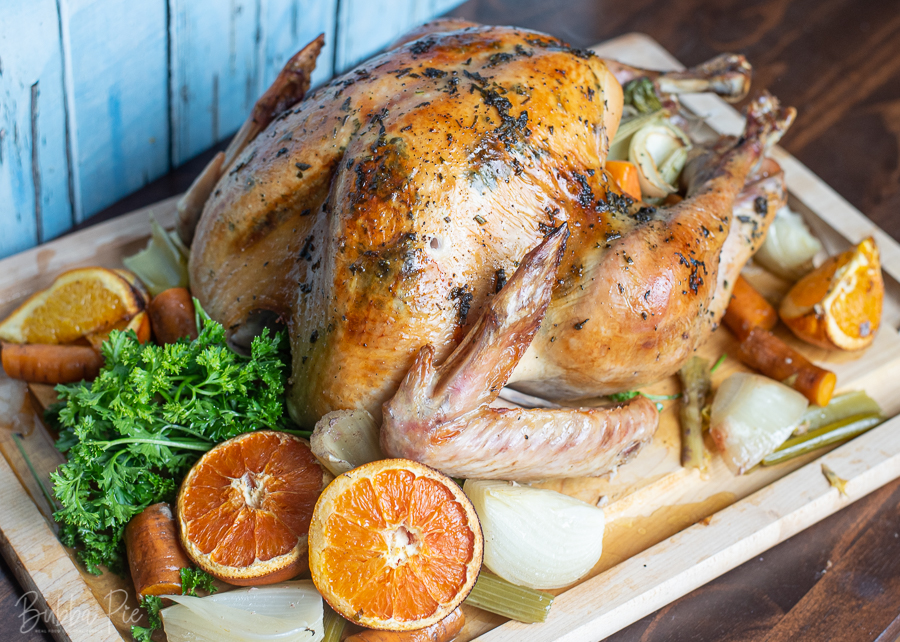 How To Thaw Out A Turkey
One possible snag you may have is not getting your Turkey thawed out enough. If you are buying a frozen turkey, you REALLY want to plan ahead and give that bird time to thaw out in your refrigerator. You'll want about one day in the fridge for every 5 pounds of Turkey. My theory is to put it in a day earlier than I think I need. I'd rather have it chilling in the fridge for an extra day than dealing with a frozen Turkey on Thanksgiving!
Preparing Your Turkey
Once your turkey is thawed and ready to cook, it's a good idea to take it out of the refrigerator and let it sit at room temperature for about an hour. This makes it much easier to handle and will get rid of any lingering ice.
Before adding the herb butter, pat down the turkey with a paper towel.
After adding the herb butter, you'll want to cram the wings under the bird and use cooking twine to tie the legs together.
Can You Prepare A Turkey The Night Before?
With this recipe, yes! That is another awesome thing about it! You can fully prepare it with the herb butter lathered on it. Stuff it with your vegetables and it is ready to throw in the oven whenever you need to!
How To Rub Butter On A Turkey
Some people will tell you to brush the melted herb butter all around the Turkey. Some will tell you to make it ahead of time, roll it up and the cut it into small little "Butter Pats" that you can position around the bird. The method that works for me is sort of between these two. I melted my butter in the microwave, introduced all the herbs. Then let it sit in the refrigerator for about 15 minutes. It will come out as soft butter that is easy enough to smear all around your turkey, but that won't drip down the sides and into the pan.
I used my hands. Yes, it was messy but I was able to really get the butter in all the places it needs to be to work it's magic.
Do You Need A Roasting Pan For Herb Butter Turkey?
You'll certainly need a pan large enough to fit your Turkey into it. But it doesn't have to be a fancy roasting pan with a rack on the bottom. I just use the disposable ones that you can find in your grocery store. These one will work just fine! In fact, my method has you keeping the turkey up in the air on a bed of fresh veggies! And, with the disposable pan, cleanup is a cinch!
No Stuffing Turkey
As you may be realizing, we don't have any stuffing in this turkey. In fact, I've been reading a lot about this and many experts say you shouldn't be cooking your stuffing inside your turkey anyways. Some of the bacteria from the uncooked turkey can get in there. And to cook it enough to be safe may mean overcooking your Turkey.
If you really want stuffing in your turkey, cook it on it's own and then stuff it in the Turkey after it's out of the oven and resting.
We stuff our Turkey with loads of vegetables that give it some extra flavor and moisture! Then we just take the vegetables out after cooking.
We hope you enjoy this recipe for Herb Butter Turkey! We'd love to hear how it turns out for you in the comments section!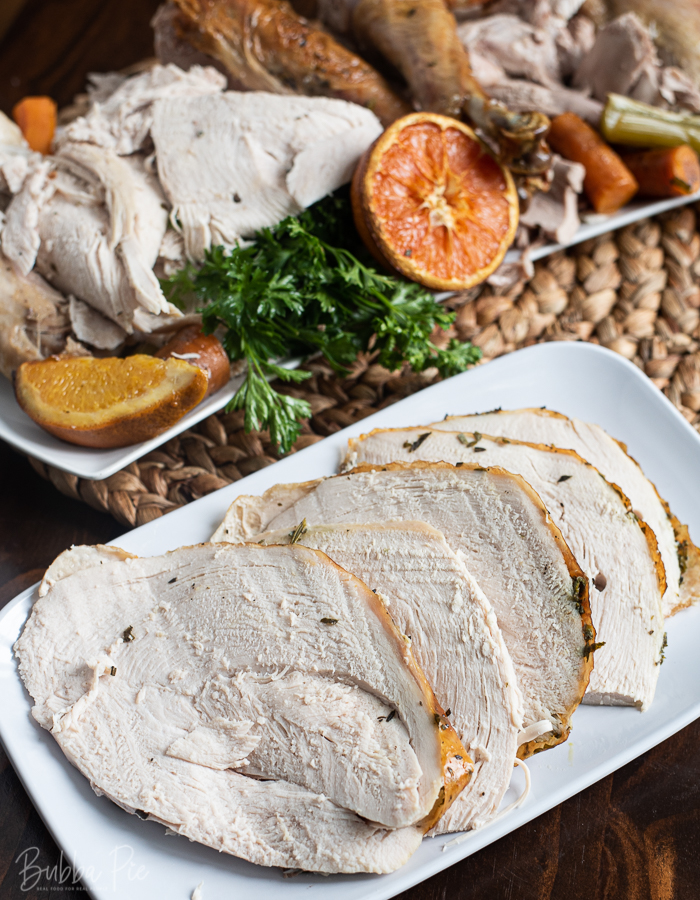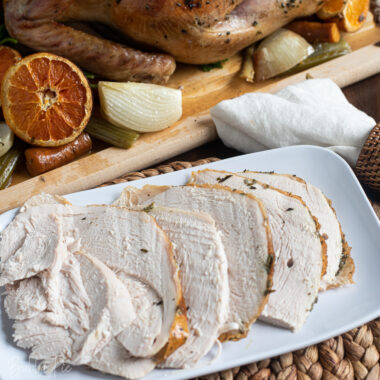 Rate this Recipe
Easy Herb Butter Turkey Recipe
This incredibly Easy Herb Butter Turkey Recipe will take all the stress out of preparing your Thanksgiving Dinner. With just a few simple ingredients and a couple minutes of prep, you'll have mouthwatering results that everyone will love.
Ingredients
12-14

lb

Turkey

thawed

6

tbsp

Butter

1

tsp

Thyme

1

tsp

Rosemary

1

tsp

Parsley

1

stalk of Celery

2

Oranges

4

large Carrots

3

large Onions

3

cups

Chicken Stock
Instructions
Preheat oven to 350 degrees. Make sure that Turkey is fully thawed. If necessary, remove neck and giblets from inside of bird. Set aside if needed for stuffing/gravy.

Melt butter in microwave, mix in all seasonings and then let sit in the refrigerator for about 15 minutes. Butter should have a waxy consistency that is easy to spread on Turkey.

While Butter is in the fridge, peel carrots and onions. Chop up carrots, onions, celery and oranges. Stuff inside of turkey. The leftover vegetables are put on the bottom of the roasting pan.

Lather turkey with herb butter. Make sure to get under the skin as well as over the skin. Apply liberally.

Tie the legs together with kitchen twine, tuck the wings under the turkey.

Place turkey on top of vegetables in roasting pan. Pour in 1 cup of Chicken stock. Cover with Aluminum Foil. Make sure the foil is not touching the turkey. Put on lowest rack of oven. Bake at 350 degrees for about 3 1/2 hours. If needed, you can add more chicken stock every hour if the pan seems to be getting dry.

After 3 1/2 hours, remove the foil, turn the temperature up to 400 degrees and cook until internal temperature of turkey at thickest part of thigh reaches 180 degrees. Let turkey rest for at least 20 minutes before serving.
Nutrition
Love this recipe?
Follow @bubbapie for even more delicious recipes!!