What can we say about these Snickers Brownies? Gooey, nutty, decadent, rich and oh-so-delicious, these brownies are a perfect tribute to the popular candy bar! And we make this recipe super easy by starting with a Boxed Brownie Mix! A chocolate brownie base, a nougat filling, salty peanuts, creamy caramel and a crunchy chocolate ganache topping make this your next go-to brownie recipe to really treat yourself!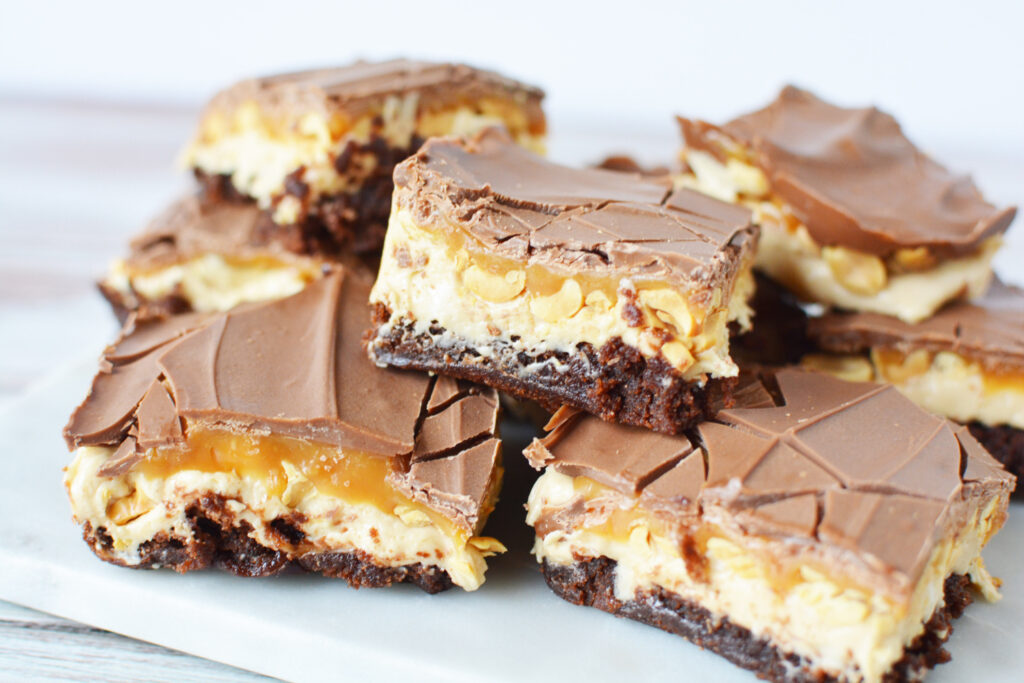 Why You Will Love Snickers Brownies
DECADENT – This is probably a brownie you will want to cut into smaller squares. Each bite is full of rich chocolate flavor, creamy caramel, ooey gooey nougat and then MORE chocolate on top!
FUN – Bring these to your next pitch in or potluck! There won't be another dessert there like it and I promise they will disappear quickly!
What Are Snickers Brownies?
Got a super-duper craving for something sweet? We've got your fix! These Snickers Brownies have five layers to to satisfy you just like the candy bar!
Some recipes simply take a chocolate brownie and mix little bits of an actual Snickers Bar in them. There is nothing wrong with that. But we wanted to do something a little more fun. And, despite all the layers and flavors, this recipe is SUPER easy. It DOES take a little time to throw it together. You'll need to cool each layer before your pour the next one on. So please read through all the steps below so that you know what to expect.
How To Make Snickers Brownies
For step-by-step instructions, check out the printable recipe card below. But, generally speaking, you'll first bake your brownie mix in the oven according to the directions on the box. Once the brownies are fully cooled, you can start adding the extra layers you will make. There are steps where you'll need to refrigerate the brownies and/or let them cool. So, this is a really easy recipe, but it does take some time. You can't whip these up at the last minute. Here is what you'll need to get started.
CHOCOLATE BROWNIE MIX – It doesn't matter which brand. 18.3 oz. You will also need the ingredients to bake the brownie batter. This is usually vegetable oil, water and eggs. Just follow the package directions. The brownie layer will need to be baked and FULLY cooled before layering on top of them.
PEANUT BUTTER – Creamy/smooth. You can get the cheap stuff at the store (Jiffy, ect).
MARSHMALLOW CREAM – We used Marshmallow Cream to mix with the peanut butter and vanilla for the nougat layer. Some recipes call for Marshmallow Fluff. Can you substitute Marshmallow Cream for Marshmallow Fluff? Some sources say you can and some say you can't. We haven't tried. From what I understand, Marshmallow Fluff is a little lighter and the Cream is a little thicker. So, either will probably work, but the results may be a bit different.
POWDERED SUGAR – Also called confectioners sugar. This will be used to help thicken up your Nougat mixture.
VANILLA EXTRACT – Adds depth of flavor to the nougat.
PEANUTS – Dry roasted and unsalted. You can substitute for almonds if you'd like.
CARAMELS – We used candy caramel chews, Unwrapped.
HEAVY WHIPPING CREAM – You'll mix the heavy cream with the caramel over a low heat for that creamy caramel layer. Yum!
MILK CHOCOLATE – 12 oz. Melted in the microwave to make the chocolate ganache topping. Don't use chocolate chips. Baking chocolate melts much better.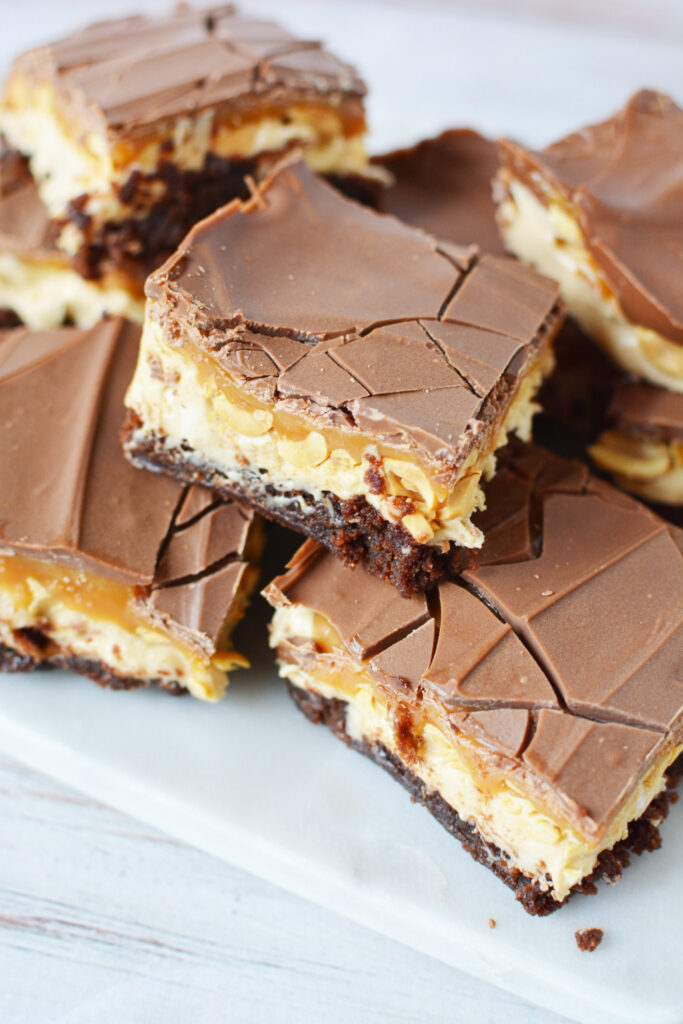 Storage and Freezings
It's best to keep Snickers Brownies in the refrigerator. That caramel layer can get soft very easily. I actually kind of like Snickers Bars cold anyways. So it's all good with me. Keeping them in the fridge in an airtight container should also extend their shelf-life! They should be good for about one week.
Snickers Brownies freeze well. I'd cut them into individual bars, layer them with wax paper or parchment paper and put them in a freezer bag. That way you can take out only what you need. Let them sit at room temperature for a little while to thaw, or put them in the refrigerator overnight.
Notes, Tips and Variations
THE NOUGAT WILL BE THICK – You certainly won't want to stir this by hand in a bowl. We used a cuisinart hand mixer and it struggled a bit. You might want to think about using a more heavy duty mixer.
CHOCOLATE LAYER BREAKING – Our chocolate layer broke a bit when we cut into them. I think it was just the hard chocolate against that creamy caramel. We actually liked the presentation a bit with the broken chocolate. But, if you really want fine lines, maybe chill the brownies as much as you can and use a really sharp knife.
CUT INTO SMALLER BROWNIES – These are RICH! We cut ours into 24 brownies out of a 9X13 baking pan. But you could even make them a bit smaller and still be plenty satisfied with each portion!
CHANGE BROWNIE MIX – We used a standard chocolate brownie box mix. But you can also try it with German Chocolate Brownie Mix, Fudge, Double Chocolate, Dark Chocolate or Blondie Brownie Mix!
We hope you enjoy this Snickers Brownies Recipe! Please let us know in the comments how it worked out for you! We love the feedback! Happy Eating!
LOOKING FOR OTHER BROWNIE RECIPES? CHECK OUT: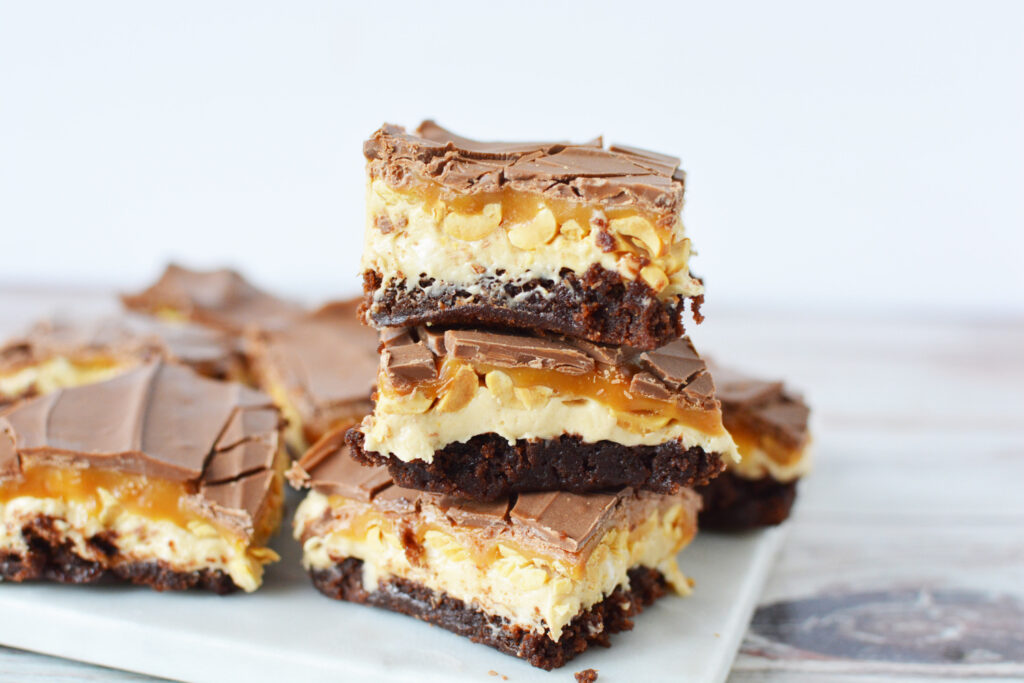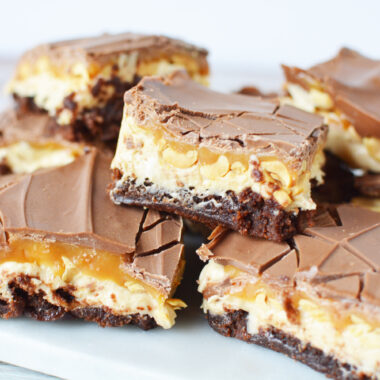 Rate this Recipe
Snickers Brownies
What can we say about these Snickers Brownies? Gooey, nutty, decadent, rich and oh-so-delicious, these brownies are a perfect tribute to the popular candy bar! And we make this recipe super easy by starting with a Boxed Brownie Mix!
Ingredients
1

box 18.3 oz, brownie mix

And ingredients to make brownies (usually oil, water and eggs). Brownies (9x13 size) need to be baked and cooled completely before beginning the additional layers.

1/2

cup

smooth peanut butter

1

13 oz, marshmallow cream

2

cups

powdered sugar

2

teaspoons

vanilla

1-1/2

cups

unsalted dry roasted peanuts

1

package 11 oz, caramels, unwrapped

1/4

cup

heavy whipping cream

1

package 12 oz, milk chocolate
Instructions
Once the brownie is made and cooled, begin the making the layers.

Beat together peanut butter, marshmallow cream, powdered sugar and vanilla. Mixture will be thick.

Gently spread the nougat on the brownies. Use your fingers or the back of a greased spatula. 

Sprinkle with peanuts and gently press into the nougat. Refrigerate.

Add caramels and whipping cream to a sauce pan and heat over medium low heat, mixing constantly until caramels are melted.

Remove from heat and let stand to cool, about 15 minutes, stirring occasionally until warm to the touch.

Remove brownies from fridge and spread caramel on top of peanut layer. Return to the fridge for 10 minutes.

Heat chocolate in a microwave safe bowl for 60 seconds at 50% power and stir. Repeat and stir until smooth.

Pour onto caramel layer. Let stand to harden or refrigerate until hard.

Cut brownies into 24 squares before serving.
Love this recipe?
Follow @bubbapie for even more delicious recipes!!