These Old Fashioned Cabbage Rolls are a traditional Polish Recipe that makes the perfect comfort food. Tender cabbage is wrapped around seasoned meat and rice and topped with a homemade tomato sauce.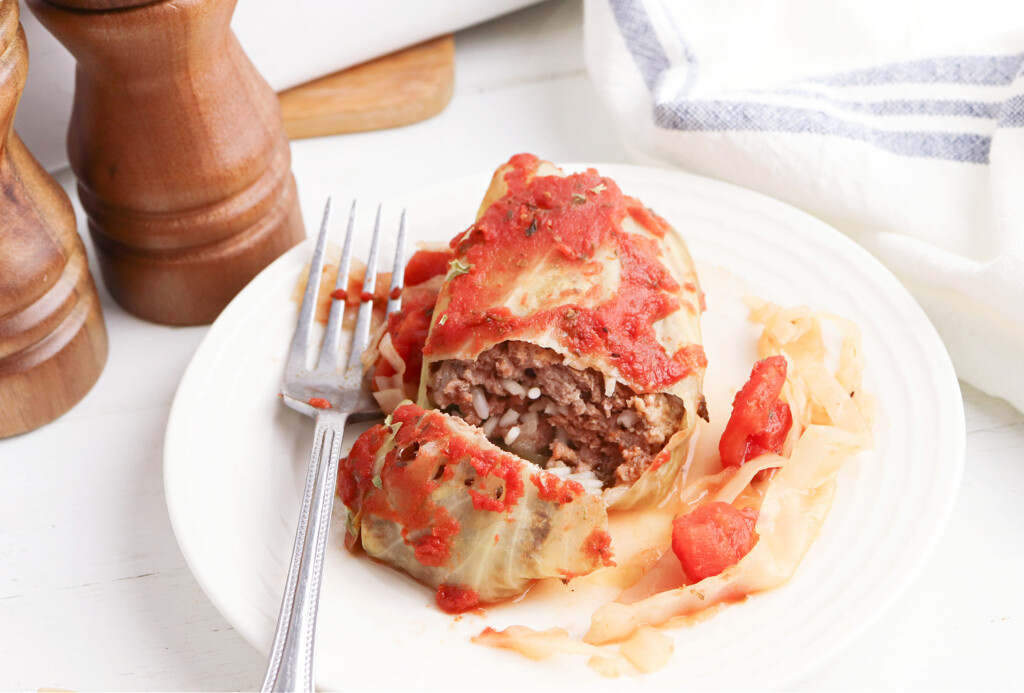 Why You Will Love Cabbage Rolls
COMFORT FOOD – This is a traditional comfort food recipe that has been around for decades, hailing from Poland and Eastern Europe. It's the perfect dinner recipe during the colder months of the year. But an work anytime!
GLUTEN-FREE – Even if you aren't on a low carb diet, it's great to have a gluten free recipe on hand! And this one is low on carbs but high on flavor!
DELICIOUS – The cabbage is so tender and the seasoned meat and rice is full of wholesome, homemade flavor. Top it with our Tomato Sauce and you got a feast for the senses!
How To Make Cabbage Rolls
There are basically three main steps to making cabbage rolls. You have to prepare and cut your cabbage leaves. You have to cook your meat and rice. And then you have to make your tomato sauce. The total prep time for this is only 30 minutes, and we will talk you through the whole process. For step-by-step instructions, check out the printable recipe card below. But here is what you'll need to get started.
CABBAGE – You will want to find a large whole head of cabbage so you'll have the largest leaves possible to make these stuffed cabbage rolls. And if you have cabbage left over, check out this super yummy Bierocks Recipe!
MEAT – We use half ground beef and half ground pork. But you can use all of one or the other if you prefer. You can also use Ground Chicken or Ground Turkey.
TOMATO SAUCE – Any brand of tomato sauce. Just make sure you divide it as needed and read the instructions carefully below.
ONION – One small onion. Chopped. We used a yellow onion for it's milder and sweeter flavor. But you can use a red onion if you'd like.
RICE – Uncooked. You don't need to cook rice before adding it to this recipe.
SALT – To taste.
DICED TOMATOES – For the homemade tomato sauce.
ITALIAN SEASONING – Combine with the tomatoes, tomato sauce and the sugar.
SUGAR – Helps give the sauce it's delicious taste!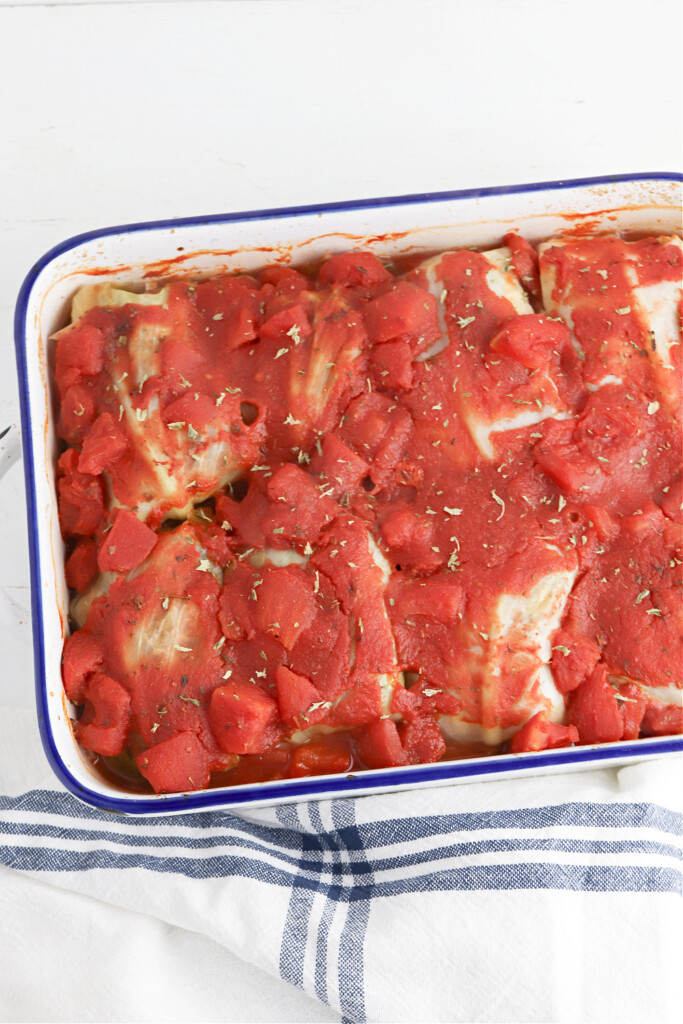 Storage, Leftovers and Freezing
Store leftovers in an airtight container in the refrigerator. They should be good for about 4 days. You can reheat in the microwave, or, for better results, about 5 minutes in a preheated oven at 350 degrees.
Cabbage Rolls are great to freeze either before or after baking. To make frozen cabbage rolls, just thaw in the fridge overnight and let sit out at room temperature for 30 minutes before baking.
Other Notes, Tips and FAQs
DO YOU NEED TO BOIL CABBAGE FOR CABBAGE ROLLS – Yes, you really do. If you skip this step the cabbage will be almost impossible to work with. It will be too brittle and break apart with you try to roll it.
WHAT IS THE EASIEST WAY TO BOIL CABBAGE? – Slice off the last 1/2 inch by the root of the head. As the cabbage boils, the leaves should just fall off on their own! To make cabbage extra tender, add some salt to the boiling water.
DO YOU BAKE CABBAGE ROLLS COVERED OR UNCOVERED? – Bake your cabbage rolls covered so that it cooks evenly and collects steam for better cooking.
We hope you enjoy this Cabbage Roll Recipe! Let us know how it turns out in the comment section.
LOOKING FOR MORE TRADITIONAL RECIPES? CHECK OUT: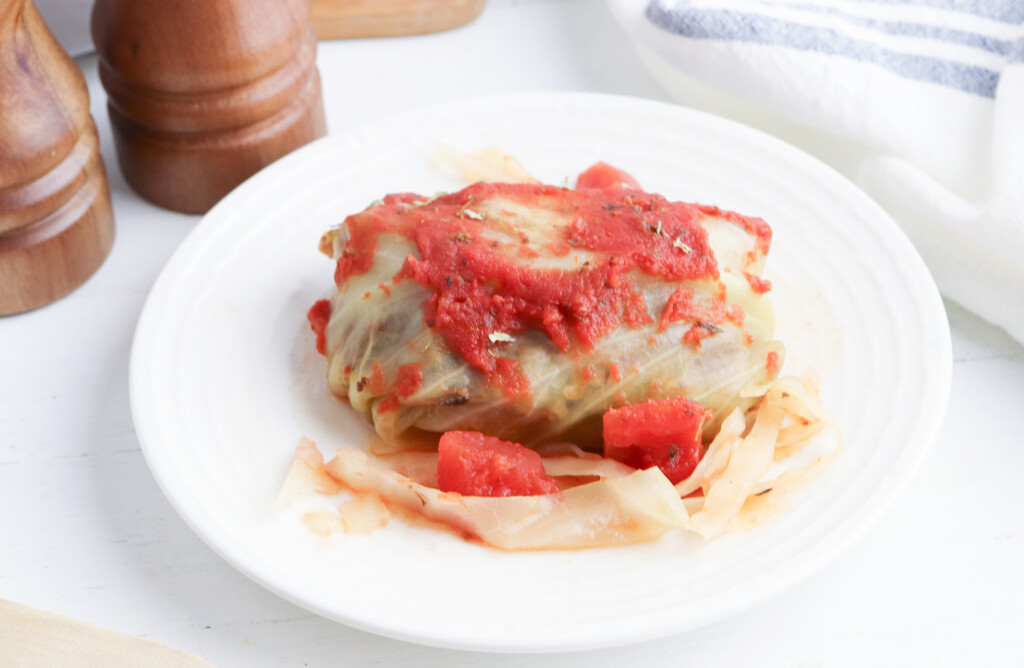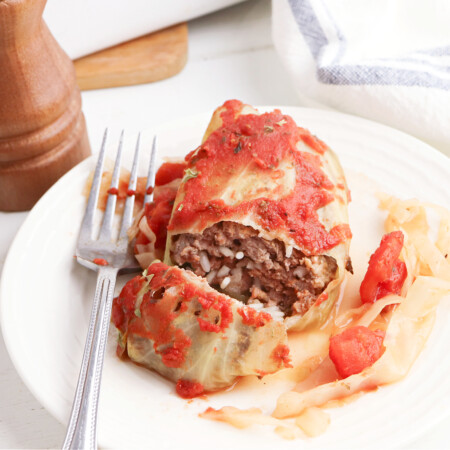 Rate this Recipe
Old Fashioned Cabbage Rolls
These Old Fashioned Cabbage Rolls are a traditional Polish Recipe that makes the perfect comfort food. Tender cabbage is wrapped around seasoned meat and rice and topped with a homemade tomato sauce. 
Ingredients
1

large head cabbage

1/2

pound

ground beef

1/2

pound

ground pork

1 15

ounce

can tomato sauce

divided

1

small onion

chopped

1/2

cup

uncooked rice

1/2

teaspoon

salt

1 14.5

ounce

can diced tomatoes

undrained

1

tablespoon

Italian seasoning

1/2

teaspoon

sugar
Instructions
Preheat the oven to 350 degrees.

Cook the cabbage in boiling water until outer leaves pull away from head. Remove 12 large leaves from the head and set them aside for rolls. Finely chop the remaining cabbage and place it in the bottom of a 9x13 baking dish.

Combine the beef, pork, 1/2 cup tomato sauce, onion, rice, and salt in a large bowl. Mix well.

Cut out the thick vein from the cabbage leaf, making a V-shaped cut at the bottom of each leaf. Place around 1/4 cup of the meat mixture on a cabbage leaf.

Overlap the cut ends of the leaf and fold in the sides. Beginning from the cut end, roll up the cabbage leaf and place it on top of the chopped cabbage in the baking dish, seam side down. Repeat with remaining leaves.

Combine the tomatoes, sugar, Italian seasoning, and remaining tomato sauce in a small bowl. Stir to mix.

Pour the sauce over the rolls.

Cover and bake until the cabbage rolls are tender, around 1 1/2 hours.
Nutrition
Love this recipe?
Follow @bubbapie for even more delicious recipes!!