These Philly Cheesesteak Sloppy Joes take a classic comfort food dish from your childhood and combines it with one of the most famous sandwiches of all time! Meaty, cheesy and full of flavor, it's a quick recipe, ready in just minutes. And, made all in one pan, cleaning up is so easy!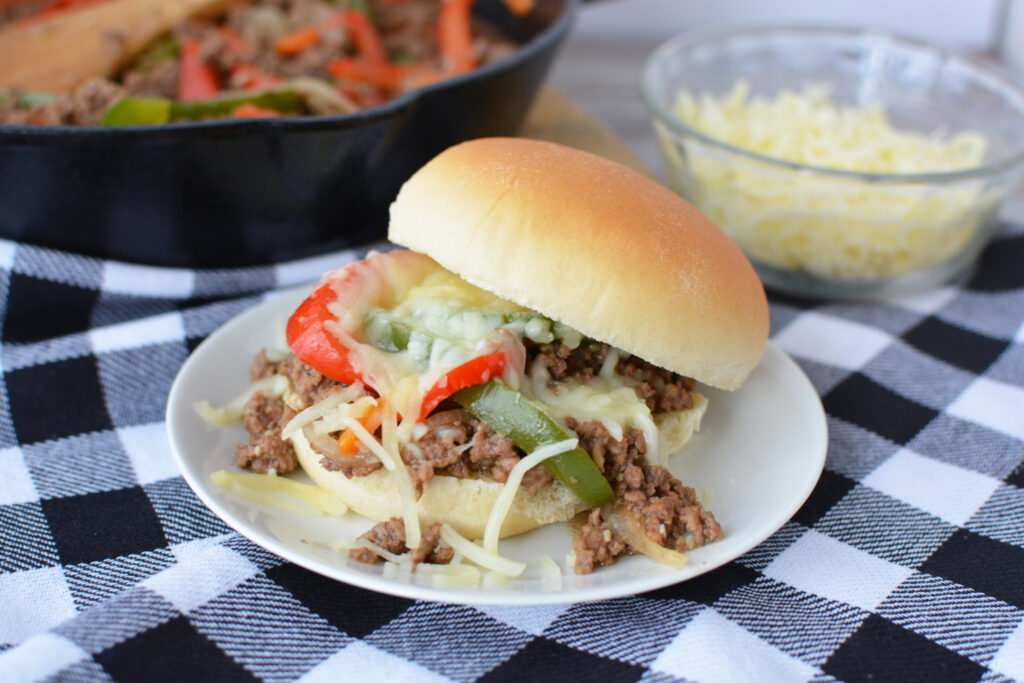 Why You'll Love Philly Cheesesteak Sloppy Joes
NOSTALGIA – Just imagine that rich, tangy flavor of Sloppy Joes that we all remember from our childhood mixed with tons of gooey cheese, onions and bell peppers. Do I have your attention? We love this recipe because it's so nostalgic and it is TOTAL comfort food at it's best.
EASY – It's easy to make with easy, common ingredients that you probably already have.
KID FRIENDLY – The whole family will love it, even your picky eaters. And leftovers taste just as good (if not better!) for lunch the next day!
A couple months ago, we shared the recipe for this AMAZING, Homemade Sloppy Joe Recipe. And we've also done a recipe for Philly Cheesesteak Pasta. We loved the idea of incorporating that famous sandwich into a pasta. So why not make it into a Sloppy Joe too?
Philly Cheesesteak Sloppy Joes
Here is what you're going to need to get started. For step-by-step instructions, check out the recipe card below.
GROUND BEEF – We used 80/20 lean ground beef. But anything will work. If you'd like to lighten this recipe up, you could also substitute for ground chicken or ground turkey.
BELL PEPPERS – We used Green Bell Peppers and Red Bell Peppers. But you can use any color you'd like. We seeded ours and cut into thin slices. You could also mince them up into tiny pieces if you like that better.
ONION – We used a yellow onion because it's a little sweeter and milder. But use red onion if you'd like. Again, we sliced ours into this pieces, but you can dice it up if you want.
GARLIC – Minced. Will saute this with the onions and peppers.
WATER
BEEF BOUILLON CUBES – If you need to, you can sub for chicken bouillon cubes. If you need to substitute for Beef Broth, you can. Start with one cup of beef broth and then add more if necessary.
WORCESTERSHIRE SAUCE – Some people use A-1 Steak Sauce. Some use ketchup. We found that worcestershire works great in this recipe.
CORNSTARCH – We used on tablespoon of cornstarch. You can add more if you need to thicken it up.
SALT AND PEPPER – To taste.
HAMBURGER BUNS – We used just a classic, no frills hamburger bun. See below for some more ideas!
MOZZARELLA CHEESE – You can also substitute for Provolone Cheese, Monterrey Jack, Pepper Jack, Swiss Cheese or anything else that sound good to you!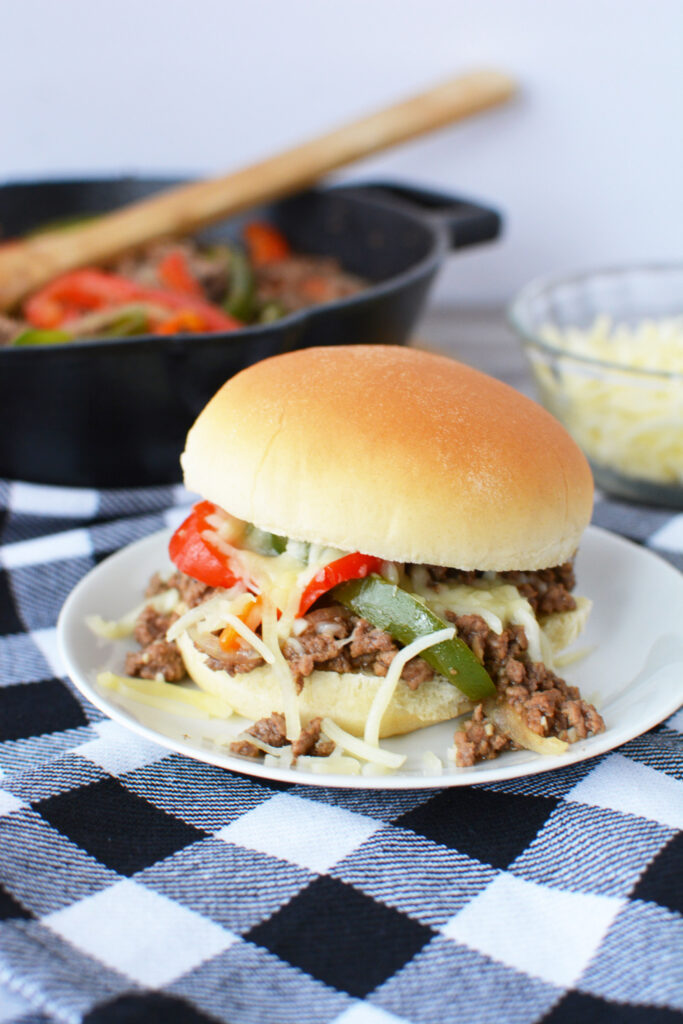 Storage and Freezing
You can store leftovers in an airtight container in your refrigerator. They should stay good for up to 4 days.
To freeze, allow to cool and put in a freezer safe container. It will be good in your freezer for up to 3 months. Thaw out overnight in your refrigerator.
This recipe reheats just fine in your microwave.
How To Serve Philly Cheesesteak Sloppy Joes
This sandwich goes great with some french fries, sweet potato fries or tater tots. Otherwise, you could serve it with a Classic Potato Salad, Ranch Roasted Potatoes, Rotini Pasta Salad, Macaroni and Cheese or some Green Beans.
You can serve it on a traditional Hamburger Bun like we did. Or a Sesame Seed Bun would be awesome!
You can also serve this Philly Cheesesteak Sloppy Joe on Hawaiian Buns!
For gluten free options, you can serve them over french fries or tater tots. Or put it all on a baked potato!
Other Notes, Tips and Suggestions
ADD MUSHROOMS – Some people like sliced mushrooms on their philly cheesesteaks. We omitted them but you can go for it! You can also add some corn or even tomatoes!
ADD HEAT – Add a dash of hot sauce, sliced jalapenos or green chilis for a little bit of a kick!
BROILER – After adding the cheese, you can put in under a broiler for about 30 seconds to help melt the cheese.
TOAST YOUR BUNS! – Some people like to butter their buns and put them on a hot skillet for a minute to toast them. This will help the bun from getting soggy from the beef mixture.
USE A LARGE SKILLET – Make sure you use a nice, large skillet to fit all your ingredients in and you can stir the meat mixture easily. We like to use this one.
We hope you enjoy this Philly Cheesesteak Sloppy Joes Recipe. Please let us know how it turns out for you in the comments!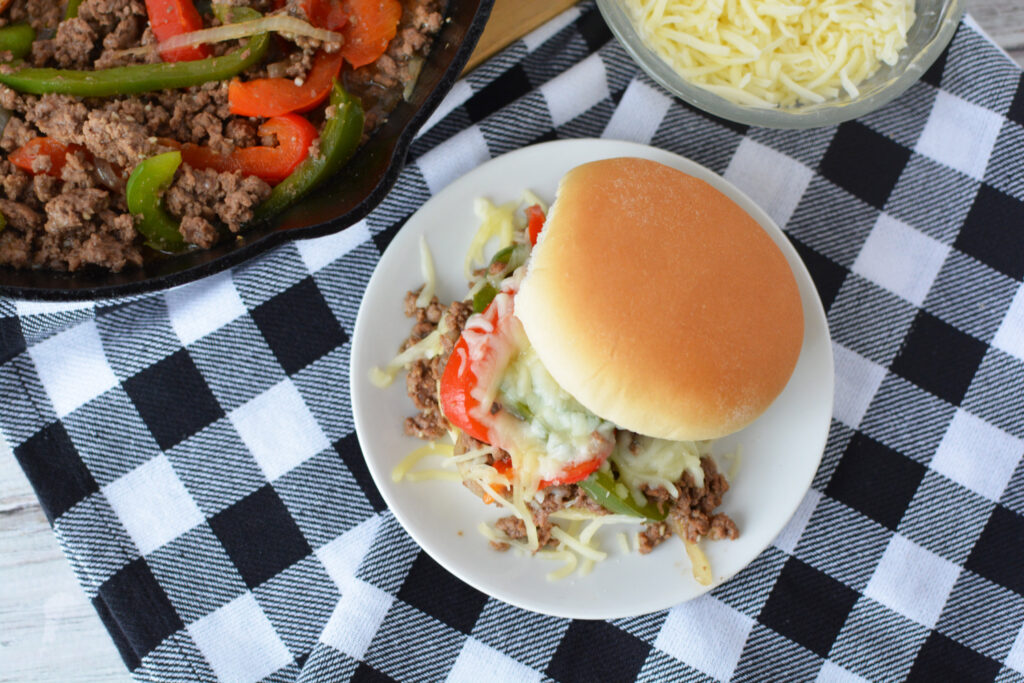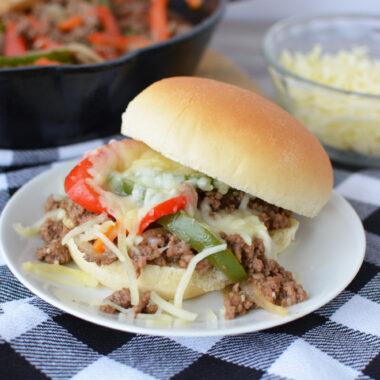 Rate this Recipe
Philly Cheesesteak Sloppy Joes
These Philly Cheesesteak Sloppy Joes are going a new favorite family dinner in your house! A classic dish from your childhood meets one of the most famous sandwiches of all time! Meaty, cheesy and full of flavor, it's a quick recipe, ready in just minutes. And, made all in one pan, cleanup is a cinch!
Ingredients
1

lb

ground beef

1/2

a red pepper

seeded and cut into thin slices

1/2

a green pepper

seeded and cut into thin slices

1/2

of an onion

sliced thin

1

tablespoon

minced garlic

1

cup

water

2

beef bouillon cubes

1

tablespoon

Worcestershire sauce

1

tablespoon

cornstarch

salt and pepper

hamburger buns

shredded mozzarella cheese
Instructions
Add ground beef to a skillet and heat over medium high heat until browned.

Drain grease and return to pan.

Add peppers, onion, garlic and heat over medium heat for an additional five minutes.

Add water, bouillon cubes, Worcestershire and cornstarch and heat over medium until bubbly.

Reduce heat to simmer and cover. Cook for 7-10 minutes, stirring occasionally until hot.

Serve on top of hamburger buns with shredded cheese.
Nutrition
Love this recipe?
Follow @bubbapie for even more delicious recipes!!