This Easy Strawberry Crumble is an old fashioned dessert with fresh, sweet strawberries and a crispy, buttery streusel topping. It's SO easy and only takes minutes to throw together and put in your oven. Best served warm with a dollop of ice cream!

Why You Will Love A Strawberry Crumble
QUICK AND EASY – With just a few minutes of prep time and a handful of easy kitchen staples, you can whip up this recipe for just about any occasion!
CLASSIC RECIPE – There is just something fun and nostalgic about making these recipes that have been around for decades. Your grandma would be proud!
DELICIOUS – Fresh strawberries are baked with a crispy streusel topping. The fresh, tart sweetness of the blueberries contrast so well with the creamy banana muffins! You taste notes of fresh fruit, oats, cinnamon and brown sugar.
What Is The Difference Between a Crumble and a Cobbler?
While there are a lot of similarities between a Crumble and a Cobbler, the key difference is mainly in the topping. A Cobbler usually has a thicker, more "doughy" topping, while a Crumble's topping is thinner and more like a streusel. While a Cobbler topping is usually made out of pie or biscuit dough, a Crumble topping is often made with oats or nuts. A lot of times, people refer to a Strawberry Crumble as a Strawberry Crisp too!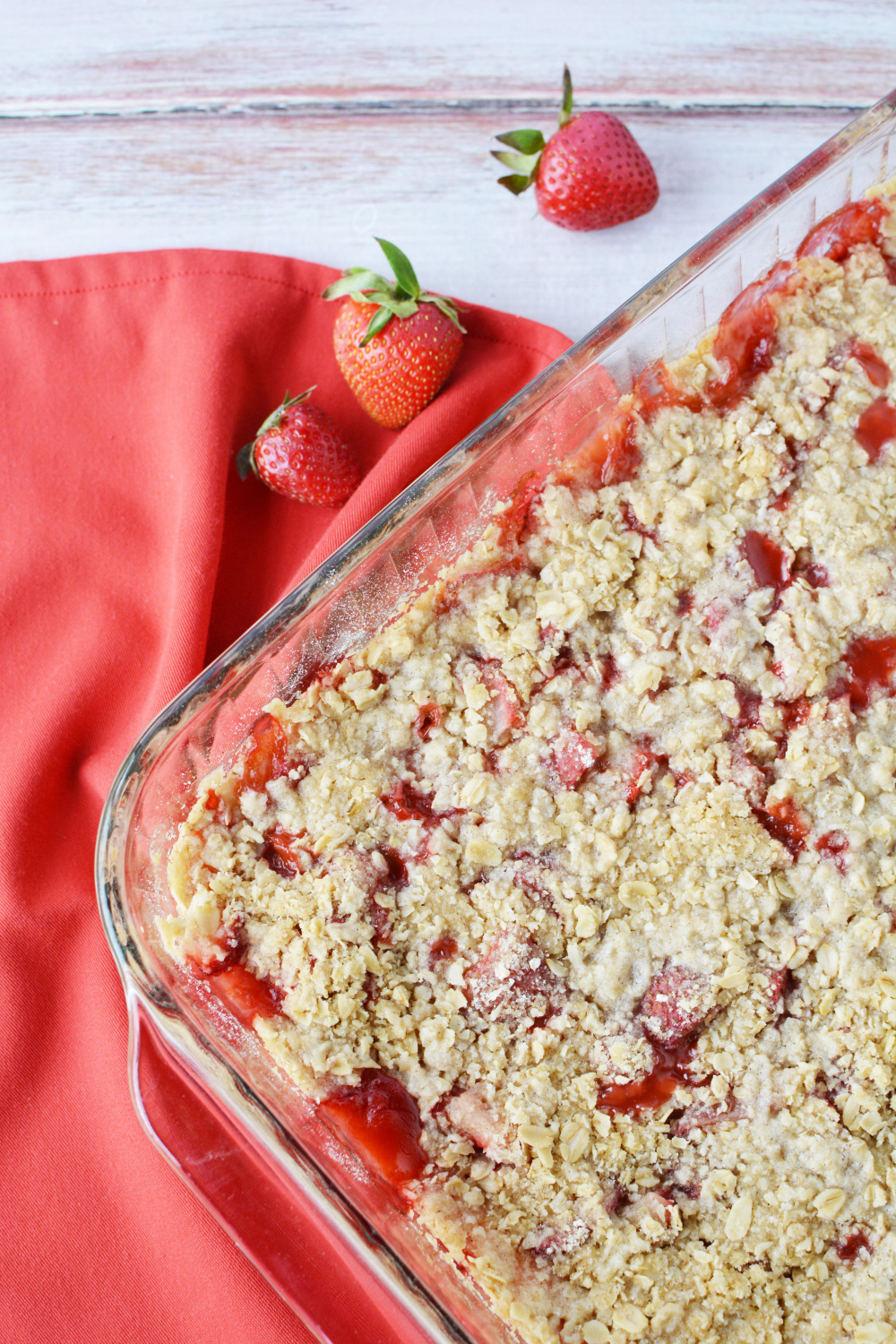 How To Make A Strawberry Crumble
This recipe is SOOOO easy! Really you just make the strawberries and syrup, then mix together the crumble topping, put it on top and bake it to bubbly perfection. For step-by-step instructions, check out the printable recipe card below. Here is what you need to get started:
FRESH STRAWBERRIES – Washed, tops removed and quartered.
WHITE SUGAR – We will toss the strawberries in some sugar to start macerating them.
CORNSTARCH – To coat onto the fresh strawberries too. This mixture of the cornstarch and sugar helps to form that delicious strawberry syrup in this dish. You could also substitute with arrowroot flour.
OLD FASHIONED OATS – If needed, you can use Quick Oats or Instant Oats, but you won't quite get that crisp in the topping.
ALL PURPOSE FLOUR – Substitute with Gluten-free flour or almond flour if needed.
BROWN SUGAR – Helps give that topping it's deep flavor.
GROUND CINNAMON –
SALT – To help balance the sweetness.
COLD BUTTER – Keep it cold and cut it into cubes.
Can You Make Your Crumble Ahead Of Time?
Yep! You can mix together all the ingredients to make your Crumble Topping ahead of time. Just keep in the refrigerator and sprinkle on top of your strawberries whenever you are ready to bake them. You can also prepare the strawberries ahead of time by chopping them up. But don't coat them in sugar until you are ready to bake.
This is a great idea if you think you may be short on time, or will be entertaining.
Storage, Leftovers and Freezing
Store leftovers in an airtight container if your fridge. They should be good in your refrigerator for about 4 days.
You can freeze Strawberry Crumble. Allow it to cool to room temperature and put it in a freezer safe container. It should stay good in your freezer for up to 3 months. Allow to thaw in the fridge.
Notes, Tips and Variations
WHAT SIZE DISH SHOULD YOU USE?– We made this in a 9X13 inch casserole dish. We thought it came out perfectly. But if you need/want to use a 9X9 inch baking dish, you can. It will come out a little thicker and you may need to bake it a little longer.
NEED TO FRESHEN YOUR STRAWBERRIES?- You can also add a little fresh squeezed lemon juice to your strawberries to freshen them up and enhance their flavor. But it's not necessary.
TOPPINGS, TOPPINGS TOPPINGS!– Add nuts to the topping can also give it a little extra flavor and texture. Chopped Walnuts or Pecans! Sliced almonds would be perfect! And, of course, serve warm with a scoop of vanilla ice cream!
HOW TO CUT IN BUTTER– Really, the best tool to cut in your butter to the crumble streusel topping is to use a pastry cutter. Otherwise, you can use a fork. But it will be a little harder and messier.
HOW TO KNOW WHEN YOU CRUMBLE IS DONE? – The crumble topping should turn a golden brown, and the strawberry syrup at the edges should start to bubble up.
We hope you enjoy this Easy Strawberry Crumble Recipe. Please let us know how it turns out in the comment section!
LOOKING FOR MORE DELICIOUS RECIPES FEATURING STRAWBERRIES? CHECK OUT: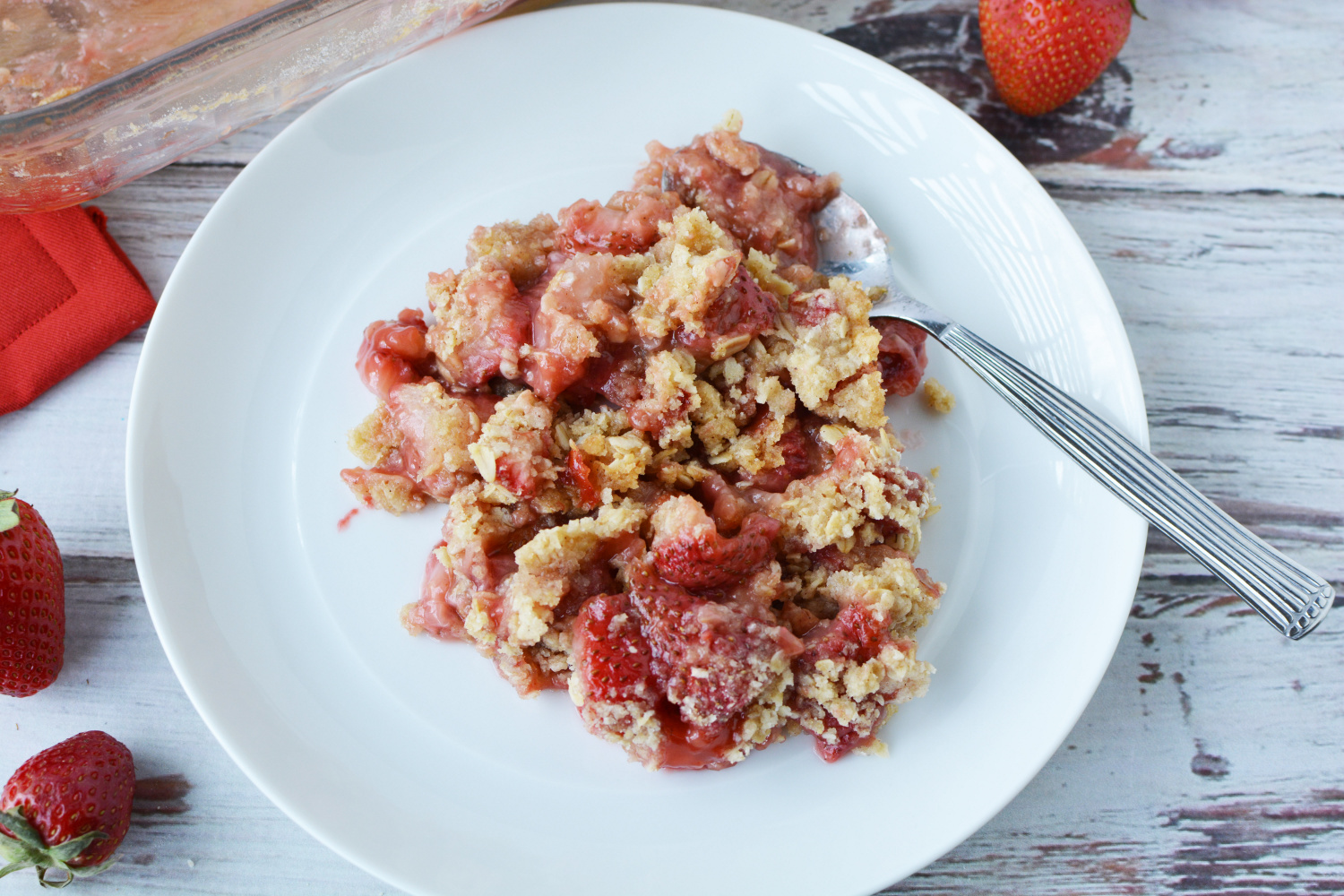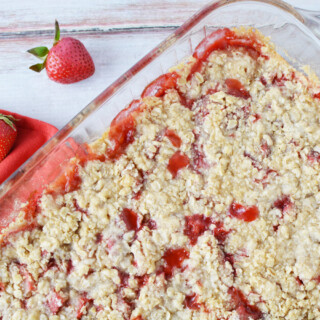 Rate this Recipe
Easy Strawberry Crumble
This Easy Strawberry Crumble is an old fashioned dessert with fresh, sweet strawberries and a crispy, buttery streusel topping. Best served warm with a dollop of ice cream!
Ingredients
2

lbs

fresh strawberries

washed, tops removed and quartered

1/2

cup

white sugar

divided

3

Tablespoons

cornstarch

2/3

cup

old fashioned oats

2/3

cup

all purpose flour

1/4

cup

brown sugar

1/4

teaspoon

ground cinnamon

1/4

teaspoon

salt

1

stick

1/2 cup, butter, cold and cut into cubes
Instructions
Preheat oven to 350 and lightly grease a 9x13 baking pan with nonstick cooking spray. Set aside.

Add strawberries, 1/4 cup white sugar and cornstarch to a bowl and mix well to evenly coat. Spread berries into prepared pan. Set aside.

In a mixing bowl, add oats, flour, brown sugar, 1/4 cup white sugar, cinnamon and salt and mix well.

Cut in butter with a pastry blender until crumbly.

Sprinkle on top of strawberries.

Bake for 25-35 minutes or until top begins to brown and berries are bubbling. Let stand for 10-15 minutes to cool until warm. Serve warm.
Nutrition
Love this recipe?
Follow @bubbapie for even more delicious recipes!!