This Honey Butter Cornbread is soft, moist and full of sweet buttery flavor! So easy to make in just a couple minutes, it adds some southern comfort food flair to just about any meal!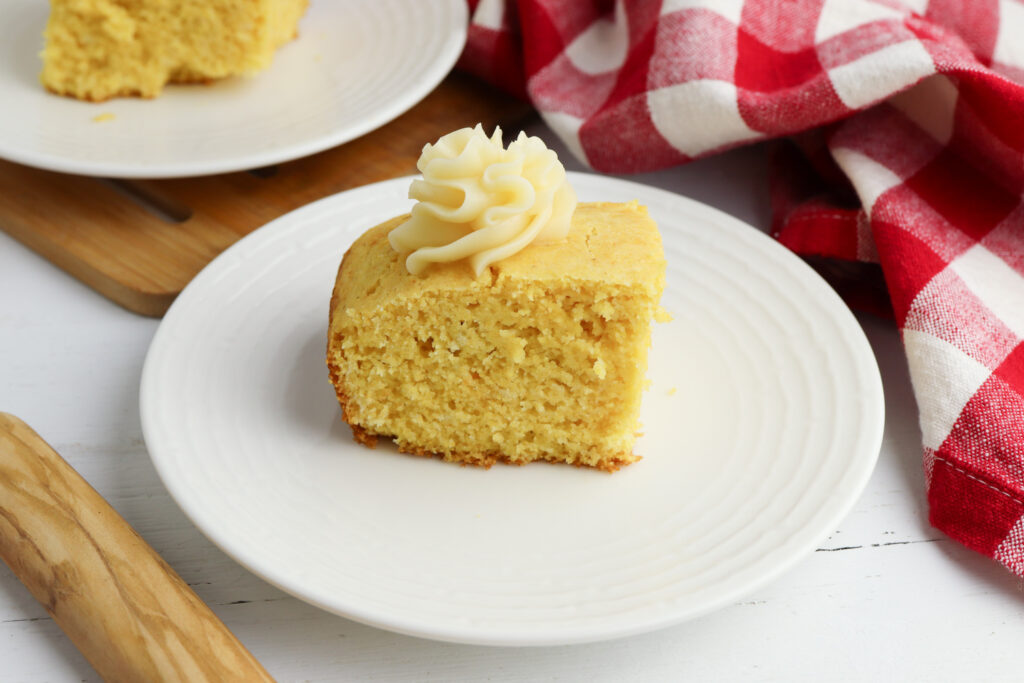 Why You'll Love Honey Butter Cornbread
COMFORT FOOD – Cornbread is really the ultimate comfort food. Mostly because it goes SO WELL with other comfort foods! And this Honey Butter Cornbread turns up the notch to another level and is a great bread side dish with chilis, soups, stews, grilled meats and salads!
EASY – Just a few common pantry ingredients and just a couple minutes of prep and you will have this cornbread in the oven, filling your kitchen with the most delicious aromas!
DELICIOUS – I mean, really, we are putting honey and butter into a bread dish that is already so yummy. And if you are looking for another fun addition to cornbread, check out this Jiffy Jalapeno Cornbread!
Honey Butter Cornbread
Just mix a couple easy ingredients together and you are ready to put this cornbread in the oven. Check out the step-by-step instructions in the printable recipe card below. Here is what you'll need to get started!
BUTTER – Unsalted butter. You'll be using this as an ingredient in the cornbread and to make the delicious honey butter we will be slathering on top of this cornbread! Melted Butter mixed with honey…. melting on top of cornbread… yes please!
HONEY – Gives our cornbread that sweet flavor. If you don't have honey, you can substitute with maple syrup. But we highly advise sticking with honey.
MILK – 2% milk. If you want to reduced a little fat, you can use low fat or skim milk. Or, you can go the other way and use buttermilk!
EGG – A binding and leavening agent. We like to bake with our eggs about room temperature.
CORNMEAL – Use yellow cornmeal for this recipe. You CAN use white cornmeal, but it won't have that rich, yellow color we all know and love. And many people say that white cornmeal isn't quite as sweet as yellow.
FLOUR – All purpose flour.
BAKING POWDER – Helps the cornbread rise and have that delicious fluff to it!
SALT – We use 1/2 teaspoon kosher salt, which balances beautifully with the sweetness of the honey and the corn.
BAKING SODA
Can You Make These Into Muffins?
We make your recipe in an 8-inch square baking dish. We haven't actually made them into muffins, but I don't see why you can't. Simply combine all the ingredients and then pour them into a muffin pan 2/3 of the way full. Make sure to heavy grease the muffin pan or use muffin liners.
Bake in a preheated oven at 375 degrees. Keep an eye on the muffins, you'll know they are ready to take out when the edges start getting golden brown. Stick a toothpick in the center of the muffin (or, even better, use this cake tester). If it comes out clean, they are ready!
Storage And Freezing
Store leftover cornbread in an airtight container at room temperature. It should stay good for up to 4-5 days.
You can freeze this recipe. Let the cornbread fully cool, slice into individual servings and separate by wax paper or parchment paper. Put them in a freezer bag. It should be good in your freezer for 3-4 months. Thaw at room temperature.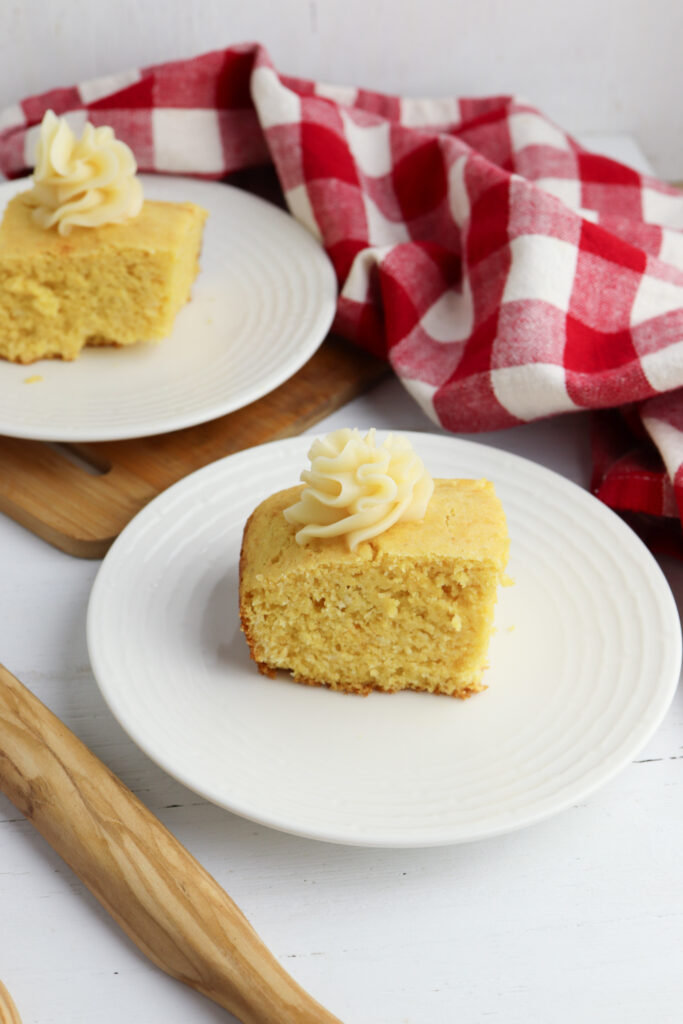 Can You Make This In A Cast Iron Skillet?
A lot of people swear by making their cornbread in a cast iron skillet. This really gives you that golden, crispy crust on the outside of your cornbread. You can certainly use one instead of the 8X8 baking pan we used.
Just heavily butter your skillet, pour the batter into it and bake in a preheated oven for 375 degrees. Again, because you are using a slightly different method of baking, the times may be a little different. Keep an eye on it and do the toothpick test.
Additions and Variations
There are actually a ton of fun ideas to liven up this cornbread recipe (not that it even needs it!):
ADD CHEESE – Cheddar Cheese would be delicious. But swiss or even pepper jack would be great.
ADD FRUIT – Believe it or not, mixing in some fresh fruit to the batter before baking works great! Strawberries, blueberries, dried cranberries or cherries would all be delicious!
ADD BACON – Mix in some crumbled bacon to the batter to gives this a more sweet and savory combination!
ADD JALAPENO – Dice up some jalapenos and incorporate them into the batter to give this cornbread some kick!
Notes and Tips
DON'T OVERMIX THE BATTER – A common mistake when baking is overmixing the wet ingredients and the dry ingredients. You want to mix until they are JUST incorporated and you can't see the flour anymore. The texture of the batter may still be lumpy, that is totally ok! This will result in a soft, tender homemade cornbread.
MAKE THE HONEY BUTTER FIRST – It's best to make the honey butter ahead of time and let it sit in the fridge to firm up a bit while the cornbread is baking.
We hope you enjoy this recipe for Honey Butter Cornbread. We'd love to hear how it turns out for you in the comments section. Please drop us a line and let us know! Happy Eating!
LOOKING FOR SOME MORE BREAD DISHES? CHECK OUT: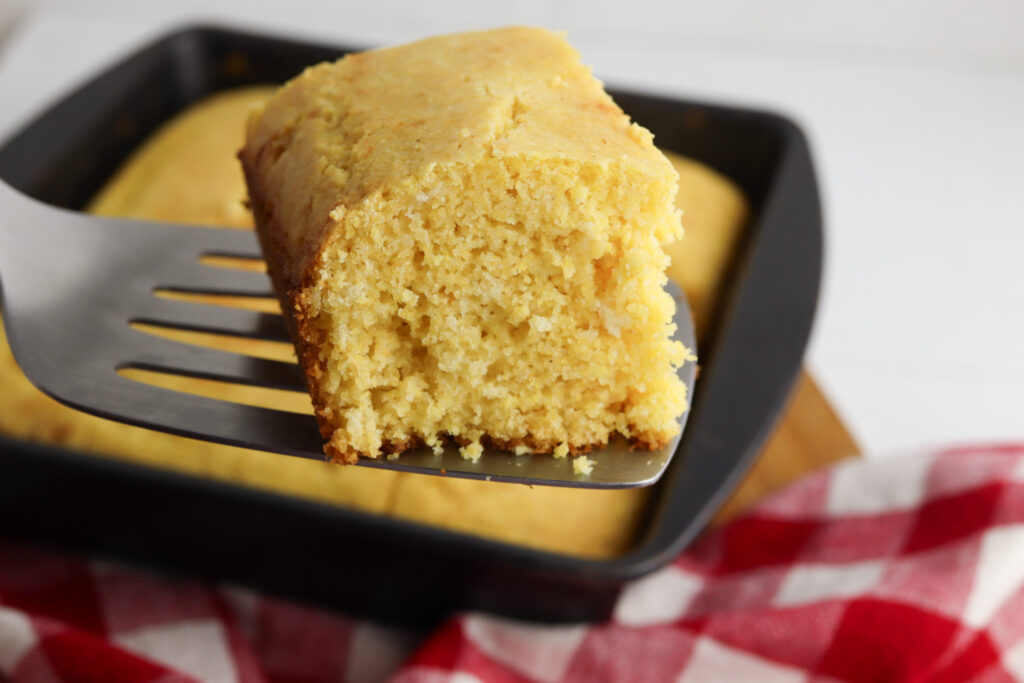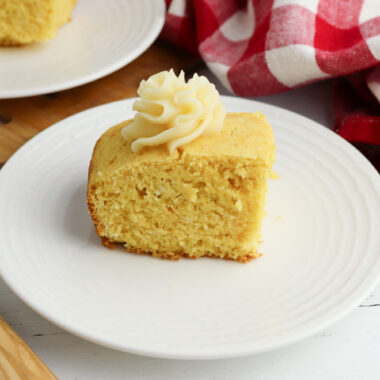 Rate this Recipe
Honey Butter Cornbread
This Honey Butter Cornbread is soft, moist and full of sweet buttery flavor! So easy to make in just a couple minutes, it adds some southern comfort food flair to just about any meal!
Ingredients
Ingredients for the Cornbread:
¼

cup

butter

melted

1/3

cup

honey

1

cup

milk

1

egg

1 ¼

cup

yellow cornmeal

1

cup

flour

1

tablespoon

baking powder

½

teaspoon

salt

¼

teaspoon

baking soda
For the Whipped Honey Butter:
½

cup

butter

softened

¼

cup

honey
Instructions
To make the whipped honey butter, add the softened butter and honey to a small bowl. Beat the ingredients together with a hand mixer until light and fluffy.

Preheat the oven to 375 degrees and spray the bottom of an 8x8 baking pan with non-stick cooking spray.

In a large bowl, whisk together the butter, honey, milk, and egg.

Add the cornmeal, flour, baking powder, salt, and baking soda. Stir until just combined.

Pour the mixture in the prepared baking pan and bake for 20 to 25 minutes, until a toothpick inserted into the center comes out clean.

Allow the cornbread to cool for at least 10 minutes before slicing and serving.
Nutrition
Love this recipe?
Follow @bubbapie for even more delicious recipes!!