These Pepperoni Rolls are a fun classic recipe that is perfect as an appetizer, snack, lunch or dinner! Frozen dough is thawed and filled with pepperoni, marinara sauce and lots of cheese!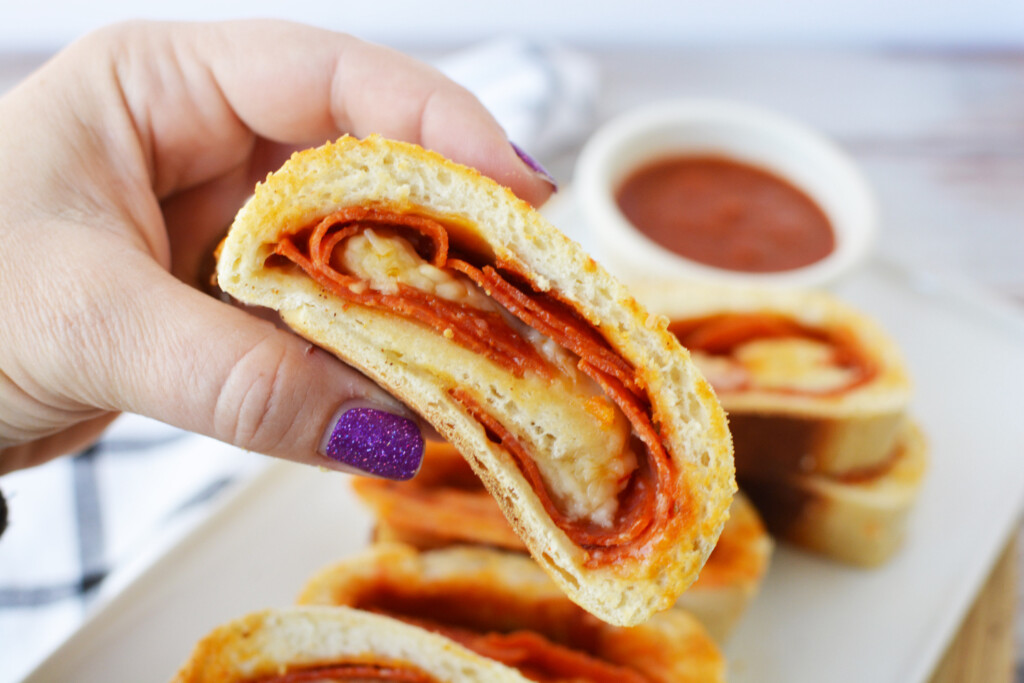 Why You Will Love Pepperoni Rolls
EASY – Using only a few common ingredients, these rolls take a couple minutes to prepare and get baking in your oven!
VERSATILE – Great as an after-school snack, appetizer, lunch or dinner, these Pepperoni Rolls are perfect for about any occasion. The are also very kid-friendly for the pickiest of eaters! They are an easy handheld dish that you can really just grab-and-go!
DELICIOUS – That soft dough is surrounding the rich marinara and yummy pepperoni! Yum and yum!
What Are Pepperoni Rolls
We live in the Midwest, and it's pretty common to find Pepperoni Rolls on a menu or at a party. But I've learned this isn't the case all over the U.S. Pepperoni Rolls originated in the Ohio River Valley in general, and in West Virginia specifically. Luckily for us, they have made it to Indiana where we live.
Pepperoni Rolls generally consist of soft dough baked with pepperoni inside. The earliest versions have only pepperoni inside them. But many recipes have added cheese and/or marinara sauce (like we did!). But you don't need to stop there! Read below for some idea to make this dish even more fun!
And if you are looking for something similar, check out or PEPPERONI PINWHEELS!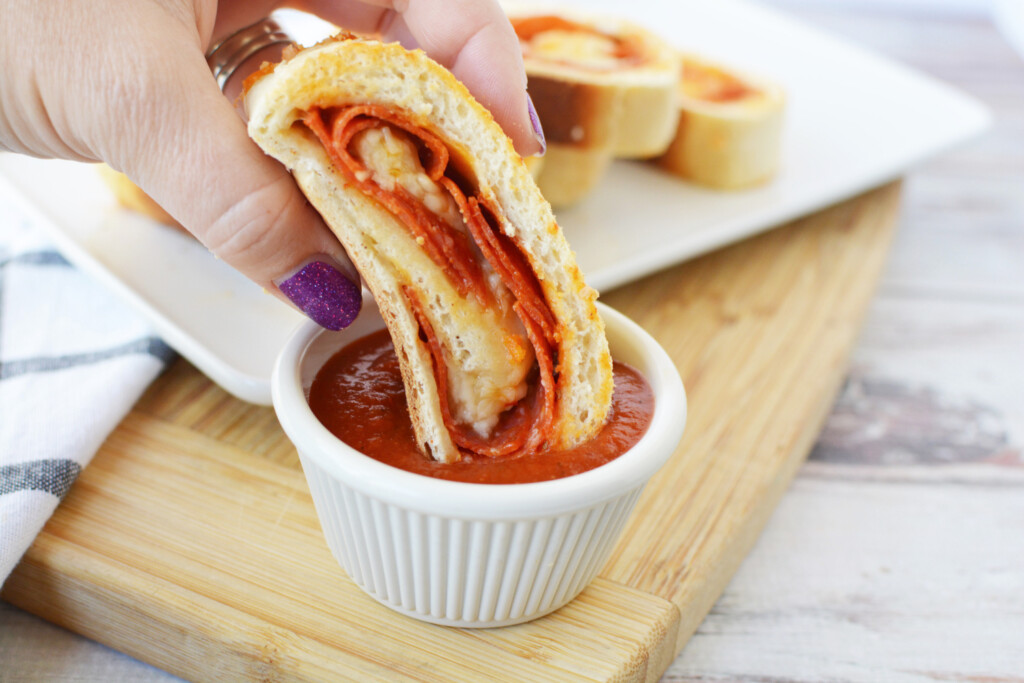 How To Make Pepperoni Rolls
It's pretty easy to make pepperoni rolls, just remember that you need to take your frozen dough out of the freeze and let it thaw in the refrigerator overnight. After that, just flatten out the dough, spread your marina, lay down your pepperoni and sprinkle with some cheese! Roll it all up and bake it in your oven!
For step-by-step instructions, check out the printable recipe card below. But here is what you'll need to get started:
FROZEN DOUGH – We love using this Rhodes Frozen Pizza Dough! But really anything can work.
PIZZA SAUCE – There are tons of brands and varieties of pizza sauce. Use whatever sounds good for you. Or make your own homemade pizza sauce.
PEPPERONI – You can use mini pepperoni, regular sized pepperoni slices or diced pepperoni.
MOZZARELLA CHEESE – Shredded mozzarella cheese is best in this recipe. But you can substitute for any cheese you'd like.
MELTED BUTTER – Salted or unsalted works. To brush on top of your pizza rolls!
GARLIC POWDER – Make sure it's garlic powder and not garlic salt. This will sprinkle onto your melted butter. Butter and garlic?!?! Yes, please!
PARMESAN CHEESE – Grated. Also to sprinkle with the butter and garlic.
Storage, Freezing and Serving Suggestions
Store leftover Pepperoni Pizza Rolls in your refrigerator in an airtight container. You can reheat them in a toaster oven, regular oven, air fryer or even the microwave. Or, some people like to eat Pepperoni Rolls at room temperature or cold!
You can freeze Pepperoni Rolls. Just allow them to fully cool and wrap in freezer wrap or put in a freezer safe container. They will be good in your freezer for about 3-4 months. You can reheat from frozen.
Notes, Tips and FAQs
I DON'T HAVE MARINARA SAUCE, CAN I USE SPAGHETTI SAUCE? – Yes. You sure can! This recipe will taste fine if spaghetti sauce is all you have.
WHAT CAN YOU DIP PEPPERONI ROLLS INTO? – Marinara sauce, ranch dressing, cheese sauce or Bleu Cheese Dressing are all great dipping options!
WHAT MEATS CAN YOU USE BESIDES PEPPERONI? – You can easily substitute sausage, bacon, hamburger, salami, meatballs or ham.
PEPPERONI ROLL ADDITIONS – Liven things up by adding mushrooms, bell peppers, onions, artichokes or black olives!
VARIATIONS – Substitute all the inside ingredients for ham and swiss cheese or BBQ sauce and chicken (use cooked chicken).
CAN YOU ASSEMBLE PEPPERONI ROLLS AHEAD OF TIME? – Because of the way that dough reacts to air, we would bake these as soon as they are all assembled.
TIPS ON WORKING WITH THE DOUGH – The dough can be kind of sticky and tough to work with. You may need to roll it flat a couple of times if it keeps shrinking. And putting some flour on your fingers and some flour on the surface you are working on can help.
We hope you enjoy this Pepperoni Rolls Recipe! We'd love to hear how it turns out for you in the comment section! Happy eating!
LOOKING FOR SOME MORE GREAT APPETIZERS? CHECK OUT: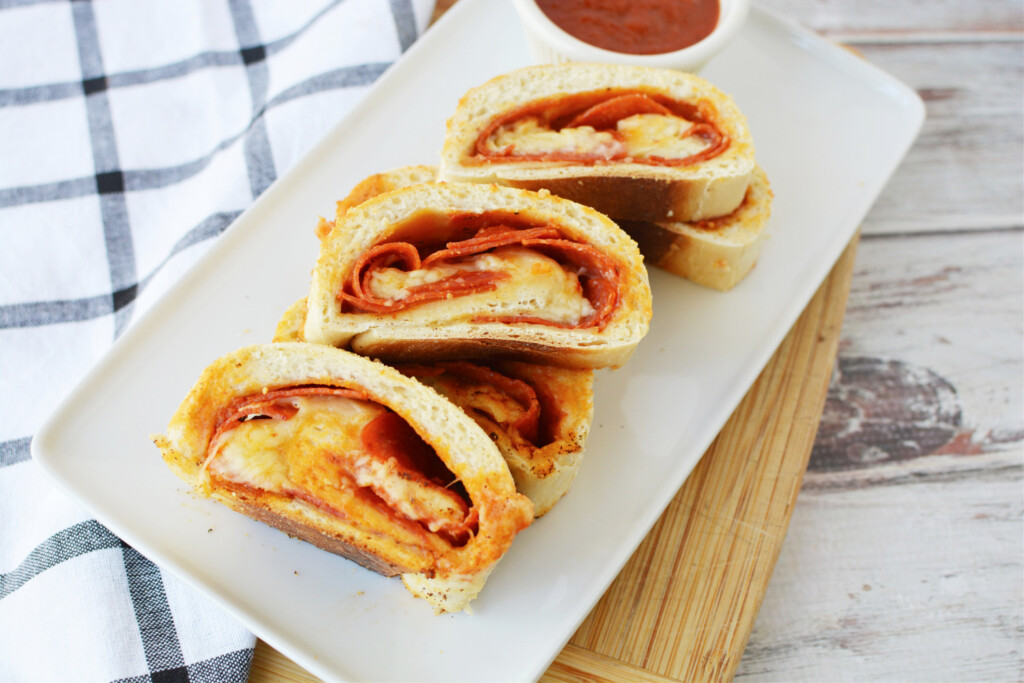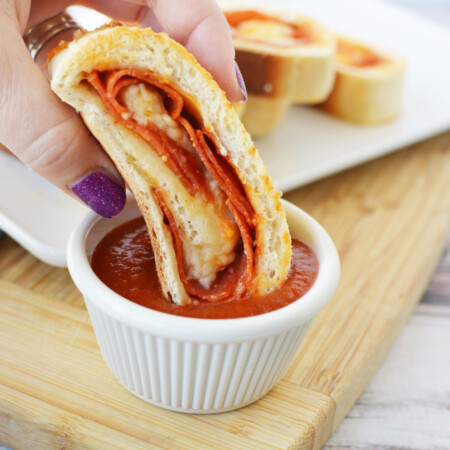 Rate this Recipe
Pepperoni Rolls
These Pepperoni Rolls are a fun classic recipe that is perfect as an appetizer, snack, lunch or dinner! Frozen dough is thawed and filled with pepperoni, marinara sauce and lots of cheese!
Ingredients
1

loaf

frozen bread dough

pizza sauce

pepperoni

2

cups

shredded mozzarella cheese

2

tablespoons

melted butter

garlic powder

grated parmesan cheese
Instructions
Thaw bread dough using the refrigerator method according to the frozen bread dough package.

Preheat oven to 375 and use a rolling pin to roll the dough into a rectangle. Place onto a baking sheet lined with parchment paper.

Spread sauce on the dough.

Top with lots of pepperoni.

Sprinkle with cheese.

Beginning with the long end, roll the dough into a log shape, tucking the seam side under on the bottom.

Pinch the ends together and top with melted butter.

Sprinkle with garlic powder and cheese.

Bake for 22-25 minutes or until top is golden brown. Remove from oven and let stand for 5 minutes before slicing and serving with pizza sauce.
Nutrition
Love this recipe?
Follow @bubbapie for even more delicious recipes!!