These Chorizo Tacos are an easy, classic Mexican dish that take just minutes to prepare. These Street Tacos are full of spicy, smoky flavor in corn tortillas topped with onions and cilantro.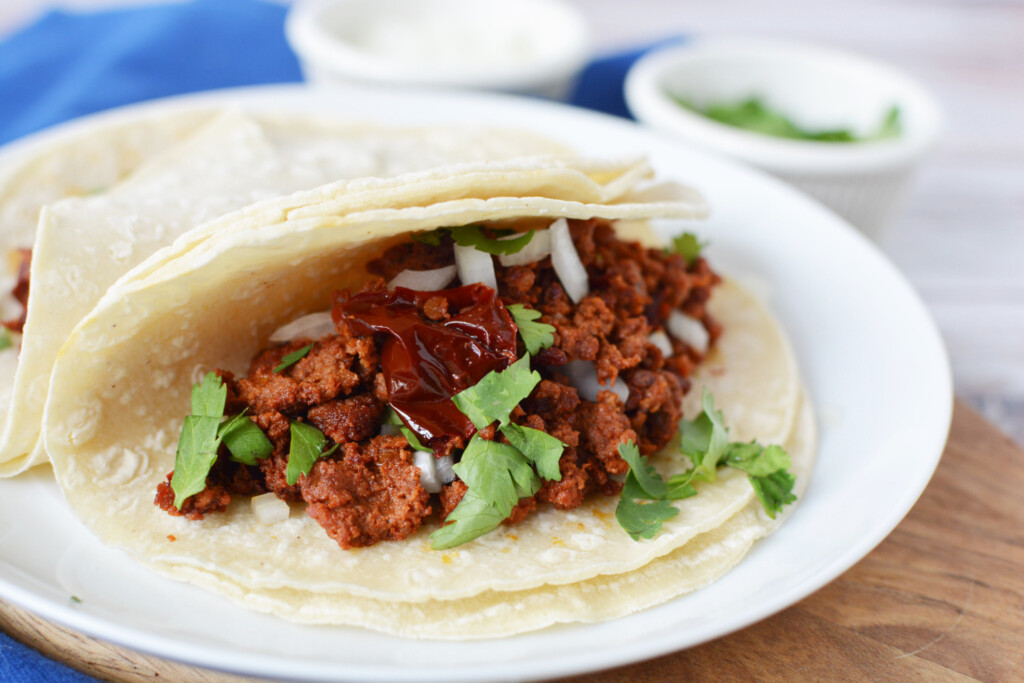 Why You Will Love Chorizo Tacos
SIMPLE, EASY RECIPE – With just 5 ingredients and a couple minutes to prepare, these Chorizo Tacos are the perfect addition to your Taco Tuesdays!
FULL OF AUTHENTIC FLAVOR – Chorizo is full of spicy, smoky flavors of classic Tex-Mex Cuisine. And the soft corn tortillas, crunchy onions and zesty cilantro put this dish over the top!
What Is Chorizo?
Chorizo is made of pork that has been fully seasoned with spicy flavors. You will generally find either Mexican Chorizo or Spanish Chorizo. They are very different things and are not generally interchangeable.
Mexican Chorizo is usually sold as a ground pork and is often packaged like other ground meats or in a casing. This is the kind of chorizo you want for this recipe.
Spanish chorizo is often served in a link, like a traditional sausage. My wife is Boise, Idaho, where there is a large Basque population. And these chorizos can be found all over town. They are delicious, but not what you want for this particular recipe.
Chorizo Tacos
For step-by-step instructions, check out the printable recipe card below. But here is what you'll need to get started:
CHORIZO SAUSAGE – Again, you'll want Mexican style Chorizo and not Spanish Chorizo,
CHIPOTLE WHOLE PEPPERS IN ADOBO SAUCE – These are canned pepper that are usually pretty easy to find in the International/Mexican aisle of your grocery store.
CORN TORTILLAS – Chorizo tacos are typically served with Corn Tortillas. But you can really serve with any tortillas, including flour, gluten-free and hard shell.
CHOPPED ONIONS – We like white onion on this tacos for their crisp, bold flavor. But you can also use Red Onions if you'd rather.
CILANTRO – Fresh cilantro gives these tacos extra color and fresh flavor.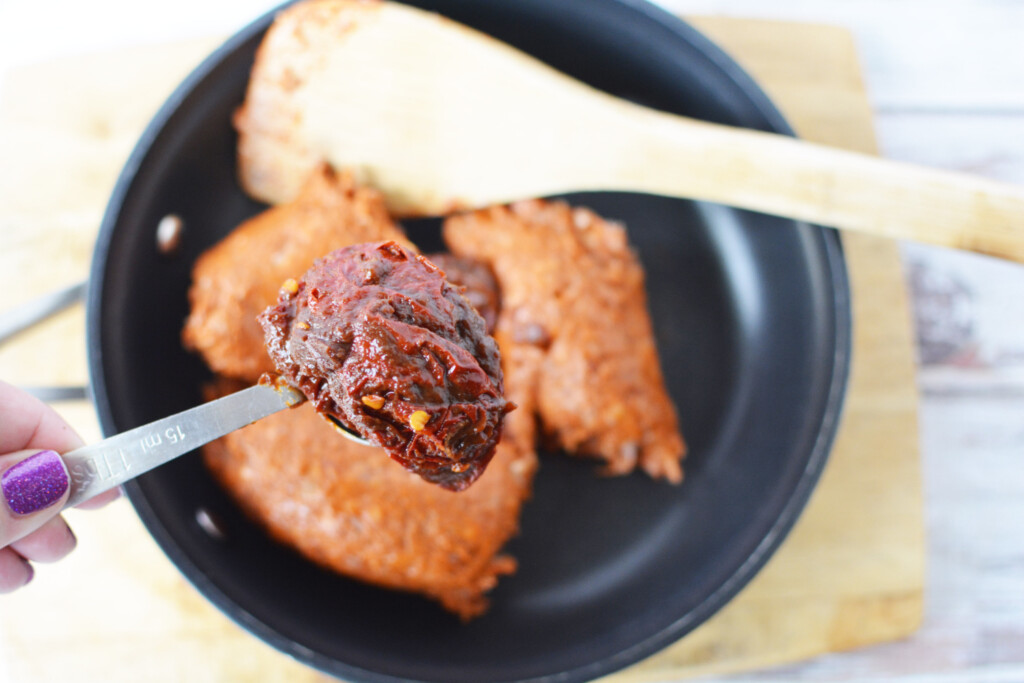 Storage and Freezing
Store leftover Chorizo Taco Meat in an airtight container in the refrigerator. It should be good for about 4 days. Reheat in a skillet or in the microwave.
You can freeze Chorizo Meat. Allow it to fully cool and put it in a freezer bag or freezer safe container. It will be good in your freezer for 3-4 months. Allow it to thaw overnight in your fridge and reheat.
Notes, Tips and FAQs
HOW SPICY IS CHORIZO – It really all depends on your taste buds tolerance to spice. But, generally, Chorizo is described as pretty spicy.
WHAT TOPPINGS ARE GOOD ON CHORIZO TACOS? – Mexican Chorizo Tacos are traditionally simply topped with diced onions and fresh cilantro. But some of our favorite toppings are also guacamole, avocado, salsa verde, lime crema, shredded lettuce, pico de gallo, lime wedge and/or squeeze of fresh lime juice or sliced jalapenos.
WHY DOES MY MEXICAN CHORIZO LOOK LIKE A SAUSAGE LINK? – Sometimes chorizo is stored in a casing and will resemble a traditional sausage link. You'll need to pierce the casing and squeeze out the sausage.
WHAT TO SERVE WITH CHORIZO TACOS? – Mexican rice, white rice, black beans or refried beans would all be great side dish. Or just a simple salad or cooked vegetables.
COOKING TIP – Some people like to let their chorizo meat sit on the hot skillet or griddle for a couple minutes before they start breaking it up or stirring it. This creates some "char" spots on the chorizo, adding texture and flavor.
HEAT YOUR CORN TORTILLAS – Heating your tortillas before you spoon your chorizo mixture into them is advised. It makes them softer, more flexible and less likely to break.
We hope you enjoy this Easy Chorizo Taco Recipe. We'd love to hear how it turns out for you in the comment section. Happy eating!
LOOKING FOR MORE TEX MEX RECIPES? CHECK OUT: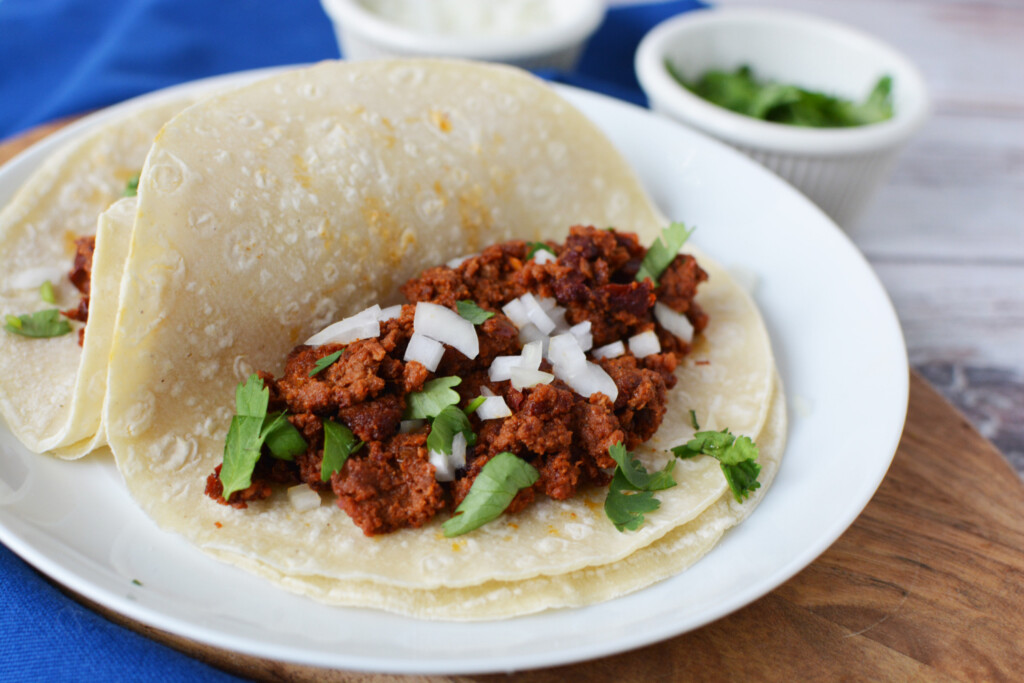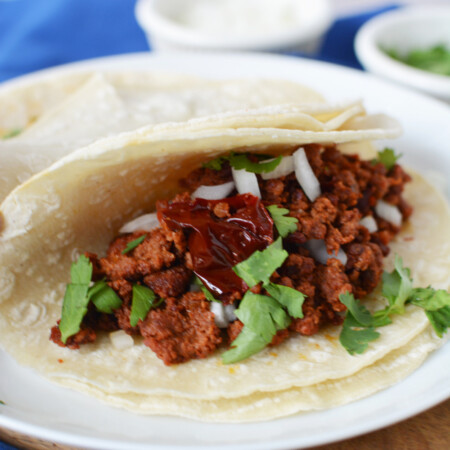 Rate this Recipe
Chorizo Tacos
These Chorizo Tacos are an easy, classic Mexican dish that take just minutes to prepare. These Street Tacos are full of spicy, smoky flavor in corn tortillas topped with onions and cilantro. 
Ingredients
1

package

9 oz, chorizo sausage

2

tablespoons

chipotle whole peppers in Adobo sauce

8

corn tortillas

chopped onions

chopped fresh cilantro
Instructions
Add sausage to skillet and cook at medium high heat.

Add peppers and continue to cook.

Break apart peppers and cut into smaller pieces. Heat for about 10 minutes or until sausage is cooked well.

Drain on paper towels.

Heat tortillas 1-2 minutes each side over medium high heat until hot. Use 2 tortillas per taco and add chorizo, onions and cilantro and serve.
Nutrition
Love this recipe?
Follow @bubbapie for even more delicious recipes!!