With just four ingredients, these easy Sausage Pinwheels are a tasty appetizer that everyone will love. This appetizer recipe can be made ahead of time and it's perfect for parties, entertaining and game day!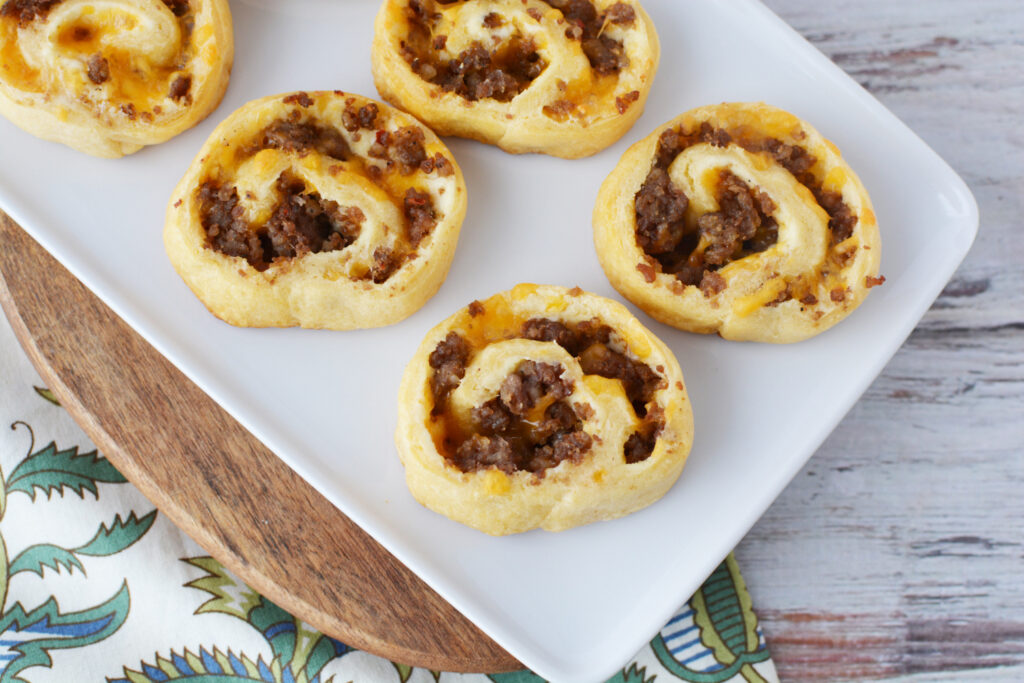 Why You'll Love This Recipe
VERSATILE – What I love about using sausage in recipes is that they can usually end up working as a breakfast, an appetizer or even just a snack (or anything else!). Make them for brunch during the holidays! I love finding multi-purpose recipes!
MAKE AHEAD OF TIME – These are great for entertaining and feeding a crowd! Make them ahead of time and keep them in your fridge until y0our guests arrive and you are ready to throw them in the oven.
EASY – With just 4 ingredients, this is a quick and easy recipe for any occasion! And, to be honest, you really only need two. Some people like to make these with just sausage and crescent rolls!
Sausage Pinwheels
For step-by-step instructions, check out the recipe card below. But here is what you'll need to get going!
REFRIGERATED CRESCENT ROLLS – Any brand of crescent roll dough will do. Pillsbury actually makes seamless puff pastry dough sheets as well if you want to use those!

CREAM CHEESE – Any brand will do. We recommend using full fat cream cheese for this recipe. But if you really want to lighten it up, it will work with reduced fat. Just make sure that you soften the cream cheese before using. Either take it out of the fridge ahead of time or pop it into the microwave for about 10-15 seconds. Softened Cream Cheese will be much easier to spread on the dough.

GROUND SAUSAGE – We used plain, normal breakfast sausage. But you could certainly substitute for Italian Sausage or even Chorizo. You could also use ground pork and add your own spices. Whatever sausage you use, make sure that you brown it and drain the grease first first. If you bake raw sausage in this recipe, your pinwheels will come out pretty greasy.
SHREDDED CHEESE – We used shredded cheddar cheese. But you can substitute for any cheese you'd like. Mozzarella, Swiss, Monterey Jack or Pepper Jack for a little extra kick!

Storage and Freezing
You can assemble the sausage pinwheels in advance and leave them in your refrigerator for up to 24 hours before putting them in the oven. This way, you can just take them out and put them in the oven whenever you are ready to serve.
You can keep leftovers in an airtight container in your refrigerator. You can reheat them at a low setting in your oven or in the microwave.
You can also freeze this recipe. Allow them to fully cool and then assemble them on a cookie sheet. Put them in the freezer until they are frozen solid. Then you can put them in a freezer bag and they will stay good in your freezer for up to 3 months. Allow to thaw in the refrigerator.
Notes, Tips and Variations
SERVE WITH DIPPING SAUCES – These pinwheels are great to dip into lots of different sauces. Some ideas would be ranch, bleu cheese, marinara or cheese sauce!
ADDITIONS – Add some other ingredients into the pinwheels for more flavor, texture or color: green onion, scallions or diced red peppers would work.
ADD SPICE – Turn up the heat by adding some diced green chilis into the pinwheels. Or even more spice with jalapenos or some sriracha sauce or some tabasco sauce into the sausage mixture.
PINWHEELS COMING UNRAVELED – Pinch the dough a little bit at the end to help keep the pinwheel together. It also helps to not skip the step where you wrap and chill the log of dough for an hour.
BRUSH EGGS ON TOP – Brushing some scrambled egg on top of the pinwheel will give it a little more of a golden finish. This is totally optional.
We hope you enjoy this Sausage Pinwheels Recipe. We'd love to know how it turned out for you in the comments section. Let us know!
LOOKING FOR MORE EASY APPETIZERS? CHECK OUT: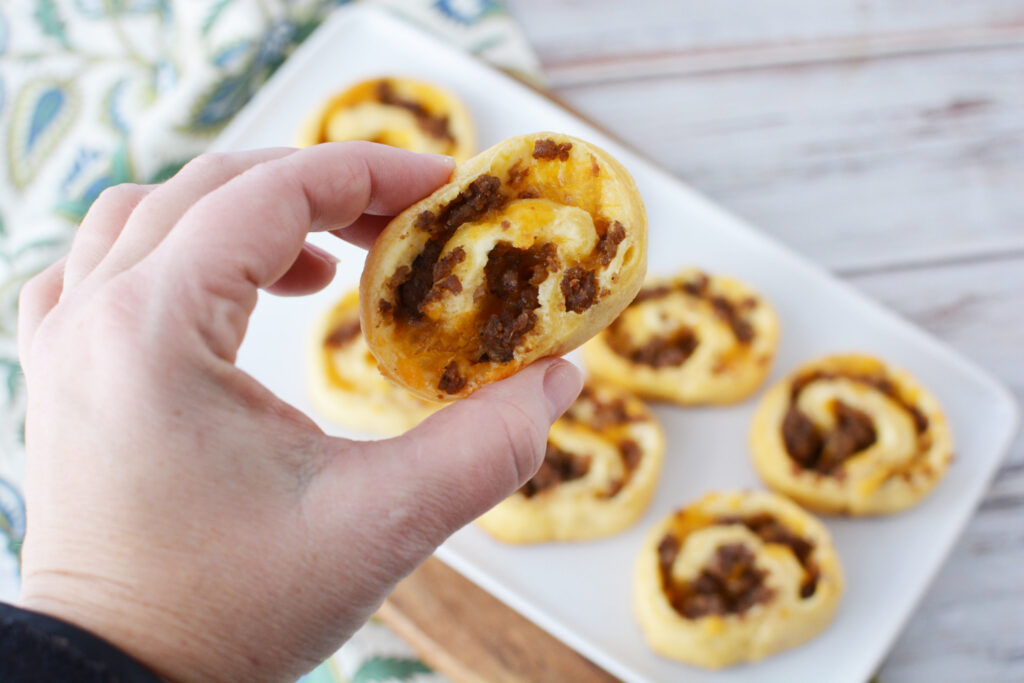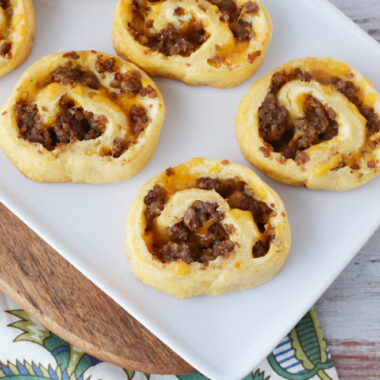 Rate this Recipe
Sausage Pinwheels
With just four ingredients, these easy Sausage Pinwheels are a tasty appetizer that everyone will love. This appetizer recipe can be made ahead of time and it's perfect for parties and entertaining.
Ingredients
1

can refrigerated crescent rolls

4

ounces

cream cheese

softened

1/2

lb

ground sausage

cooked

1/2

cup

shredded cheddar cheese
Instructions
Unroll crescent rolls onto a flat surface and press seams together well.

Gently spread cream cheese on the crescent rolls.

Sprinkle with sauce and cheese.

Starting at the long end, roll up the crescent rolls carefully and tightly.

Wrap in plastic wrap and refrigerate for at least an hour.

When ready to bake, line a baking sheet with parchment paper and preheat oven to 375.

Remove roll from refrigerator and discard plastic wrap. Slice into 16-18, 1" rounds.

Gently place onto the prepared baking sheet, reshaping to be more round if desired.

Bake for 10-12 minutes or until golden brown.

Remove from oven and serve warm.
Nutrition
Love this recipe?
Follow @bubbapie for even more delicious recipes!!