This Pork Stew is a hearty, delicious Comfort Food recipe that is perfect for those chilly days! Tender pork and wholesome vegetables are cooked to perfection in a rich broth!
Why You Will Love Pork Stew
RICH AND HEARTY – Sometimes you just need a comforting meal to fight back the chilly weather. This Pork Stew is perfect to warm you up from the inside. Classic comfort food!
FEEDS A CROWD – While this recipe feeds 5, it's really easy to double or triple and can easily feed a crowd!
ONE POT MEAL – And it's all made in one pot! So cleaning up is super easy!
Traditional Pork Stew
Pork Stew isn't quite as famous as it's brother, Beef Stew! But it's been around for a long time and is present in several different cultures, including African, Asian and Spanish Cultures. Like beef stew, it consists of an inexpensive tougher cut of meat that, when slow cooked, turns fork tender and delicious. It's then paired with any sort of variety of vegetables and a rich broth.
For step-by-step instructions, check out the printable recipe card below. But here is what you'll need to get started:
PORK – We used a boneless pork shoulder and cubed it. For more information on the best pork to use for pork stew, read below.
FLOUR – Used to coat your pork in. If you want this dish to be Gluten-Free, you can use Gluten Free Flour.
OLIVE OIL – Or any other cooking oil that you prefer. Vegetable oil or Canola Oil would also work fine.
ONION – We used a small yellow onion for it's sweeter, milder flavor. But you can use a red onion if you'd like. Make sure it is finely chopped.
GARLIC – Minced. You can mince your own fresh garlic, or use the kind that comes already minced in a jar.
CHICKEN BROTH – You can also use Beef Broth or Vegetable Broth if needed.
POTATOES – We diced up some Russet Potatoes. But you can really use anything you'd like. I'd peel the potatoes before adding them to the stew.
CARROTS – We used baby carrots because you don't need to peel them. But you can also dice and peel traditional carrots as well.
GREEN BEANS – Use canned green beans, not fresh ones. Just make sure you drain them well.
ITALIAN SEASONING – Some recipes call for all sorts of combinations of spices and seasonings. But we think just throwing in some Italian Seasoning is super simple and easy and works great!
SALT AND BLACK PEPPER – To Taste.
What Is The Best Pork To Use For Pork Stew?
Most recipes use a Boneless Pork Shoulder, or even a Pork Butt (Boston Butt). These are typically more inexpensive cuts of meat that can be a little tougher if cooked too quickly. But we are going to cook them "low and slow" in our stew and they will be super tender and delicious!
You can cook your pork on the bone in a stew. In fact, the bone can add some extra flavor. Just make sure you remove the bone before serving.
And also make sure you trim off any excess fat from the pork before adding it.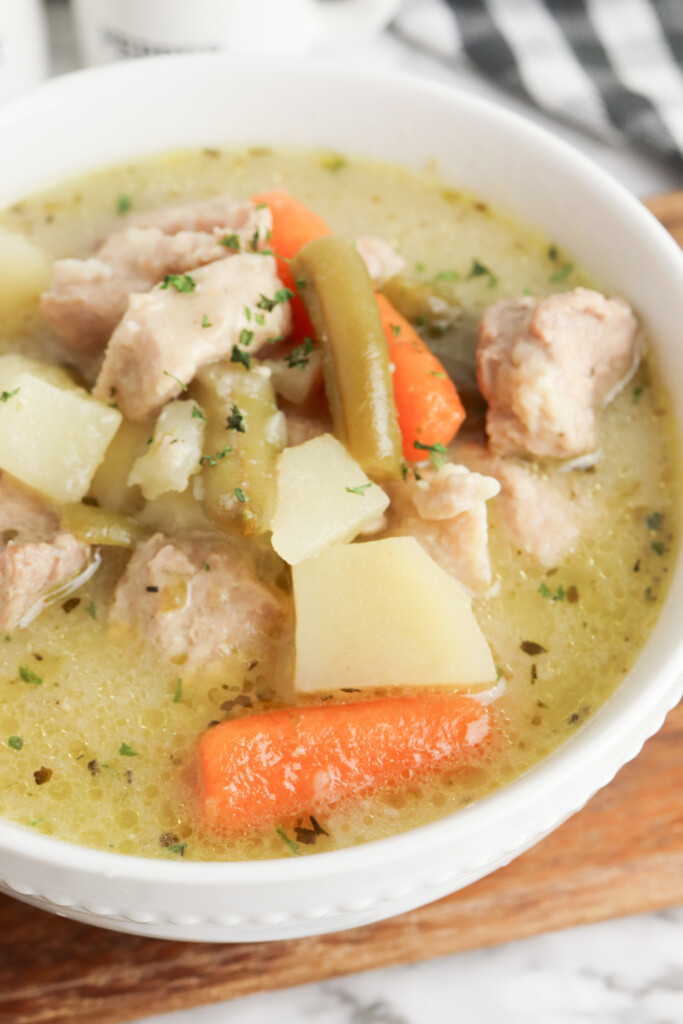 What Other Vegetables Can You Add To Pork Stew?
We used carrots, potatoes and green beans. But just about any vegetable would taste great in this stew. Some ideas would be:
TURNIPS
SWEET POTATOES
SQUASH
ONIONS
PARSNIPS
PEAS
MUSHROOMS
ONIONS
CELERY
Storage, Freezing and Leftovers
Pork Stew leftovers taste great! Maybe even better the next day! Just store them in an airtight container in your refrigerator. They should be good in the fridge for about 3-4 days. Pork Stew reheats great in the microwave!
You can also freeze Pork Stew. Just allow the stew to cool to room temperature and put in a freezer safe container or a freezer bag. Label the freezer container and it should be good in your freezer for 4 months. Thaw in the refrigerator.
Slow Cooker Pork Stew
Pork Stew is easy to make in your Slow Cooker or Crockpot! Just follow our directions all the way until you add the broth and scrape the bottom of your pot (step #3). Then transfer everything to your Slow Cooker and add the potatoes, baby carrots, diced tomatoes, green beans, and Italian seasoning. Stir to mix. Cook on high for two hours or low for 4 hours.
Notes, Tips and FAQs
CUT YOUR PORK IN EVEN PIECES – Make sure your Pork is cut in the same size cubes to ensure even cooking.
USE A LARGE POT OR DUTCH OVEN – Just make sure you are using a large enough pot to fit all your ingredients in. This is especially true if you are doubling this recipe.
DELGLAZE! – One of the most important steps is to deglaze the fond at the bottom of the pot while you are stirring it. This is where a lot of the flavor is!
WHAT CAN I SERVE WITH PORK STEW? – Serve this stew with any cornbread, biscuit or muffin. Or pork stew tastes great served over rice!
SUB MEAT – You can easily substitute your pork for a Beef Chuck Roast or Stew Meat and make this an easy Beef Stew Recipe.
ADD BEANS – Make this soup even more hearty by adding beans. Any beans could work. If you are adding dry beans, you'll probably need to add some more liquid and cooking time. I'd just use canned beans, but make sure you rinse and drain them well before adding.
WHAT IS THE BEST WAY TO COAT YOUR PORK? – Put the pork, flour, salt and pepper in a ziplock baggie and give them a good shake!
ADD BACON – You can certainly saute some small slices of bacon with your pork and garlic. You may just want to drain out the bacon drippings before adding the other ingredients.
TOPPINGS – Top with fresh parsley, cilantro, hot sauce, sriracha sauce, fritos or any crackers.
We hope you enjoy this Pork Stew Recipe. Let us know how it turns out in the comment section!
LOOKING FOR MORE SOUP OR STEW RECIPES? CHECK OUT: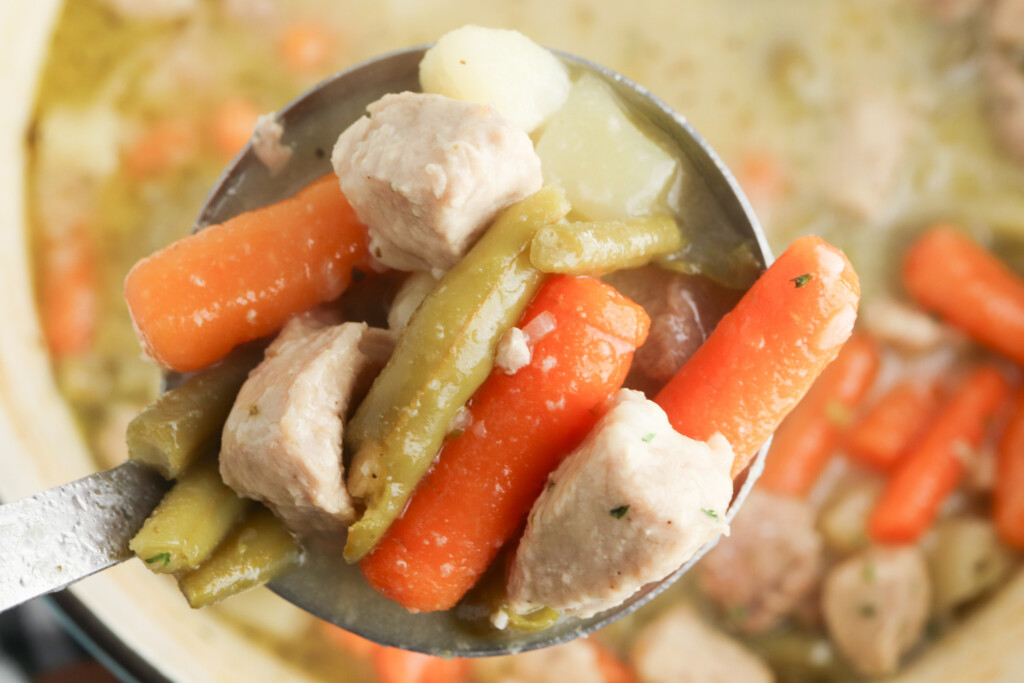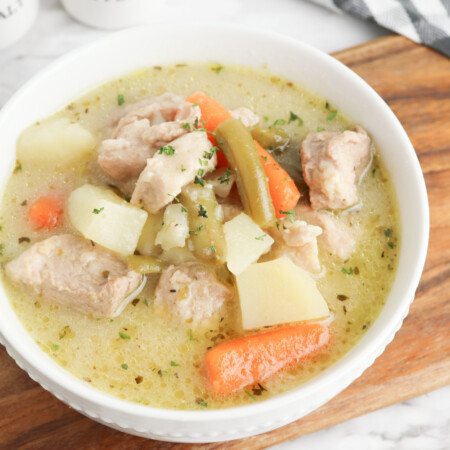 Rate this Recipe
Pork Stew
This Pork Stew is a hearty, delicious Comfort Food recipe that is perfect for those chilly days! Tender pork and wholesome vegetables are cooked to perfection in a rich broth!
Ingredients
1

boneless pork shoulder roast

cubed

¼

cup

flour

2

tablespoons

olive oil

1

small onion

finely chopped

2

cloves

garlic

minced

32

ounces

chicken broth

2

russet potatoes

diced

2

cups

baby carrots

1 15-

ounce

can green beans

drained

1

tablespoon

Italian seasoning

Salt and pepper
Instructions
Toss the pork with the flour, salt, and pepper, and set aside.

Heat the olive oil in a large stockpot or Dutch oven. When the oil is hot, add the pork and onions and saute until the onion becomes translucent. Add the garlic and cook one more minute.

Stir in the chicken broth, scraping the bottom of the pan as you stir to remove stuck-on bits of onion and garlic.

Add the potatoes, baby carrots, green beans, and Italian seasoning. Stir to mix.

Bring the mixture to a boil, then reduce heat and allow to simmer for at least one hour, stirring occasionally, until the broth has thickened.
Nutrition
Love this recipe?
Follow @bubbapie for even more delicious recipes!!