This Louisiana Crunch Cake is about to be your new favorite dessert. Soft, moist bundt cake is surrounded with a sugary, coconut crust and topped with a homemade icing, sliced walnuts and toasted coconut flakes.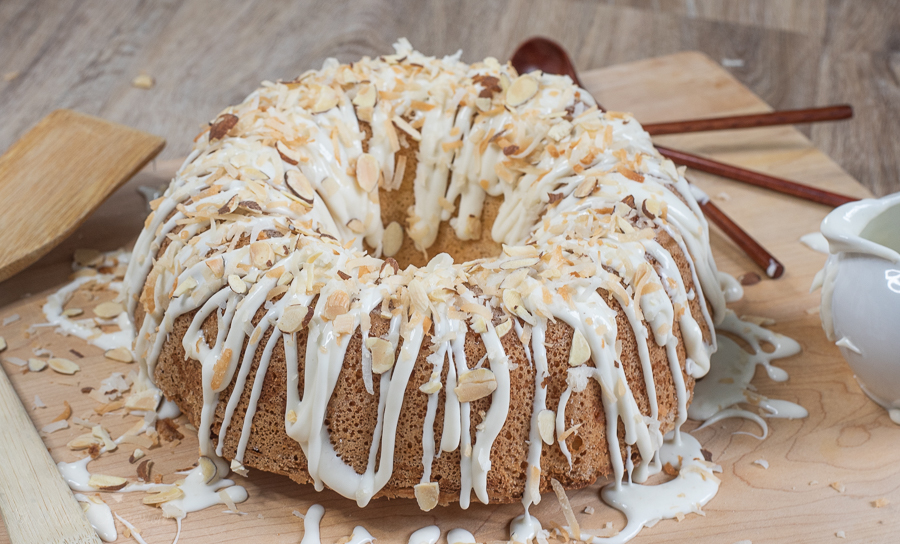 Why You Will Love Louisiana Crunch Cake
IT'S THE CRUNCH – One bite into this cake, and you'll realize why it has it's name. The baked sugar/coconut crust on the outside of this cake gives this super satisfying "crunch" when you bite into it. You've really just gotta try it to understand. And when you drizzle that icing on top? Yum and YUM!
EASY – With just a few simple ingredients and a couple of minutes of prep, this is an easy dessert recipe great for beginning bakers!
VERSATILE – This cake could work great as a breakfast treat (tastes awesome with coffee) or a traditional dessert! And it's flavors are perfect for anything from a backyard cookout to a traditional holiday meal!
Why Do They Call It A Louisiana Crunch Cake?
Honestly, no one really knows why the state Louisiana is referenced in the name. In my research, I've seen people mention that they are from Louisiana and have never heard of the origins of this cake. Entenmann's Bakery sells a version of this cake. But they are based out of New York; nowhere near Louisiana.
But, as I mentioned above, the baked sugar/coconut topping gives the outside of this cake a delicious crunch when you bite into it.
How To Make A Louisiana Crunch Cake
The process is pretty simple! We'll talk you through the whole thing with our step-by-step guide on our printable recipe card below. But here is what you'll need to get started.
CAKE INGREDIENTS:
FLOUR – Any All Purpose Flour will work. To make this recipe gluten-free, you can use Gluten Free Flour.
BAKING POWDER – A leavening agent that will help the cake rise and be so soft.
SALT – It's always important to bake with salt to offset the sweetness of any dessert.
SUGAR – White cane sugar to add the sweetness to the cake.
BUTTER – Unsalted butter. Let it soften to room temperature.
LARGE EGGS – Also best to be added when room temperature.
SOUR CREAM – If you want to shave some calories you can substitute with light sour cream.
VANILLA EXTRACT – We always recommend using high quality vanilla extract.
FLAKED COCONUT – We recommend using the coconut flakes instead of the shredded coconut. But if all you have is shredded coconut, that can work too.
SLICED ALMONDS – Optional to sprinkle on top of the icing. You can also use pecans or walnuts. Or no nuts at all.
ICING INGREDIENTS:
HEAVY CREAM – We like using heavy cream. But if you want to lighten it up, you can use half-and-half.
POWDERED SUGAR – Also called Confectioner's Sugar
VANILLA EXTRACT – Brings the flavor of this delicious icing to life!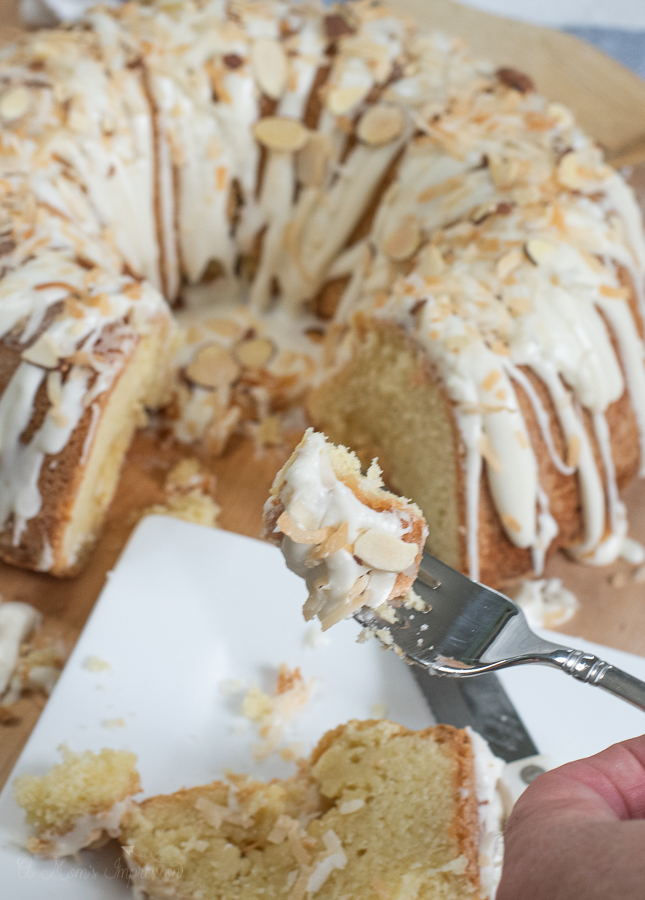 Storage and Freezing
You can store your Louisiana Crunch Cake in an airtight container at room temperature. You do not need to refrigerate it. It should stay good for about 5 days.
You can also freeze this cake. Allow to cool to room temperature and allow the icing to harden. Then wrap in freezer wrap or put in a freezer safe container. It should be good in your freezer for up to 4 months. Allow to thaw at room temperature.
Notes, Tips and FAQs
DO YOU NEED TO TOAST THE COCONUT? – No, not really. But we suggest you do it. It only takes about 8 minutes in the oven. You can have them toasting while you are mixing the ingredients for your batter.
GREASE YOUR BUNDT CAKE PAN – Make sure you REALLY grease the inside of your Bundt Cake Pan well. This will make things easier later. Use a good baking spray (rather than a cooking spray, a baking spray has some flour mixed in with it). Or just rub some butter liberally all over it.
MAKE SURE SUGAR IS EVENLY SPREAD IN BUNDT CAKE PAN – The way this cake gets that crunch is by the sugar baking into the sides of the cake. So make sure you spread the sugar around the bottom of bundt pan so that it sticks to all of the sides.
CAN YOU MAKE LOUISIANA CRUNCH CAKE USING A TUBE PAN? – Yes. This cake should still work using a tube pan.
Items To Help With This Recipe
We hope you enjoy this Louisiana Crunch Cake Recipe. We'd love to know how it turns out in the comment section!
LOOKING FOR MORE DESSERTS? CHECK OUT: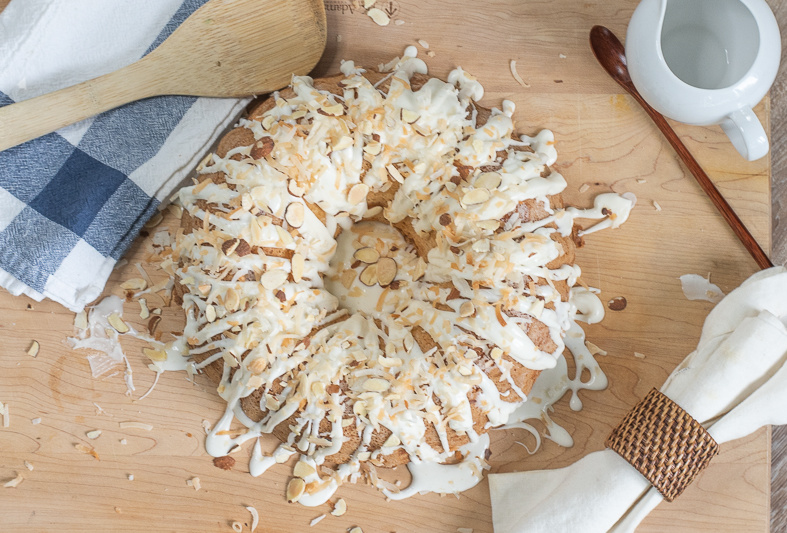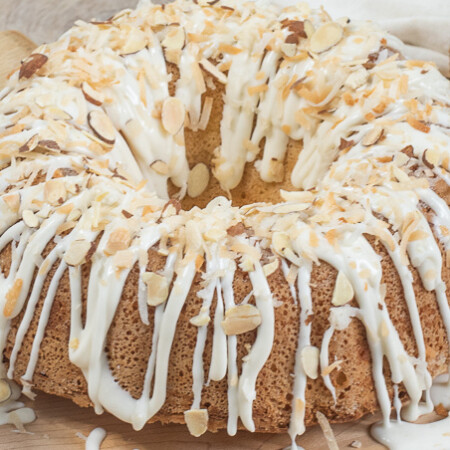 Rate this Recipe
Louisiana Crunch Cake
This Louisiana Crunch Cake is about to be your new favorite dessert. Soft, moist bundt cake is surrounded with a sugary, coconut crust and topped with a homemade icing, sliced walnuts and toasted coconut flakes. 
Ingredients
Cake Ingredients
3

cups

flour

2

tsp

baking powder

1

Tsp

Salt

2

cups

white sugar

1 1/2

cups

butter

softened

4

eggs

room temperature

1/3

cup

sour cream

2

tsp

vanilla extract

1/3

cup

flaked coconut
Icing Ingredients
4

tbsp

heavy cream

1 1/2

cup

powder sugar

1

tsp

vanilla extract
Instructions
Preheat oven to 350 degrees. Spread Coconut Flakes on a baking sheet. Bake for 8-10 minutes. Or until golden brown.

In a medium bowl, combine flour, baking powder and salt.

Beat butter and sugar until creamy.

Add eggs, on at a time.

Beat in sour cream and vanilla extract.

Combine wet and dry ingredients until just incorporated. Don't overmix.

Spray the inside of bundt pan with cooking spray. Sprinkle white sugar in bundt pan and spread it around all the sides. Sprinkle half of the coconut flakes in the pan too.

Carefully pour the batter into the bundt cake pan.

Bake cake at 350 degrees for 45-50 minutes, or until top is golden brown.

Allow to cool fully, at least one hour.

While cake is cooling, make icing by combining all the icing ingredients.

Carefully dump cake on a cutting board or cooling rack and drizzle icing evenly over the cake.

Sprinkle the rest of the coconuts and sliced almonds. Slice and serve.
Nutrition
Love this recipe?
Follow @bubbapie for even more delicious recipes!!