We think this is perfect recipe for Lazy Lasagna! It's got enough authentic ingredients to make it worth your time, but you still won't need to spend all day in the kitchen for this classic Italian Dish! But, if you are still short on time, we've included a few extra nifty shortcuts!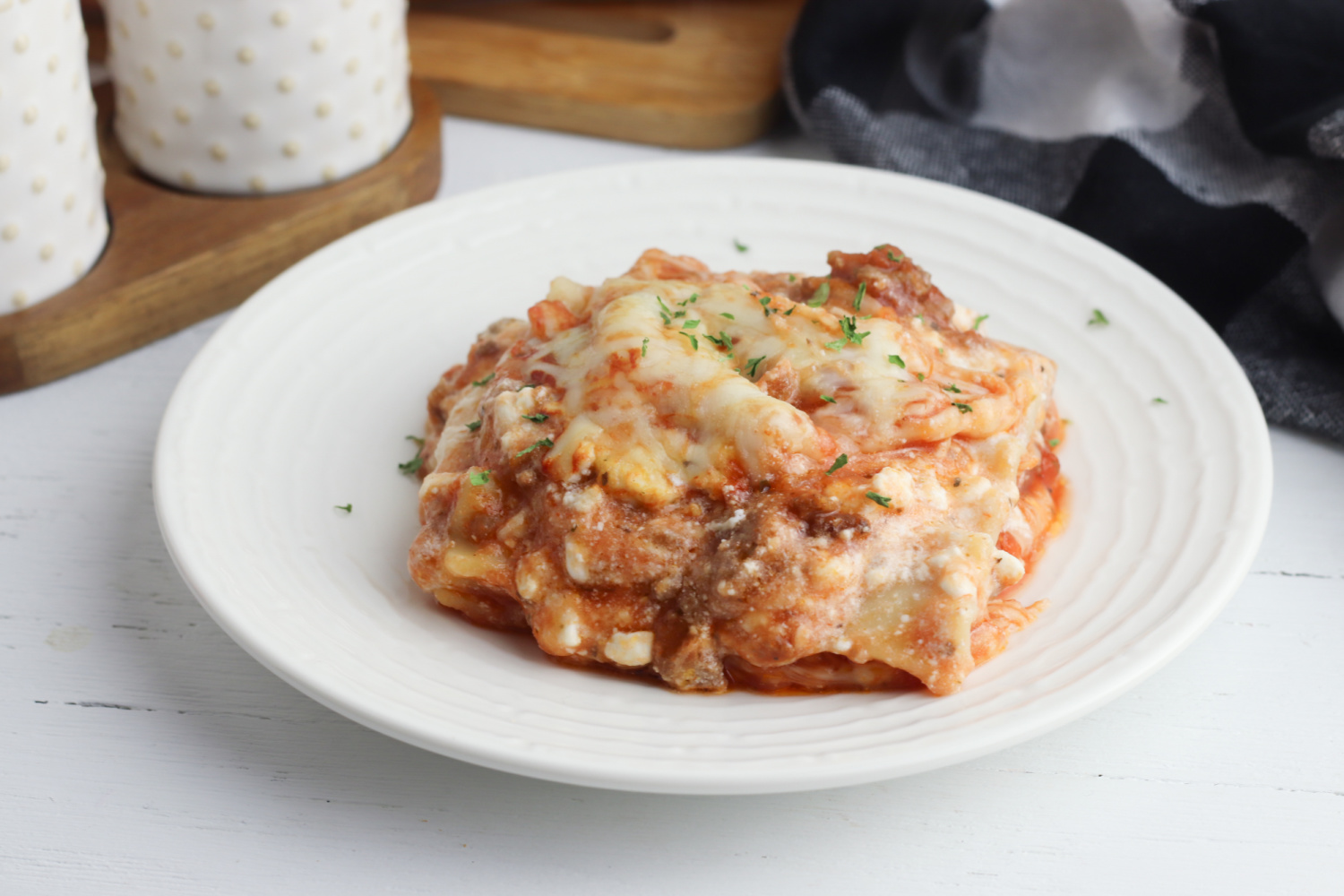 It's about time that we make a classic, no frills Lasagna recipe on this site! We've flirted with Lasagna before on here. With our Taco Lasagna, we combined two iconic cultural cuisines into one delicious family dinner! Or, we've add a full Tex Mex flair to a Lasagna with this Crock Pot Mexican Casserole. Instead of using traditional pasta, we used tortillas!
But today, we are going to make a nice, simple classic Lasagna that we are calling Lazy Lasagna. It's a cheesy pasta dish that makes for any easy weeknight meal or something you can make ahead of time and freeze!
What Is Lazy Lasagna?
If you look around google, it seems that everyone has their own unique take on Lazy Lasagna. Obviously, this version of Lasagna is going to be easier than a full on, traditional, made from scratch Lasagna meal. We are going to be taking some shortcuts. I've seen some people only have 3 ingredients in their version of Lazy Lasagna! We are all about simplicity here at Bubba Pie, but that's a little to simple for us.
Our version strikes a nice balance between TOO HARD and TOO EASY! But, we've also given you some more shortcuts below if you want to simplify it even more or if you are short on time!
Lazy Lasagna
We are keeping our ingredients pretty simple and straightforward here. You probably already have most of these in your pantry or fridge!
1 pound ground beef
1 small onion, chopped
2 garlic cloves, minced
2 jars marinara sauce
15 ounces ricotta cheese
16 ounces cottage cheese
½ cup shredded parmesan cheese
1 tablespoon Italian seasoning
1 teaspoon salt
1 teaspoon black pepper
6 lasagna noodles, halved and cooked
3 cups shredded mozzarella cheese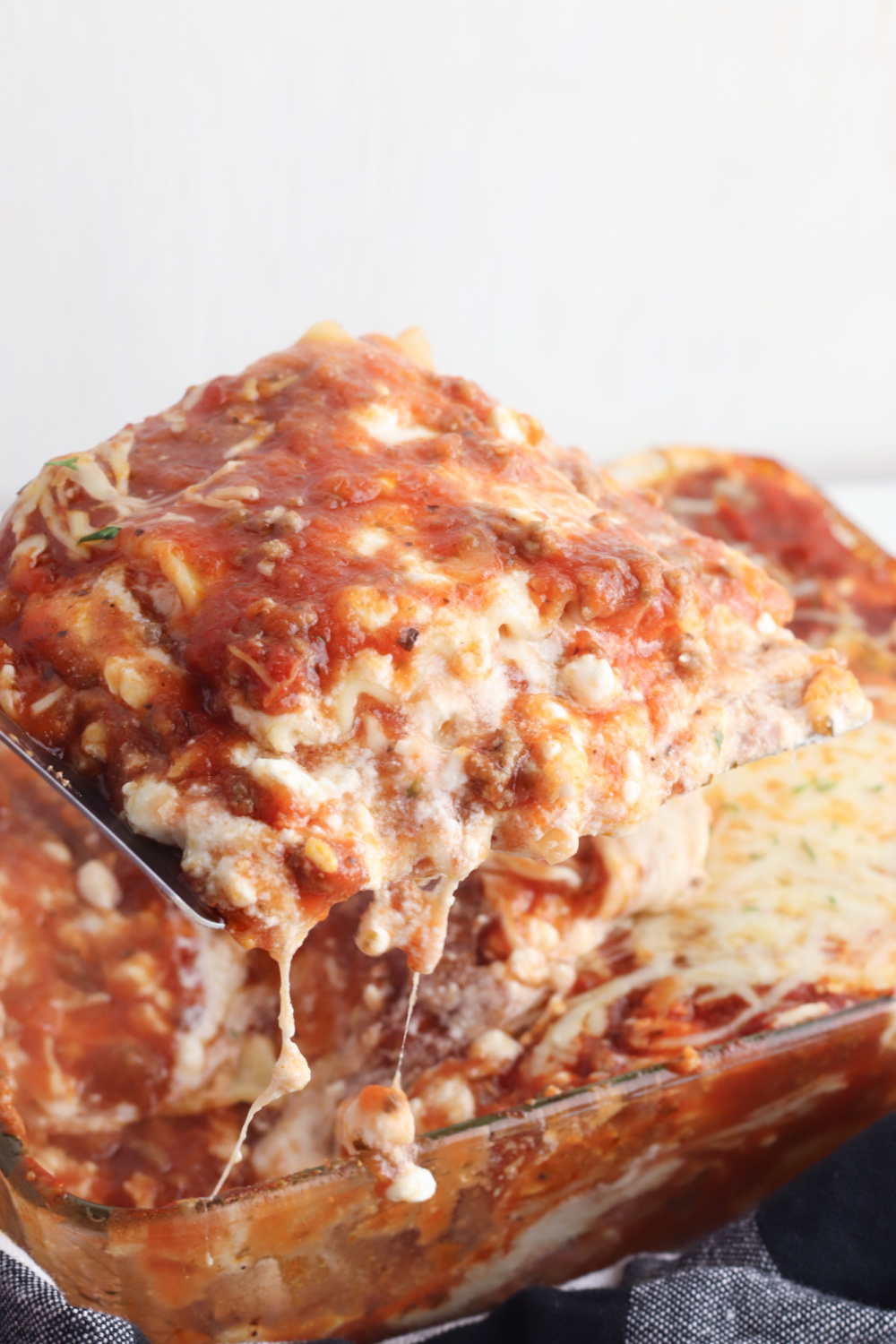 Can You Make Lazy Lasagna Ahead Of Time?
Yes, you can prepare and layer this dish and keep it in your fridge for up to 24 hours ahead of time. Then, just pop it in the oven when you are ready to go!
You can also freeze the lasagna after you have prepared it and before you cook it. Just assemble it as directed and it will good in your freezer for 3-4 months. Just thaw out in the refrigerator when ready to bake.
Storage and Leftovers
Leftovers should be good in your fridge for up to 3 days. We like to use this  Le Creuset Casserole Dish because it comes with a lid! You can just keep your leftovers right in the dish you cooked it in!
Or, if you are looking for something a little less expensive, this one works great too!
You can also freeze your leftovers. I'd recommend dividing the lasagna into individual portions and putting them in freezer bags. These gallon sized freezer bags work great! They are tough, durable and have new grip and seal technology that makes them super easy to open and close. Now you can just take out what you need when you need it! Great for an easy family dinner! Just reheat the lasagna in an oven preheated to 375 for 30 minutes or until  warm in the center. 
Healthier Lazy Lasagna
We all know that lasagna isn't know as a "health food". But that doesn't mean we can't skinny it up in some places.
Substitute ground beef for ground turkey. Or add some more flavor by trying turkey sausage.
Use whole grain pasta.
Use Skim Ricotta Cheese and low fat cottage cheese.
Add some spinach to this recipe. I'd just put some leaves above that first layer of noodles.
Notes, Variations and FAQs
NO BOIL LASAGNA NOODLES – This is a MAJOR time saver! These noodles are ready to straight into the oven without having to cook them first. Not only do they work just fine, some people actually think they work better than traditional noodles you have to cook first! One thing to mention: no boil noodles DO soak up a lot of moisture when baked in the oven. So make sure you feed them lots of sauce. You may need to up the marinara sauce for this recipe.
DO YOU NEED TO USE LASAGNA NOODLES? – Nope! While this recipe makes great use of those pesky broken lasagna noodles you have laying around, you can use, really, any pasta you'd like. That would make this more like a pasta casserole, which is fine with us!
BUY A PREMADE LASAGNA SAUCE – Skip out on browning the meat and mixing in seasonings with the marinara sauce by buying a premade meat sauce.
USE AN ITALIAN CHEESE BLEND– This may be a little easier and less expensive than buying mozzarella and parmesan cheese and should work just fine.
We hope you enjoy this recipe for Easy Lazy Lasagna. We'd love to hear how it turns out in the comments. Thanks for reading!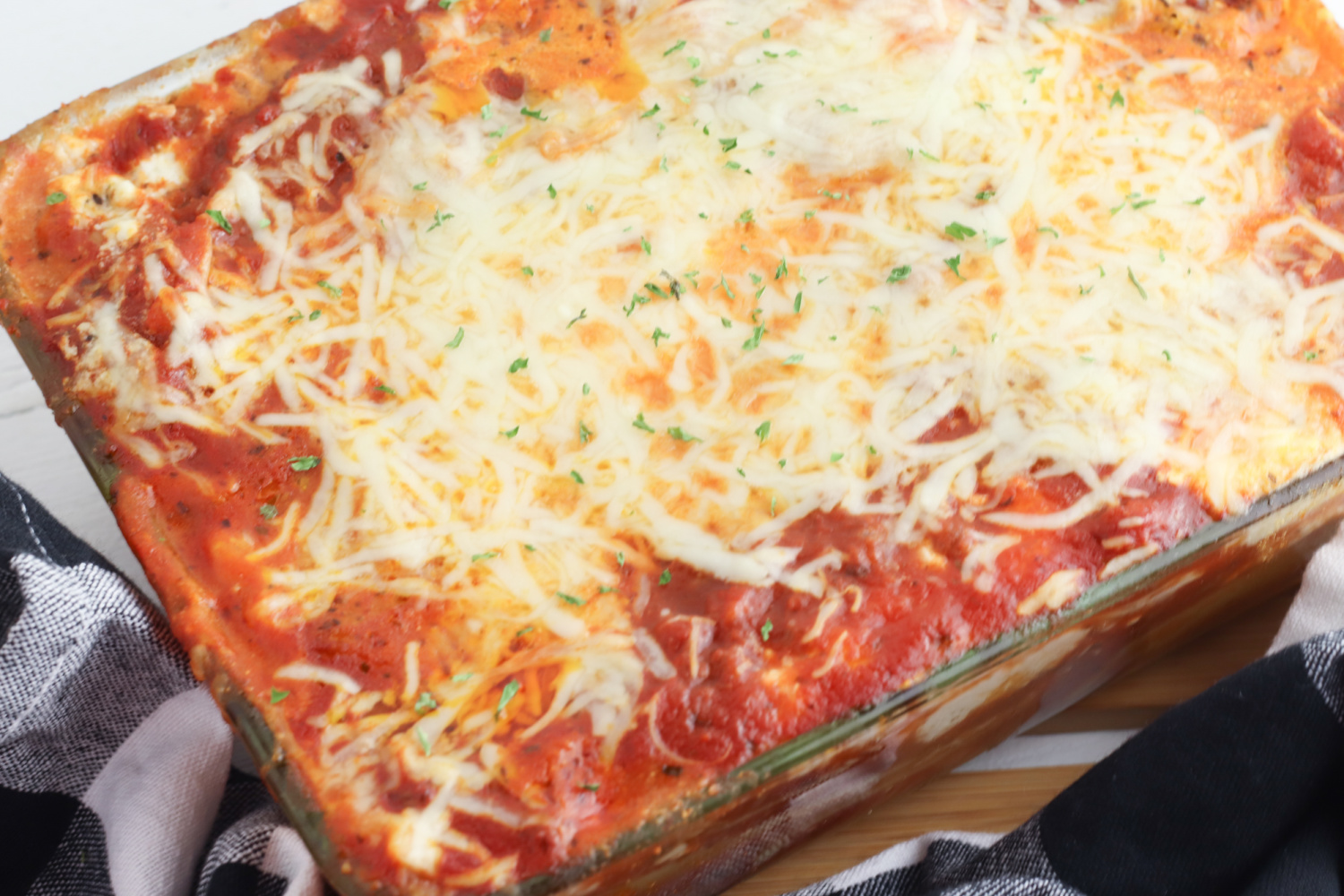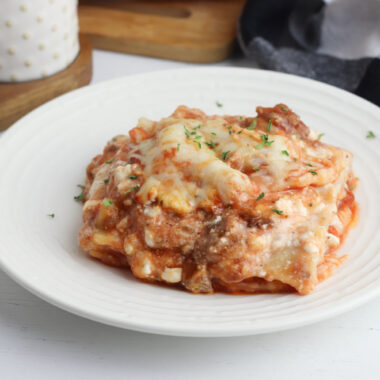 Rate this Recipe
Lazy Lasagna
We think this is perfect recipe for Lazy Lasagna! It's got enough authentic ingredients to make it worth your time, but you still won't need to spend all day in the kitchen for this classic Italian Dish! But, if you are still short on time, we've included a few extra nifty shortcuts!
Ingredients
1

pound

ground beef

1

small onion

chopped

2

garlic cloves

minced

2

jars marinara sauce

15

ounces

ricotta cheese

16

ounces

cottage cheese

½

cup

shredded parmesan cheese

1

tablespoon

Italian seasoning

1

teaspoon

salt

1

teaspoon

black pepper

6

lasagna noodles

halved and cooked

3

cups

shredded mozzarella cheese
Instructions
Preheat the oven to 375 degrees.

Brown the ground beef in a large skillet with the onion and garlic. When the meat is cooked through, stir in the sauce and remove from heat.

In a large bowl, stir the ricotta cheese, cottage cheese, parmesan cheese, Italian seasoning, salt, and pepper.

Spread a layer of sauce over the bottom of a 9x13 baking dish. Top the sauce with a layer of lasagna noodles.

Spread a layer of ricotta cheese mixture over the noodles, topped by a layer of sauce and a layer of shredded mozzarella cheese.

Continue layering the pasta, ricotta cheese, sauce, and shredded cheese until all the pasta has been used. Top the lasagna with a layer of sauce and remaining cheese.

Cover the pan with foil and bake in the oven for 45 minutes, then remove the covering and cook for an additional 10 to 15 minutes, until the cheese is beginning to brown.

Allow the lasagna to rest for 10 minutes before slicing and serving.
Nutrition
Love this recipe?
Follow @bubbapie for even more delicious recipes!!