This Sweet Potato Dump Cake is an easy Dessert Recipe full of Fall Flavors and a perfect addition to your Thanksgiving Dinner!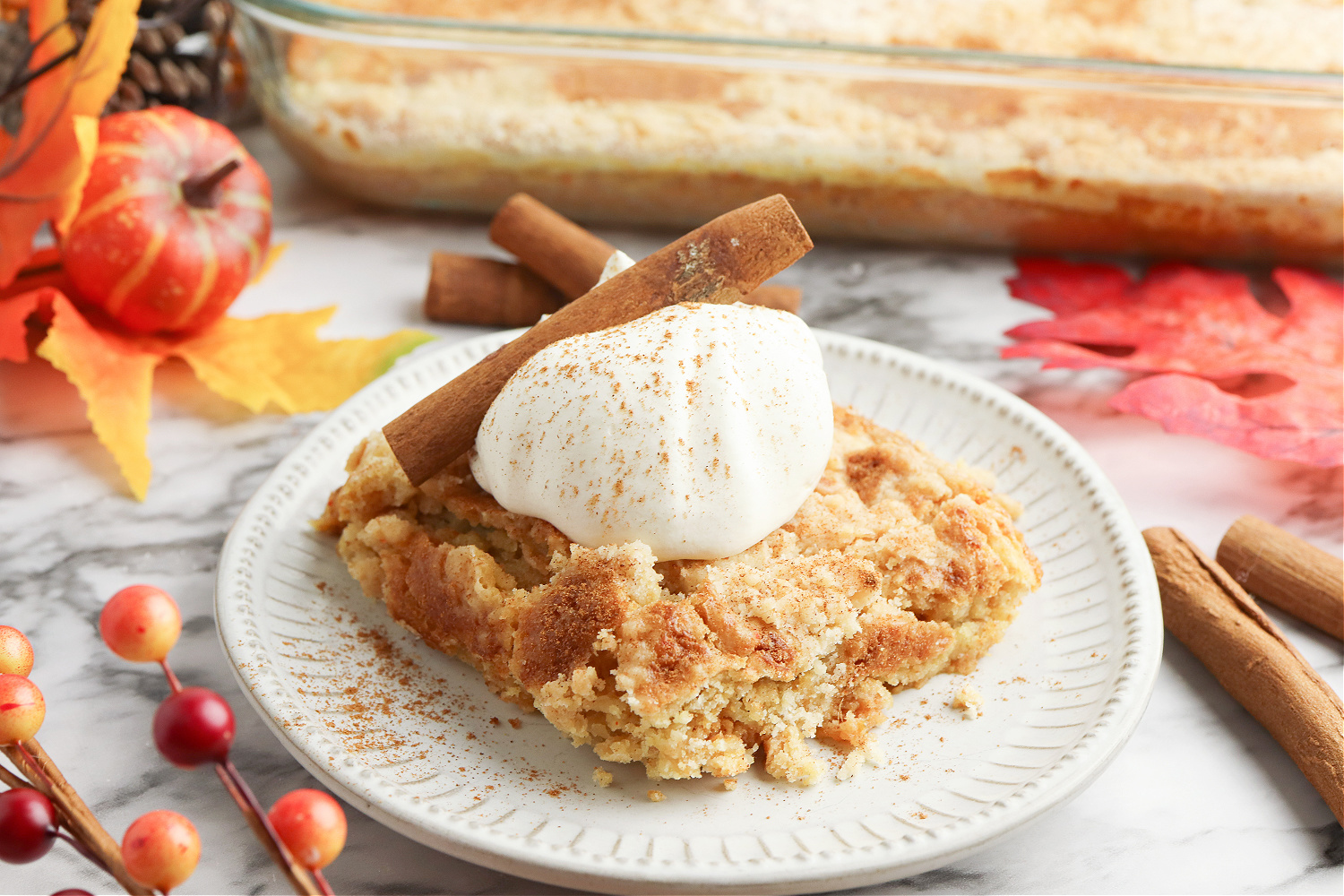 Why You Will Love Sweet Potato Dump Cake
SIMPLE, EASY RECIPE – With just a handful of simple pantry ingredients and a couple minutes of prep, you just "dump" all the ingredients in your baking dish and let the oven work it's magic!
FULL OF FALL FLAVORS – When the weather starts to chill and the leaves turn colors, you'll just crave recipes like this! With brown sugar, ground cinnamon, nutmeg and ground ginger, this recipe is perfect for Thanksgiving!
What Is A Dump Cake?
What are "Dump Cakes"? They are recipes where you really just dump all the ingredients into a baking dish and bake them. They are meant to be the easiest dessert recipes ever and many really just take 3 ingredients, a pie filling (apple pie filling, blueberry pie filling, etc), cake mix and butter. For instance, check out our Blueberry Dump Cake. A couple years ago, someone shared a recipe for Sweet Potato Dump Cake on Tiktok and it went a little crazy. This is our version of that.
And, while we do mix some of the ingredients together for this recipe instead of just dumping them all in a dish and baking, it's still a VERY simple recipe! And we promise it's worth the extra couple minutes! There are really just three steps to making this Dump Cake. Mix the ingredients, dump them in your baking dish. And then top with cake mix and butter.
Sweet Potato Dump Cake Recipe
For step-by-step instructions, check out the printable recipe card below. But here is what you'll need to get started:
CANNED SWEET POTATOES – Drained. You'll want the version that is chopped and canned in a light syrup. Just make sure to drain them.
BUTTER – We used unsalted butter.
MILK – We used 2%. But you can substitute for a lower fat milk to lighten the dish a bit. Or use half and half or heavy cream to make that dish richer.
BROWN SUGAR – Who doesn't love Brown Sugar baked with Sweet Potatoes?
VANILLA EXTRACT – Gives the dish some depth of flavor. We always recommend using a quality vanilla extract, not the store brand.
YELLOW CAKE MIX – Yellow Dry Cake Mix works best in this recipe. But, in a pinch you could use white cake mix or vanilla boxed cake mix. Spiced Cake Mix may also be yummy in this recipe. But we haven't tried that.
SPICES – A combination of ground cinnamon, nutmeg and ground ginger help this dish explode with Fall flavors!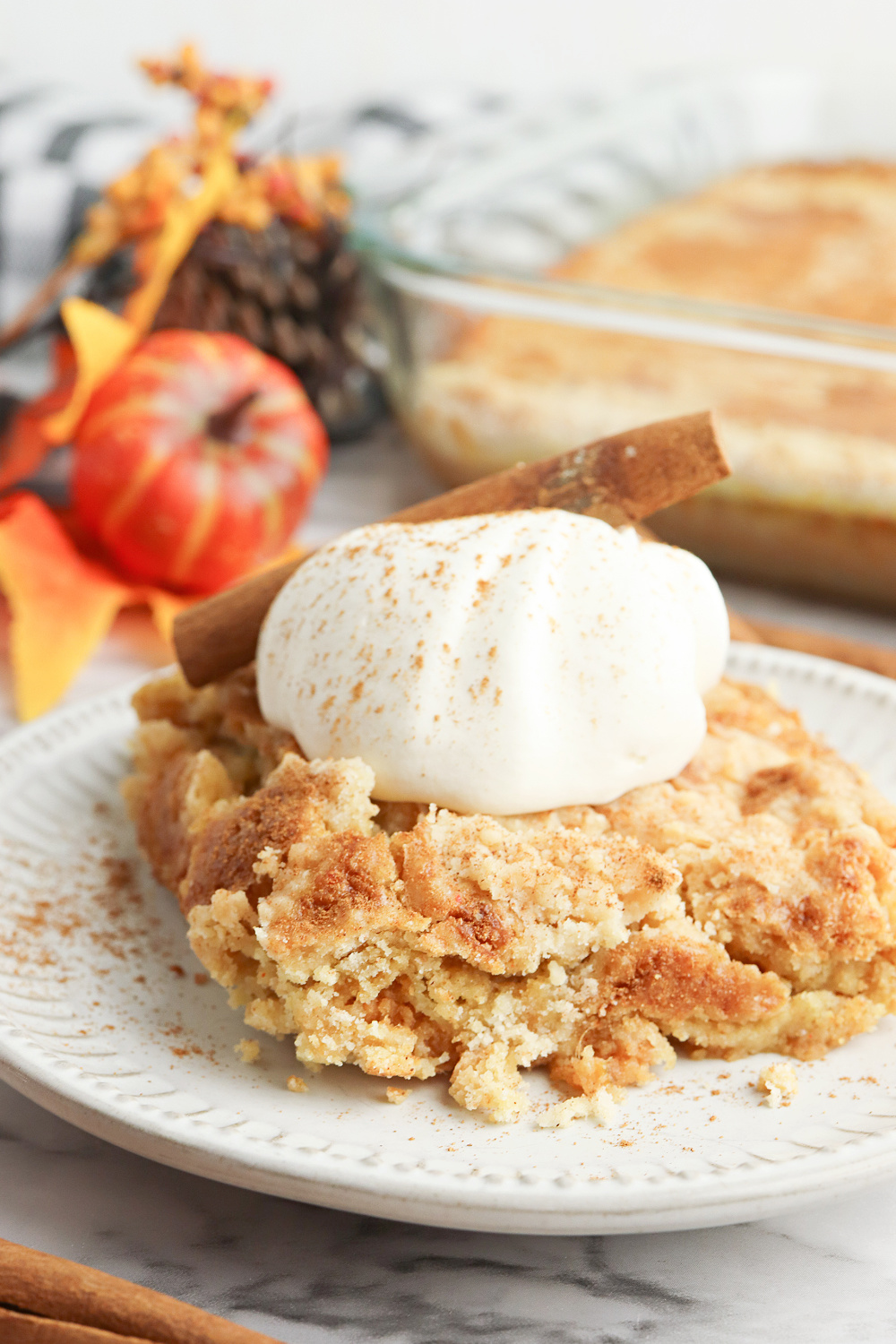 Storage, Freezing and Making Ahead Of Time
You can store the dump cake in an airtight container at room temperature. It's best served warm, but you don't have to heat it up.
You can also make this dish ahead of time, and simply reheat before serving. This is a good idea if your oven is busy with meal prep on Thanksgiving!
I would not freeze this recipe.
A Note On Adding the Butter
There are really three ways to add butter to this dish. You can simply slice them into thin pats of butter and distribute them evenly. This is what we did.
Or, you can melt butter and drizzle it around the cake mix before baking.
And, finally, some people like to melt the butter and stir it into the cake mix. Then put that mixture on top of your dump cake. All these methods work with slightly different results. Feel free to experiment and find what works best for you.
Notes, Tips and FAQs
HOW DO YOU KNOW THE DUMP CAKE IS DONE? – Since there are no raw ingredients, there really aren't any health concerns is making sure this baked thoroughly. We just want to make sure it's heated all the ay through. You'll know it's ready to come out of the oven when it's golden brown at the edges.
CAN YOU SERVE THIS AS A SIDE DISH? – While many sweet potato recipes are great Holiday Side Dishes. This really is more of a dessert. But, who are we to tell you how to eat this!?!?!
ADD NUTS – Adding walnuts, pecans or shaved almonds to the top of the cake would add some welcome flavor and texture to this dish.
ADD CARAMEL SAUCE – Drizzle some caramel sauce to make this event more like a dessert. You can add the caramel sauce before or after baking.
SERVE WITH ICE CREAM – This is dish is delicious when warmed up and served with a dollop of vanilla ice cream and/or whipped cream.
MASH POTATOES OR LEAVE THEM CHUNKY – We mashed our sweet potatoes before baking. But you can also just leave them in chunks. They will break down a bit while baking and the dish will have a little different consistency.
We hope you enjoy this Sweet Potato Dump Cake Recipe. Let us know how it turns out in the comment section. Happy Eating!
LOOKING FOR MORE RECIPES LIKE THIS? CHECK OUT: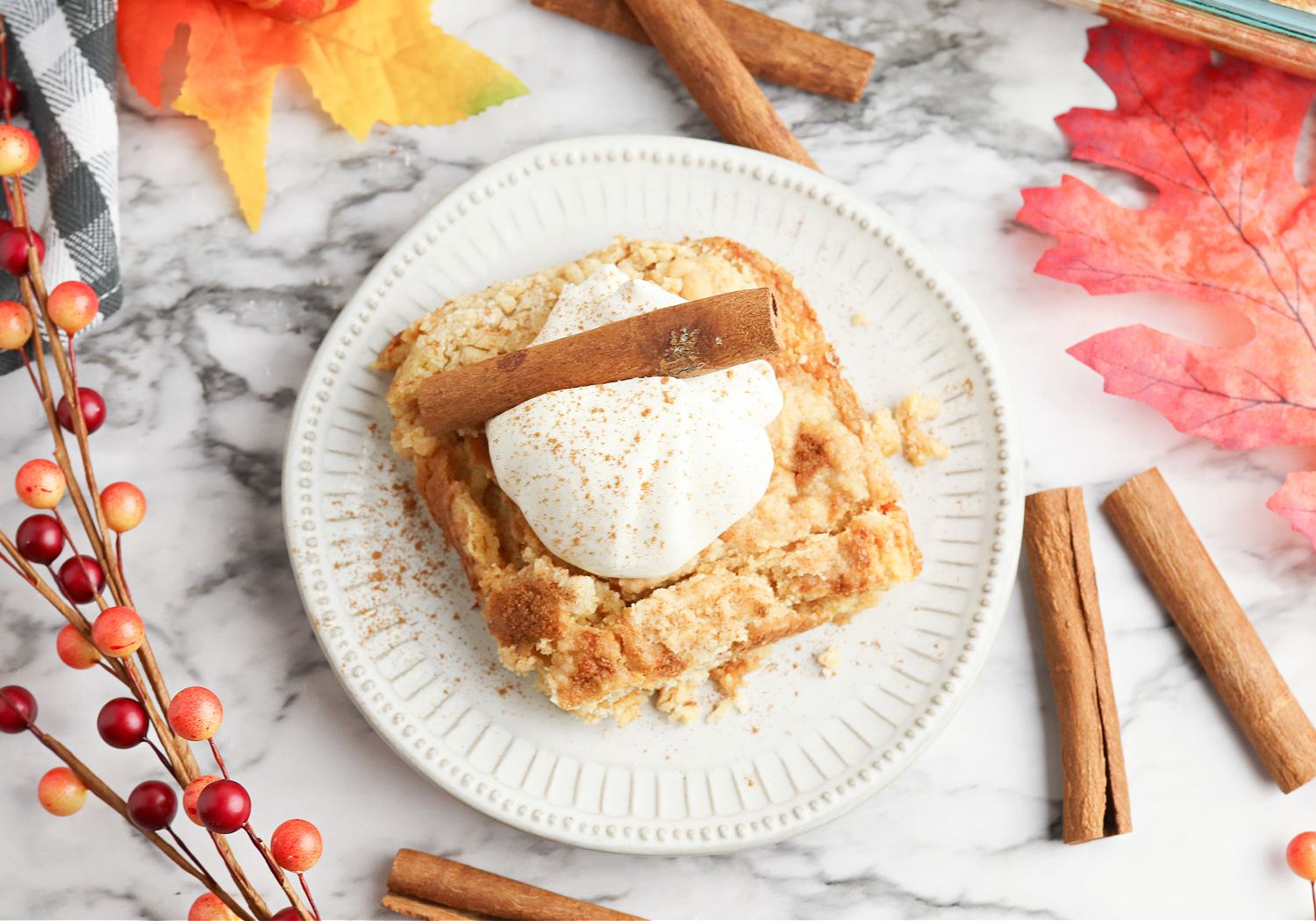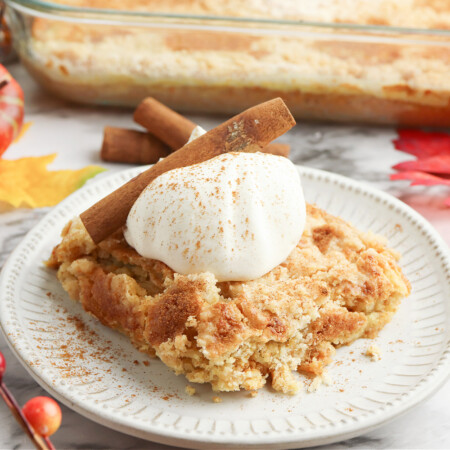 Rate this Recipe
Sweet Potato Dump Cake
This Sweet Potato Dump Cake is an easy Dessert Recipe full of Fall Flavors and a perfect addition to your Thanksgiving Dinner!
Ingredients
2 15

ounce

cans sweet potatoes

drained

1

cup

butter

divided

1/4

cup

milk

1/4

cup

brown sugar

1

teaspoon

vanilla

2

teaspoons

ground cinnamon

1

teaspoon

nutmeg

1

teaspoon

ground ginger

1

box yellow cake mix
Instructions
Preheat the oven to 350 degrees and grease a 9x13 baking dish with nonstick cooking spray.

Melt 1/2 cup of butter and combine it with the sweet potatoes, milk, brown sugar, vanilla, ground cinnamon, nutmeg, and ground ginger in a medium bowl. Mash the ingredients into the potatoes until smooth.

Spread the sweet potato mixture in the bottom of the prepared pan.

Sprinkle the cake mix over the top of the sweet potatoes.

Cut the remaining 1/2 butter into slices and arrange the slices evenly over the top of the cake mix.

Bake for 45 to 55 minutes, until the top is golden brown. Allow to rest for 15 minutes before slicing and serving.
Nutrition
Love this recipe?
Follow @bubbapie for even more delicious recipes!!