This Pork Chop Casserole is sure to bring your dinner game to a whole new level! It's a tasty twist on a classic favorite! Tender pork chops, savory stuffing, and a rich gravy combine in one delightful dish that's so easy to make all in one skillet!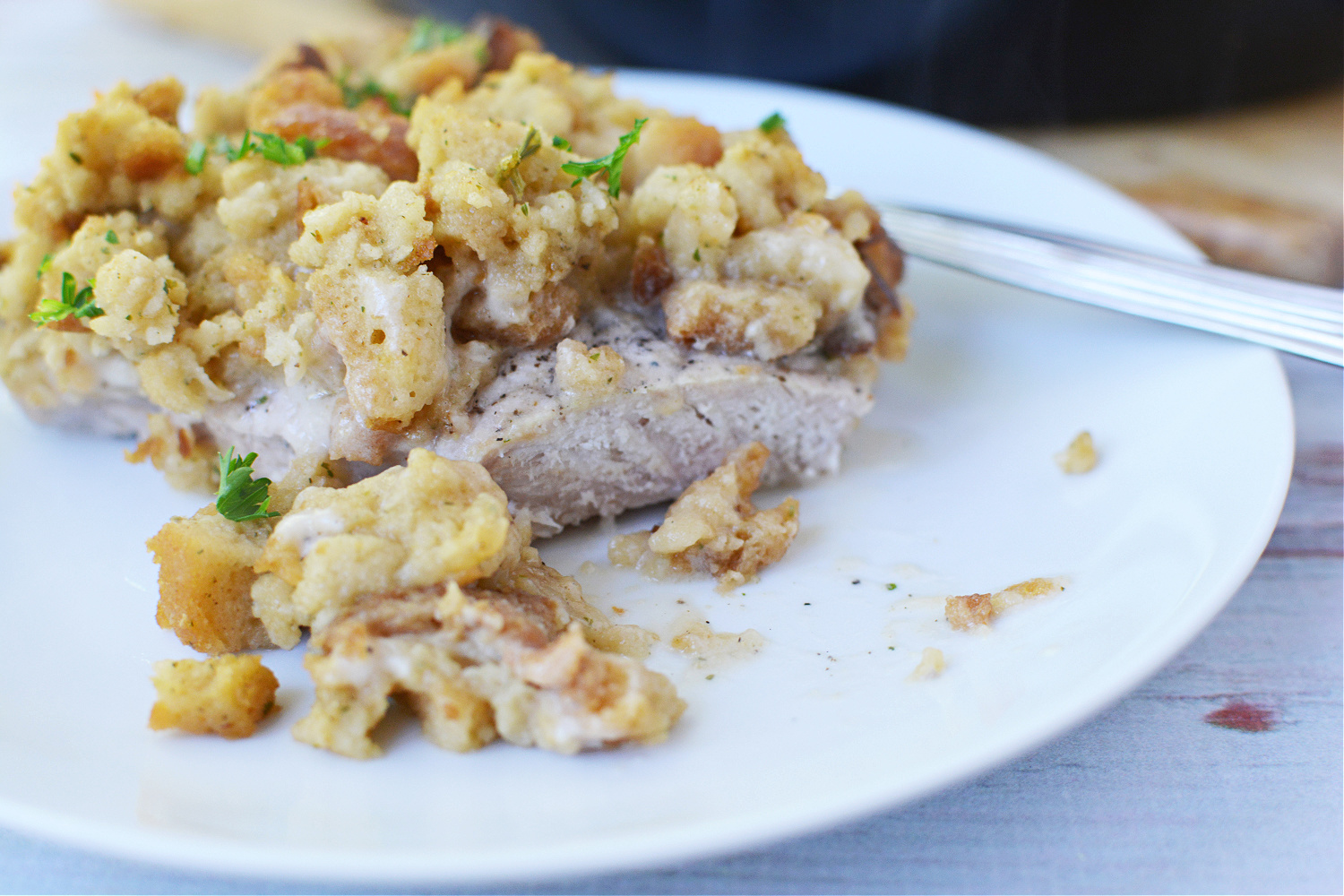 In my experience, having a quick, easy one-skillet meal on deck for busy weeknight is super important! We love this one for a bunch of reasons! Here are just a couple!
Why You Will Love Pork Chop Casserole
TOTAL COMFORT FOOD! – A pork chop casserole offers a comforting blend of tender, seasoned pork chops, savory stuffing, and flavorful sauce, creating a mouthwatering flavor combination that's sure to satisfy your comfort food cravings.
EASY RECIPE PERFECT FOR BEGINNERS – It's a convenient one-dish meal that's simple to prepare, making it perfect for busy weeknight dinners when you want a delicious homemade meal without the hassle.
VERSATILE – You can customize a pork chop casserole with your favorite seasonings, veggies, or even cheese, allowing for endless variations to suit your taste preferences. See below for some inspiration!
FREEZER FRIENDLY – This is a great make ahead meal that stay good in your freezer for months. Just take it out and thaw for an easy, ready-made, family dinner.
A CROWD PLEASER – Whether you're cooking for family or friends, this dish is a crowd-pleaser that brings everyone to the table, making it an ideal choice for gatherings and special occasions. And it's totally kid friendly, even for the pickiest eaters!
Pork Chop Casserole Recipe
Hey! Before we get started…. If you are looking for great pork chop recipes, be sure to also check out our Bacon Wrapped Pork Chops, Crockpot Ranch Pork Chops and Homemade Shake n' Bake Pork Chops! For step-by-step instructions, check out the printable recipe card below. But here is what you'll need to gets started.
STUFFING MIX – One box of any brand of "Stove Top" type stuffing will work.
CHICKEN BROTH – You can substitute for Low Sodium Chicken Broth if you are watching your salt intake.
PORK CHOPS – We recommend using boneless pork chops and making sure that they are least 3/4 inches thick. You can use bone-in pork chops, but may need to cook them a bit longer.
SALT AND PEPPER – To taste.
CREAM OF MUSHROOM SOUP – You can really use any "Cream of" condensed soup in this recipe.
MILK – We used 2% milk for this recipe. But you can lighten it up by using low-fat milk. Or, alternatively, make this a little richer and creamier by using half and half.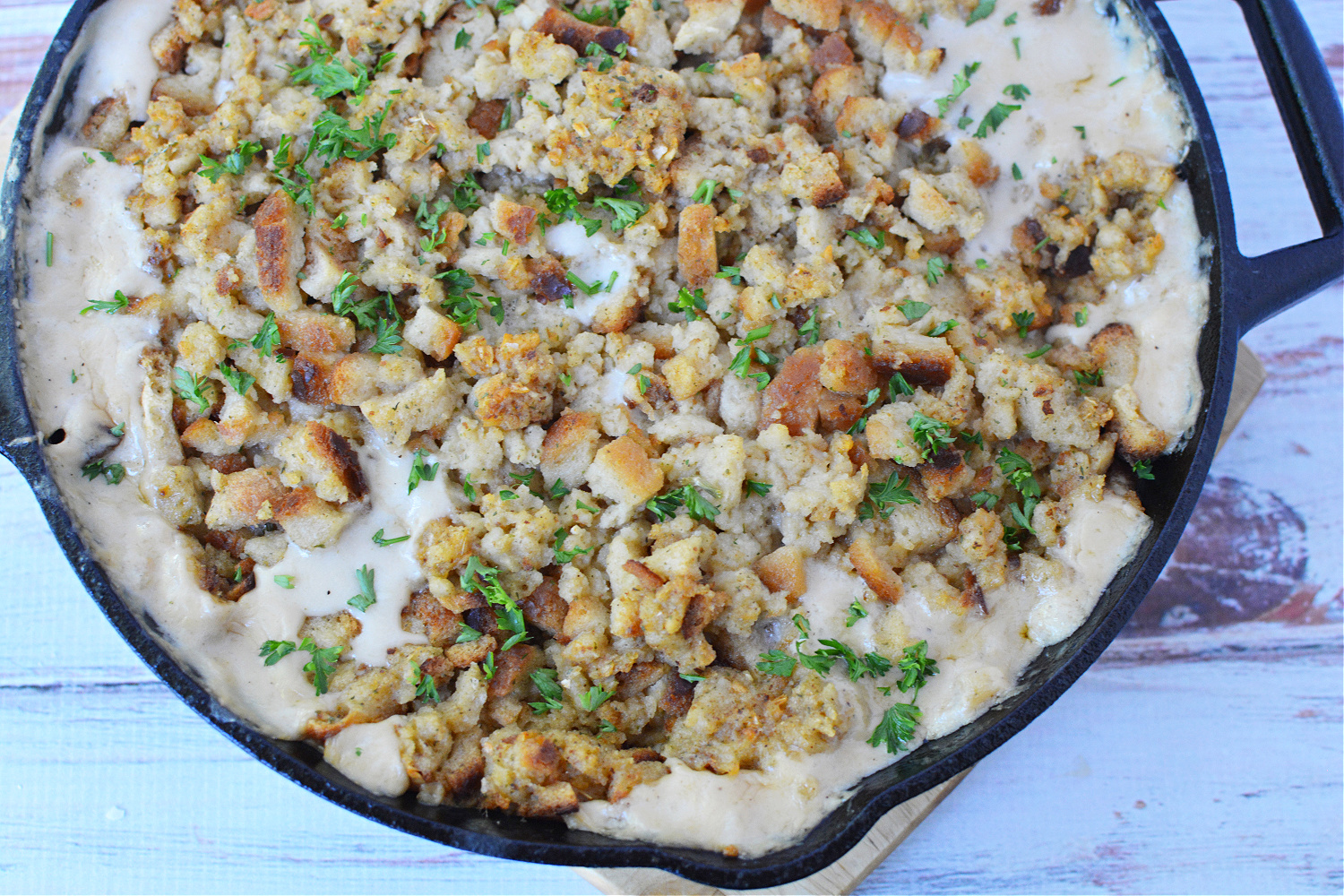 Storage, Freezing and Leftovers
You can store leftovers in an airtight container in the refrigerator. Leftovers should be good for about 3-4 days. Please not that the stuffing may get soggier as the days go on.
You can freeze Pork Chop Casserole. Just let it cool to room temperature and wrap it tightly in freezer wrap. It will good in your freezer for 3-4 months. Let thaw in the refrigerator.
Can You Cook Pork Chop Casserole In A Slow Cooker!
Yep! Just sear the pork chops as described in step 3. Put the pork chops in the Crockpot and pour in the soup and milk mixture. Then top everything with the stuffing mixture and cook on Hight for 3-4 hours or on low for 5-6 hours.
Notes, Variations and FAQs
HELP! I DON'T HAVE A LARGE OVEN-PROOF SKILLET! – No worries, this recipe works great without searing the pork chops. You can just load everything into a 9X13 baking dish and it will still be delicious.
WHAT CAN I SUB FOR THE STUFFING? – Lots of people like to use French Fried Onions instead of stuffing. You could also mix together some butter and crushed crackers and sprinkle on top for a nice, golden topping. Or some just put a nice layer of gooey cheese on top. Use any kind that you'd like!
ADD VEGGIES – Make this a little heartier by adding cauliflower, broccoli, bell peppers, diced potatoes, green beans, mushrooms, onions, frozen pea and carrots or really any vegetable!
ADD RICE OR POTATOES – Either dice or thinly slice the potatoes and add them to your baking dish before you put it in the oven. Some people also add uncooked white rice or brown rice to this meal too! Go for whatever sounds good to you! This is one of those recipes that is just about impossible to mess up!
We hope you enjoy this Pork Chop Casserole Recipe. We'd love to hear how it turns out in the comment section! Happy eating!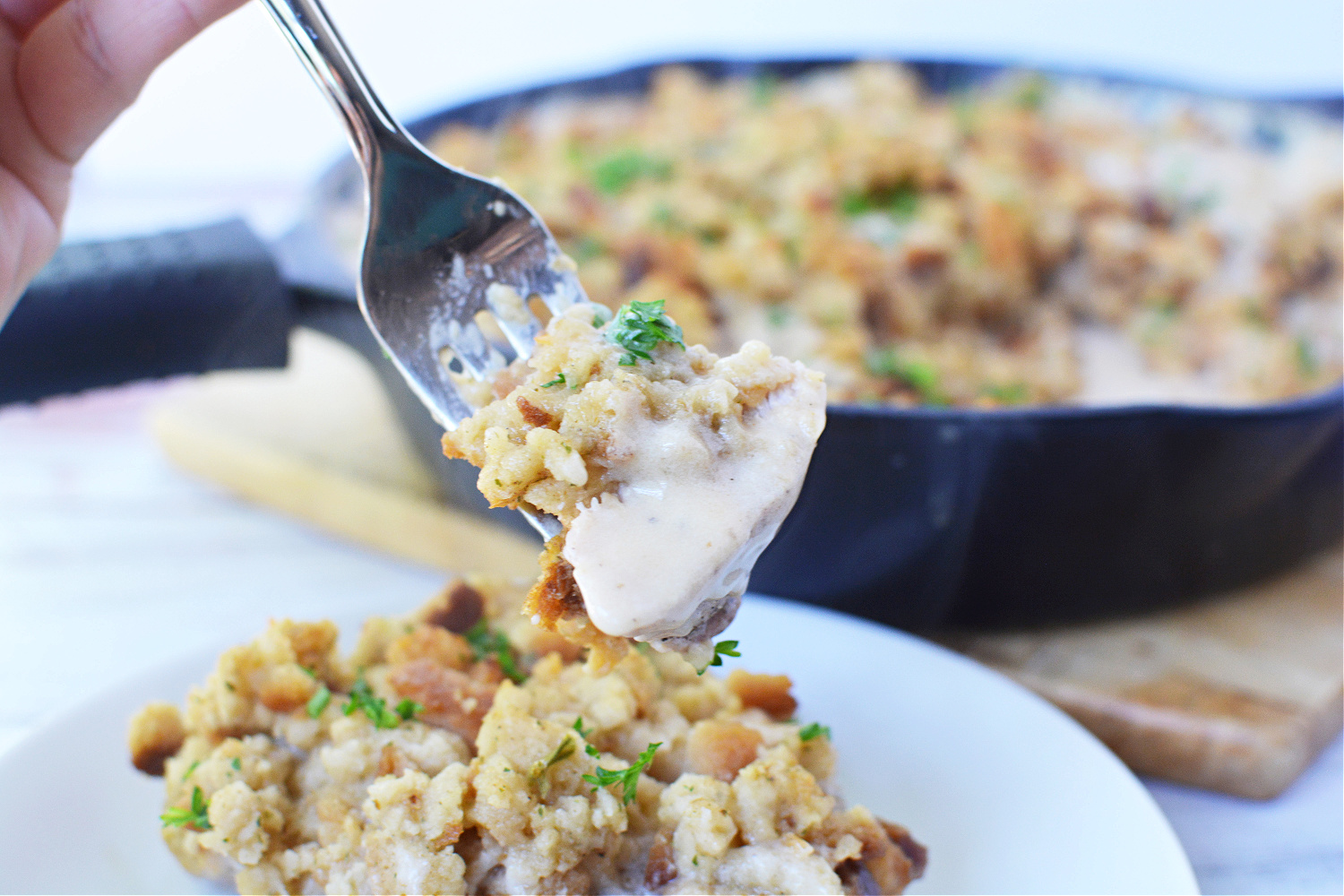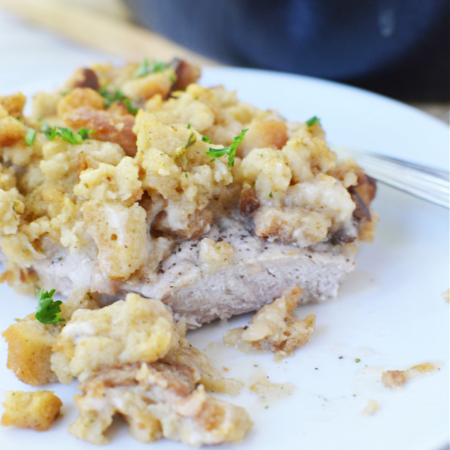 Rate this Recipe
Pork Chop Casserole
This Pork Chop Casserole is sure to bring your dinner game to a whole new level! It's a tasty twist on a classic favorite! Tender pork chops, savory stuffing, and a rich gravy combine in one delightful dish that's so easy to make all in one skillet!
Ingredients
1

box

6 oz, stuffing mix

2

cups

chicken broth

1-1/2 to 2

lbs

pork chops

3/4"-1" thick

salt and pepper

1

can

10.5 oz, cream of mushroom soup

1/2

cup

milk
Instructions
Preheat oven to 350.

Mix together stuffing mix and broth in a bowl and mix well. Let stand and set aside.

In a 10" oven proof skillet, add pork chops and season with salt and pepper. Sear over medium high heat until browned on both sides. Remove pan from heat. Remove pork chops from pan and set aside.

Add soup and milk to the skillet and whisk until smooth.

Return pork chops to pan, in a single layer.

Stir stuffing mix and place on top of pork chops. Cover with aluminum foil.

Bake for 30 minutes. Remove foil and return to oven for 10 additional minutes. Remove from oven and serve hot.
Nutrition
Love this recipe?
Follow @bubbapie for even more delicious recipes!!