Get ready to elevate your dessert game with our irresistible Coconut Poke Cake! With this Cake Mix Recipe, in just a few simple steps, you'll transform an ordinary cake into a tropical paradise bursting with coconut goodness.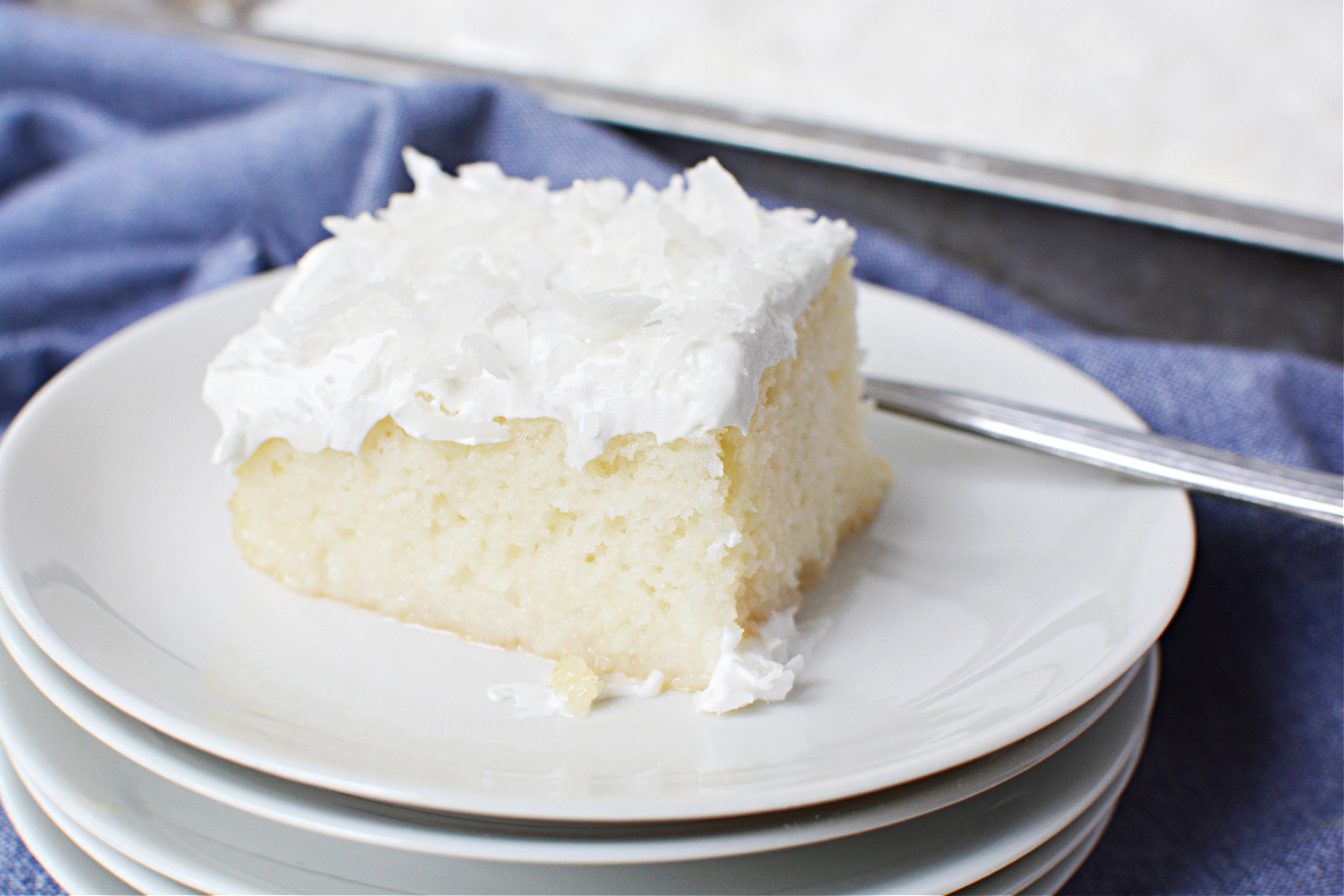 Why You Will Love Coconut Poke Cake
1. YUMMY TROPICAL FLAVORS – Coconut poke cake is a sweet symphony of tropical flavors, with every bite delivering a delightful blend of coconut, vanilla, and creamy goodness. It's like a mini vacation for your taste buds!
2. MOIST AND TENDER TEXTURE – Thanks to the magic of poking holes and adding coconut cream, this cake stays incredibly moist and tender, ensuring each forkful is an indulgent experience.
3. CUSTOMIZABLE: Whether you want to top it with toasted coconut flakes, fresh fruit, or a dollop of whipped cream, coconut poke cake is highly customizable to suit your personal taste and style. Check out below for some ideas and inspiration!
4. EASY RECIPE: You don't need to be a baking expert to master this recipe. With straightforward steps and common pantry ingredients, it's a great recipe for beginners! Or a fun one to let the kids help out with!
What Is A Poke Cake Recipe
A Poke Cake a dessert where holes are poked into the cake, and a delicious filling is poured over to infuse extra flavor and moisture. There are many different kinds, like this Strawberry Jello Poke Cake or this Banana Pudding Poke Cake.
To make them super simple, we always use a boxed cake mix. But, if you have a favorite cake recipe, you can certainly use that as well!
Coconut Poke Cake Recipe
Get ready Coconut Lovers! We're diving headfirst into the world of coconuts, cakes, and pure joy with our delectable Coconut Poke Cake recipe.
Picture yourself lounging on a pristine beach, the gentle breeze ruffling your hair, and the sound of palm leaves swaying in the background. Now, imagine all of that, but in cake form! This dessert is like a slice of edible paradise, and it's so easy to make that you'll wonder why you haven't been whipping it up every day.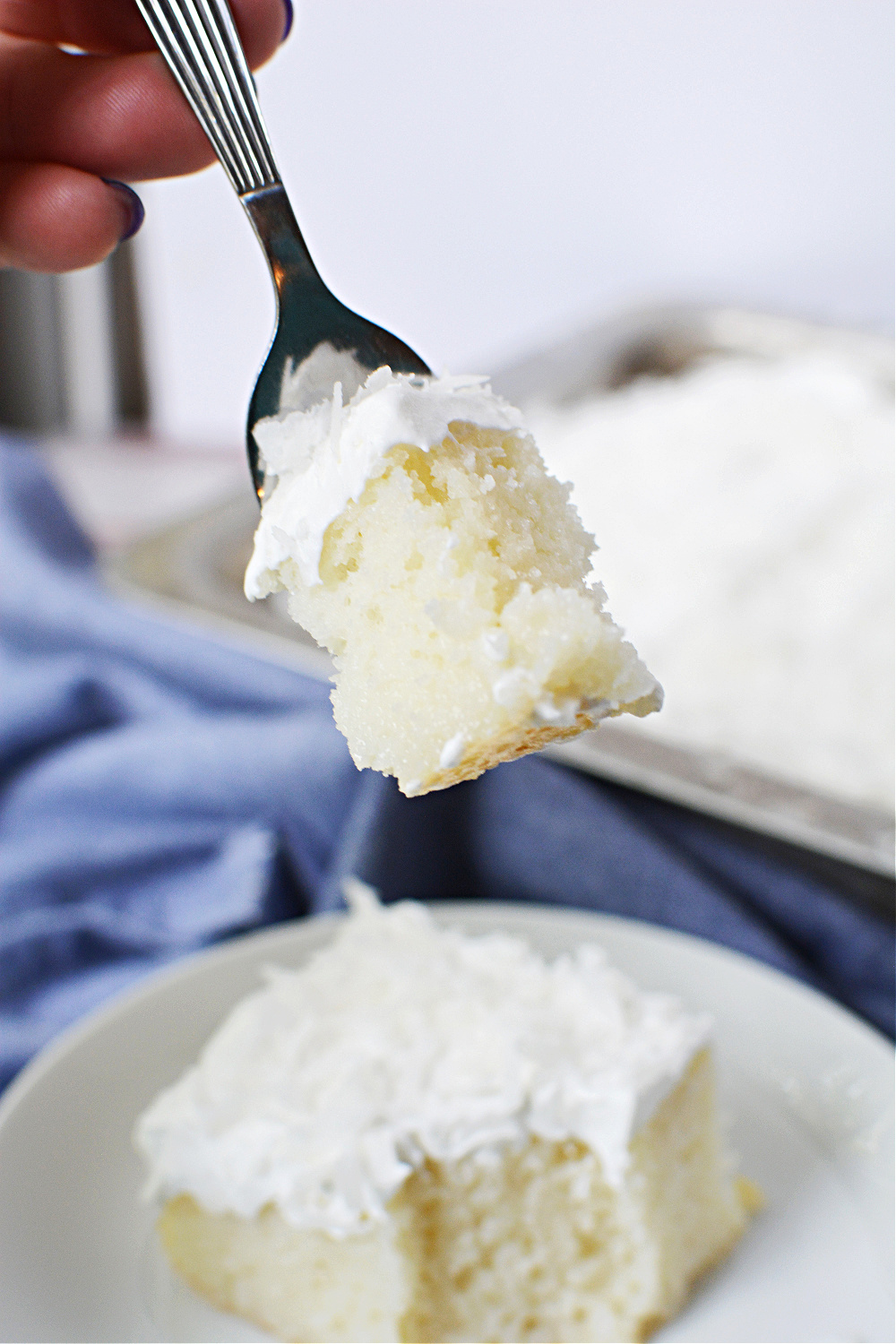 And best of all, because this is a cake mix recipe, all you need is handful of common pantry staples and a couple minutes of prep work! Check out the printable recipe card below for step-by-step instructions, but here is what you'll need to get started.
WHITE CAKE MIX – You'll also need the ingredients to make it. Usually eggs, oil and water. You can also use Vanilla or Yellow Cake mix if you'd like.
CREAM OF COCONUT – Note that this is different than Coconut Oil or Coconut Milk. It's kinda like a mix between the two. We found it in the beverage section at Krogers.
SWEETENED CONDENSED MILK – Combining this with the Cream of Coconut gives us that delicious coconut cream sauce to pour over our cake.
WHIPPED TOPPING – Thawed. Any brand will do. We used Cool Whip.
SHREDDED COCONUT – Optional as a topping. You can also toast them before topping your cake with them if you want.
Storage, Leftovers and Freezing
You'll need to store your Coconut Poke Cake in the refrigerator and keep it chilled. It should stay good in your fridge for 4-5 days.
This cake does freeze well. You can freeze the whole cake or individual portions. Thaw overnight in the refrigerator.
Notes, Tips and FAQs
CAN I MAKE POKE CAKE AHEAD OF TIME? – Making this a day ahead of time would work great. The flavors will intensify even more overnight. Although, I wouldn't make it more than one day ahead of time.
CAN I FROST WITH HOMEMADE WHIPPED CREAM INSTEAD OF FROZEN WHIPPED TOPPING? – Yes, but the whipped topping will keep it's shape a little better and won't melt as fast once served.
IS THERE ALCOHOL IN CREAM OF COCONUT? – No there is not. Cream of Coconut is sometimes found in the "Alcohol Mixers" part of your grocery store. But it does NOT have alcohol in it.
CAN YOU SUBSTITUTE CREAM OF COCONUT WITH COCONUT MILK? – No, you really can't. You'll need Cream of Coconut for this recipe.
WHAT IS THE BEST WAY TO POKE HOLES IN YOUR CAKE? – You can really use anything that will poke a fairly small hole. The handle of a wooden spoon, a wooden skewer, a serving fork or the end of a chopstick would all work.
Fun Coconut Poke Cake Variations
Coconut poke cake is a versatile dessert that can be customized in various ways to suit your preferences. Here are some delicious variations to try:
"PINA COLADA" POKE CAKE – Add crushed pineapple to the coconut cream filling for a tropical twist. Top with maraschino cherries and a drizzle of rum (Adults Only!) for that classic Pina Colada flavor.
CHOCOLATE COCONUT POKE CAKE – Incorporate chocolate into your coconut cake by using a Chocolate Cake Mix or by adding a layer of chocolate ganache on top of the coconut filling.
TOP WITH FRUIT! – Decorate the top with a layer of fresh berries, sliced kiwi, or your favorite fruit for a refreshing and colorful twist.
ALMOND JOY POKE CAKE – Sprinkle chopped almonds and mini chocolate chips over the coconut filling and top with a drizzle of chocolate syrup for a cake that mimics the flavors of the popular candy bar.
MANGO COCONUT POKE CAKE – Incorporate mango puree into the coconut cream filling for a fruity and exotic flavor. Top with fresh mango slices for an extra burst of sweetness.
COCONUT CARAMEL POKE CAKE – Drizzle caramel sauce over the top of the cake after adding the coconut cream, creating a heavenly combination of caramel and coconut flavors.
We hope you enjoy this Coconut Poke Cake Recipe. Let us know how it turns out in the comment section! Happy Eating!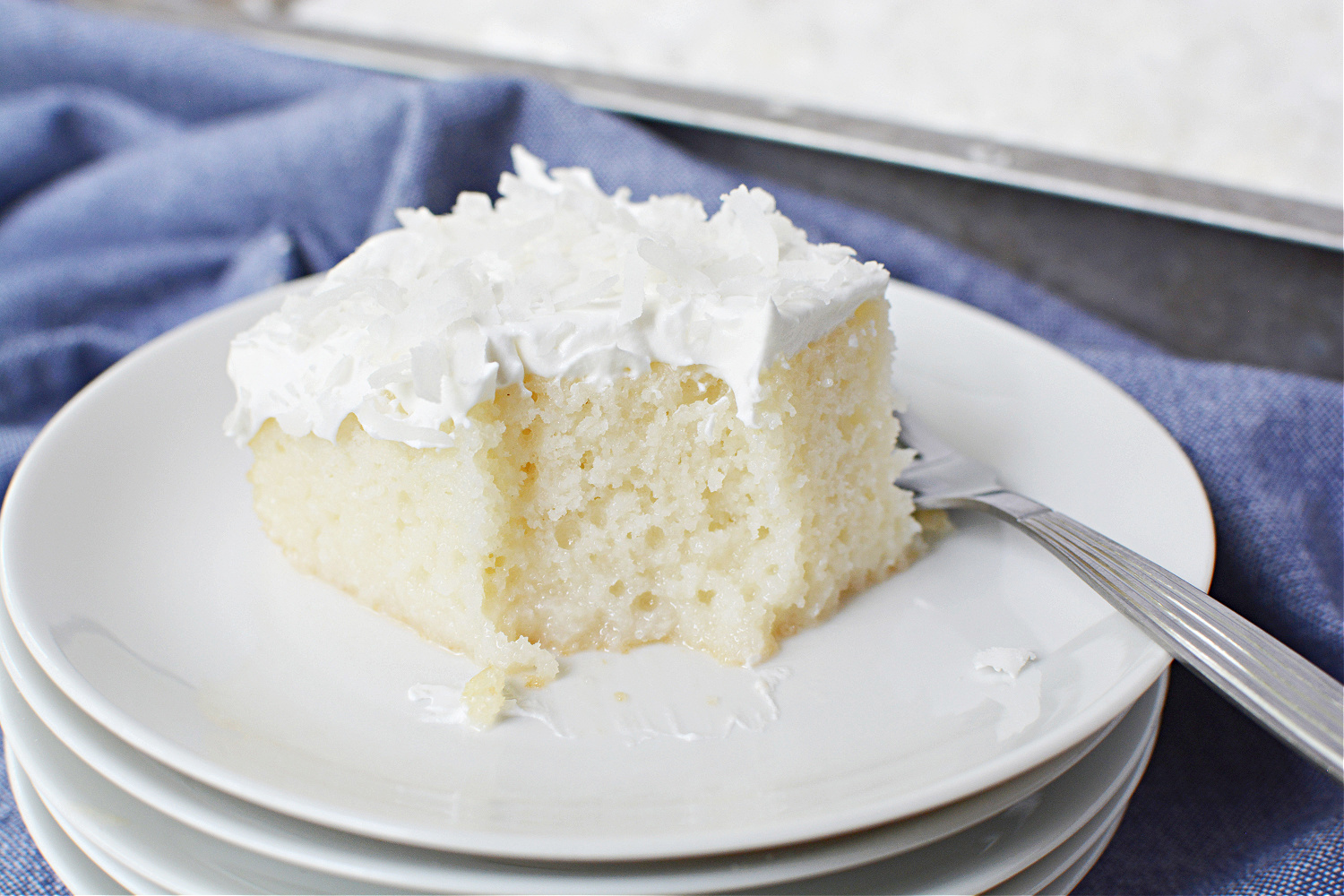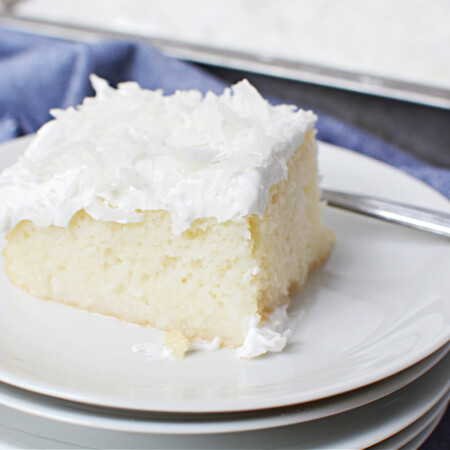 Rate this Recipe
Coconut Poke Cake
Get ready to elevate your dessert game with our irresistible Coconut Poke Cake! With this Cake Mix Recipe, in just a few simple steps, you'll transform an ordinary cake into a tropical paradise bursting with coconut goodness.
Ingredients
1

box

15.25 oz, white cake mix and ingredients to make cake, usually oil, water and egg whites.

1

can

15 oz, cream of coconut

1

can

14 oz, sweetened condensed milk

1

large tub

16 oz, whipped topping, thawed

1-1/2

cups

coconut flakes
Instructions
Bake cake according to package directions.

When cake is cooked, remove from oven and use a skewer or handle of a wooden spoon to poke holes into the top of the warm cake.

Whisk together cream of coconut and sweetened condensed milk.

Slowly pour mixture on top of warm cake.

Let stand to soak and cool.

Once cake is cool, cover with whipped topping.

Top with coconut. Cover and refrigerate until ready to serve.
Nutrition
Love this recipe?
Follow @bubbapie for even more delicious recipes!!