This Million Dollar Pie is an old fashioned no bake dessert with a light, creamy filling sweetened with pineapples and lemon served on a graham cracker crust.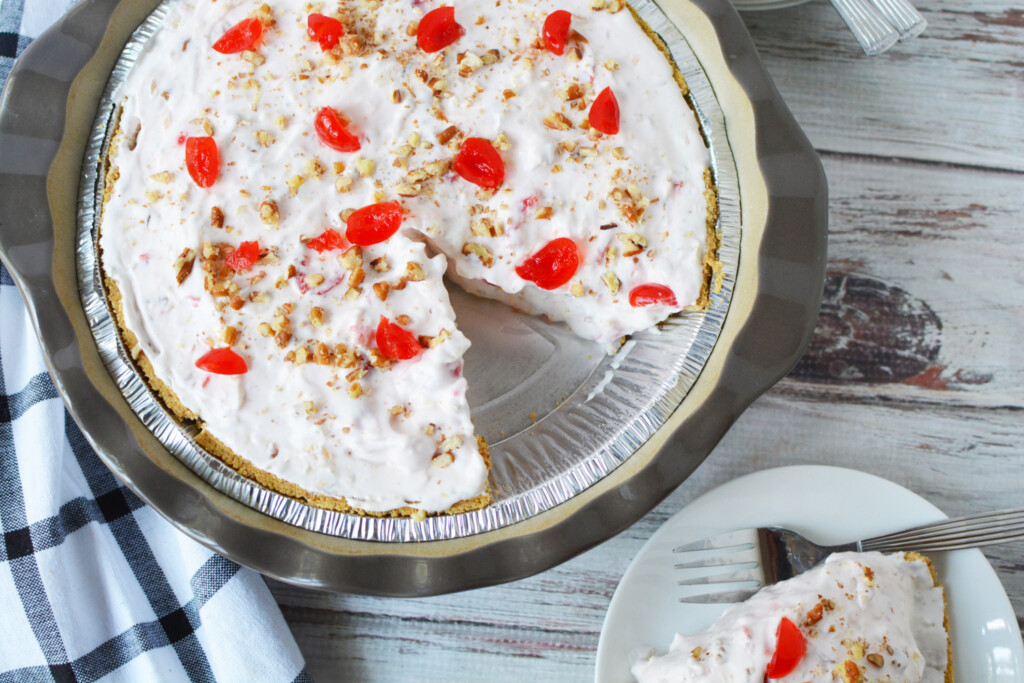 Why You Will Love Million Dollar Pie
OLD FASHIONED RECIPE – Who doesn't love classic, southern comfort food? This recipe has been around for decades, made by grandmas after grandmas. If you bring this to a potluck or pitch in, someone will have fond memories of this pie!
EASY – With just a few common simple ingredients all mixed in one bowl, this pie literally takes less than 5 minutes to prepare. It's a great dessert recipe for beginners or to let the kids help out with! Just remember, it will need a couple hours in the fridge to chill!
DELICIOUS – Airy, creamy and perfectly sweet! That filling tastes like it was MADE for the graham cracker crust! And the pecans add the perfect crunch! This pie is equally perfect for a summer cookout or a traditional Holiday dessert like Christmas or Thanksgiving.
Million Dollar Pie
Also called Millionaire's Pie, there are actually a number of different ways and variations to this no bake recipe. This is our version, but, below, we detail some ways you can change things up. Really, just mix all your filling ingredients together in a bowl and spoon the mixture it into your pie crust so it can chill in the fridge. For step-by-step instructions, check out the printable recipe card. But here is what you'll need to get started:
GRAHAM CRACKER PIE CRUST – This recipe makes two pies. So you will need two crusts. Of course, you can make your own homemade pie crust if you want. But we just use a premade store bought one.
SWEETENED CONDENSED MILK – Gives the pie that smooth, silky sweet flavor and texture that we love!
CRUSHED PINEAPPLE – Drain your pineapple very well. If there is too much juice left, it can ruin your pie.
WHIPPED TOPPING – We used Cool Whip. Thawed. If you want to a lighter version of this pie, use Light Whipped Topping.
LEMON JUICE – Balances the sweetness and helps the pie keep it's form. You do not want to omit this ingredient.
PECANS – Divided. Some will be in the pie and some as a topping.
Maraschino Cherries – drained, quartered and divided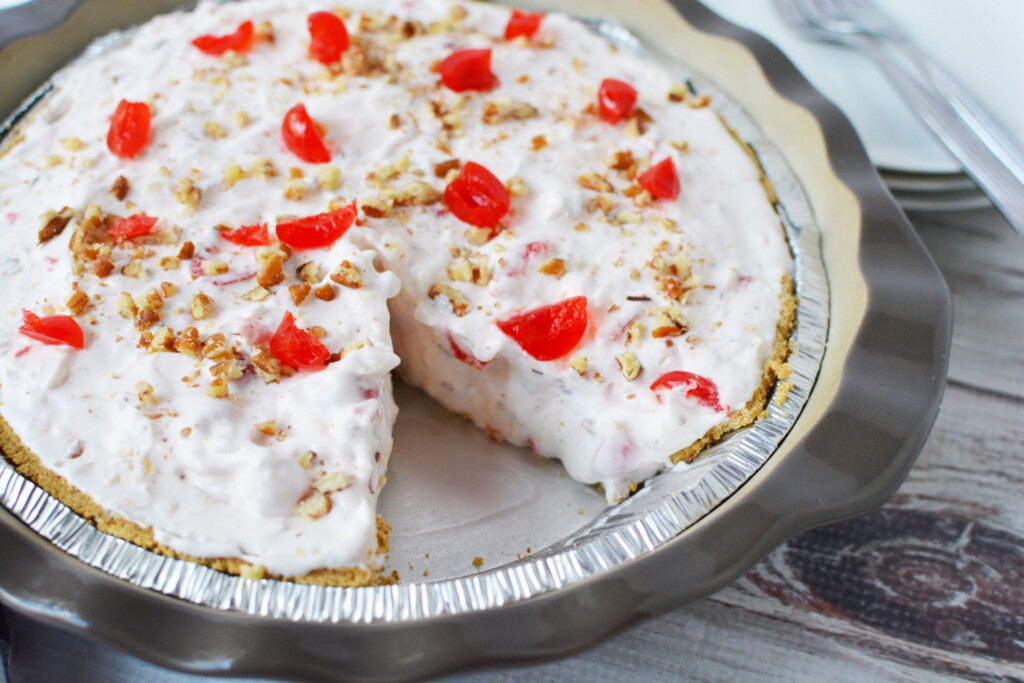 Can You Freeze Million Dollar Pie?
Yes! Million Dollar Pie freezes well. And it's actually great as a frozen treat. Just let it thaw just enough to cut into it. If you want to fully thaw it out, do that in the refrigerator.
Million Dollar Pie does need to be refrigerated. So be sure not to leave it out too long. This is especially true if it's outside on a warm day or in direct sunlight.
Additions and Recipe Variations
ADD COCONUT FLAKES – Coconut is a very common ingredient in this pie. You can add it toasted or untoasted. And you can fold it to the filling, as a topping or both. A lot of people like to add untoasted coconut to the pie filling but sprinkle toasted coconut as garnishes.
ADD MANDARIN ORANGES – Adding mandarin oranges will give this pie and even brighter, fresher flavor. Perfect for the summer or for Easter! Just like the pineapple, make sure to drain them well.
ADD CREAM CHEESE – Another common variation of this recipe is to add softened cream cheese to the filling. This will give it more of a cheesecake texture and it certainly won't be as light. But really delicious! You can even use fun flavored cream cheese like Mixed Berry, Strawberry or Honey Pecan!
ADD FRUIT COCKTAIL – Substitute all the fruit in this recipe for fruit cocktail! Again, just make to sure to drain well!
Frequently Asked Questions
CAN YOU MAKE THIS AHEAD OF TIME? – You actually do need to make it at least a couple hours ahead of time so it has time to chill. But you can also make this the day before. We would just wait to add the toppings until right before we serve it.
DO YOU HAVE TO USE GRAHAM CRACKER PIE CRUST? – The traditional way to make Million Dollar Pie is to use a graham cracker crust. But you can substitute with a shortbread crust. Or even a chocolate or oreo crust.
We hope you enjoy this Million Dollar Pie Recipe! We'd love to hear how it turns out for you in the comment section. Happy Eating!
LOOKING FOR MORE NO BAKE PIE RECIPES? CHECK OUT: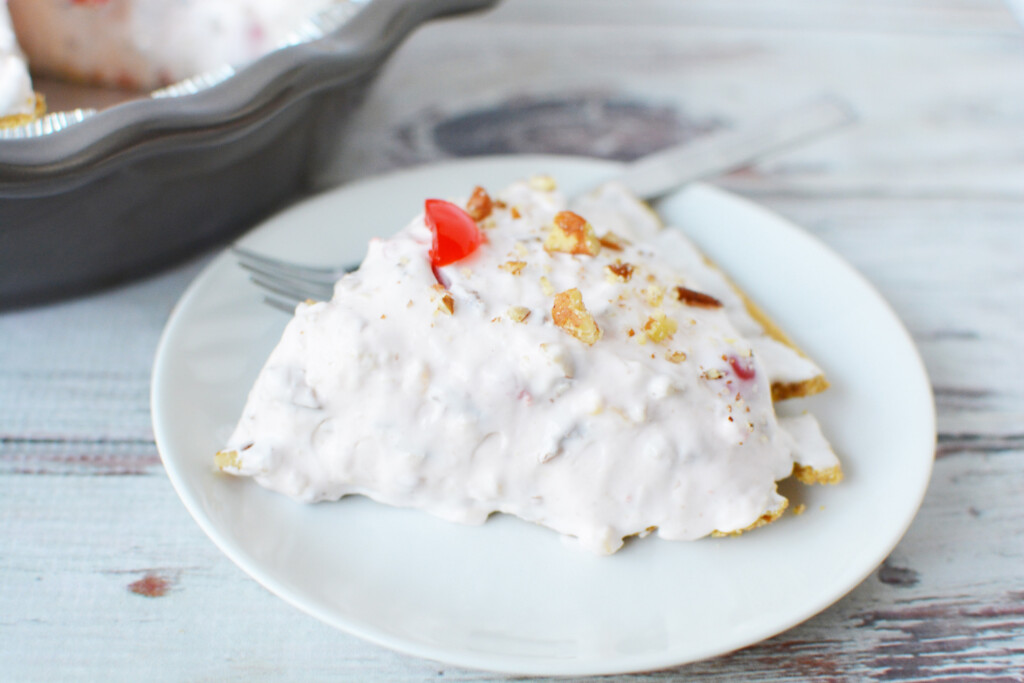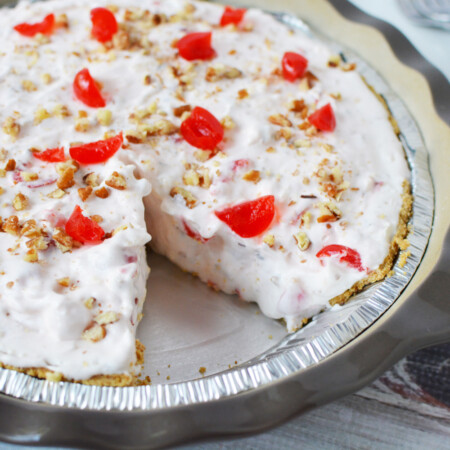 Rate this Recipe
Million Dollar Pie
This Million Dollar Pie is an old fashioned no bake dessert with a light, creamy filling sweetened with pineapples and lemon served on a graham cracker crust. 
Ingredients
2

graham cracker crusts

1

can

14 oz, sweetened condensed milk

1

small can

10 oz, crushed pineapple, drained well

1

small tub

8 oz, whipped topping, thawed

3

tablespoons

lemon juice

3/4

cup

chopped pecans

divided

1

jar

10 oz, maraschino cherries, drained, quartered and divided
Instructions
Set aside 1/4 cup chopped pecans and 1/4 cup chopped cherries for garnishing.

Combine Sweetened Condensed Milk and Whipped Topping.

Add pineapple

Stir in lemon juice

Add remaining pecans and cherries. Mix well.

Divide batter in half and pour into prepared crust Refrigerate for at least 4 hours.

Top each pie with half of the reserved pecans and cherries before serving.
Nutrition
Love this recipe?
Follow @bubbapie for even more delicious recipes!!