This Panko Chicken Recipe is an easy, delicious and quick family dinner for any night of the week. Crispy breadcrumbs surround a tender, juicy chicken breast.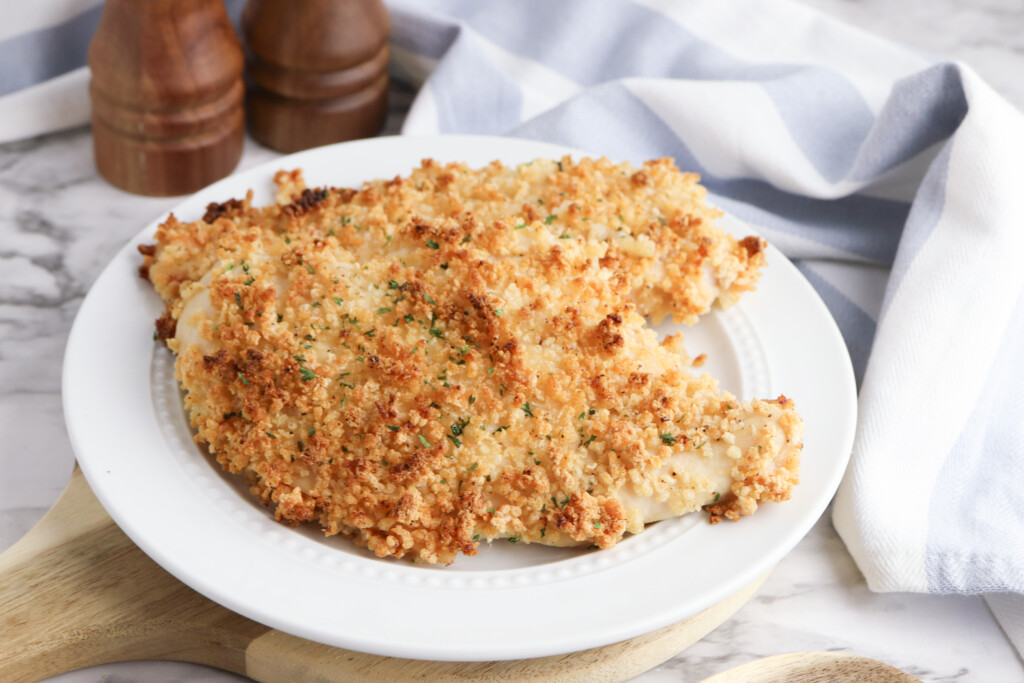 Why You Will Love Panko Chicken
EASY – With just a few common ingredients and 10 minutes of preparation, this is a quick family dinner that anyone can make! And, using Mayo to adhere the breadcrumbs is MUCH easier than using an egg wash!
DELICIOUS – The combo of the Panko and the seasonings coating the chicken gives this dish an explosion of flavor. And cooking the thin cutlets quick at a high heat helps keep the moisture of the meat. And if you like this sorta thing, check out or Crispy Chicken Romano Recipe too!
MAKE AHEAD – You can prepare your chicken and your breadcrumbs ahead of time. Then just coat the chicken and cook for a super quick and easy prep on those nights when time is tight!
Panko Crusted Chicken
Why use Panko to coat your chicken? Panko Bread crumbs are larger than regular breadcrumbs and result in a much crispier crunch when baked or fried. Add that with the mayonnaise and the seasonings and you've got a winning combo! Here is what you'll need to get started. For step-by-step instructions, check out the printable recipe card below.
CHICKEN BREASTS – Thinly sliced. Having thin chicken breasts is important. You can also use pre-cut chicken cutlets or tenderloins to make more of a chicken tender sort of thing. Or boneless skinless Chicken Thighs.
MAYONNAISE – It needs to be REAL mayo. Not low fat mayonnaise or Miracle Whip. You'll need the oil in the real mayonnaise to help the breadcrumbs stick to the chicken. You CAN substitute Sour Cream or Plain Greek Yogurt for the Mayo though.
PANKO BREADCRUMBS – Often found in the baking section or the Asian Food Section of your grocery store. You can also use Gluten-Free Panko Breadcrumbs if you are on a gluten free diet.
BUTTER – Melted. You can use salted or unsalted. This mixes with the breadcrumb mixture for that golden, crispy result.
SEASONINGS – We use a combination of Garlic Powder, Onion Powder, Paprika, Salt and Black Pepper.
Leftovers, Storage and Freezing
Store leftover Panko Chicken in an Airtight container in your refrigerator. The chicken should be good for about 3 days. I would not reheat this in the microwave. Reheat in the oven or a skillet.
You can freeze Panko Chicken, but the breading may get a little soggy when thawing out in the refrigerator. This dish is really best served fresh out of the oven.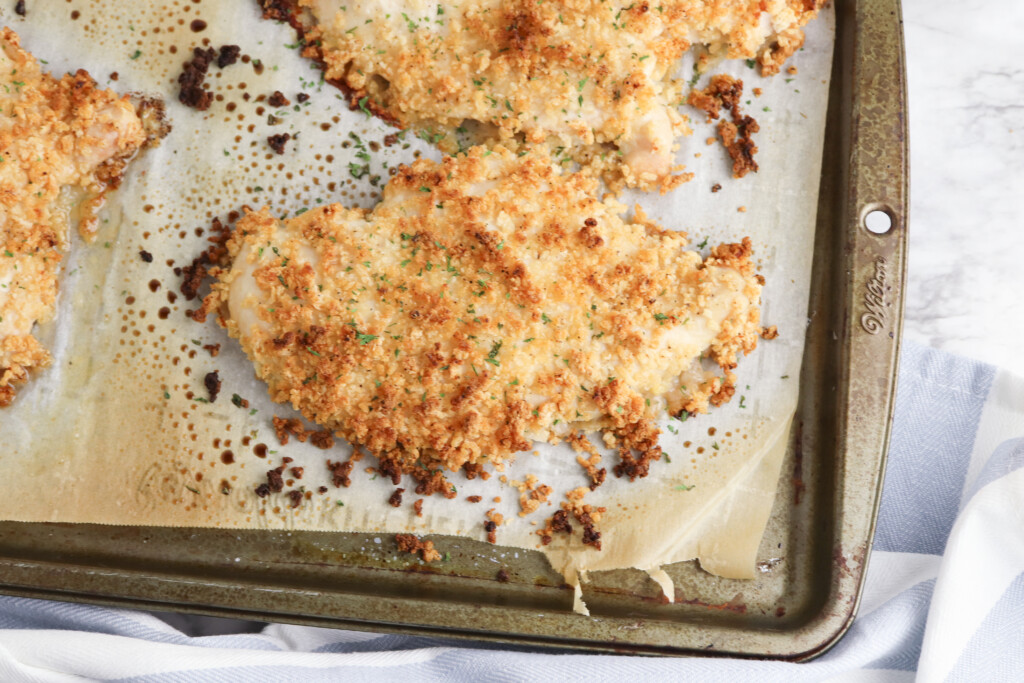 How To Make Your Panko Chicken Crispy
There are couple secrets to getting good results with your Panko Chicken.
COOK AT A HIGH HEAT – We are cooking at a much higher heat (425 degrees) than normal. This helps to trap in the juices and keep the chicken moist. But you'll need to keep an eye on it so it doesn't overcook.
HAVE THE CHICKEN SPREAD OUT – Make sure you are using a baking sheet (rather than a casserole dish or something like that). You want to give each breast plenty of space and not have them bunched up.
USE A WIRE RACK – We didn't do this, but I've heard it can also really help. Having the chicken bake raised high on a wire rack will make the juices fall down and the chicken won't be sitting in them, resulting in crispier breading.
What To Serve With Panko Chicken
You can also use Panko Chicken in a sandwich. Or cut them in strips and put them in wraps with any veggies or condiments you want!
Notes, Tips and FAQs
SERVE WITH A SAUCE – Panko Chicken goes great with just about any sauce, dip or dressing. Some ideas would be: BBQ sauce, Honey Mustard Sauce, Buffalo Sauce, Marinara Sauce, Ranch Dressing or drizzle some honey on top!
DO YOU REALLY NEED THIN CHICKEN BREASTS – If you want to bake them at this temperature, then yes, you do. This dish is much better with thinner cuts of chicken cooked at a high heat.
ADD PARMESAN CHEESE – Add some Parmesan Cheese to the Panko mixture. We recommend grating your own fresh cheese instead of buying the pre-grated stuff.
ADD MUSTARD – Add regular or dijon mustard to the Mayonnaise for an extra kick of flavor!
ONLY COAT ONE SIDE – We coat both sides of our our chicken with the Mayo and Breadcrumbs. Cut you can only coat the top side if you'd prefer.
HOW DO YOU KNOW WHEN YOUR CHICKEN IS DONE IN THE OVEN? – The best way is to use a meat thermometer. Chicken is done when the internal temperature reaches 165 degrees.
We hope you enjoy this Crispy Panko Chicken Recipe. We'd love to hear how it turns out in the comment section!
LOOKING FOR MORE EASY RECIPES WITH CHICKEN? CHECK OUT OUR BISQUICK CHICKEN FINGERS!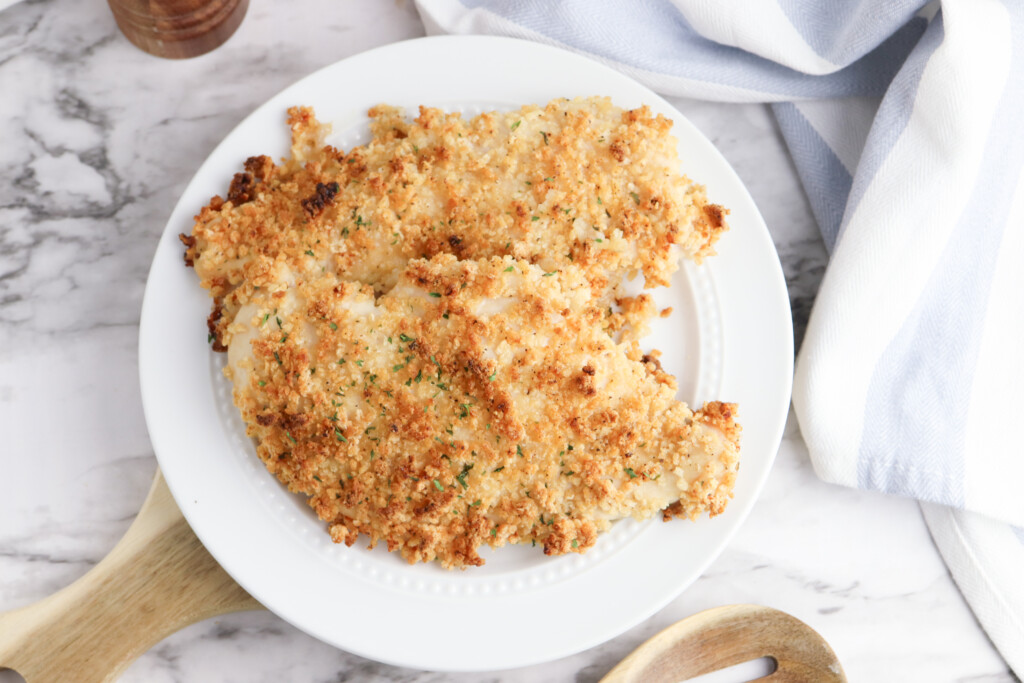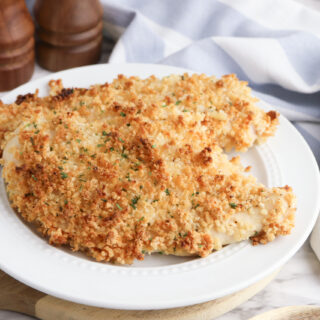 Rate this Recipe
Panko Chicken Recipe
This Panko Chicken Recipe is an easy, delicious and quick family dinner for any night of the week. Crispy breadcrumbs surround a tender, juicy chicken breast.
Ingredients
1 1/2

pounds

thinly sliced chicken breasts

3

tablespoons

mayonnaise

1

cup

panko breadcrumbs

2

tablespoons

butter

melted

1/2

teaspoon

garlic powder

1/2

teaspoon

onion powder

1/2

teaspoon

paprika

1/2

teaspoon

salt

1/2

teaspoon

black pepper
Instructions
Preheat the oven to 425 degrees and line a baking sheet with parchment paper.

Stir together the breadcrumbs, melted butter, garlic powder, onion powder, paprika, salt, and pepper in a shallow bowl.

Cut chicken into thin slices and brush both sides of each chicken piece with mayonnaise.

Press into breadcrumb mixture.

Place the coated chicken on the lined baking sheet and continue dipping each piece of chicken in the breadcrumb mixture until all the pieces are covered.

Spoon the leftover breadcrumbs over the top of the chicken and press it into place with your hand.

Bake the chicken 10 to 15 minutes, until the chicken is cooked through and the breadcrumbs are golden brown.
Nutrition
Love this recipe?
Follow @bubbapie for even more delicious recipes!!