This Easy Lemon Parfait is a simple yet elegant no bake dessert. With only 3 ingredients and just minutes to prepare this smooth and creamy dessert recipe is perfect for any occasion!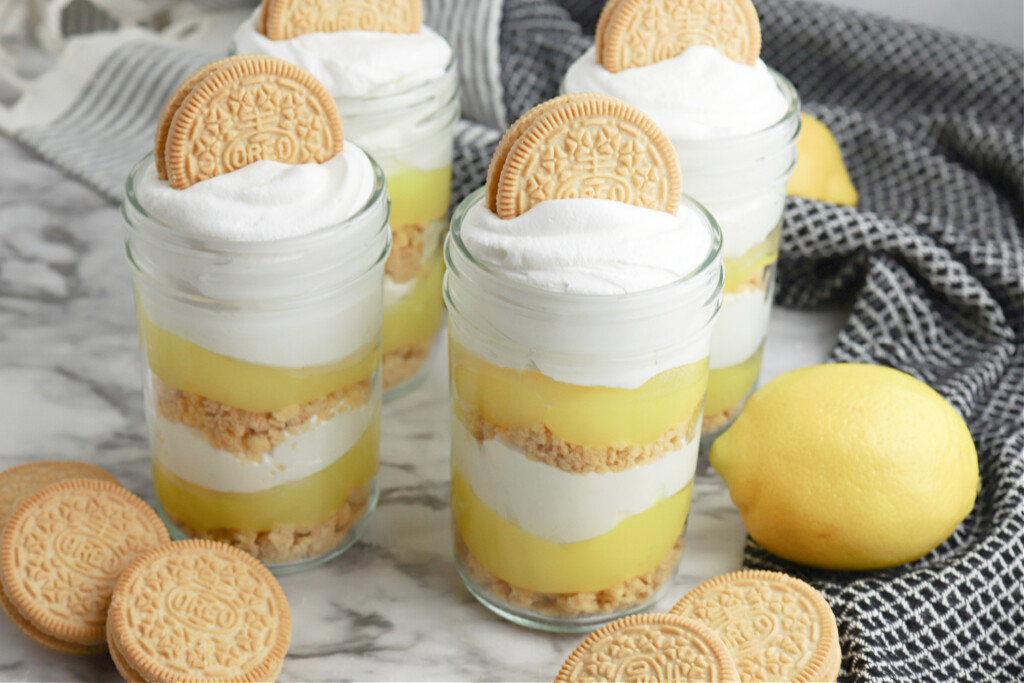 Why You'll Love This Recipe
EASY – This literally may be the easiest recipe we've ever post on this website. Not only does it just take 3 ingredients, there is a lot of room for you to substitute those ingredients (see below for some inspiration). So, if you need a quick dessert at that last minute, we've got you covered!
CLASSY – If you are looking for an elegant, sophisticated looking dessert without all the hassle, you've found it. Inexpensive and easy, it's almost unfair how beautiful the presentation is with all the layers of whipped topping, lemon pie filling and crumbled cookies.
MAKE AHEAD – These desserts are perfect to make ahead of time before your guests arrive. Just let them chill in the fridge until ready to serve!
What Is A Parfait?
Generally speaking, it is a layered dessert consisting of a creamy layer (curd, custard or pie filling), a cookie or bread layer and a layer of whipped topping. All these layers are neatly presented in a glass serving container. Of course, there are many variations depending on where you live (and WHEN you lived), although it's generally believed to have originated in France. "Parfait" means "Perfect" in French. All these layers are neatly presented in a glass serving container. Desserts resembling this are also sometimes called a Trifle, which is usually served in a larger bowl.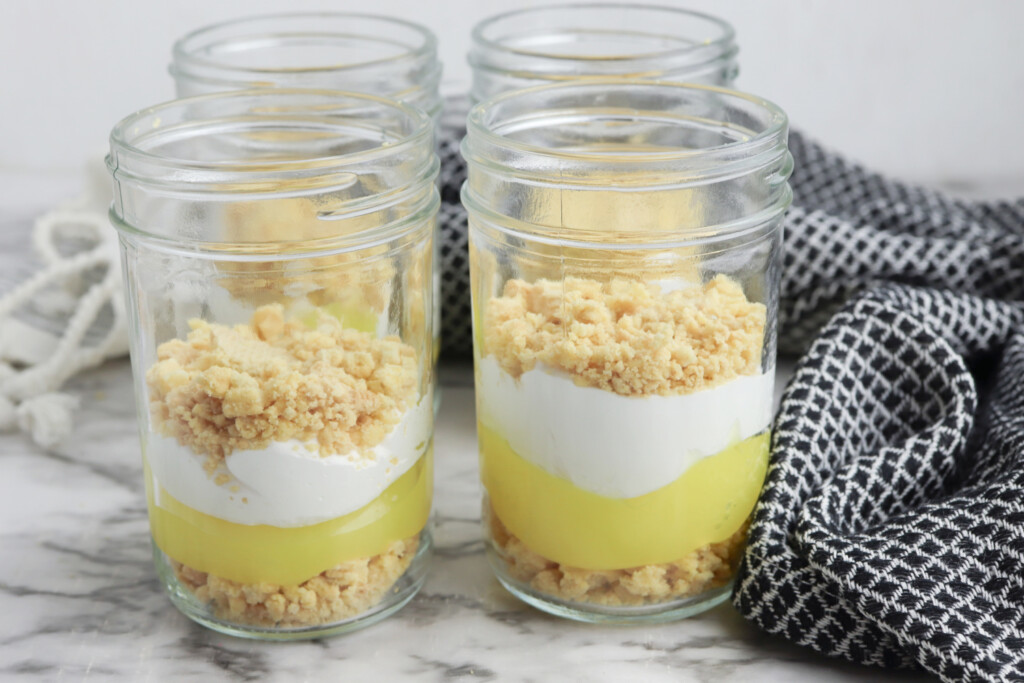 Lemon Parfait Recipe
For step-by-step instructions, check out the printable recipe card below. But here is what you'll need to get started. There are actually a lot of substitution options for each of these 3 ingredients, which I'll list further down in the recipe. Check them out!
LEMON PIE FILLING – Just your regular, store bought pie filling works great in this recipe. No need to do anything with it!
LEMON OREOS – We thought the Lemon Oreos were perfect for this recipe. But there are tons of other cookies you could use in this recipe. See below!
WHIPPED TOPPING – We used the normal tubs of whipped topping that you can buy at the store. Nothing fancy, and it worked great. Read below for some other options.
What Is The Difference Between Lemon Curd and Lemon Pie Filling
You may come across some recipes that use Lemon Curd in their Parfaits. The difference between Lemon Curd and Lemon Pie Filling is that Curd is usually made with a larger amount of Lemon Juice and Lemon Zest. This results in a bolder taste. If you want to use Lemon Curd in this recipe, go for it. We suggest putting it in thinner layers, or even mixing it with a little of the whipped topping to minimize the zestiness.
What Cookies Can You Use In A Parfait?
The lemon cookies were great. But there are tons of other options:
SHORTBREAD COOKIES
CHOCOLATE OREOS
NILLA WAFERS
BUTTER COOKIES
GENEVA COOKIES (ALMOND COOKIES)
GRAHAM CRACKERS
GINGER COOKIES (GINGERSNAPS)
LEFTOVER POUND CAKE
GRANOLA (FOR A HEALTHIER OPTION)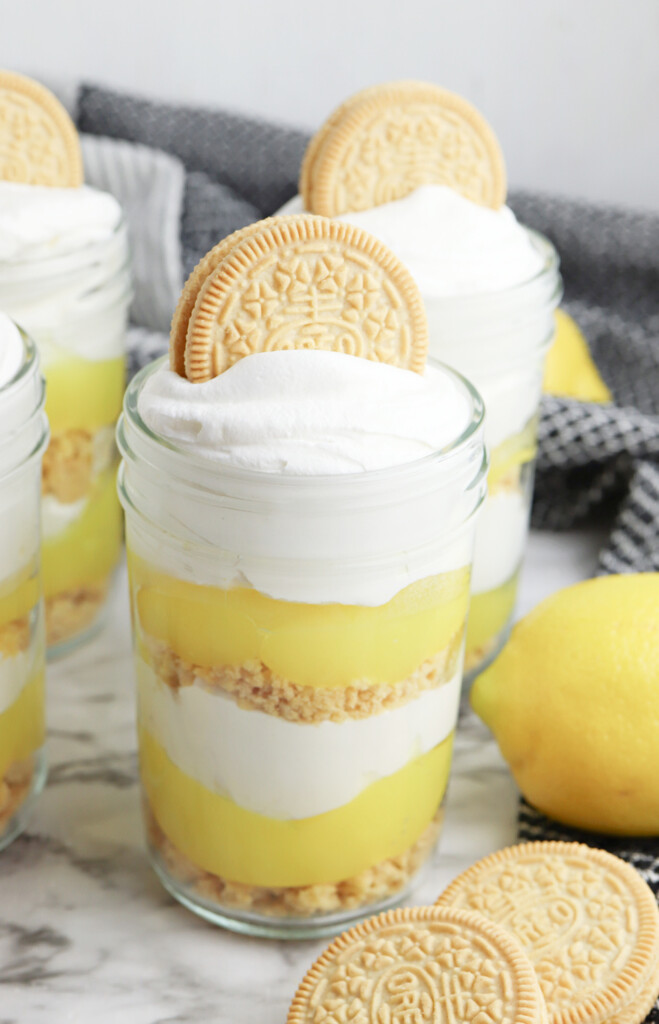 What Can You Substitute For Whipped Topping?
Instead of store bought whipped toppings in the tubs. You can also buy the kind in an aerosol can. If you want to cut some calories, you could also but Lite Whipped Topping. Or, you could make your own homemade whipped cream by whisking some heavy cream until stiff peaks form.
You can also add a little extra flavor to your whipped topping you can whisk in a little vanilla extract.
To make things a little healthier, substitute the whipped topping for Low Fat or Fat Free Vanilla Yogurt or Vanilla Greek Yogurt.
Lemon Parfait Toppings
Some ideas for toppings include:
MARASCHINO CHERRIES
COCONUT FLAKES OR TOASTED COCONUT FLAKES
SLICED ALMONDS
SLICED BANANAS
LEMON WEDGE
RASPBERRY SAUCE
ANY FRESH BERRIES!
Can You Make Lemon Parfait Ahead Of Time?
Absolutely! It will be great in your refrigerator for a couple hours. After that, the cookies may start to soften a bit. But some people like softer cookies in their parfait.
Storage, Leftovers and Freezing
Obviously, leftovers are best kept in your refrigerator. They should stay good for about 3 days. Again, the cookies may start to get soft. But that's ok.
I would not freeze Lemon Parfait. It may separate when thawing out. This only takes a couple minutes to make and is so much better fresh.
Notes and Tips
COOKIE CRUMBS – Make the cookie crumbs as fine or as coarse as you want.
TAKE YOUR TIME – The presentation is key! Take your time making the layers to keep them clean and beautiful!
WHAT SIZE SERVING CONTAINER ARE YOU USING – The ingredient amounts make 5 parfaits for the size of glass containers we used (half pint jars) You can use any serving containers you'd like, but that the amount that these ingredients make may change with the sizes.
We hope you enjoy this Easy Lemon Parfait Recipe. Please let us know how it turns out in the comment section! Happy Eating!
LOOKING FOR MORE LIGHT, REFRESHING DESSERTS? CHECK OUT: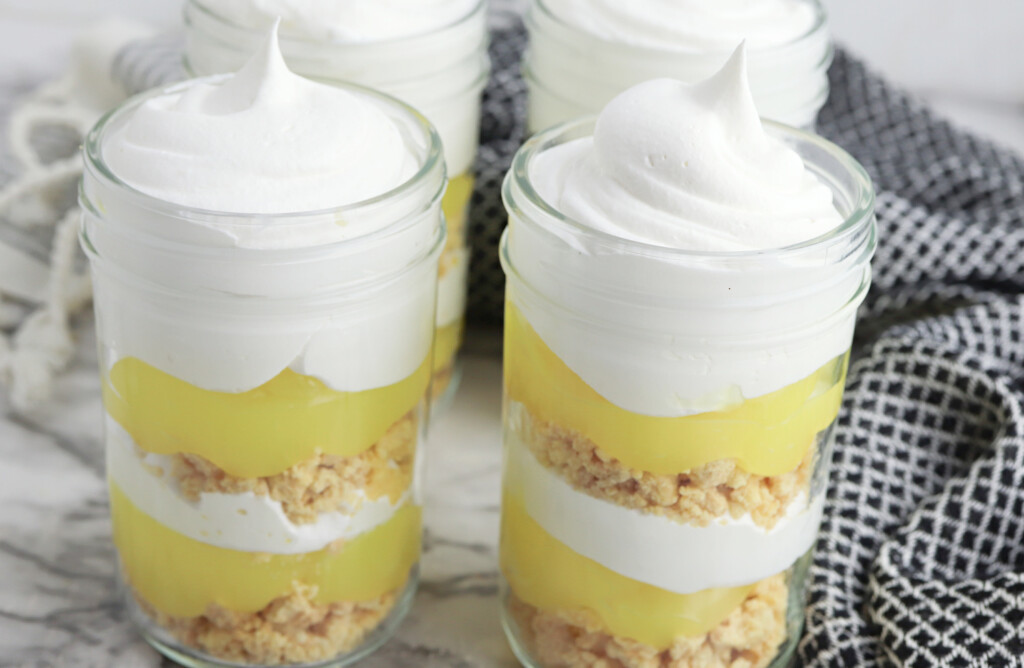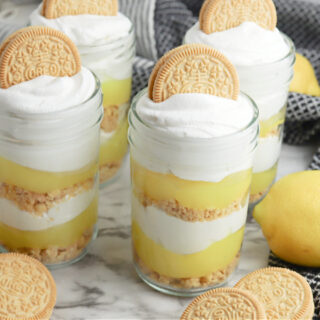 Rate this Recipe
Easy Lemon Parfait
This Easy Lemon Parfait is a simple yet elegant no bake dessert. With only 3 ingredients and just minutes to prepare this smooth and creamy dessert recipe is perfect for any occasion!
Ingredients
10

lemon Oreos

crushed plus more for topping

1

can lemon creme pie filling

8

ounces

frozen whipped topping

thawed
Instructions
Place 10 lemon Oreos in a bag and crush with a rolling pin.

Layer the half the crushed Oreos in the bottom of the jars.

Spoon half the pie filling over the top of the cookies.

Top with half the whipped topping.

Add the remaining crushed cookies.

Top with remaining pie filling

Top with remaining whipped topping.

Chill the jars until ready to serve.

Decorate the top of each parfait with a lemon Oreo before serving.
Nutrition
Love this recipe?
Follow @bubbapie for even more delicious recipes!!