This Easy Hot Dog Chili Recipe is the perfect thing for your next game day party, tailgate or BBQ. Sweet and savory chili is loaded on top of a hot dog. Top with your favorite condiments for an American Classic everyone will love!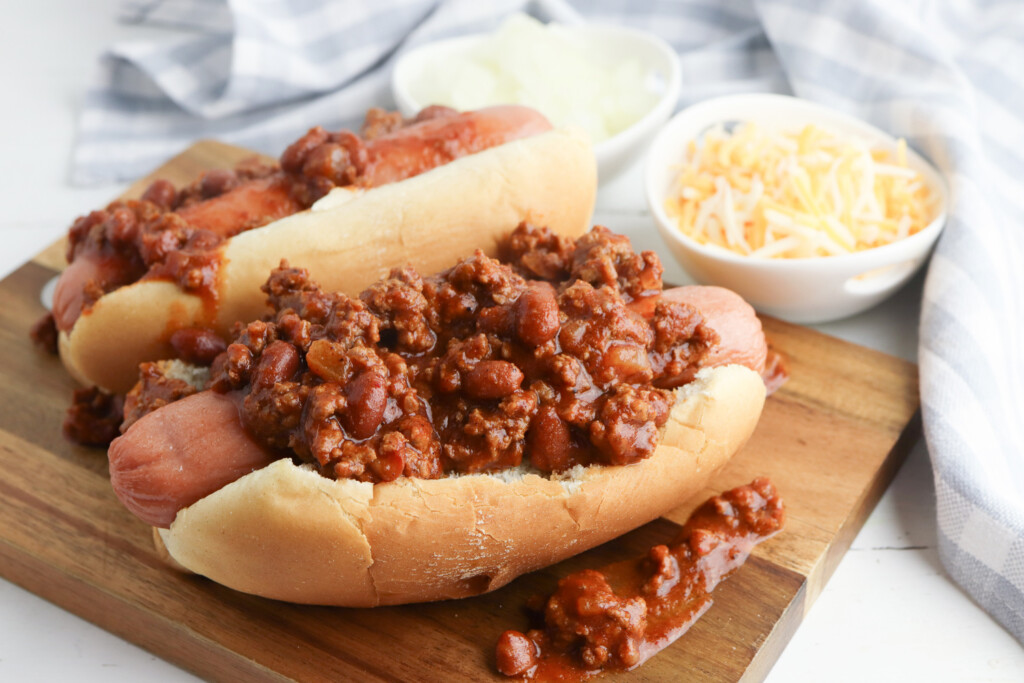 Why You Will Love This Hot Dog Chili Recipe
PERFECT FOR A CROWD – This recipe makes 8 servings. But it's easy to double or triple as needed. Put it in your CrockPot on "warm" and let your guests serve themselves!
QUICK AND EASY – Only a couple minutes of easy prep and 30 minutes on your stovetop will result in this delicious Hot Dog Chili!
EASY TO ADAPT – Make it a lot spicier or less spicy. Add bell peppers! We make ours with beans but you don't have to! This base recipe is easy to improvise to your liking!
What Is Hot Dog Chili?
Hot Dog Chili Sauce is the chili that you put on top of a hot dog to make a Chili Dog (or, sometimes, called a Coney Dog with the right toppings). It's usually a little thinner and sweeter in taste than traditional chili. Many times, you won't find beans in Hot Dog Chili, but we decided to put some in our recipe.
Hot Dog Chili Recipe
It's so easy to make this Hot Dog Chili. For step-by-step instructions, check out the printable recipe card below. But here is what you'll need to get started.
GROUND BEEF – We used 80/20 lean ground beef.
ONION – Finely chopped. We used a white onion for it's bolder flavor. But you can use a red onion if you'd like.
TOMATO SAUCE – The base of our sauce. Helps give the chili it's sweeter flavor.
CHILI BEANS – Again, lots of hot dog chilis don't have beans in them. So you can omit this if you'd like.
SEASONINGS – Chili Powder, Onion Powder, Garlic Powder, Paprika, Salt, Black Pepper and Sugar.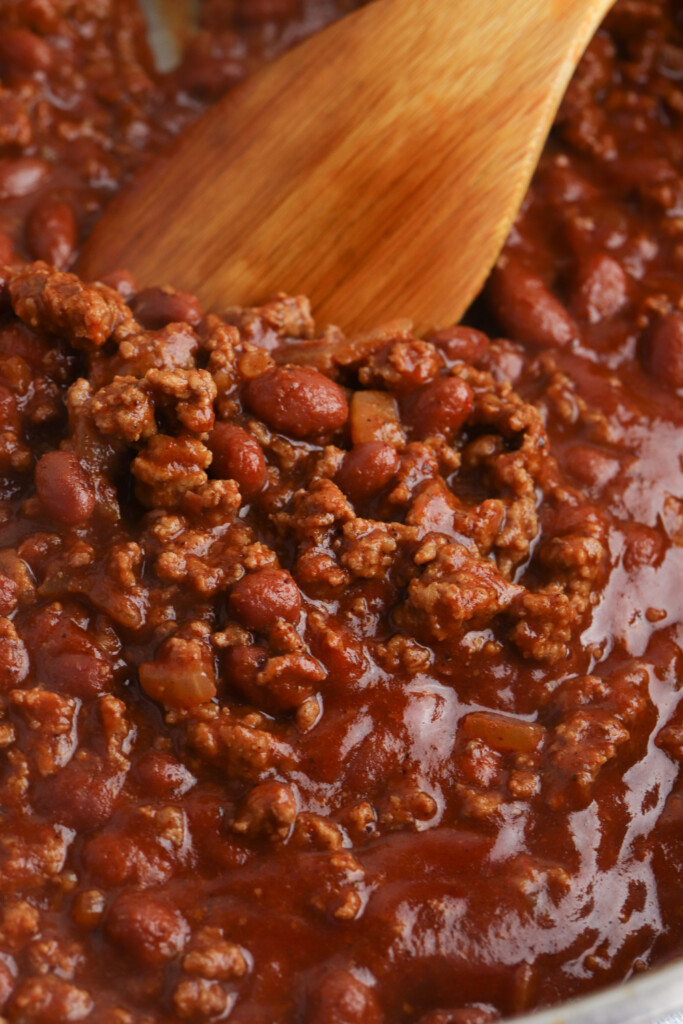 Storage and Leftovers
Store any leftover in an airtight container in your refrigerator. You can reheat in the microwave or on your stovetop. Leftovers should be good for about 4-5 days.
You can freeze Hot Dog Chili. Put it in a freezer safe container, label it and it will be good in the freezer for 3-4 months. Thaw overnight in the fridge. You can also divide the chili into smaller portions so that you only thaw what you need.
Hot Dog Chili Toppings
Now we are getting to the good stuff! What really makes a great Chili Dog isn't only the chili you put on it. But also the delicious toppings! Here are some ideas:
DICED WHITE ONIONS
SHREDDED CHEDDAR CHEESE
GREEN ONIONS (SCALLIONS)
HOT SAUCE
JALAPENOS
DICED TOMATOES
PICKLED PEPPERS
YELLOW MUSTARD
NACHO CHEESE
PICKLE RELISH
PICKLE SPEAR
What Else Can You Do With Hot Dog Chili
If you have some leftover chili and are all out of Hot Dogs, no problem! There are lots of other delicious ways you can use this chili!
CHILI BURGER – Put some chili on your favorite hamburger for a hearty meal. You may need a fork and knife!
USE IT AS A DIP – Pour it in a bowl, top it with some melty cheese and dip some tortilla chips in it! Alternately, you can just top a pile of tortilla chips with the chili and some cheese for some delicious nachos!
CHILI MAC – Have you ever combined Mac and Cheese with some Chili? If not, do this now!
CHILI SPAGHETTI – This Chili goes great with spaghetti noodles for a whole new meal.
CHILI FRIES – Do we need to say anything more?!?! Put this on your favorite French Fries for a classic dish!
BAKED POTATO – Who doesn't love a loaded baked potato? This chili brings it to a whole new level.
Hot Dog Chili Slow Cooker Recipe
This recipe is also great to make in a slow cooker. To do this, brown your ground beef and onions on the stovetop. Then transfer into your CrockPot. Add all the other ingredients and stir well. Cook on high for 1.5-2 hours or low for 3-4 hours, stirring occasionally
Notes, Tips and FAQs
DO YOU NEED TO USE GROUND BEEF FOR CHILI? – Traditionally, hot dog chili is made with ground beef. But you can lighten it up a bit by using ground chicken or ground turkey. Or, you could even use ground pork sausage or chorizo.
IS HOT DOG CHILI GLUTEN FREE? – Always check your labels, but yes, this chili should be gluten free as written.
ADD BACON – Add some cooked bacon for even more flavor!
We hope you enjoy this Easy Homemade Hot Dog Chili Recipe. We'd love to hear how it turns out in the comments section. Happy Eating!
LOOKING FOR MORE GAME DAY RECIPES? CHECK OUT: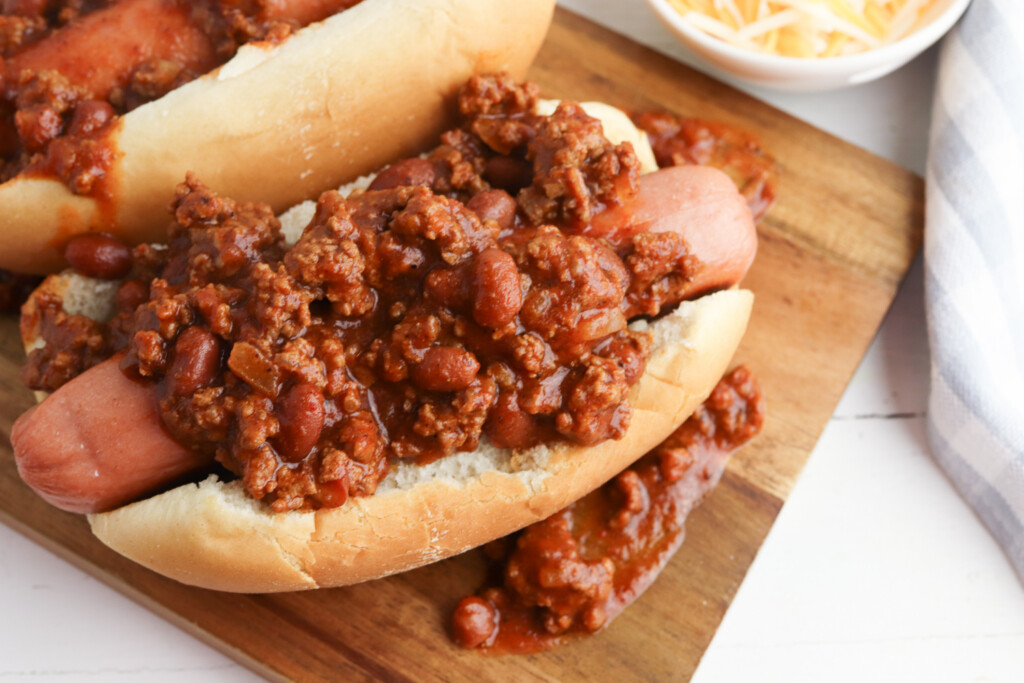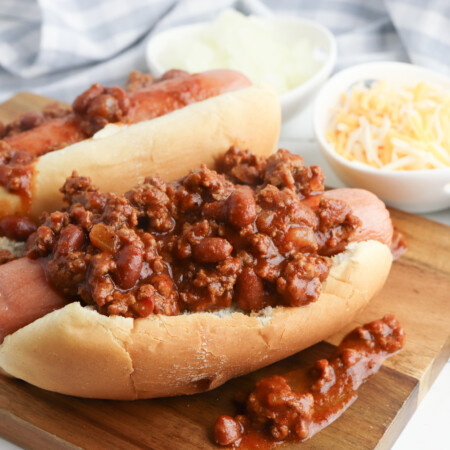 Rate this Recipe
Easy Hot Dog Chili Recipe
This Easy Hot Dog Chili Recipe is the perfect thing for your next game day party, tailgate or BBQ. Sweet and savory chili is loaded on top of a hot dog. Top with your favorite condiments for an American Classic everyone will love!
Ingredients
1

pound

ground beef

1

small onion

finely chopped

1/2

cup

tomato sauce

1 15

ounce

can chili beans

3

teaspoons

chili powder

1/2

teaspoon

onion powder

1/2

teaspoon

garlic powder

1/2

teaspoon

paprika

1/2

teaspoon

salt

1/2

teaspoon

black pepper

1/2

teaspoon

sugar
Instructions
Brown the ground beef in a large skillet with the onion.

When the meat is cooked through, add the tomato sauce, chili beans, chili powder, onion powder, garlic powder, paprika, salt, pepper, and sugar. Stir to mix.

Continue cooking over medium heat until the mixture begins to simmer, then reduce heat to medium low and simmer for 20 to 30 minutes, until thickened.
Nutrition
Love this recipe?
Follow @bubbapie for even more delicious recipes!!