This Cranberry Fluff Recipe has fluffy clouds of sweetness and tanginess combined together in a symphony of flavors and textures! It's a great way to add a burst of color and a pop of flavor to your Holiday table!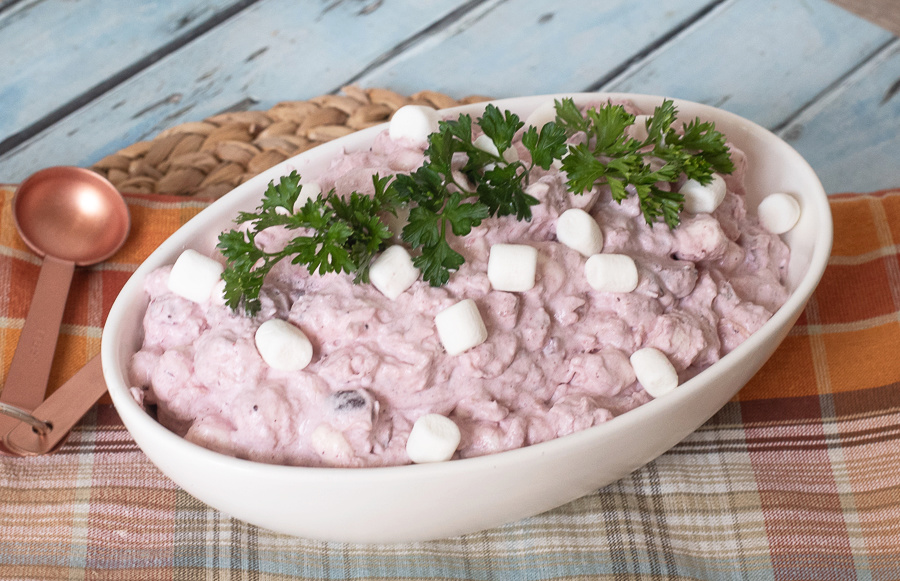 While it's great to have traditional Cranberry Sauce on the table for Thanksgiving, it's also fun to have some other cranberry recipes that give a nod to this classic Holiday flavor. Like these Cranberry Cheesecake Crescent Roll or this Cranberry Jello Salad, this Cranberry Fluff is a delicious way to add some Cranberry Fun to your Thanksgiving Table!
Why You Will Love Cranberry Fluff
FUN FLAVOR COMBOS – . This delightful dessert brings together the sweet and creamy elements of whipped cream and marshmallows with the tartness of cranberries. The contrast between the silky, sweet creaminess and the zesty, tangy cranberries can be totally addictive! Each spoonful tantalizes your taste buds with a perfect blend of textures and tastes, making it a treat that's hard to resist.
SEASONAL VESATILITY – Cranberry fluff's versatility is another compelling reason to love it. While it's often associated with Thanksgiving and Christmas due to cranberries' seasonal availability, this dessert can be enjoyed throughout the year. You can adapt the recipe by using frozen cranberries or cranberry sauce, making it suitable for any season. Whether you're celebrating a holiday or simply craving a taste of something special, cranberry fluff can be enjoyed as a refreshing dessert, a side dish, or a colorful addition to your table.
EASY RECIPE – This recipe only requires only a few basic ingredients and straightforward steps. And you can mix everything together in one bowl for a minimal clean up.
Cranberry Fluff Recipe
This cranberry fluff recipe is a delightful concoction of tart cranberries, luscious whipped cream, and mini Marshmallows. Whether you're planning a holiday feast or simply craving a refreshing dessert, this recipe is your ticket to dessert heaven. For step-by-step instructions, check out the printable recipe card below. But here is what you'll need to get started:
WHOLE BERRY CRANBERRY SAUCE – Make sure you get the whole berry version. You'll want the globs of cranberries in there! Some versions of this recipe have you mixing fresh cranberries or frozen (and thawed) cranberries with sugar. You can do that. But we are all about the easy recipes here!
WHIPPED TOPPING – We used Cool Whip. Make sure you give yourself enough time to thaw it if it is frozen. You can also make your own if you'd like.
CRUSHED PINEAPPLE – Make sure the can is VERY well drained.
CREAM CHEESE – We like to fold in Cream Cheese to our version. It's sort of our secret ingredient. It gives the fluff a little creamier texture and a nice little tartness.
MINI MARSHMALLOWS – Any brand will work.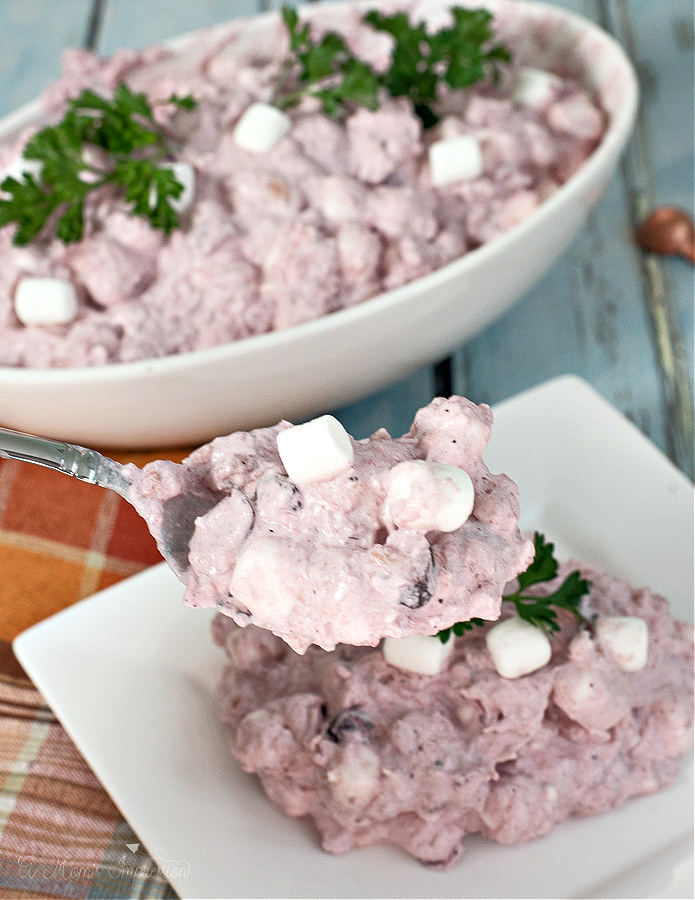 Storage, Leftovers and Freezing
Store leftovers in your refrigerator in a covered dish. It should stay good in your fridge for about 3-4 days I would not freeze cranberry fluff. As it thaws, it will lose it's consistency.
Can You Make Cranberry Fluff Ahead of Time?
Yes, if fact you need to let it set for at least 4 hours. But there is nothing at all wrong with making it the day before and letting it chill in the fridge overnight until it's ready to serve.
Fun Cranberry Fluff Variations
ADD SOME ZEST – Add a burst of citrusy flavor by incorporating lemon or orange zest or orange extract into the fluff mixture. The combination of cranberries and citrus flavors is a classic pairing.
ADD NUTS – Stir in some chopped nuts like pecans or walnuts for extra texture, crunch and a nutty flavor that complements the cranberries.
ADD APPLES – Mix diced apples into the cranberry fluff for a refreshing twist. The sweet, crisp apples complement the tart cranberries beautifully.
MAKE IT A PIE! – Layer the cranberry fluff over a graham cracker crust to create a delightful cranberry fluff pie.
ADD SOME FALL FLAVORS – Add a pinch of warming spices like cinnamon or nutmeg to infuse the fluff with cozy, aromatic flavors.
ADD DRIED FRUITS – Include a mix of dried fruits like raisins, cranberries, or cherries to introduce a chewy and sweet element.
We hope you enjoy this Cranberry Fluff Salad Recipe. We'd love to hear how it turns out in the comment section. Happy eating!
LOOKING FOR MORE FUN THANKSGIVING DISHES? CHECK OUT: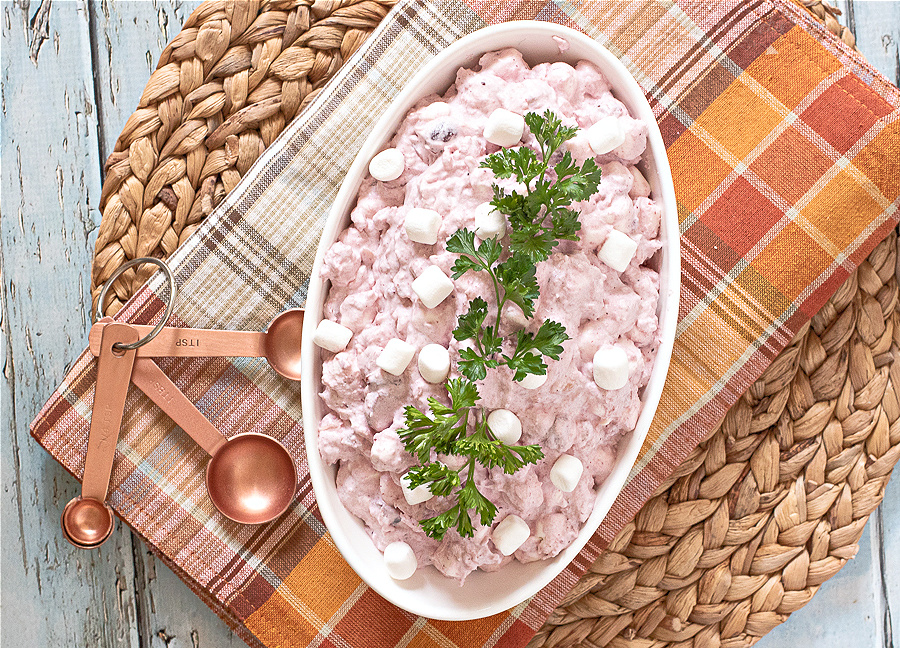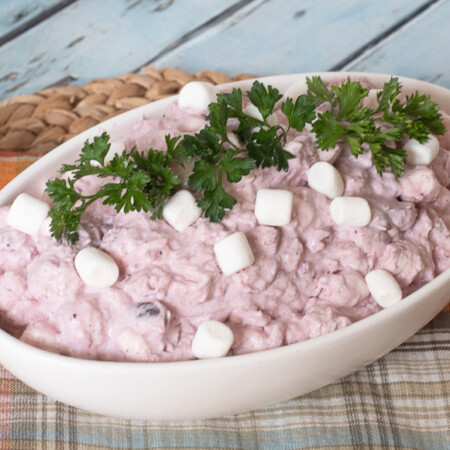 Rate this Recipe
Ingredients
1

14 ounce

Can of Whole Berry Cranberry Sauce

1

20 ounce

Can of Crushed Pineapple

Well Drained

4

ounces

Cream Cheese

Softened

2.5

cups

Mini Marshmallows

8

ounces

Whipped Topping

Thawed
Instructions
In a medium bowl, combine Cranberries and Pineapple until well mixed.

Fold in Whipped Topping and stir until well combined.

Add softened Cream Cheese and mix well.

Add Mini Marshmallows and chill in refrigerator for at least 4 hours.
Nutrition
Love this recipe?
Follow @bubbapie for even more delicious recipes!!