This Cranberry Jello Salad is a delicious, easy recipe that is perfect for Thanksgiving, Christmas or an festive occasion!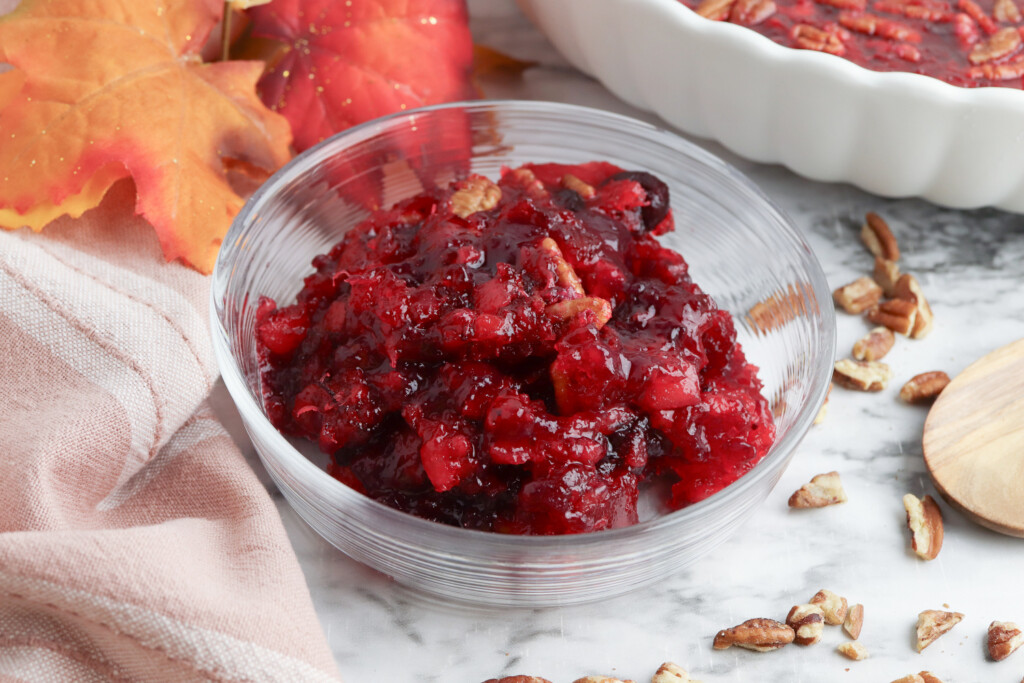 Why You Will Love Cranberry Jello Salad
EASY – with only 5 ingredients and a couple minutes of prep, this is a simple recipe to make during busy holiday meal planning!
MAKE AHEAD – You can even make this Jello Salad the night before and let it hang out in the fridge until it's ready to serve!
DELICIOUS, CLASSIC FLAVORS – Fruity, sweet and just a little tart it's also got the satisfying crunch of the pecans. It's a symphony of tastes and textures in every bite!
Delicious Jello Salads
There is nothing like bringing a delicious Jello Salad to any festive occasion. Whether it's a cookout, pitch in or potluck, they are just delicious classic desserts that everyone will enjoy. One of our most popular recipes on this site is our Strawberry Jello Salad. But we also have Peach Jello Salad and Lime Jello Salad.
They are just so great to share and feed a crowd. So, we thought it would be great to create a Jello Salad Recipe perfect for the holidays and starring one of the most iconic holiday ingredients: Cranberry Sauce! This would be the perfect addition to any Thanksgiving Dinner or Christmas Dinner!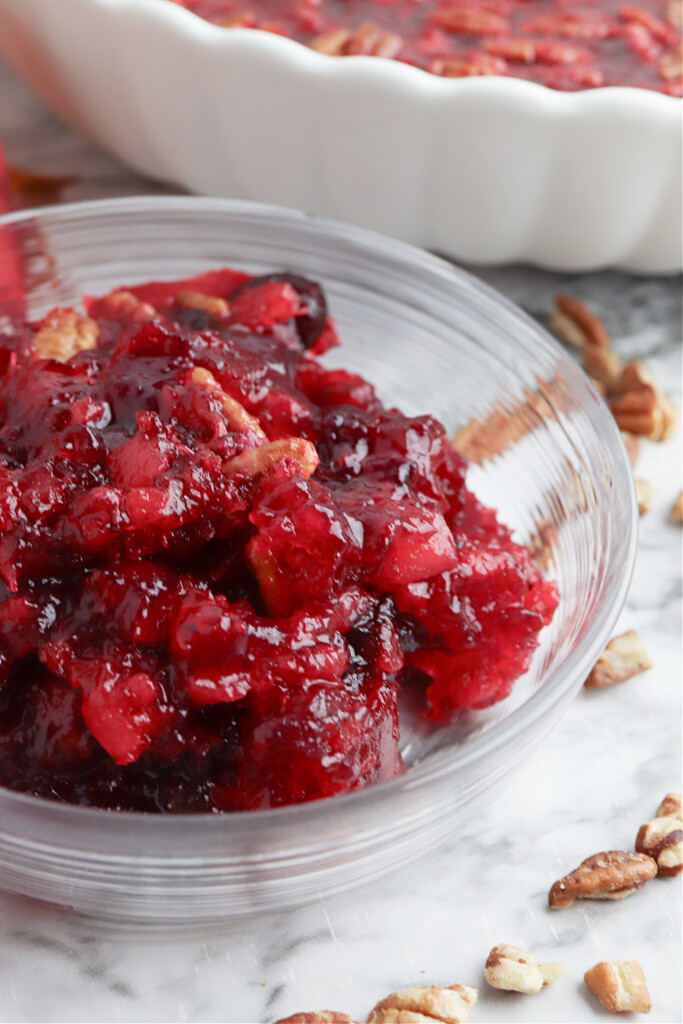 Cranberry Jello Salad Recipe
For step-by-step instructions, check out the printable recipe card below. But here is what you'll need to get started.
CHERRY GELATIN – You can really use any flavor of Gelatin you'd like. A lot of people use Raspberry Jello for this recipe.
BOILING WATER – To combine with the Gelatin. Make sure it is hot water as this will dissolve the Gelatin a lot quicker.
CRUSHED PINEAPPLE – One jar of Canned Pineapple with the juice included.
CRANBERRY SAUCE – We like using a can of Whole Berry Cranberry Sauce for the more authentic feel. But really any cranberry sauce will work. You can even use your own homemade cranberry sauce recipe if you'd like.
PECANS – Chopped. These are optional if you'd like to omit them. You could also substitute for Walnuts.
Storage, Leftovers and Freezing
Store leftovers in an airtight container in your refrigerator. They should stay good for about 5 days. I would not freeze a Jello Salad, as it thaws it will change consistency and get pretty watery.
Notes, Tips and FAQs
CAN YOU USE FRESH PINEAPPLE – Fresh pineapple does not work well with Jello. It has a chemical in it that prevents the Jello from setting correctly. When it's heated up and canned, that chemical is removed. So canned fruit generally works better with Jello products.
USE A MOLD – Feel free to pour and chill your Jello in an sort of jello mold that you'd like. A Bundt cake mold would work well.
USE PINEAPPLE JUICE – Make SURE you use the juice that is in the can of pineapples, this is very important.
ADD APPLES – Adding some diced up fresh apple does work well in this recipe. Feel free to add some!
We hope you enjoy this Cranberry Jello Salad Recipe. We'd love to hear how it turns out in the comment section below! Happy Eating!
LOOKING FOR MORE CRANBERRY DISHES? CHECK OUT: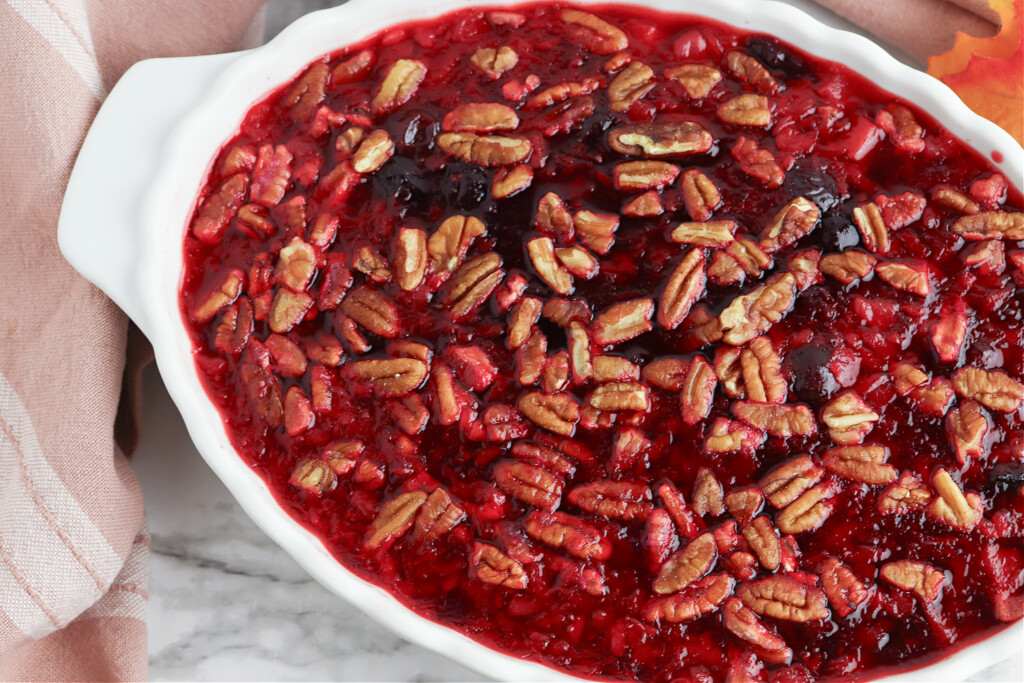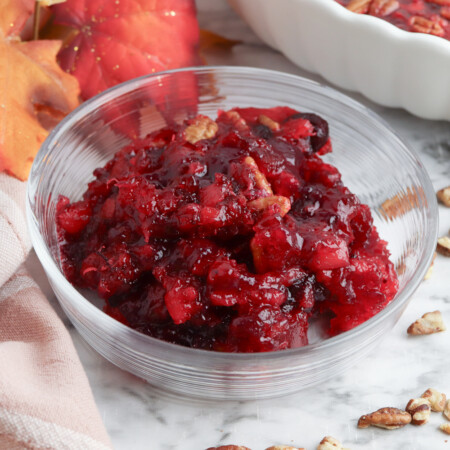 Rate this Recipe
Cranberry Jello Salad
This Cranberry Jello Salad is a delicious, easy recipe that is perfect for Thanksgiving, Christmas or an festive occasion!
Ingredients
1 6

ounce

package cherry gelatin

1 1/2

cups

boiling water

1 20

ounce

can crushed pineapple

with juice

1 14

ounce

can whole berry cranberry sauce

1/4

cup

chopped pecans
Instructions
Stir together the cherry gelatin and water until the powder is dissolved.

Add the pineapple and cranberry sauce. Stir to mix.

Refrigerate for 30 minutes, then stir in the pecans.

Pour into 2 quart dish, cover and return to the refrigerator to chill for at least four hours, until firm.
Nutrition
Love this recipe?
Follow @bubbapie for even more delicious recipes!!