These Dark Chocolate Brownies are soft, gooey and rich in the most decadent way! Full of fudgy, chocolate flavor, they make the perfect dessert recipe for any occasion.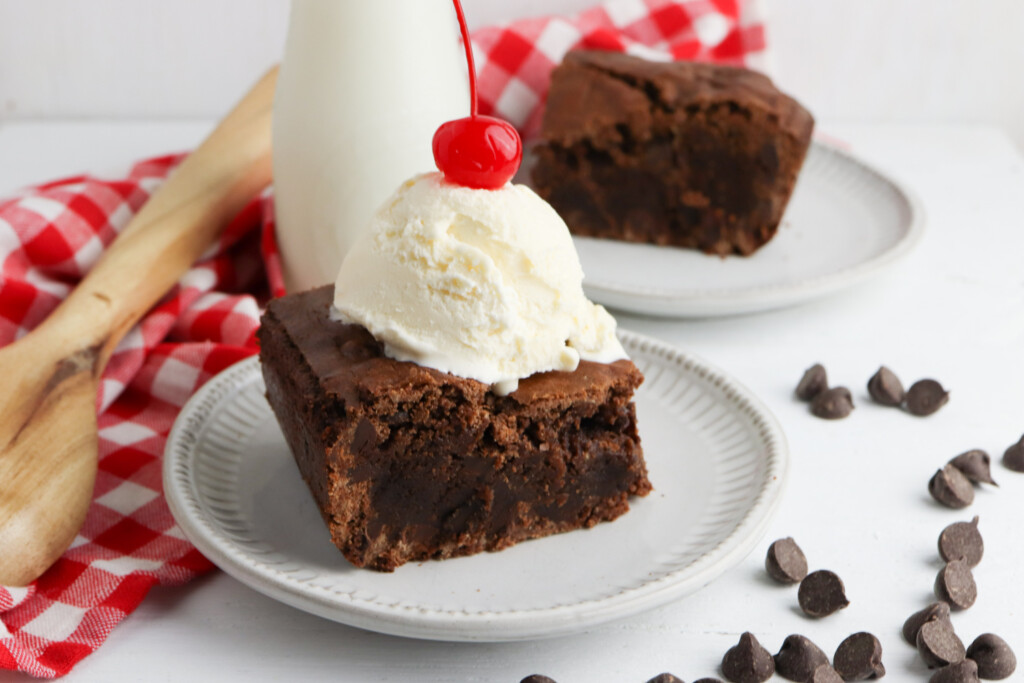 Why You Will Love Dark Chocolate Brownies
EASY – With just a few common pantry items, this recipe is so easy and simple to prepare. In just a couple minutes, you'll have them baking in your oven and filling your kitchen with an amazing aroma!
GREAT TO SHARE – They are also great for a crowd, cut them into whatever size pieces you need to for delicious, bite-sized treats!
HOMEMADE – We just love, simple homemade recipe with no preservatives or other, unnecessary ingredients.
Dark Chocolate Brownies
Yes, dark chocolate brownies are richer than regular brownies. But they aren't over-the-top rich. it's simply a more intense (fudgier) taste. You've gotta try them. Ready to get baking? For step-by-step instructions, check out the printable recipe card below. But here is that you'll need to get started.
Dark Chocolate Brownies Ingredients
SALTED BUTTER – It is always important to include a little salt whenever you are baking something sweet to balance the flavors. If you don't have salted butter, you can use unsalted and add some salt separately.
DARK CHOCOLATE CHIPS – Any brand of chocolate chips will work.
UNSWEETENED COCOA POWDER – You want to make sure you are using UNSWEETENED cocoa powder. Sweetened will be too sweet. Hershey's make a great kind of cocoa powder. I've also heard of people using a dutch-process cocoa powder for an even more intense flavor.
ESPRESSO POWDER – This is the ingredient that really gives these brownies their intense flavor. King Arthur makes some that should be easy to find.
SUGAR – White granulated sugar.
VANILLA EXTRACT – We recommend using a quality vanilla extract at all times while baking.
LARGE EGGS – Allow your eggs to come to room temperature before baking with them.
FLOUR – Regular, All-Purpose Flour. If you want, you can substitute for Gluten-Free Flour.
Storage, Leftovers and Freezing
Store leftovers in an Airtight Container at room temperature. They should stay good for about 5 days.
You can freeze Dark Chocolate Brownies. Allow to cool to room temperature and cut into individual pieces. Separate them with parchment paper and store in a freezer safe container for up to 4 months. Allow to thaw at room temperature.
Notes, Tips and FAQs
WHAT TO SERVE WITH YOUR DARK CHOCOLATE BROWNIES? – These brownies go great with a dollop of whipped cream, a scoop of vanilla ice cream or even just a cold glass of milk!
OTHER TOPPINGS – Top with powdered sugar, coconut flakes or cream cheese frosting.
PARCHMENT LINED BAKING DISH – A great tip for baking brownies is to line your baking dish with parchment paper. This will make getting your brownies out after baking a breeze!
HOW DO YOU KNOW WHEN YOUR BROWNIES ARE DONE? – The edges should start to firm up. You can also stick a cake tester or a toothpick in the center and it should come out with just a few moist crumbs on it.
DON'T OVERMIX – Gently fold the wet ingredients and the dry ingredients together until just incorporated. This is how you get that soft, chewy brownie with the delicious fudgy texture.
Items To Help With This Recipe
We hope you enjoy this Dark Chocolate Brownie Recipe. Let us know how it turns out in the comment section!
LOOKING FOR MORE BROWNIE RECIPES? CHECK OUT: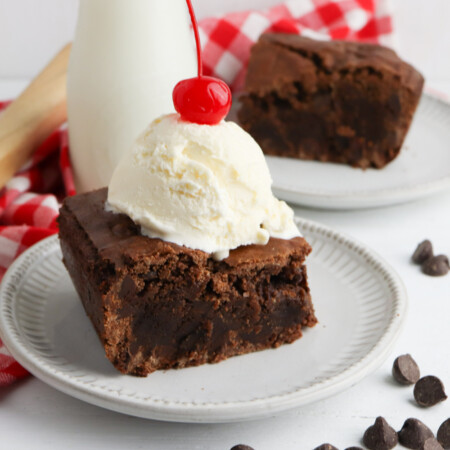 Rate this Recipe
Dark Chocolate Brownies
These Dark Chocolate Brownies are soft, gooey and rich in the most decadent way! Full of fudgy, chocolate flavor, they make the perfect dessert recipe for any occasion. 
Ingredients
1

cup

salted butter

1

cup

dark chocolate chips

divided

1/4

cup

unsweetened cocoa powder

1

tablespoon

espresso powder

2

cups

sugar

1

tablespoon

vanilla

3

eggs

1 1/4

cups

flour
Instructions
Preheat the oven to 350 degrees and grease an 8x8 baking pan with nonstick cooking spray.

Heat the butter in a saucepan over medium heat.

When the butter is melted, stir in 1/4 cup of dark chocolate chips until melted.

Add the cocoa powder and espresso powder to the pan and stir until combined. Remove from heat and allow to cool for around five minutes.

Add the sugar and vanilla to a large bowl and pour in the melted chocolate mixture. Stir to combine.

Add the eggs, one at a time, stirring between each addition.

Add the flour and stir until almost combined, then pour in the remaining dark chocolate chips. Stir until the mixture is just combined.

Pour the batter into the prepared baking dish and spread to evenly coat the pan.

Bake in the preheated oven for 40 to 50 minutes, until the edges are firm but the center is still soft.

Allow to cool completely in the pan, then cut into squares and serve.
Nutrition
Love this recipe?
Follow @bubbapie for even more delicious recipes!!