These Berger Cookies are a Baltimore Classic! Soft, dense cake-like cookies are topped with a ton of chocolate frosting! While these might not be an EXACT replica of the real thing, they are delicious and will certainly hold you off until your next trip to the East Coast .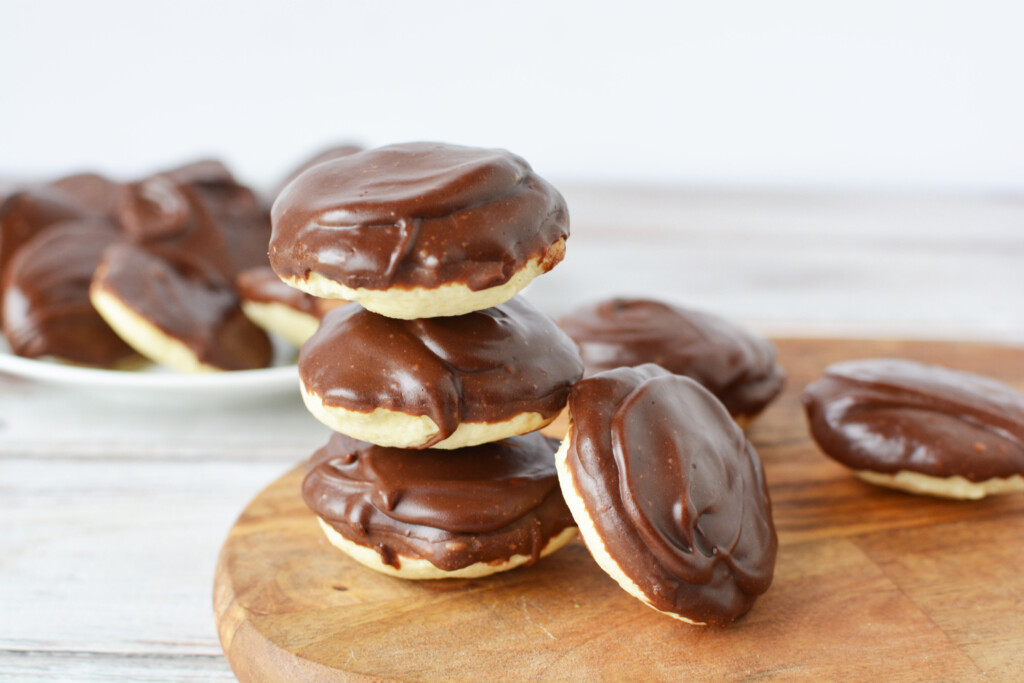 What Are Berger Cookies?
Berger Cookies are a type of cookie that was originally developed in the early-mid 1800's by a German immigrant named Henry Berger. Over the past almost 200 years, the recipe, and his bakery, has been passed down through his family and was eventually bought by DeBaufre Bakeries, Inc. But, the story is that the recipe of these cookies has changed very little over time.
The cookies themselves are cake-like and not very sweet. It's the huge amount of chocolate icing that is put on the flat side of each cookie that really gives these cookies their identity. In looking at other copycat recipes online, it looks like the icing is the hard part to get right!
How To Make Copycat Berger Cookies
The original Berger Cookies are fairly large and pretty rich. It's hard to eat a whole one in one sitting (despite how delicious they may be). Our version makes smaller cookies. For step-by-step instructions, check out the printable recipe card below. But here is what you'll need to get started.
Cookie Dough Ingredients
BUTTER – We used unsalted butter. Make sure it is softened to room temperature.
VANILLA EXTRACT – We really believe in using a quality vanilla extract when baking. Don't get the store brand stuff.
BAKING POWDER – A leavening agent that will give these cookies their soft, cake-like texture.
SALT – It's always important to bake with salt, which balances the sweetness of the other ingredients.
GRANULATED SUGAR – White sugar.
EGG – 1 large egg brought to room temperature.
FLOUR – All purpose flour.
MILK – We used 2% milk. But you can use whatever you'd like.
CHOCOLATE CHIPS – We used Semi-Sweet Chocolate Chips
LIGHT CORN SYRUP – The real key to these cookies is the frosting. And this helps give our frosting the texture and look of the original.
VANILLA EXTRACT –
HEAVY WHIPPING CREAM – Sometimes, we say that you can lighten things up with half and half. Not the case here. You really need this frosting to be rich and thick, so we recommend staying with the heavy cream.
POWDERED SUGAR – Also called Confectioners sugar. Perfect for sweetening up this frosting without it becoming grainy.
SALT – Just a pinch to work with the sweetness of the frosting.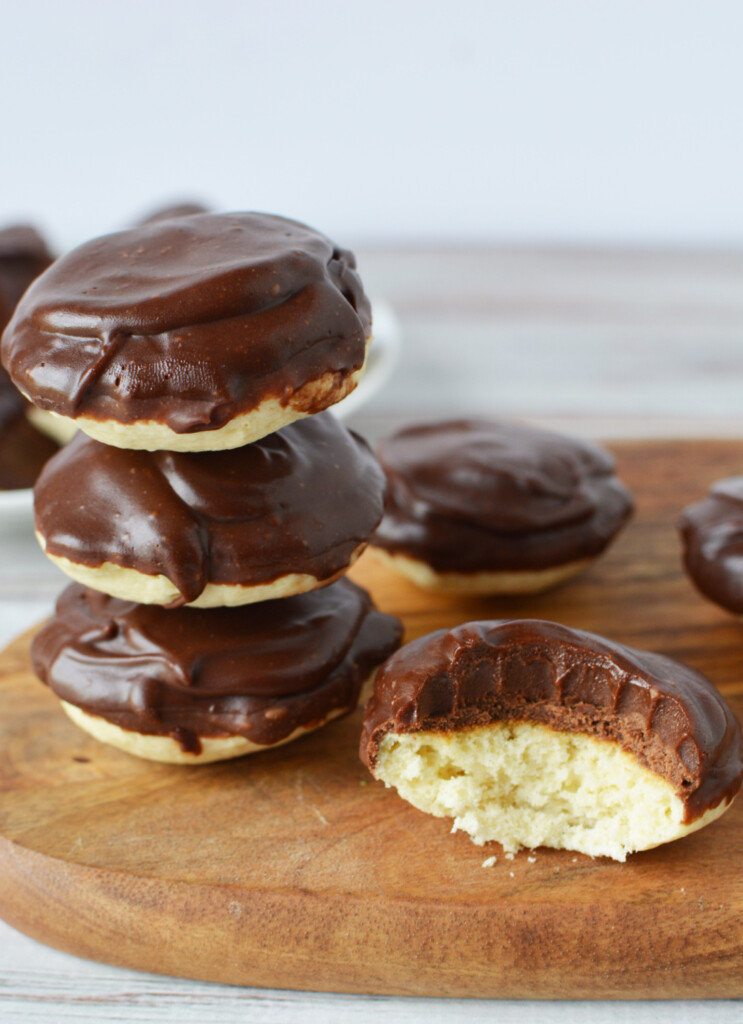 Storage, Leftovers and Freezing
Store your cookies at room temperature in an airtight container. They should be good for about 5 days.
You can freeze these cookies. Just let them full cool and let the icing fully harden. Line them up on a baking sheet or a cookie sheet with parchment paper and put them in the freezer. Once frozen, you can put them in a freezer bag and freeze for up to 3 months. I'd put a piece of parchment paper between each cookie. Thaw a room temperature.
Notes, Tips and FAQs
MY ICING IS HARDENING BEFORE I CAN DIP MY COOKIES INTO IT – No problem, just return the pan to the stove to heat up the icing again.
LET THE ICING SET AFTER FROSTING YOUR COOKIES – Make sure to leave the cookies be after icing them. You can put them in the refrigerator for a couple minutes to speed up the process.
Items To Help With This Recipe
We hope you enjoy this Berger Cookie Recipe! If you live in the Baltimore Area and know this cookie well, we'd love your feedback on how close we got it! Happy Eating!
LOOKING FOR MORE COOKIE RECIPES? CHECK OUT: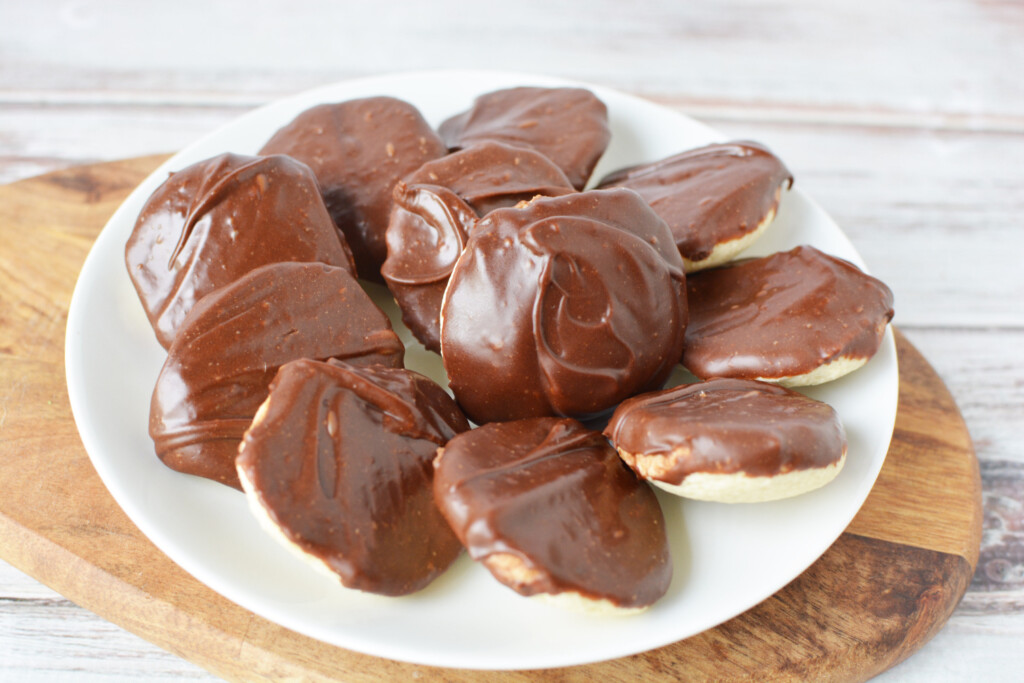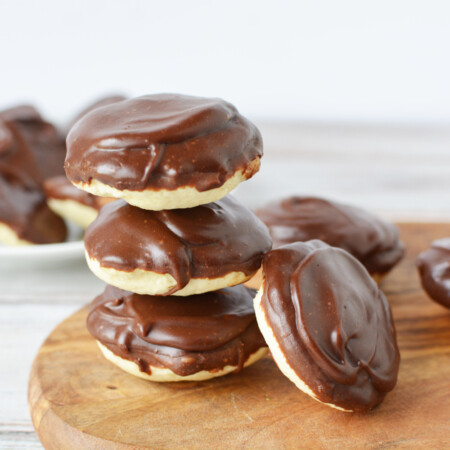 Rate this Recipe
Berger Cookies
These Berger Cookies are a Baltimore Classic! Soft, dense cake-like cookies are topped with a ton of chocolate frosting! While these might not be an EXACT replica of the real thing, they are delicious and will certainly hold you off until your next trip to the East Coast .
Ingredients
Cookie Ingredients
5-1/3

tablespoons

butter

softened

1

teaspoon

vanilla extract

1

teaspoon

baking powder

1/2

teaspoon

salt

1/2

cup

granulated sugar

1

egg

1-1/2

cups

all purpose flour

1/3

milk
Icing Ingredients
1

package

12 oz, semisweet chocolate chips

1-1/2

tablespoons

light corn syrup

1

teaspoon

vanilla extract

3/4

cup

heavy whipping cream

1-1/2

cups

powdered sugar

pinch

salt
Instructions
Preheat oven to 400 and line 2 baking sheets with parchment paper and set aside.

Add butter, baking powder, vanilla and salt to a mixing bowl and beat until combined.

Beat in sugar, followed by egg, making sure mixture is combined well.

Add the flour to the butter mixture alternating with the milk. Do not over beat, just beat until combined.

Using a tablespoon portion scoop, drop batter onto prepared baking sheets. Spray your fingers with nonstick cooking spray and gently press batter into a 1-1/2" circle.

Bake for 8-10 minutes or just until browned on the bottom. Remove from oven and let stand to cool completely before icing.

Add chocolate chips, corn syrup, vanilla and heavy whipping cream to a saucepan.

Heat over medium heat, stirring frequently until nearly smooth and melted. Make sure the mixture doesn't bubble and boil. Remove from heat and continue to stir until smooth and all chocolate chips are melted.

Add powdered sugar and use a hand mixer to beat until smooth. Let stand to cool slightly.

To ice cookies, dredge the bottom of each cookie into the chocolate icing and place, icing side up, onto parchment paper. Repeat until all cookies are iced.

Let stand to harden, or pop in the fridge for 15 minutes to harden.

Repeat and dredge cookies in icing for a second time.
Nutrition
Love this recipe?
Follow @bubbapie for even more delicious recipes!!