This Easy Bierocks Recipe is a delicious dish consisting of ground beef, onions and cabbage in a soft rolls. A famous recipe that is popular in Kansas, it's a German handheld sandwich that you've gotta try!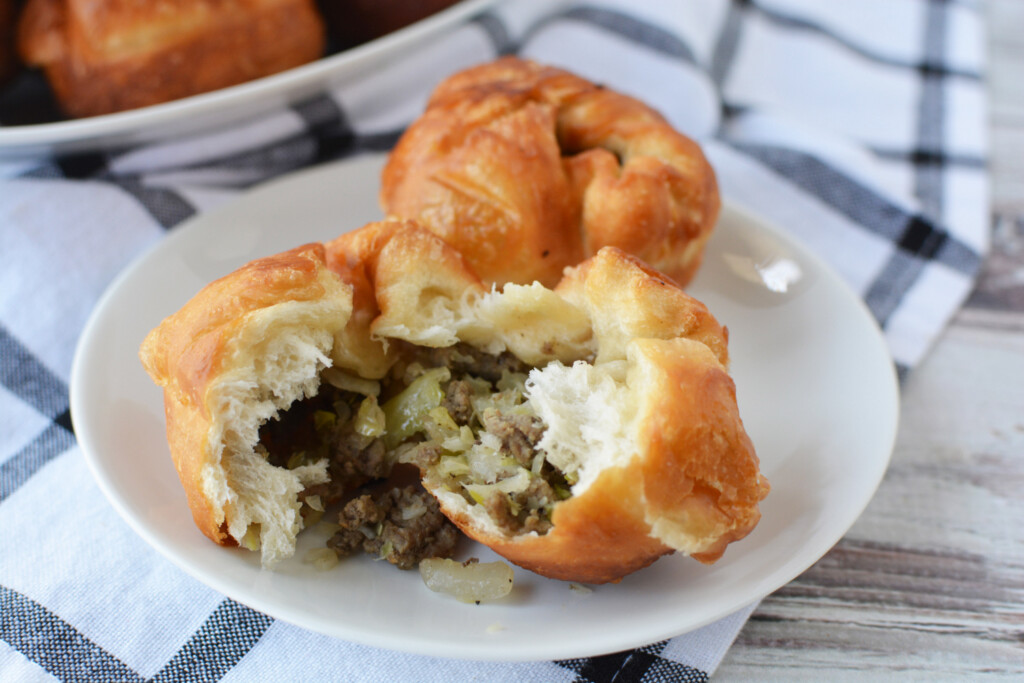 Why You Will Love This Recipe
EASY – We use frozen dinner rolls for this recipe. All you need to do is thaw them out and they are ready to stuff with your meat, onions and cabbage!
FRIED – Some Bierocks are baked. We decided to fry ours in a skillet on the stovetop and they came out awesome! But we included instructions to bake them in the oven if you'd rather to do that!
HANDHELD – Not only are they easy to make, but they are easy to eat as well! These handheld sandwiches are perfect for entertaining our feeding a crowd. This recipe is easy to double or triple!
What Are Bierocks?
It appears a version of this recipe first originated with the Volga Germans, living in Russia in the 1800s. In the late 1800s, a large group of Volga Germans pilgrammed to America and ended up in Kansas, where they developed a larger community. Ever since then Bierocks have been a mainstay of the Midwest and of Kansas in particular.
Bierocks are generally a round ball of dough that is stuffed with a mixture of meat, onions and cabbage. Sometimes you'll find other ingredients such as carrots, sauerkraut or cheese. They are closely related to Runas, which you can find in Nebraska. Runzas are usually rectangular in shape, while Bierocks are circular.
How To Make Bierocks
All you need a handful of ingredients! The only thing that takes a little time is to make sure your frozen roll have enough time to thaw out! For step-by-step instructions, check out the recipe card below. But here is what you'll need to get started.
Bierocks Ingredients:
GROUND BEEF – We used 80% lean ground beef. But you can use whatever you prefer. We've also heard of people making Bierocks with Pork Sausage. We have not tried this.
ONION – One small yellow onion. We like using a yellow onion because of it's sweeter, milder flavor.
CABBAGE – We used one small head of cabbage, and only used about 3/4 of it for this recipe. So don't worry about getting a very large head. And, if you do have any left over, you can make these Cabbage Rolls!
SALT AND BLACK PEPPER – To taste.
FROZEN DINNER ROLLS – We used a pack of 36. Thaw them out in the refrigerator the night before and keep them cold until you are ready to make them.
VEGETABLE OIL – For frying.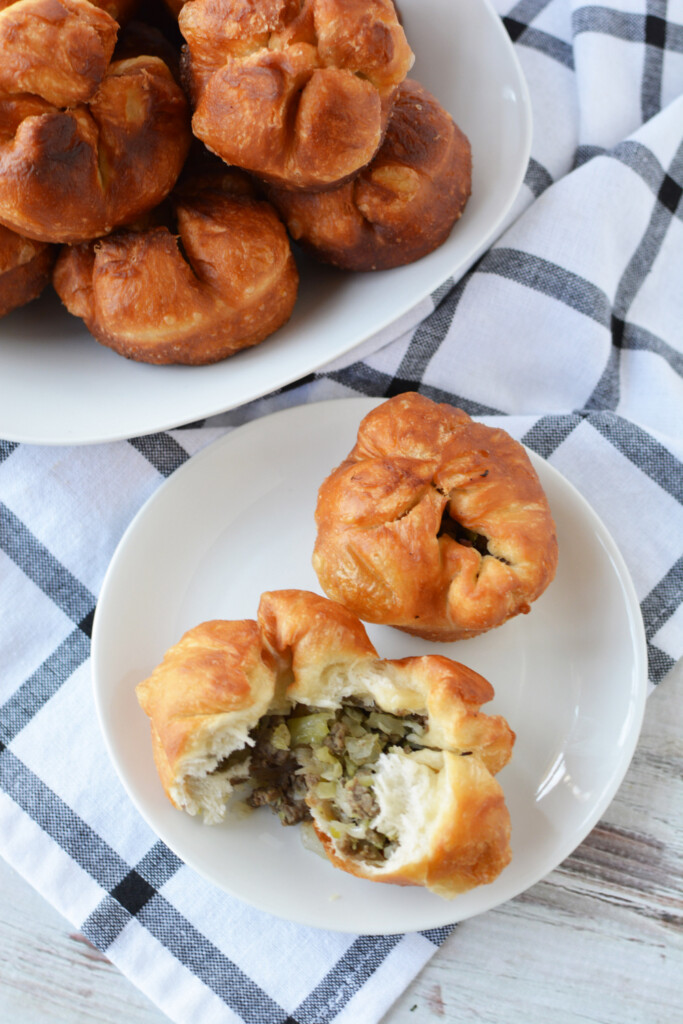 Storage, Freezing and Leftovers
Store leftovers in an airtight container in your refrigerator. They should be good for about 4 days, but really won't ever be as tasty as when they were freshly served.
You can freeze Bierocks. Just allow them to come to room temperature and then line on a baking sheet with parchment paper. Once frozen, you can pack them in freezer bags. Allow to thaw in the fridge overnight and then reheat.
You can reheat Bierocks in the microwave, but they are probably a little better reheated in the oven. 350 degrees for 7-10 minutes.
Notes, Tips and FAQs
CAN I BAKE BIEROCKS? – Yes! We love this recipe fried, but if you'd rather bake them, simply follow the first 7 steps. Preheat an oven to 350 degrees and bake them for 30 minutes. If you bake them, we recommend brushing some butter on top of the rolls. As they bake, the butter melts into the dough and helps get that golden brown you'd get by frying. And, if they are getting too brown before they are done, cover them with aluminum foil for the remainder of baking.
DO I HAVE TO USE GROUND BEEF IN BIEROCKS? – Traditional Bierocks are made with ground beef. But, if you'd like, you can substitute for ground pork sausage, ground chicken or ground turkey.
DIPPING SAUCE – Serve with a dipping sauce. Mustard is a popular sauce that is served with this dish.
SEALING THE BIEROCKS – The trickiest part of this recipe is getting the dough to seal and keep the meat mixture inside. You can't just throw them in a deep vat of oil like you would a doughnut. You'll have to use a skillet and I'd start by frying them facedown, to help seal the dough straightaway.
HOW TO KNOW IF YOUR BIEROCKS ARE DONE? – They should be fried to a deep golden brown to make sure the dough inside is properly cooked.
ADD CHEESE – Any white cheese will be great in this dish, such as Swiss or Gruyere.
We hope you enjoy this Easy Bierocks Recipe! We'd love to hear how they turned out in the comment section! Happy Eating!
LOOKING FOR MORE RECIPES LIKE THIS? CHECK OUT: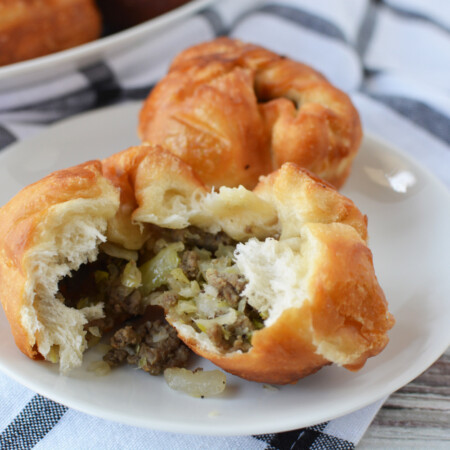 Rate this Recipe
Easy Bierock Recipe
This Easy Bierock Recipe is a delicious dish consisting of ground beef, onions and cabbage in a soft rolls. A famous recipe that is popular in Kansas, it's a German handheld sandwich that you've gotta try!
Ingredients
1

pound

ground beef

1

small onion

chopped

1

small head of cabbage

finely shredded

1/2

teaspoon

salt

1/4

teaspoon

ground black pepper

36

frozen dinner rolls

thawed and kept cold

vegetable oil for frying
Instructions
Add ground beef and onion to a large skillet and heat over medium high heat, stirring frequently until beef is browned. Drain grease from pan.

Shred cabbage.

Return pan to stove and add cabbage.

Season with salt and pepper. Mix well and cover. Continue to heat over medium heat, stirring occasionally until cabbage has softened, about 10 minutes. Remove from heat and set aside to cool.

Flatten each roll to about a 4" circle.

Using a 2 tablespoon portion scoop, scoop filling into the center of the roll.

Bring up the sides and pinch together firmly. Repeat until all rolls are filled.

Heat about 1" of vegetable oil in a skillet over medium heat. Pinch the seams of the rolls together one more time and, working in batches, fry the bierocks until golden brown on each side.

Drain on paper towels and serve hot.
Nutrition
Love this recipe?
Follow @bubbapie for even more delicious recipes!!