Your kitchen will never smell better after making these irresistible Apple Turnovers. These flaky pastries are filled with sweet, cinnamon-spiced apples and are perfect for breakfast, dessert, or anytime you crave a comforting treat.
If you love apple flavored treats, also be sure to check out our Apple Pie Cookies, Apple Cider Donut Cake or our Apple Cobbler with Cake Mix.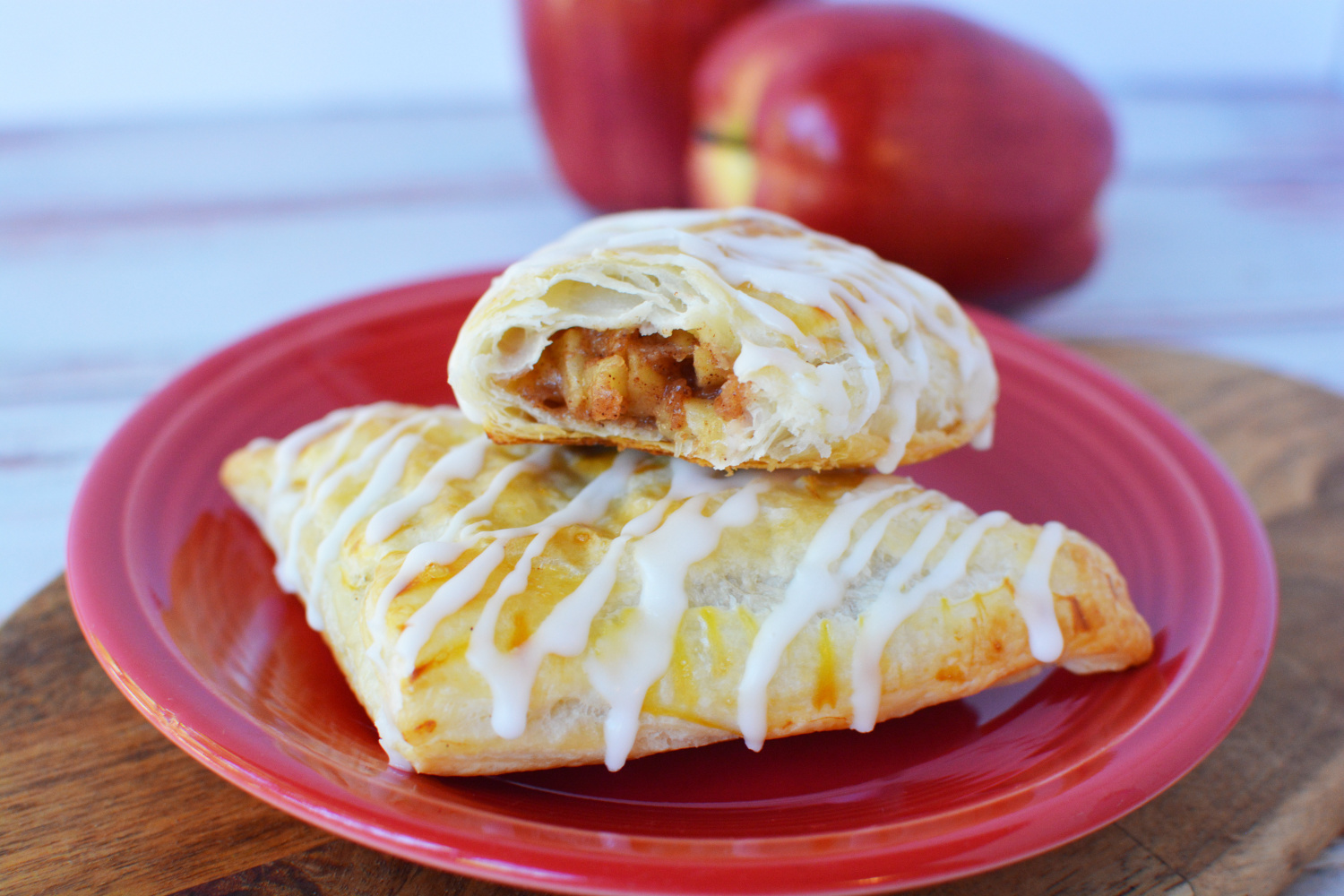 Why You Will Love This Apple Turnover Recipe
DELICIOUS FLAKEY PASTRY – Apple turnovers are encased in buttery, flaky pastry that's crispy on the outside and tender on the inside, creating a delightful contrast in texture with every bite.
SWEET, SPICED APPLE FILLING – The combination of sweet apples, warm cinnamon and brown sugar. This creates a comforting, aromatic filling that's perfect for fall or any time of year.
QUICK AND EASY RECIPE – This recipe is so simple to prepare! It's a great idea for beginning bakers or one you can let your kids help out on!
VERSATILE TREAT – These turnovers can be enjoyed at any time of day. They make a delicious breakfast option, a delightful dessert served with a scoop of ice cream, or even a portable snack for on-the-go indulgence.
What Is a Turnover?
A turnover is a type of pastry made by folding a piece of dough over a filling, creating a half-moon or triangular shape. You can make homemade dough from ingredients like flour, butter or shortening, water, and salt. But you can also take a shortcut like we do and use a frozen puff pastry. The filling can vary widely and may include sweet or savory ingredients such as fruits, jams, vegetables, meats, or cheeses.
They are sometimes called different things in different regions and cultures. For instance, they are called empanadas in Latin America, pasties in the UK, and hand pies in the United States.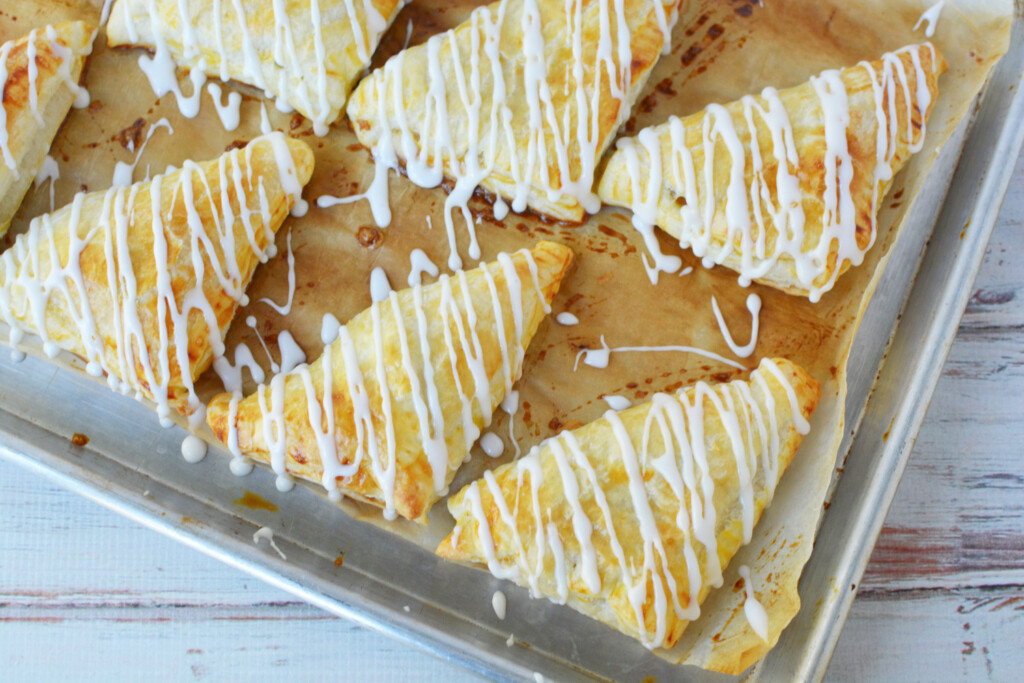 Easy Apple Turnover Recipe
If you love apple recipes as much as we do, you're going to love this one. We have SO many Apple Dessert Recipes on our website, I can't even believe we haven't published this Apple Turnover Recipe yet!
For step-by-step instructions, check out the printable recipe card below. But here is what you'll need to get started.
BUTTER – We used unsalted butter, to be mixed with the apples.
APPLES – Make sure they are peeled and cored. We used Granny Smith Apples for this recipe. But any apple that hold their shape and have a nice, balanced sweet/tart flavor. Some other examples would be Braeburn, Fuji or Jonagold.
BROWN SUGAR – We used light brown sugar for this recipe. But you could use dark brown sugar for a little richer taste.
CINNAMON – Blended with the brown sugar and apples? Yum and yum!
CORNSTARCH SLURRY – A combination of water and cornstarch will thicken up the apple filling.
PUFF PASTRY SHEET – Usually found in the freezer section of your grocery store.
EGG – Brushed on top of your pastry for the golden, crispy finish.
POWDERED SUGAR – Also called confectioner's sugar. You'll use this to make your icing.
MILK OR WATER – You can really make icing by combining powdered sugar with water or milk. Or even a thicker, richer icing by using half and half or heavy cream.
Can You Freeze Apple Turnovers?
You can freeze apple turnovers before are after baking. If freezing before, I'd wait to brush them with egg wash until after you take them out of the freezer. Also, I'd flash freeze the turnovers on a baking sheet before putting them into a freezer bag. You can bake them frozen, they may just need a little more time in the freezer.
Storage and Leftovers
You can keep your Apple Turnovers in an airtight container at room temperature. They may last a little longer in the refrigerator, but don't need to be kept in the fridge.
Notes and Variations
CARAMEL APPLE TURNOVERS – Substitute the icing with some Caramel Sauce.
SPICED APPLE TURNOVERS – Add some more Fall flavors to this recipe by adding nutmeg, allspice, or cloves to the apple mixture.
ADD NUTS – Add walnuts or pecans would be delicious!
We hope you enjoy this delicious Apple Turnover Recipe! Let us know what you think of it in the comment section below!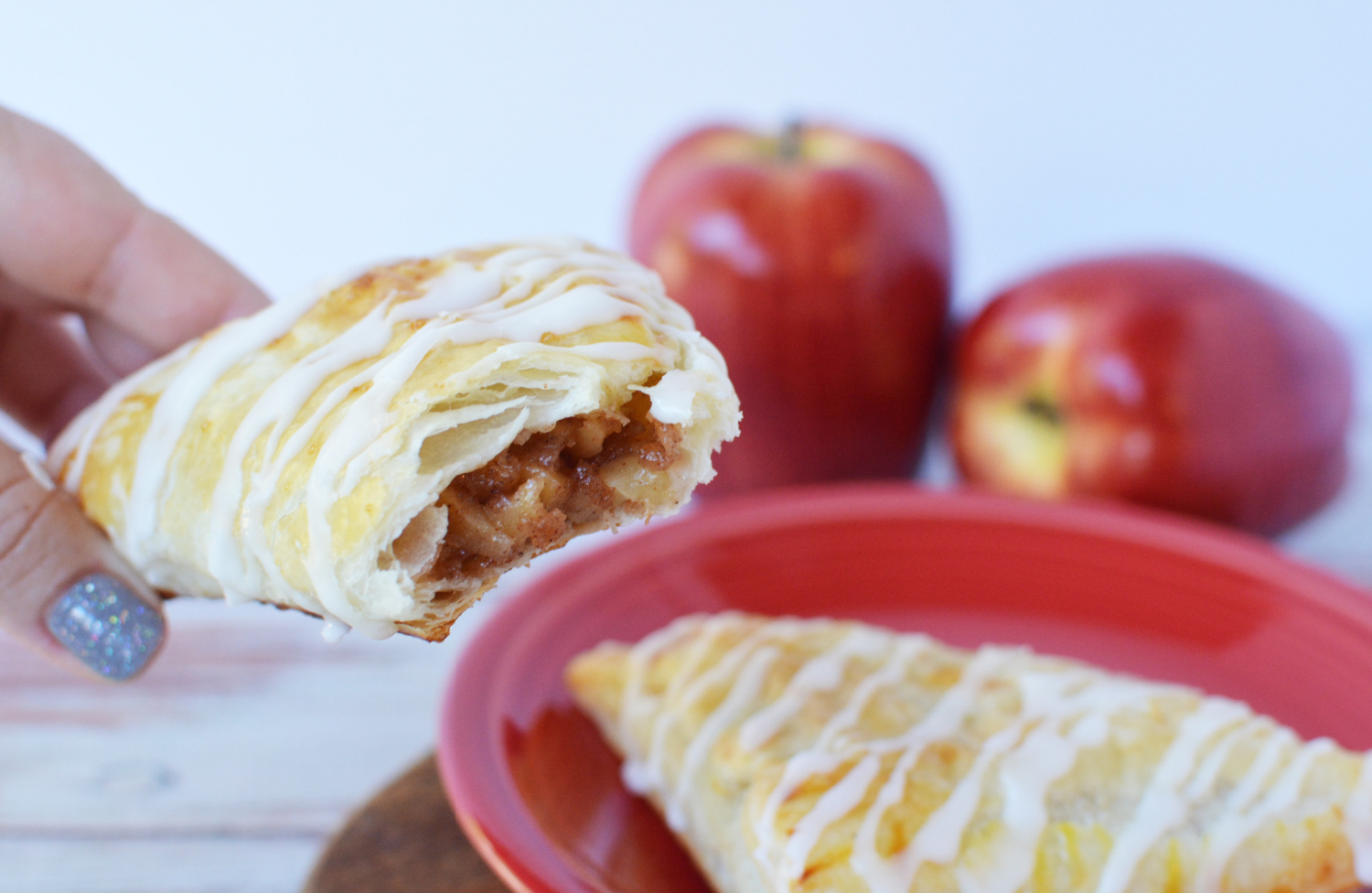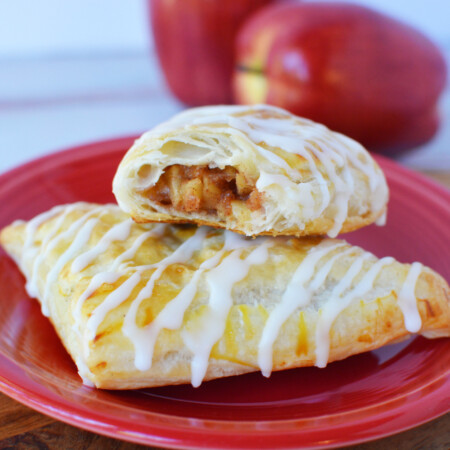 Rate this Recipe
Apple Turnovers
Your kitchen will never smell better after making these irresistible Apple Turnovers. These flaky pastries are filled with sweet, cinnamon-spiced apples and are perfect for breakfast, dessert, or anytime you crave a comforting treat.
Ingredients
2

tablespoons

butter

4

apples

peeled, cored and diced

1/4

cup

brown sugar

1

teaspoon

ground cinnamon

1

tablespoon

cornstarch

1

tablespoon

water

1

package

13.2 oz, refrigerated puff pastry sheet

1

egg

1/2

cup

powdered sugar

1-2

teaspoons

milk or water
Instructions
Add butter and apples to a skillet and heat over medium heat, stirring frequently until butter is melted and apples begin to get tender, about 6-8 minutes.

Add brown sugar and cinnamon and mix well.

Mix together cornstarch and water and pour into skillet and mix, cooking for about a minute or until mixture is thickened. Remove from heat and cool slightly.

Preheat oven to 425 and unroll a puff pastry sheet, keeping the paper on the dough.

Slice the pastry into 8 squares, or rectangles, depending on the shape of your pastry. Spoon apple filling into each square evenly, placing into the bottom corner of the square, leaving the filling about 1/2" from the edge.

Fold the corners together to create a triangle shape. It may be slightly difficult with the pastry shape if it's a rectangle, just fold the dough as best as you can. Also, work quickly, as the pastry begins to come to room temperature it gets very sticky and is challenging to work with. Crimp the edges of the turnover with a fork.

Scramble egg and gently use a pastry brush to add an egg wash to the top of each turnover.

Bake for 15 minutes or until golden brown. The paper will naturally turn dark brown. Remove from oven and let cool.

Mix together powdered sugar and water (or milk) and drizzle glaze on top of turnovers. Let stand to harden before serving.
Nutrition
Love this recipe?
Follow @bubbapie for even more delicious recipes!!