Get ready to savor the cozy warmth of the season with our Sweet Potato Biscuit recipe. These tender and buttery biscuits, infused with the sweetness of sweet potatoes, are the perfect addition to your Holiday table.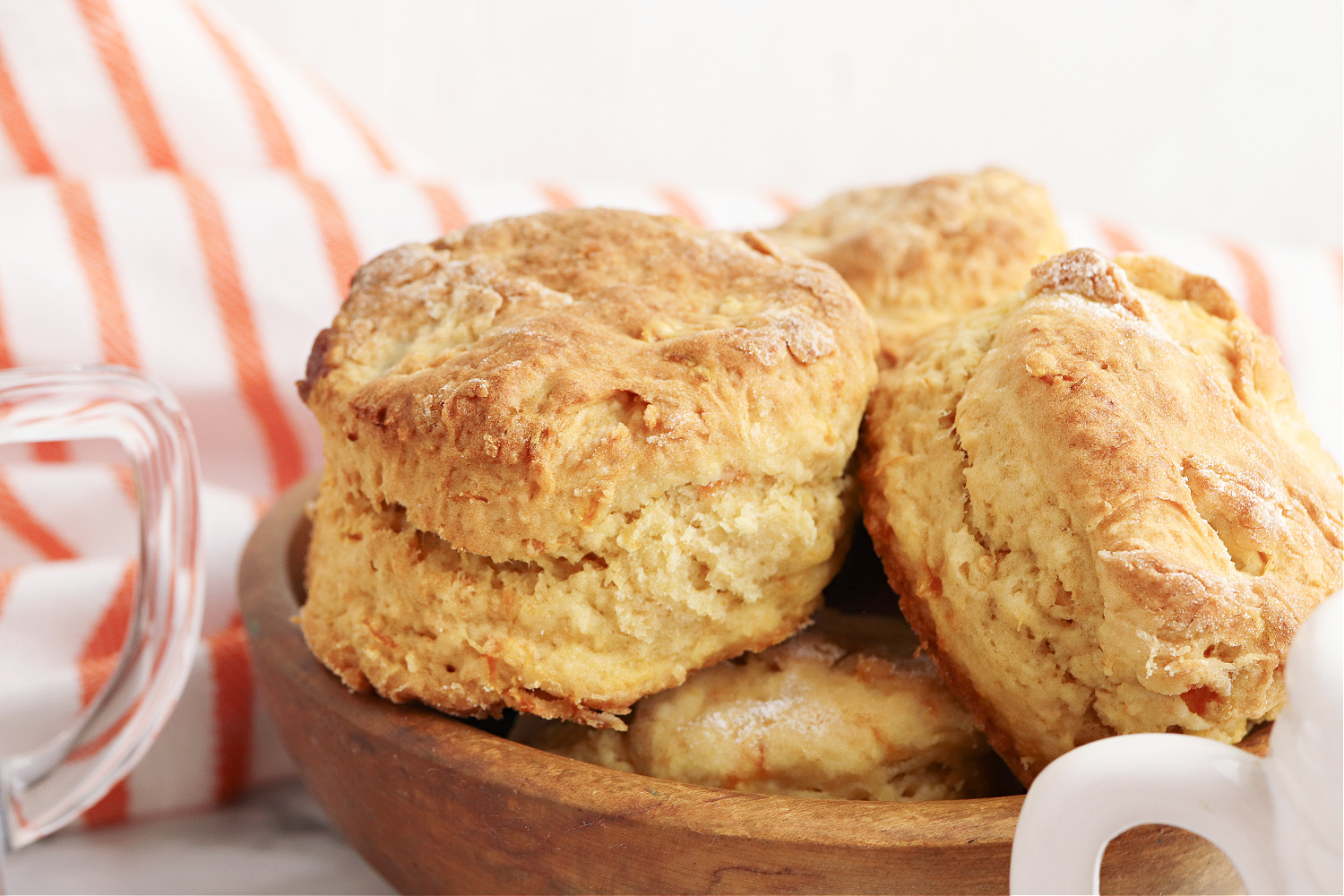 Why You Will Love Sweet Potato Biscuits
FUN, UNIQUE FALL FLAVORS – With a delicious combination of savory and sweet notes, these Sweet Potato Biscuits are a distinct and flavorful alternative to traditional biscuits during the Fall Season.
TENDER, FLAKEY TEXTURE – The sweet potato puree that we use results in biscuits that are exceptionally tender and flaky.
VERSATILE – Yes, these biscuits are a perfect addition to your Holiday table. But they are also great for breakfast, brunch or lunch. Lather them with butter, jam, honey or use them to make a delicious sandwich (use that leftover Turkey from Thanksgiving!).
PACKED FULL OF NUTRIENTS – Sweet potatoes are a nutritious ingredient, rich in vitamins, fiber, and antioxidants. Add a wholesome element to your biscuit recipe while giving this recipe a delicious taste and texture.
Sweet Potato Biscuits Recipe
Using Sweet Potatoes in any recipe all gives your meal a warm, comforting, sweet does of Autumn Flavor. They are great to use in just about any Holiday scenario. For instance, during our Thanksgiving meal, we love our Sweet Potato Bites for an appetizer, Sweet Potato Casserole as a side dish and even this Sweet Potato Pone for a dessert.
This Sweet Potato Biscuit Recipe is so easy and straightforward! For step-by-step instructions, check out the printable recipe card below. But here is what you'll need to get started:
ALL PURPOSE FLOUR – Any brand will do. Use gluten-free flour to make this a gluten-free recipe. Make sure you save some on the side to use while kneading the dough.
BROWN SUGAR – Adding a little brown sugar to this recipe really highlights the sweet and savory aspect of these biscuits!
BAKING POWDER AND BAKING SODA – Leavening agents that give these biscuits their fluffy texture.
SALT – This is the savory part of the sweet and savory!
BUTTER – Unsalted. If you use salted butter you may want to dial back the salt added above. You'll want the butter well chilled and cut into cubes to cut into the flour.
SWEEET POTATOES – You'll need to cook your potatoes in your preferred method and them let them cool and smash them. This takes so time so be sure to factor that in when estimating your prep time.
MILK – We used 2% but you can also use half and half for a richer biscuit.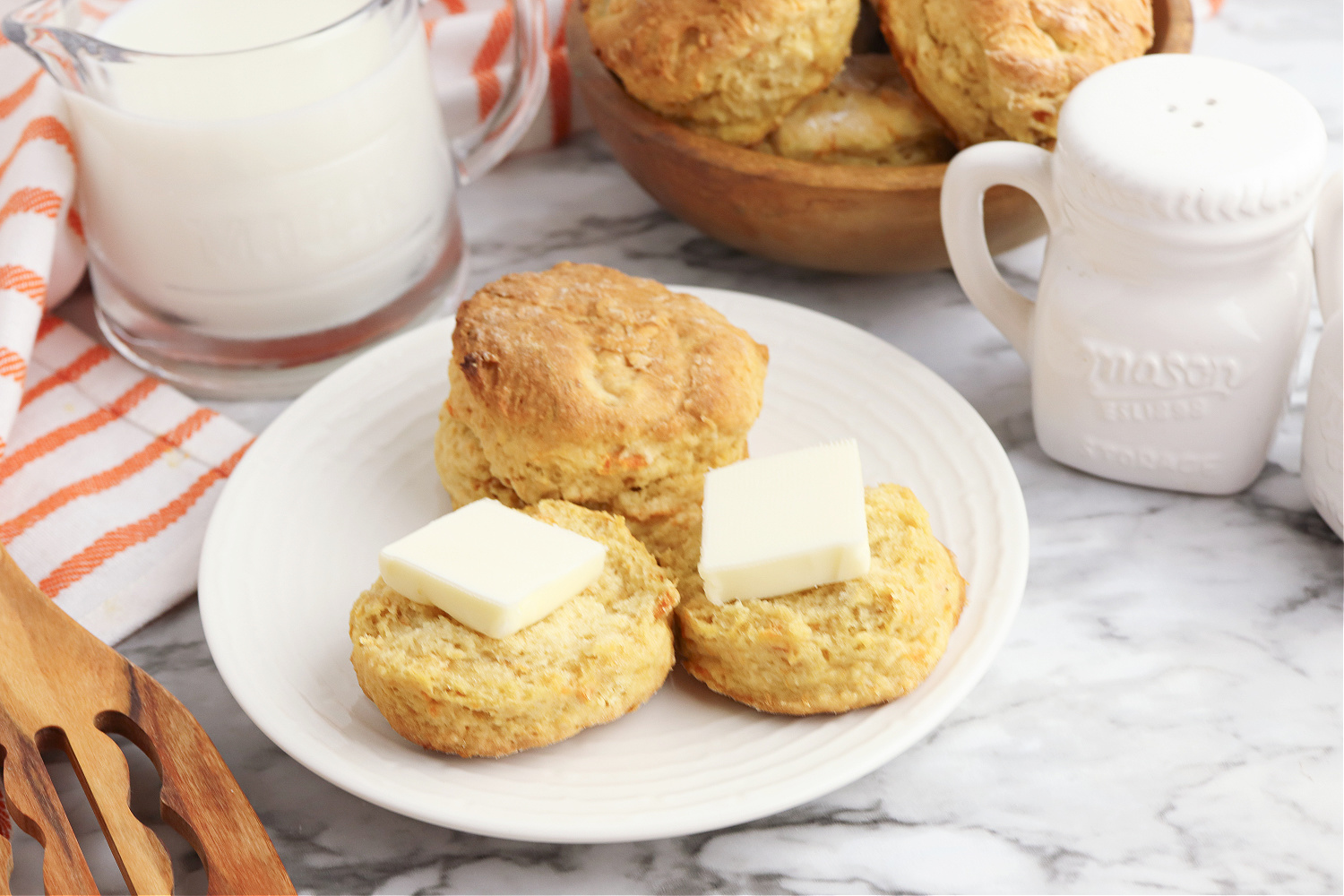 How To Prepare Your Sweet Potatoes
You'll want to get a pot of water to a rolling boil. Peel your Sweet Potatoes and chop them into smaller cubes. Boil the potatoes until they are tender. This usually takes about 12-15 minutes.
Put the potatoes in a strainer and drain. Smash them with a fork and them let them sit at room temperature to cool.
Storage and Reheating
Obviously, all biscuits are best served fresh out of the oven. But you can store leftovers in an airtight container at room temperature. You can also freeze sweet potato biscuits in the freezer for up to 4 months.
To reheat, wrap them in a paper towel and put in the microwave for 15-20 seconds. You can also wrap them in aluminum foil and reheat them in an oven that is preheated to 350 degrees.
Notes and Tips
USE COLD INGREDIENTS – The key to making flakey biscuits is to use cold ingredients. So make sure your butter is hard and cold and your sweet potatoes are fully cooled before adding them.
DON'T OVERMIX – When combining your wet and dry ingredients, fold until just incorporated. Overmixing can result in a dry, dense biscuit.
TOPPING IDEAS – Butter, Apple Butter, Cinnamon, Jam, Jelly, Maple Syrup, Honey, Hot Honey, Cranberry Sauce, Pecan Streusel or melted Cheddar Cheese and Bacon!
We hope you enjoy this Sweet Potato Biscuit Recipe. We'd love to hear how it turns out in the comment section below. Happy eating!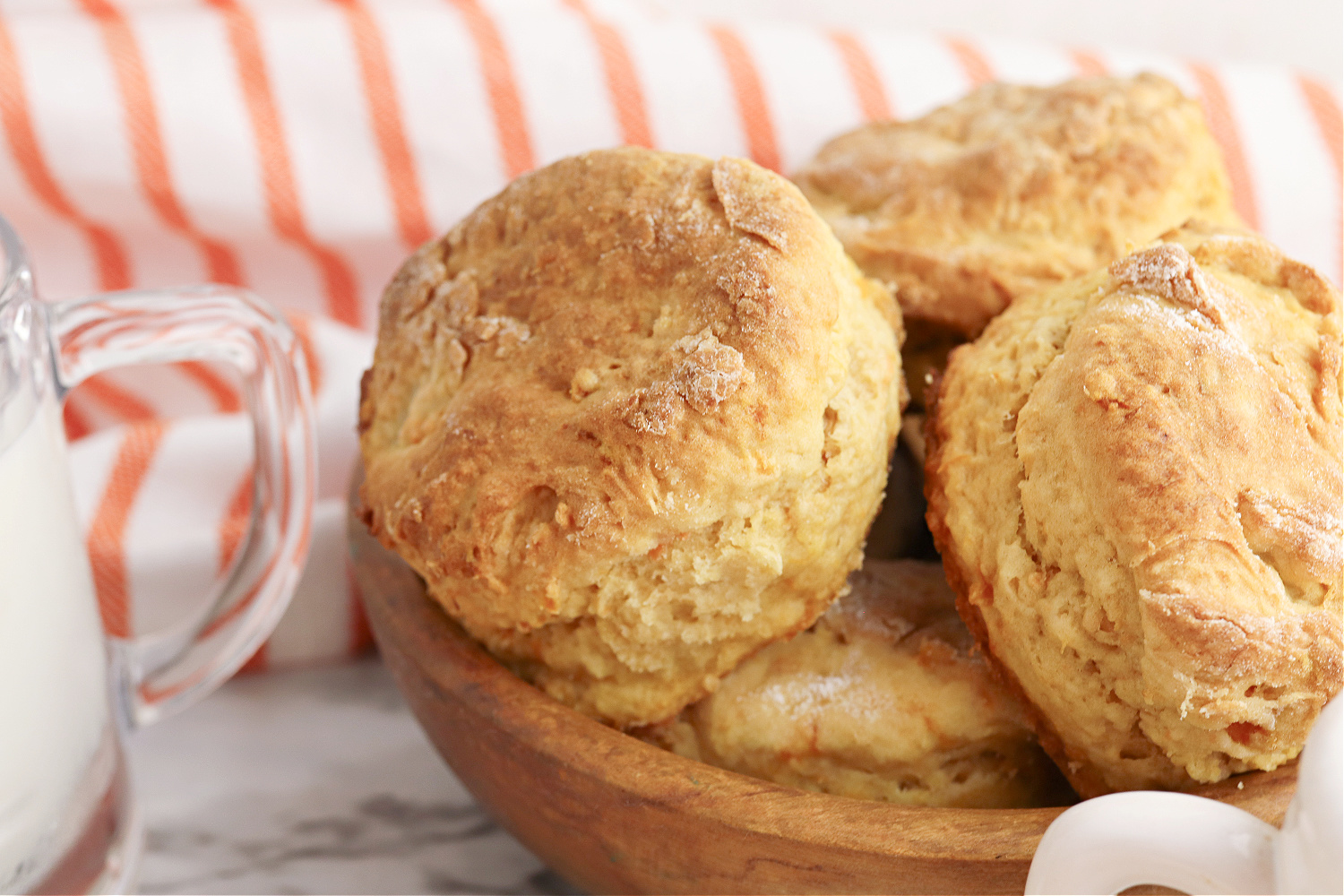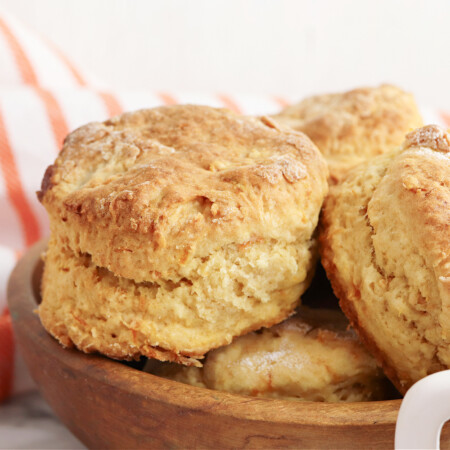 Rate this Recipe
Sweet Potato Biscuit
Get ready to savor the cozy warmth of the season with our Sweet Potato Biscuit recipe. These tender and buttery biscuits, infused with the sweetness of sweet potatoes, are the perfect addition to your Holiday table.
Ingredients
1 ¾

cups

all-purpose flour

plus more for kneading

2

tablespoons

brown sugar

3

teaspoons

baking powder

1

teaspoon

salt

½

teaspoon

baking soda

6

tablespoons

unsalted butter

cut into pieces and chilled

¾

cup

mashed sweet potatoes

cooled

⅓

cup

milk
Instructions
Preheat the oven to 450 degrees and grease an 8-inch round cake pan with butter.

Whisk together the flour, brown sugar, baking powder, salt and baking soda.

Cut in the butter with a pastry blender until the mixture resembles coarse sand.

In a separate bowl, stir together the mashed sweet potatoes and milk.

Pour the sweet potato mixture into the bowl with the dry ingredients and stir until the dough begins to come together. If the dough is too sticky, add more flour one tablespoon at a time.

Transfer the dough to a lightly floured surface and roll out until it's around one inch thick. Use a 2-inch round cookie cutter to cut out the biscuits, then gather up the scraps and re-roll the dough. Cut the remaining dough into rounds.

Arrange the biscuits in the prepared cake pan and bake for 16 to 20 minutes.
Nutrition
Love this recipe?
Follow @bubbapie for even more delicious recipes!!