Cheesy, gooey and delicious, this Crockpot Chicken Spaghetti Recipe makes a perfect family dinner on a busy weekday night. Made with ease in your Slow Cooker we put taco seasoning and tomatoes with green chilis to give this dish just the right amount of spice!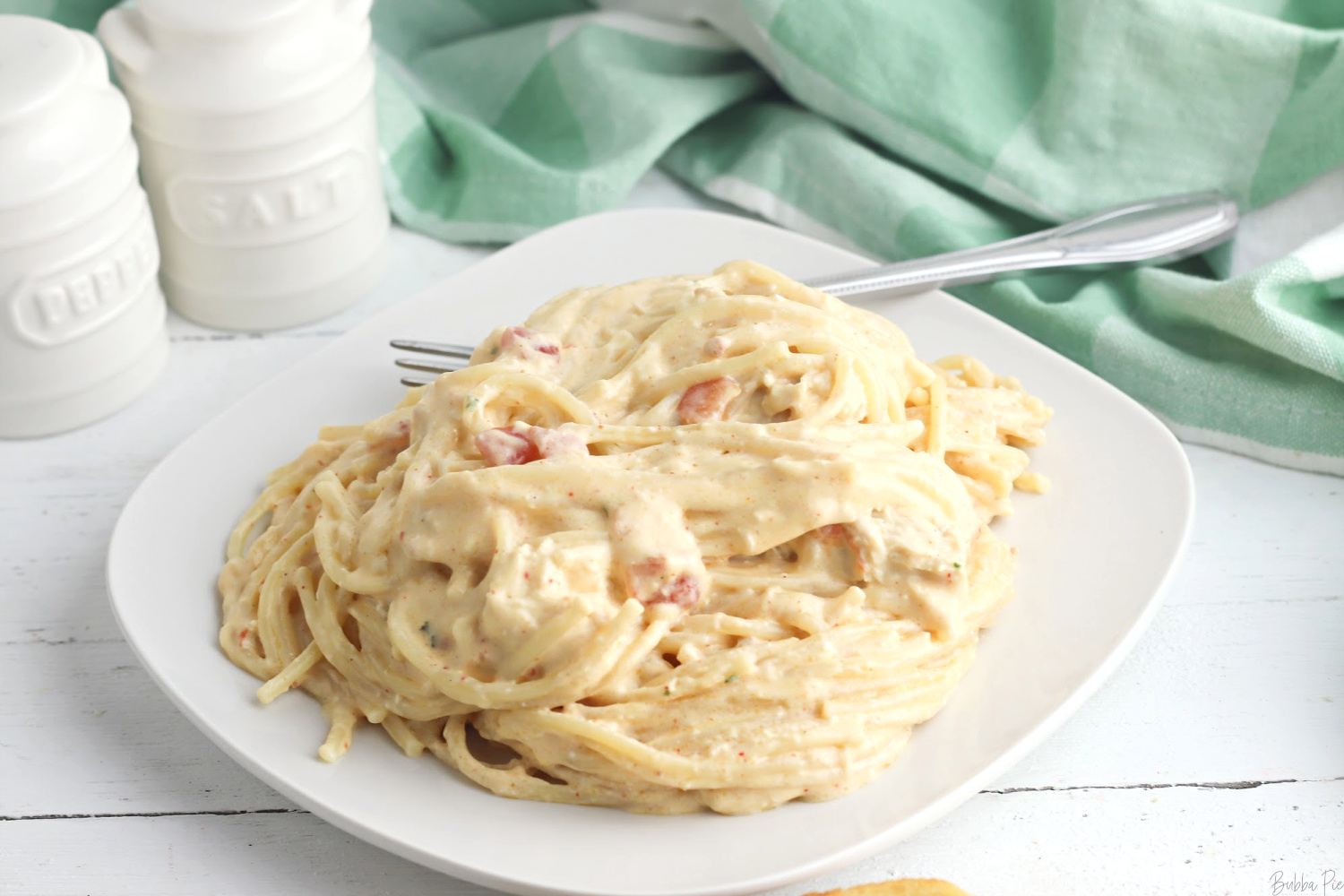 Crockpot Recipes
Any busy parent knows that a great way to an easy family dinner recipe is by using your Crock Pot or Slow Cooker. We LOVE ours and have made some delicious recipes using this nifty kitchen appliance. Crockpot Corn Chowder, will warm you up on even the coldest day. And our Slow Cooker Red Beans and Rice, Slow Cooker Swedish Meatballs and Crock Pot Pork and Sauerkraut are a great idea for an easy main dish for just about any occasion.
Crockpot Chicken Spaghetti
When you think of spaghetti, you may be thinking of the classic long noodles with a red tomato sauce, sometimes with a meat sauce. This chicken spaghetti recipe is going to be a little different. First of all, it has shredded chicken in it. Secondly, it focuses on a cheesy slightly spicy sauce. You get this from the green chilis in the diced tomatoes and from the taco seasoning.
So, it all comes together in this hearty, comforting dish that is the really the crossbreed of several different dishes. I've found that when you mix different culinary styles together, you can often get some FANTASTIC results! And if you like this recipe, but want something with a little more kick, check out our Rotel Chicken Spaghetti!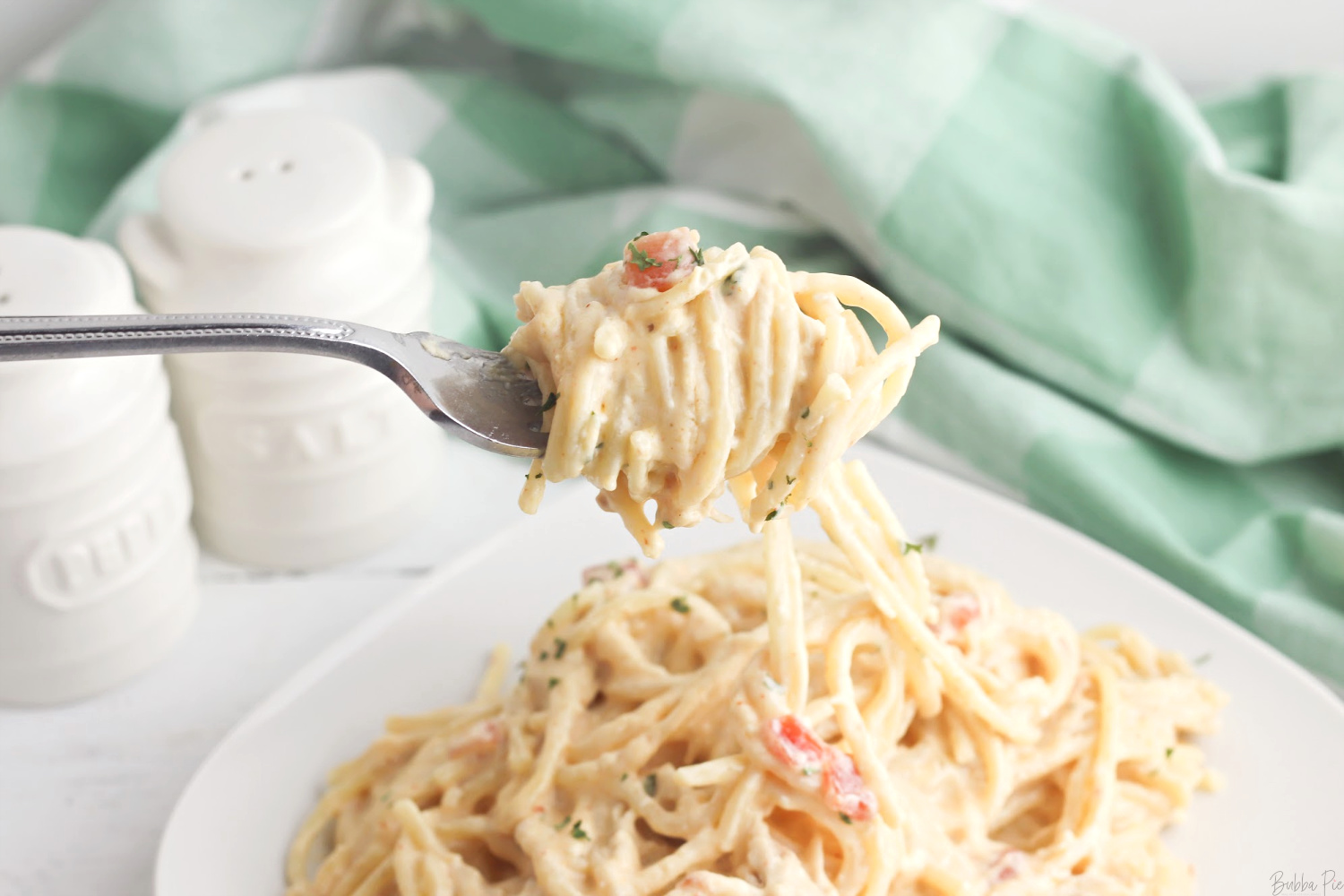 How To Make Slow Cooker Chicken Spaghetti
For step-by-step instructions, check out the recipe card below. But here is what you'll need to get started.
Crockpot Chicken Spaghetti Ingredients:
Cream of chicken soup
Can of Diced tomatoes with green chilies, drained
Sour cream
Taco seasoning
Cream cheese
Boneless Skinless Chicken breasts
Monterey Jack cheese
Spaghetti, prepared
Dried parsley for garnish
Storage and Leftovers
You can store leftovers in an airtight container in your refrigerator. They should be good in your fridge for up to 5 days. Chicken Spaghetti reheats well in the microwave.
I would not freeze this recipe.
Notes, Tips and Variations
KNOW YOUR CROCKPOT- Not all slow cookers are made the same and they all heat up and cook at slightly different speeds. The make and definitely the size matters! If you are looking for one (or a new one), you can't go wrong with the Classic Crock Pot brand. This one is 8 Quarts and programmable and super affordable.
CAN YOU USE CHICKEN THIGHS? – Yep! You sure can! Chicken thighs would be great in this recipe and would come out extra tender!
SUBSTITUTE SOUP – If you don't have Cream of Chicken Soup, Cream of Mushroom Soup or Cream of Celery Soup would work ok.
FRESH CHICKEN?- We used frozen chicken breasts for this recipe. If you are using fresh, thawed chicken, you can probably take about 2 hours off of the cooking time. If you are really in a rush, you can cut the chicken into smaller chunks to decrease cooking time even more.
CHANGE THE CHEESE – We used Monterey Jack Cheese. But you can substitute for Cheddar Cheese, Mozzarella Cheese, Swiss Cheese or any combination you'd like!
DON'T OVERCOOK– You really don't want to overcook the chicken for this recipe. So this isn't so much of a "set it and forget it" recipe as some Crockpot recipes are. Keep an eye on your chicken and take it out just when it is done.
ADDITIONS – Feel free to add bell peppers, onions, mushrooms or any other goodies that sound yummy!
DON'T ADD THE PASTA TIL THE END – You don't want to add your cooked pasta until the very end when you are really just melting the cheeses. If you add it at the beginning it will become overcooked and dry!
I hope you enjoy this recipe for Crockpot Chicken Spaghetti. Let me know how it turns out for you in the comments!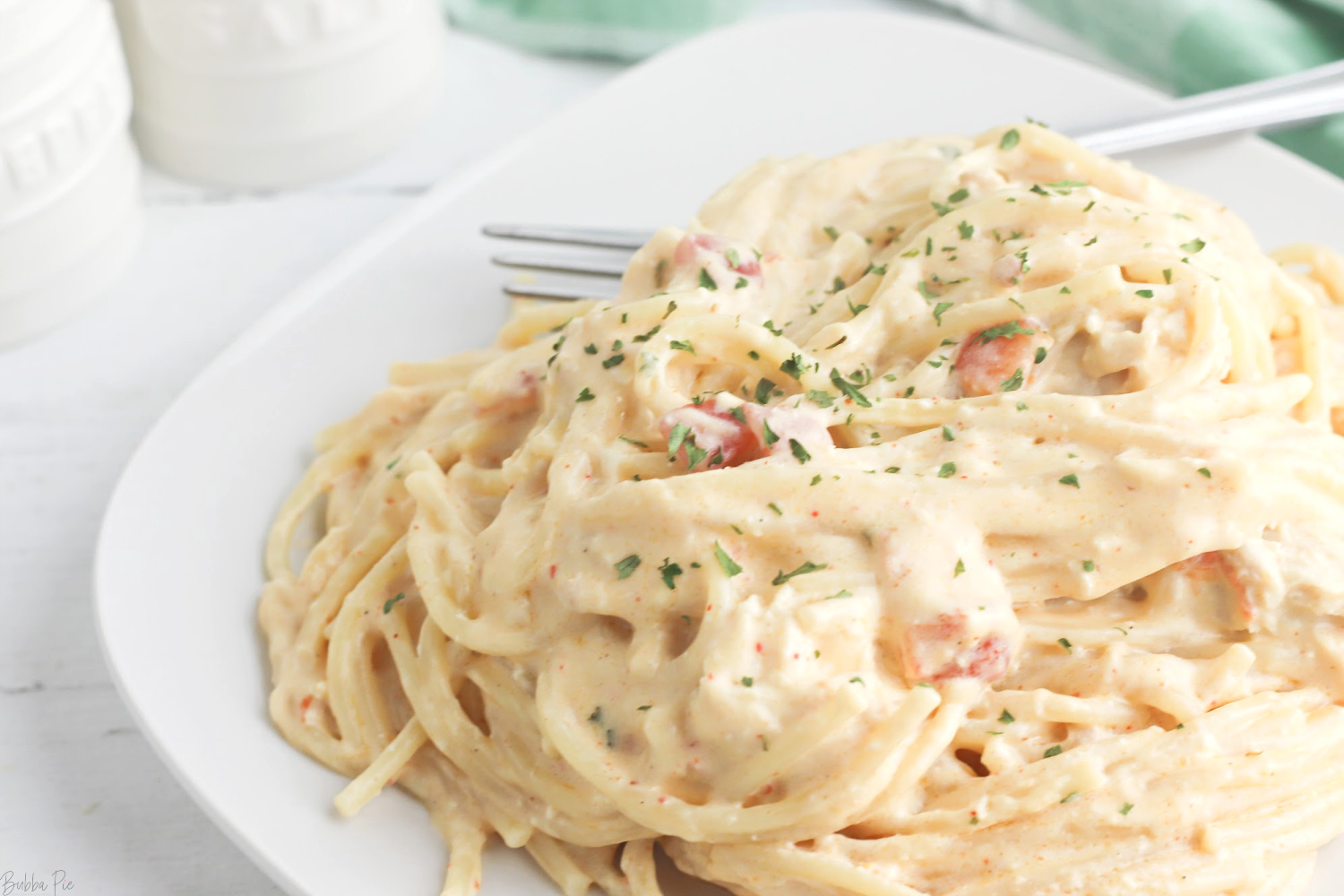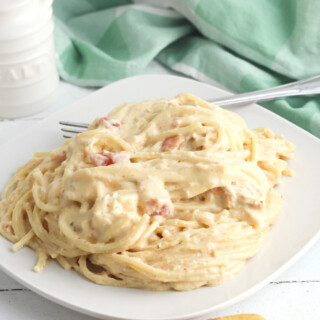 Rate this Recipe
Crockpot Chicken Spaghetti Recipe
Cheesy, gooey and delicious, this Crockpot Chicken Spaghetti Recipe makes a perfect family dinner on a busy weekday night. Made with ease in your Slow Cooker, this will be a family favorite just about any night.
Ingredients
1 10-

ounce

can cream of chicken soup

1 10-

ounce

can diced tomatoes with green chilies

drained

1

cup

sour cream

1

tablespoon

taco seasoning

1 8-

ounce

package cream cheese

3

frozen chicken breasts

2

cups

Monterrey Jack cheese

1 16-

ounce

package spaghetti

prepared

Dried parsley for garnish
Instructions
In a large bowl, combine the cream of chicken soup, diced tomatoes with chilies, sour cream and taco seasoning. Stir to mix.

Grease the bowl of the slow cooker and add the frozen chicken. Pour the soup mixture over the top of the chicken. Cube the cream cheese and place the pieces on top of the soup mixture.

Place the lid on the crock pot and cook on low for 6 hours or high for four hours.

When the chicken is cooked through, remove it from the pot and shred it with a fork. Place the chicken back in the pot.

Add the cheese and cooked pasta and stir to combine. Allow to cook in the pot until the cheese is melted.

Top with dried parsley before serving.
Nutrition
Love this recipe?
Follow @bubbapie for even more delicious recipes!!