This Chicken Bog is a classic Southern Dish hailing from South Carolina. It's got tender chicken, sausage, onions and garlic all cooked in one pot in a rich broth.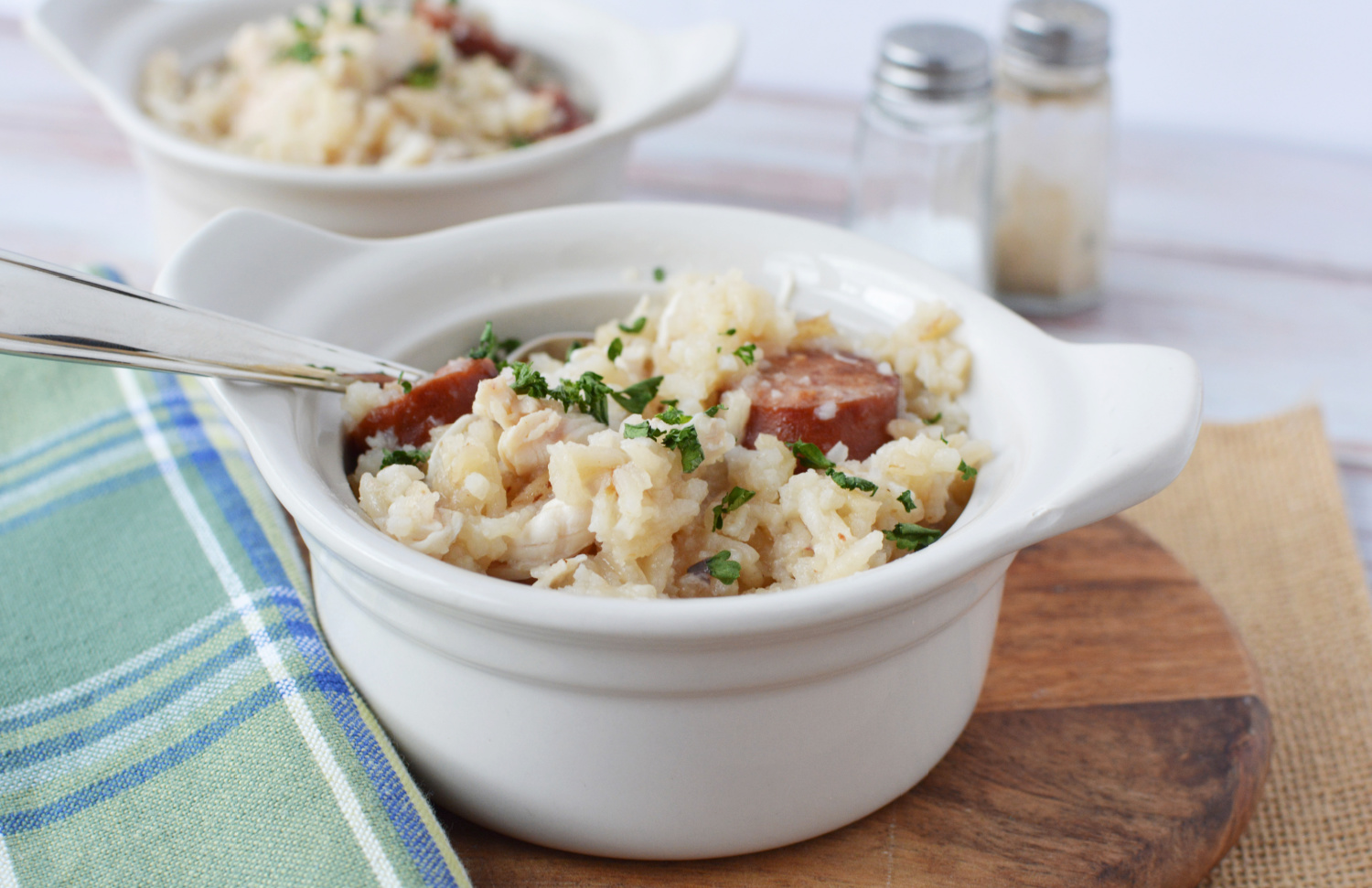 Why You Will Love This Chicken Bog
SOUTHERN SOUL FOOD – It's fun to find authentic, classic regional dishes that those of us elsewhere in the U.S. (or world!) can enjoy. This Chicken Bog is a great example: there is a good chance you've never heard of it if you weren't from the Carolinas.
EASY, ONE POT RECIPE – You gotta love a meal all made in one pot! Dishes have never been easier! Just load all the ingredients and let the Dutch Oven do the work! It's just about impossible to mess this recipe up!
GREAT TO FEED A CROWD – This recipe serves up to 16. But you can even double it if you want to (and have a large enough pot). You can also make it a couple hours ahead and just let it stay warm on the stove before your guests are ready to eat.
What Is Chicken Bog?
Yeah…. not the most appetizing name. Some say it's called Chicken Bog because the chicken is "bogged" down in the rice and other ingredients. Some say the name comes from the "boggy" low country of South Carolina were this dish originated. There are recipes called Chicken Pilau or Chicken Perlo that are very similar. Although Chicken Bog is usually made with more broth, like all regional recipes, you can find some many variations that its really hard to pin down any exact definition. It all sounds good to me!
Chicken Bog Recipe
For step-by-step instructions, check out the printable recipe card below. But here is what you'll need to get started:
SMOKED BEEF SAUSAGE – There are some recipes that use Kielbasa Sausage or Andouille Sausage. You can use whatever you'd like.
VEGETBALE OIL – To saute our garlic and onion. Substitute for avocado oil, canola oil or any other oil you'd like.
ONION – We used yellow onions for their sweeter, milder flavor. But you can use red onion if you'd like.
GARLIC – Minced. We recommend using fresh garlic for this recipe.
WHOLE CHICKEN – Gizzards and innards removed. See below for more notes on chicken.
WATER – To make the broth.
BUTTER – We used unsalted butter. You can use salted butter, just be careful add more salt later.
WHITE RICE – Uncooked. You can sub for really any long-grain rice- jasmine or basmati are sometimes used.
SALT AND BLACK PEPPER – To taste.
CHOPPED FRESH PARSLEY – Optional for garnish.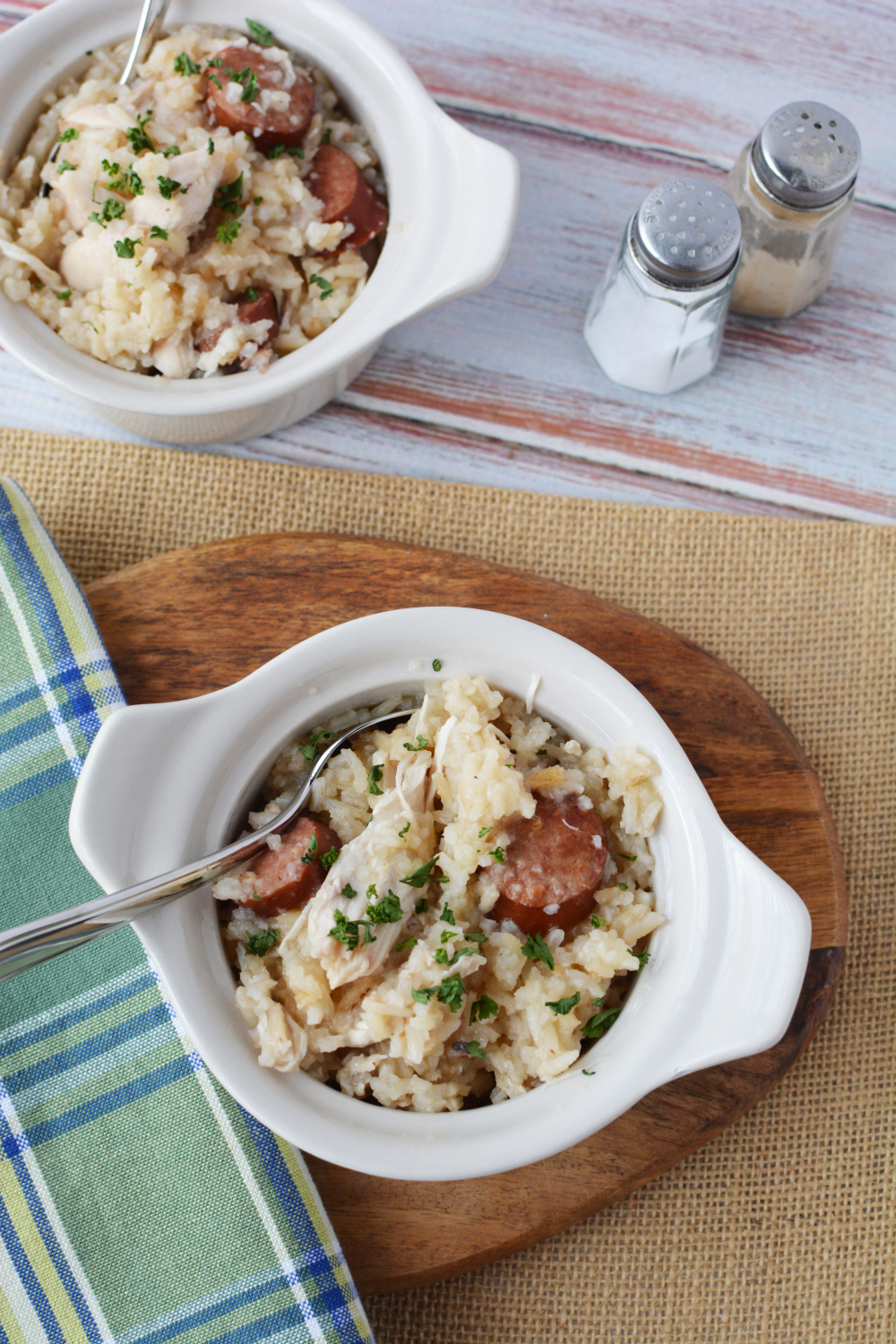 Do You Need To Use A Whole Chicken For Chicken Bog?
This dish is traditionally made with a whole chicken cooked in the broth. And you will get the best results by doing that. You can use boneless skinless chicken breasts or thighs, but you may want to add a little more butter to the recipe.
You can also substitute bone-in, skin on, chicken breasts or chicken thighs with no change to the recipe.
I would not recommend using a store-bought rotisserie chicken that has already been cooked. For sure, it would be a significant shortcut, but a lot of the flavor of this dish (and the chicken broth) come from the chicken cooking in it.
Storage, Freezing and Leftovers
Store leftovers in an airtight container in your refrigerator. Leftovers should be good for about 4-5 days.
You can freeze Chicken Bog. Let cool to room temperature and store in a freezer safe container or a freezer bag. Let thaw overnight and reheat on the stovetop over a medium heat or in the microwave.
Notes, Tips and FAQS
ADD ONS – Some people have added pinto beans, carrots, celery or bell peppers to this dish.
MAKE IT CREAMIER – Add any "Cream of" soup to this dish to make it creamier.
WHAT TO SERVE WITH CHICKEN BOG? – This dish is a meal all in itself. But it is traditionally served with a vinegar based hot sauce like Texas Pete's or Tabasco.
We hope you enjoy this Chicken Bog Recipe. We'd love to hear how it turns out in the comment section! Happy Eating!
LOOKING FOR MORE GREAT SOUTHERN DISHES? CHECK OUT: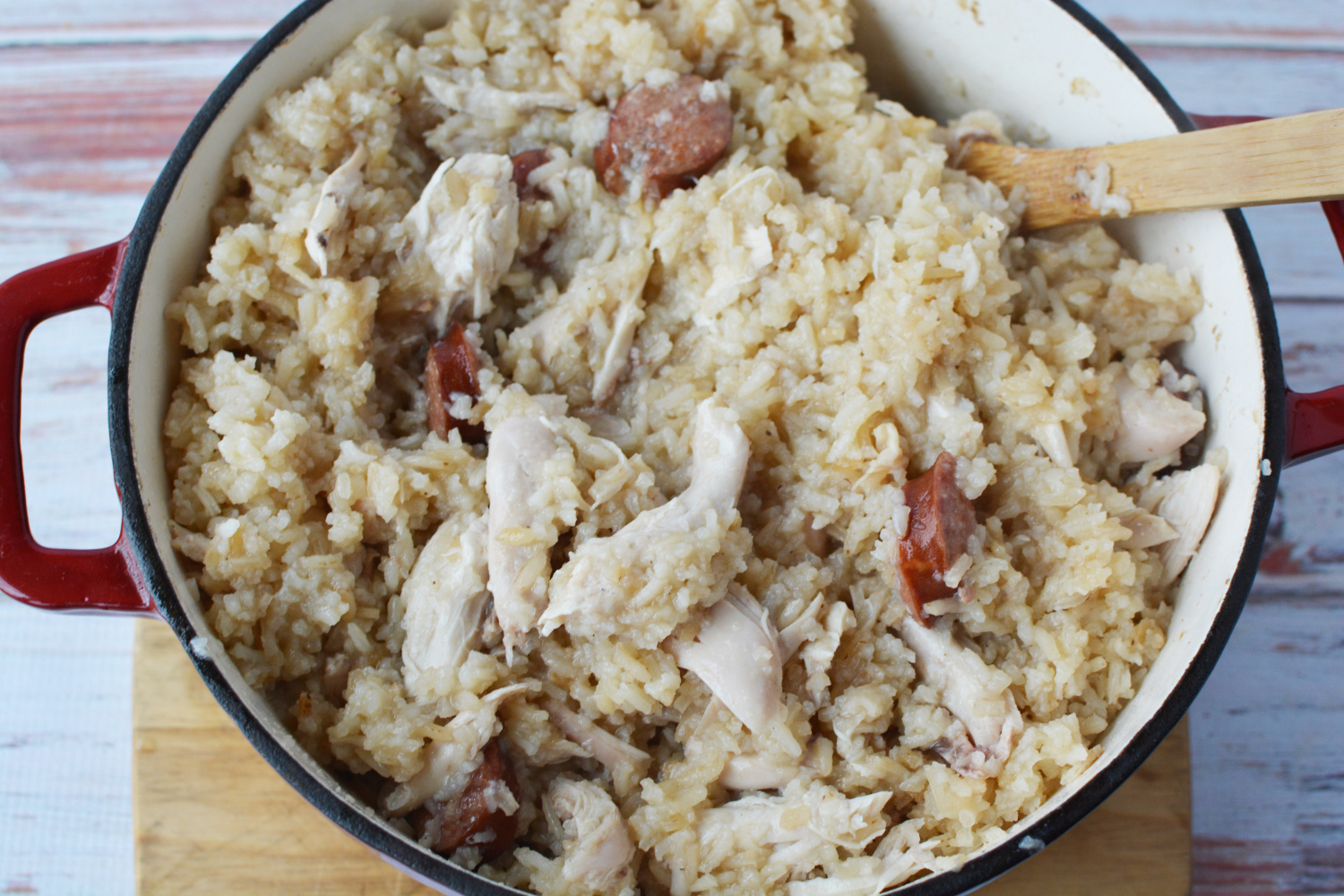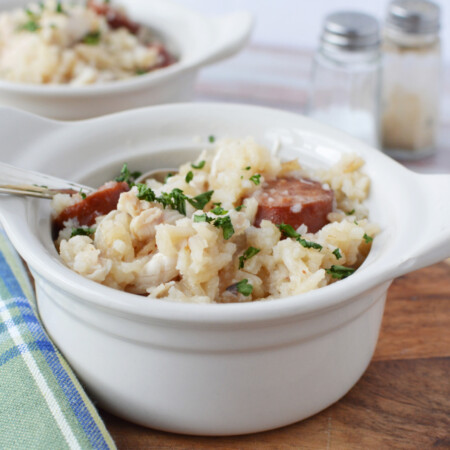 Rate this Recipe
Chicken Bog
This Chicken Bog is a classic Southern Dish hailing from South Carolina. It's got tender chicken, sausage, onions and garlic all cooked in one pot in a rich broth. 
Ingredients
1

package

12 oz, smoked beef sausage, sliced into 1/2" rounds

1

tablespoon

vegetable oil

1

onion

diced

2

tablespoons

minced garlic

1

whole chicken

uncooked, gizzards and innards removed

6

cups

water

4

tablespoons

butter

3

cups

white rice

uncooked

salt and pepper

chopped fresh parsley
Instructions
Place oil and sauce into a large Dutch oven. Heat over medium high heat, searing and browning the sausage on both sides.

Add onion and garlic and cook for 5 minutes or until onion is translucent.

Add whole chicken to the Dutch oven and cover with 6 cups water.

Cover and heat over medium low for 60-90 minutes or until chicken is completely cooked. Remove chicken from the Dutch oven and set aside. Pick apart the chicken and remove the bone and discard. Set meat aside. In the Dutch oven, remove 2 cups broth and reserve. Set aside.

In a large skillet, combine and stir butter and rice and cook over medium high heat and brown rice. Remove from heat and add rice to Dutch oven. Heat on medium high heat until boiling.

Reduce heat to simmer and cover. Simmer for 15 minutes or until rice is cooked. Add reserved chicken and broth back into the pot and mix well until heated through.

Season with salt and pepper. Serve topped with chopped fresh parsley if desired.
Nutrition
Love this recipe?
Follow @bubbapie for even more delicious recipes!!