This Southern Fried Okra is a classic side dish made easy! A comfort food staple, it take just minutes to prepare for crispy, crunchy and delicious okra!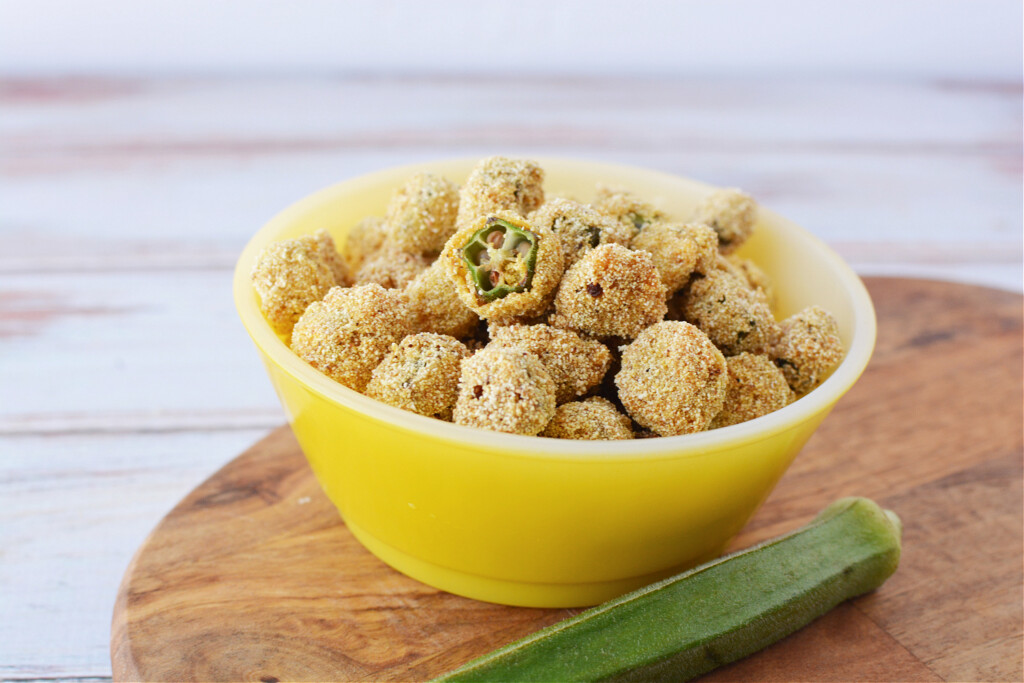 Why You Will Love Fried Okra
CLASSIC COMFORT FOOD – Fried Okra has been around for decades, this is a true, classic staple side dish that goes with so many dishes. And, if you really love Okra, be sure to check out our Smothered Okra!
EASY – With just 6 ingredients, it only takes a couple minutes to throw together. And we bet you already have most of these ingredients in your pantry!
DELICIOUS – Pan fried, the okra gets that crispy golden brown batter on the outside that make this dish irresistible.
Fried Okra Recipe
If you look around, you'll see tons of recipes with all sorts of ingredients added to the batter mixture. We really believe that the best southern comfort food recipes keep it SIMPLE. So our batter is made up of cornmeal, salt and pepper. That's it, and it's still full of flavor.
For full, step-by-step instructions, check out the printable recipe card below. But here is what you'll need to get started.
FRESH OKRA – It's important you use the freshest okra you can find. These are usually the smaller pods.
EGG – Used as an egg wash for dredging.
CORNMEAL – The staple of all southern fried okra! Gotta use cornmeal!
SALT AND PEPPER – We used 1/2 tsp of each. But it's really to your taste.
OIL FOR FRYING – We used vegetable oil. But you can use any oil you'd like. Just make sure it has a high smoke point for frying.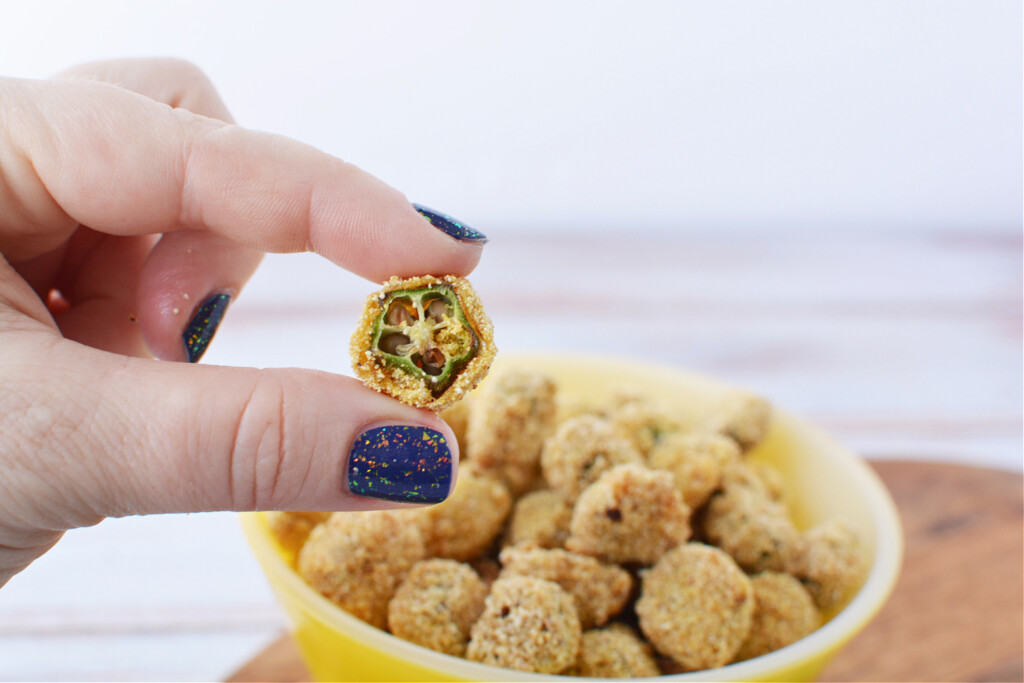 Storage and Reheating
Store leftover fried okra in an airtight container in your refrigerator. You an either reheat them in the oven by laying them all flat on a baking sheet and cooking for 10 minutes at 350 degrees. Or you can Air Fry them if you have an air fryer.
I would not freeze leftover okra. The breading just won't be as crispy as you'd like after it thaws.
Tips For Frying Okra
Looking to get that okra perfectly crispy on the outside every time? Here are some tips.
USE A LARGE PAN – First, make sure you are using a large enough pan or cast iron skillet. You'll need to hold the hot oil in there and also leave space between each piece of okra for even frying. Work in batches if necessary.
ISN'T OKRA SLIMY? – People often say that okra has a slimy texture. A tip make your okra less slimy is to cut them as few times as possible. So it's advisable to get smaller sized okra pods (this means their fresher anyways). Also, pat the okra as dry as possible with a paper towel after cutting.
DON'T USE FROZEN OKRA – As the okra thaws, there will be more moisture which isn't ideal for deep frying.
MAKE SURE YOUR OIL IS HOT ENOUGH – A common mistake in frying food is that the oil isn't hot enough. This will cook the food too slowly and you won't get those crispy results.
CAN YOU PREPARE OKRA AHEAD OF TIME BEFORE FRYING? – Yes. You can bread your okra and keep it in the refrigerator overnight for an easier prep the next day.
USE A SLOTTED SPOON – This is the best tool to handle your okra while it is frying.
We hope you enjoy this southern fried okra recipe! Dip them in ranch, fry sauce, hot sauce, remoulade or even ketchup! Let us know how it turns out in the comment section below!
LIKE CLASSIC SOUTHERN COMFORT FOOD DISHES? CHECK OUT: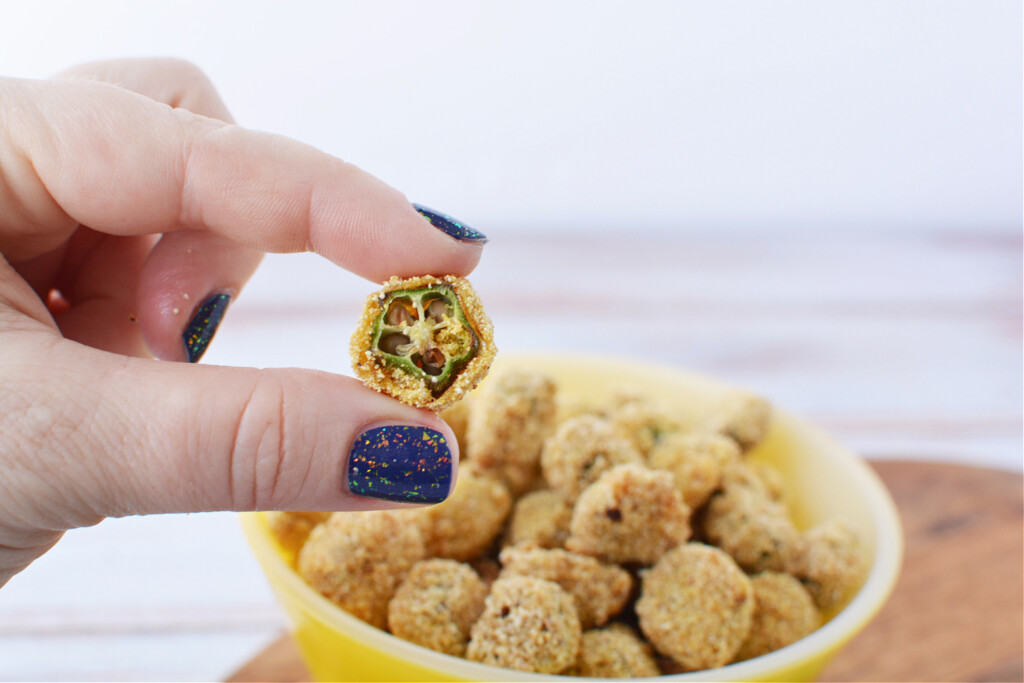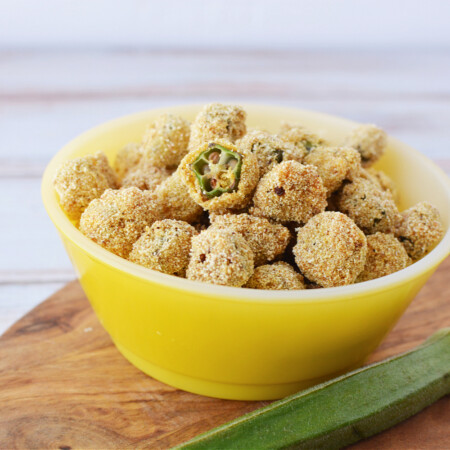 Rate this Recipe
Southern Fried Okra
This Southern Fried Okra is a classic side dish made easy! A comfort food staple, it take just minutes to prepare for crispy, crunchy and delicious okra!
Ingredients
10-15

pods of fresh okra

1

egg

1

cup

yellow cornmeal

1/2

teaspoon

salt

1/2

teaspoon

ground black pepper

vegetable oil for frying
Instructions
Slice okra into 1/2" pieces, discarding the stem and end. Pat dry with paper towel. Place into a bowl and mix together with the egg. Let stand 10 minutes.

Heat hot oil in a small pan on the stove over medium high heat.

Dredge okra into cornmeal mixture and toss to evenly coat.

Remove from mixture and fry for about 3-5 minutes or until golden brown.

Drain on paper towels. Serve immediately.
Nutrition
Love this recipe?
Follow @bubbapie for even more delicious recipes!!