This Southern Tomato Pie is a classic comfort food recipe that you've gotta try! Fresh, juicy tomatoes, Bacon and a cheesy filling are layered in a buttery pie crust. Top it with basil leaves for a delicious side dish, brunch or light meal. Plus, you can simply omit the bacon to make it vegetarian friendly!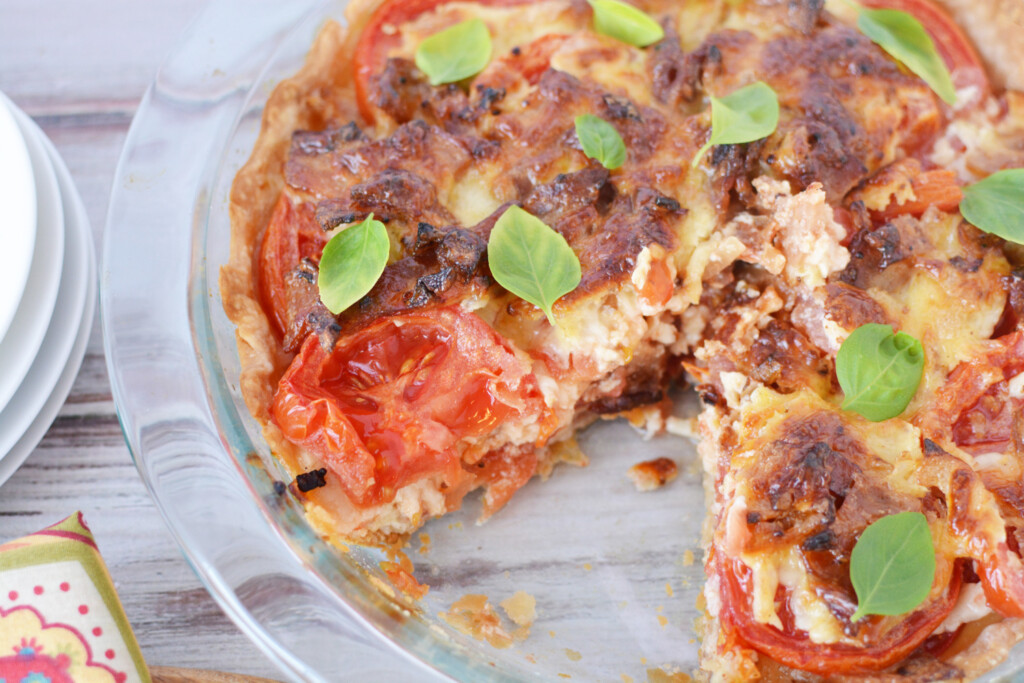 Why You'll Love This Recipe
EASY – We use a store bought pie crust (but you can bake your own). So all you need to do is slice the tomatoes, make the filling and layer everything in your pie dish. Then just let the oven do the work!
DIFFERENT – If you aren't from the South, you may have never heard of a Southern Tomato Pie. It's an eye catching dish that will have everyone asking for the recipe! It's a great option to bring to cookouts, pitchins or potlucks.
DELICIOUS – With the slightly sweet, ripe tomatoes, the salty and crispy bacon and the buttery flaky pie crust, there are tons of flavors and textures that work perfectly together. And it's all bound by a cheese sauce made of mayonnaise, mustard and cheese.
What Is A Southern Tomato Pie?
We have been researching regional dishes to make from each state in America. While trying to find a dish for Alabama, we came across this dish. So we decided to develop our own version of it.
There are some variations. It was first spotted Some people use a puff pastry crust or more of a biscuit crust. Some people make mini pies. And some coat their tomatoes in flour and fry them first. But they usually all have a filling made out of a mixture of Mayonnaise and cheese.
Our version is pretty classic. The inclusion an egg, it's almost like a quiche and could make for a great brunch dish!
How To Make Southern Tomato Pie
Read below for some suggestions and variations. And, for step-by-step instructions, check out the recipe card below. But here is what you'll need to get started:
PIE CRUST – If you have a pie crust recipe you love, you can use it here. Otherwise it will be fine to just use a store bought pie crust.
FRESH TOMATOES – About 2-2.5 lbs of fresh tomatoes. You'll want to draw as much water and moisture out of the tomatoes as possible before putting them in the pie. Read below for suggestions on how to do that.
SALT – Sprinkle on your tomatoes to help draw moisture out.
BACON – Chopped bacon adds tons of flavor and texture. It's my favorite part.
ONION – We use yellow onion for it's sweeter, milder flavor. But you can use red onion if you want.
GARLIC – minced.
SHREDDED CHEESE – We used White Cheddar Cheese. But any soft cheese that melts well will do. Monterey, sharp cheddar cheese, colby jack, mozzarella, fontina, gruyere or any other cheese will work.
MAYONNAISE – Use a good quality real Mayo here. For the real Southern experience, use Duke's Mayonnaise.
DIJON MUSTARD – Gives this dish a lot of it's flavor.
EGG – To help bind everything together.
BASIL – Chopped fresh basil as a garnish for extra flavor and color.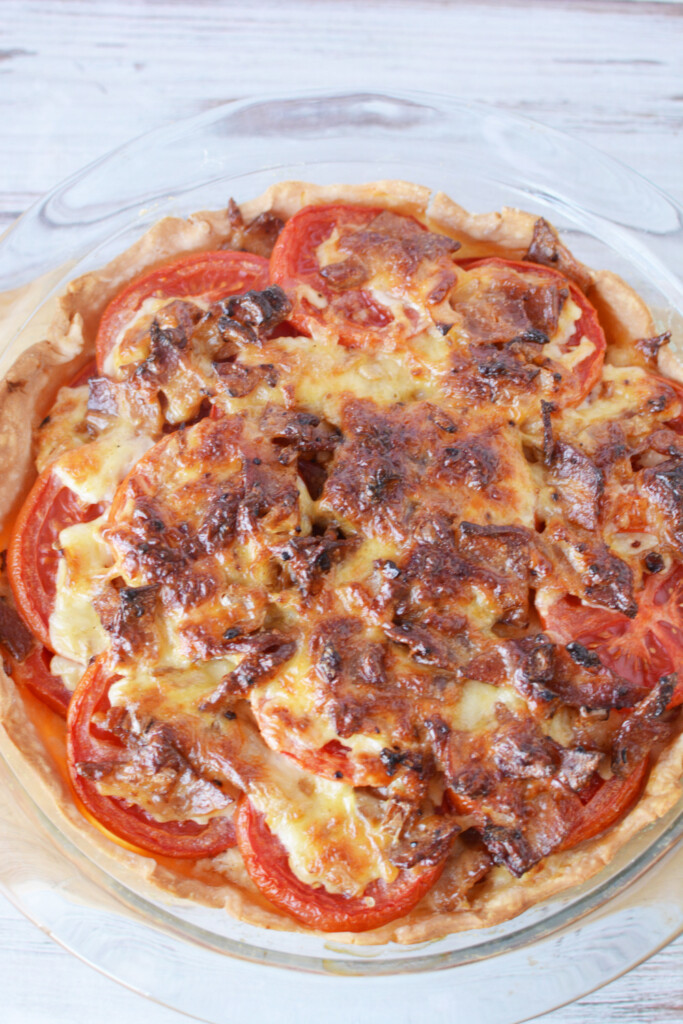 What Is The Best Way To Get Moisture Out Of Tomatoes?
A key part of this recipe is to get as much water out of your tomatoes as possible. Otherwise, your crust will get very soggy and you'll have a bit of mess on your hands. There are 3 main ways to dehydrate your tomatoes.
SALT – This is what we did. Lay the slices of your tomatoes on a paper towel on a baking sheet. Sprinkle them with salt, which will help to draw out the excess juices. Let them sit like that while you are making your cheese pie filling.
CUT  OUT SEEDS – This takes a little more time, and probably a little more tomatoes. But you can carefully take a sharp knife and cut out the more water, seedy portions of the tomatoes.
ROAST YOUR TOMATOES – Some people like to put their tomato slices an drizzle some olive oil and sprinkle salt on them. Then roast them in the oven for about 10 minutes. This will both take the water out of them and also give them a bit of a nice crispy texture.
What Is The Best Tomato For Tomato Pie?
Really, any tomato will work for this recipe. You just need to make sure it is fully ripe and juicy. Beefsteak, Roma and Heirloom will work. Heirloom tomatoes could be great if you can find some different colors for a vibrant presentation. Sometimes Heirloom tomatoes have more moisture in them, so make sure you take care of that before adding it to the pie.
Tools To Help With This Recipe
Serving, Storage and Freezing Leftovers
This Pie can be served warm or room temperature. It isn't quite as good cold. You will need to keep leftovers in the refrigerator. They should stay good for about 3 days.
I would not freeze this recipe.
Notes, Tips and FAQs
DO YOU NEED TO BLIND BAKE YOUR PIE CRUST? – We didn't and it worked out fine. But you can if you'd like and it may keep your crust a little crispier for longer. Use pie weights or beans to keep the pie dough nice and thin at the bottom.
WAIT BEFORE SLICING – Wiat about 15 minutes after taking the pie out of the oven before slicing. And use an extra sharp knife. This will help keep your slices a little cleaner.
We hope you enjoy this Southern Tomato Pie Recipe. Please leave us a comment to let us know how it turned out for you! Happy eating!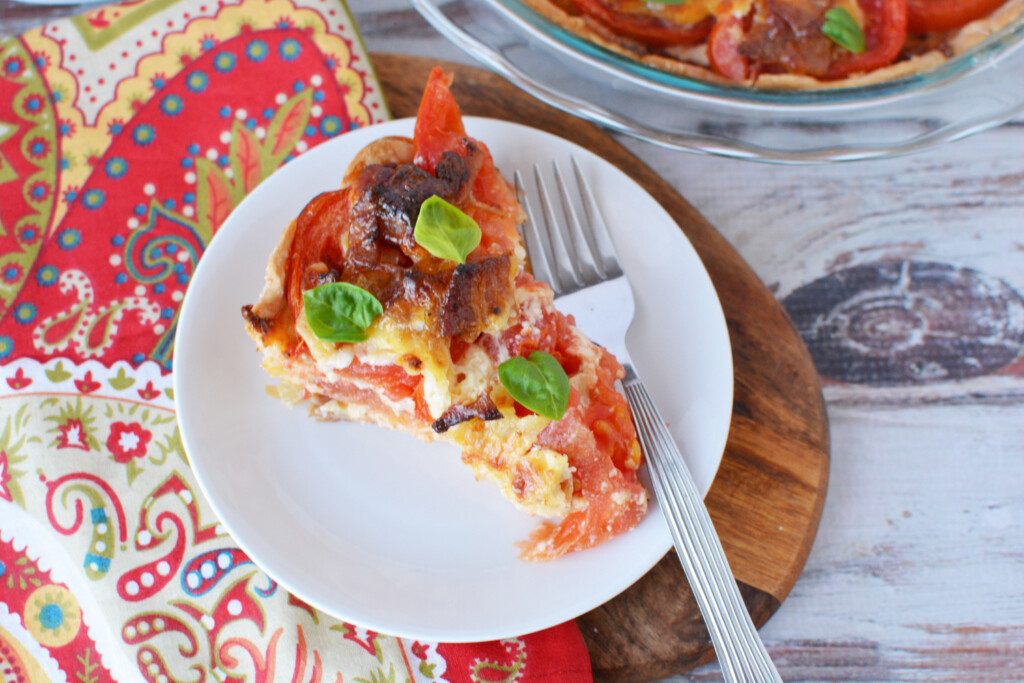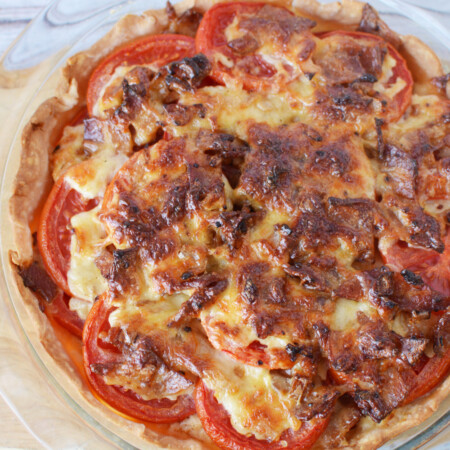 Rate this Recipe
Southern Tomato Pie
This Southern Tomato Pie is a classic comfort food recipe that you've gotta try! Fresh, juicy tomatoes, Bacon and a cheesy filling are layered in a buttery pie crust. Top it with basil leaves for a delicious side dish, brunch or light meal. Plus, it is vegetarian friendly!
Ingredients
1

single pie crust

2-1/2

lbs

fresh tomatoes

salt

8

slices

bacon

chopped

1/2

onion chopped

1

tablespoon

minced garlic

2

cups

shredded white cheddar cheese

1/2

cup

real mayonnaise

1

tablespoon

dijon mustard

1

egg

chopped fresh basil
Instructions
Preheat oven to 400 and place pie crust into a pie pan, fluting edges, and set aside.

Slice tomatoes into 1/2" slices and place on a paper towel lined baking sheet. Season with salt. If all tomatoes will not fit on a single layer, place more paper towel on top and place additional tomatoes on this paper towel. Let stand for 10 minutes for paper towel to absorb some of the water.

In a skillet, combine bacon, onions and garlic and cook until bacon is no longer pink. Drain grease and set aside.

In a mixing bowl, add cheese, bacon and onion mixture, mayo, mustard and egg and mix well.

Layer 1/3 of the cheese mixture into the bottom of the crust.

Follow with half of the tomatoes, overlapping slightly and repeat, ending with cheese mixture on top. Bake for 40-45 minutes.

Top with chopped fresh basil before serving.
Nutrition
Love this recipe?
Follow @bubbapie for even more delicious recipes!!