This Creamy Coleslaw will be the star side dish at your next potluck or summer cookout! Fresh, crunchy cabbage is mixed with a creamy, zesty and tangy dressing for the ultimate flavor combination!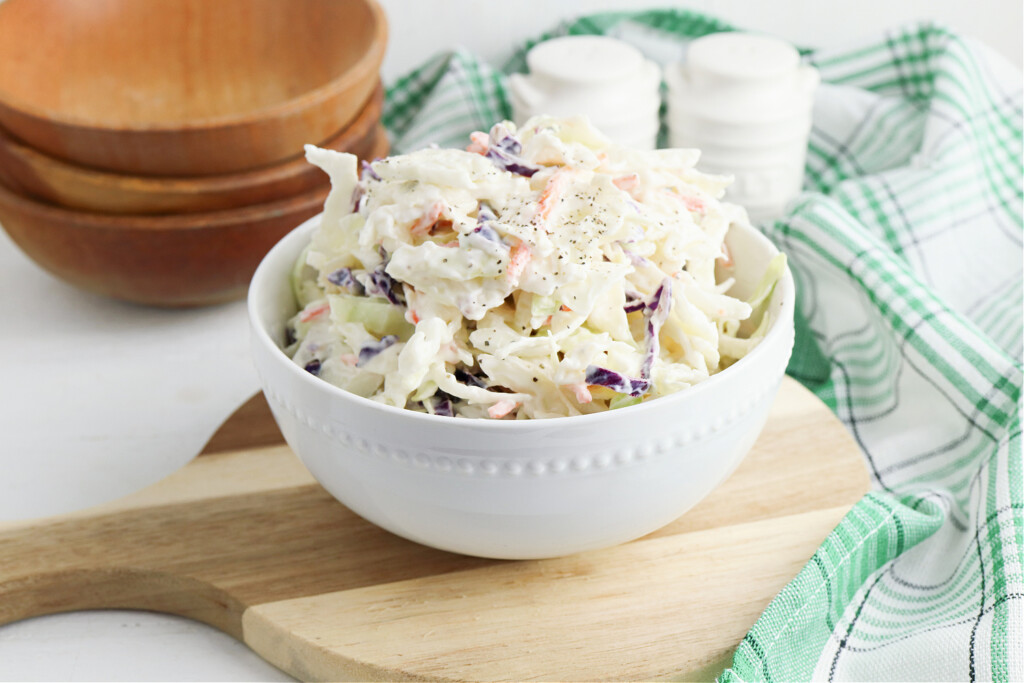 Why You Will Love This Creamy Coleslaw
EASY RECIPE – With just a handful of ingredients that you already have on hand, this recipe is so simple, easy and quick to throw together. If you use the pre-cut shredded cabbage mix like we do, it literally just takes minutes until this coleslaw is chilling in your fridge, waiting to be served!
DELICIOUS – Making your own homemade coleslaw dressing is a MUST! And we combine the perfect balance of sour cream, mayo, salt, sugar and apple cider vinegar! It gives this dish a great combo of sweet, salty, zesty and tangy!
PERFECT FOR ANY OCCASION – Coleslaw is a Classic American tradition at so many festive functions. From tailgating and game day to BBQs and picnics. It's great as a side dish but also perfect as a topping for your sandwich (pulled pork sandwiches, anyone!??!?!), burgers, wrap, hotdog, bratwurst or sausage!
How To Make Homemade Creamy Coleslaw
The process is SO simple. Just mix together all of your dressing ingredients and then mix well with your cabbage coleslaw mixture! For step-by-step instructions, check out the printable recipe card below. But here is what you'll need to get started.
MAYONNAISE – We ALWAYS suggest using a high quality Mayo for just about any recipe. But especially this one. To lighten this up, you can substitute with yogurt or light Mayonnaise. But, really, I'd just the regular stuff here.
SOUR CREAM – We also add 1/2 cup of sour cream to give this dressing a little extra creaminess and richness. You can add more in place of some of the mayo. Or less and just add more Mayo according to your tastes.
APPLE CIDER VINEGAR – This helps give the coleslaw its absolutely addictive tanginess!
SUGAR – Sugar is a very important ingredient in any coleslaw
SALT AND BLACK PEPPER – To taste.
COLESLAW MIX – You can use Red Cabbage Coleslaw Mix, Green Cabbage Coleslaw Mix 0r Tri Colored Coleslaw Mix (a combination of red and green cabbage and shredded carrots), it doesn't matter. Or you can make your own coleslaw mix. See more on that below.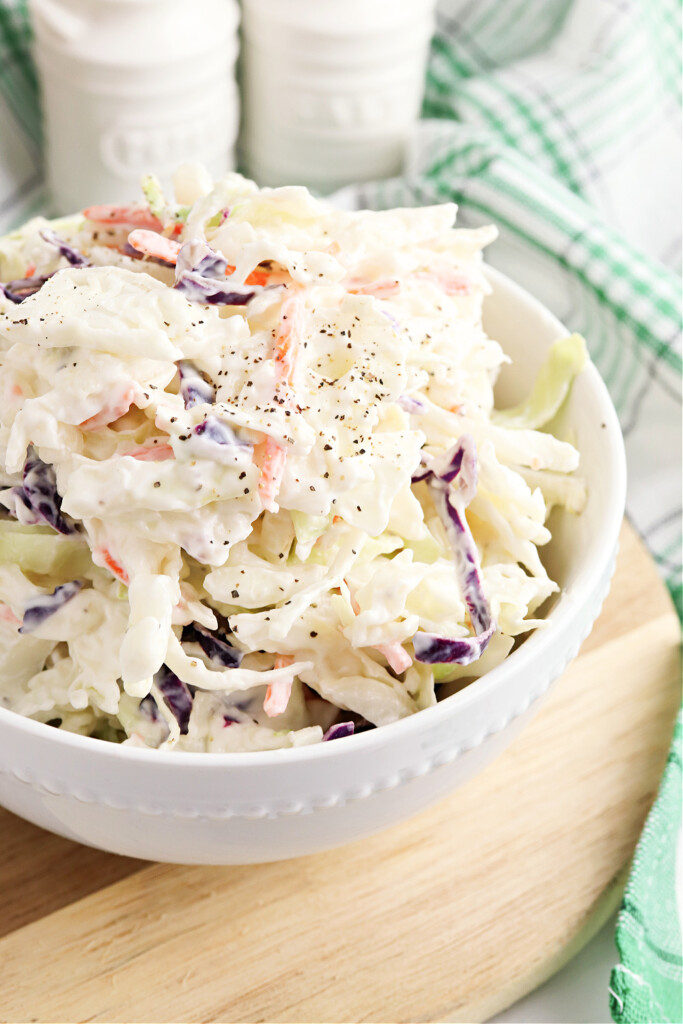 Storage and Freezing
Store leftovers in an airtight container in your refrigerator. Coleslaw DOES need to be refrigerated and cannot be left out in room temperature for too long. Keep a special eye on it if it's outside in the sun. To preserve it, you can always get a large bowl, fill it with ice and then put the serving container of the coleslaw in the ice to help chill it.
Like most things with a Mayonnaise base, Coleslaw does not freeze well.
How To Make Your Own Coleslaw Mix
If you'd like, you can prepare your own coleslaw mix. Just gather the red cabbage, green cabbage of a mixture of both and slice them thinly. You can use a food processor, a mandoline or a sharp knife to do this. Then just combine it with your dressing!
How To Make Coleslaw Extra Crispy
This is completely optional. And we did NOT do it and still loved our Coleslaw. But some people like to give their cabbage a salt bath before combining it with the dressing. This draws out the extra moisture and helps your coleslaw stay crisp!
To do this, simply put your cabbage mixture in a strainer and rinse with water. Then sprinkle some Kosher Salt on top of it and mix well so that everything is covered. Let it sit for about 10 minutes and then rinse very well under cold water.
Next, you have to completely dry the cabbage mixture either in a salad spinner or by placing it on paper towels and patting it dry with more paper towels.
More Coleslaw Variations And Tips
CELERY SEED – Some people like to add a little celery salt into the mixture.
ADDITIONS – Add some diced apple (tossed in lemon juice) or some diced celery for an extra crunch.
DIETARY CONSIDERATIONS – This dish is naturally gluten-free (as long as the mayo is) and vegetarian. To make Vegan Coleslaw, simply use Vegan Mayonnaise.
USE A LARGE BOWL – Mix the dressing in a large bowl, then just add your cabbage mixture to that so you only have on dish to clean!
We hope you enjoy this Creamy Coleslaw Recipe. Please let us know how it turns out in the comment section! Happy Eating!
Looking For More Side Dishes? Check Out: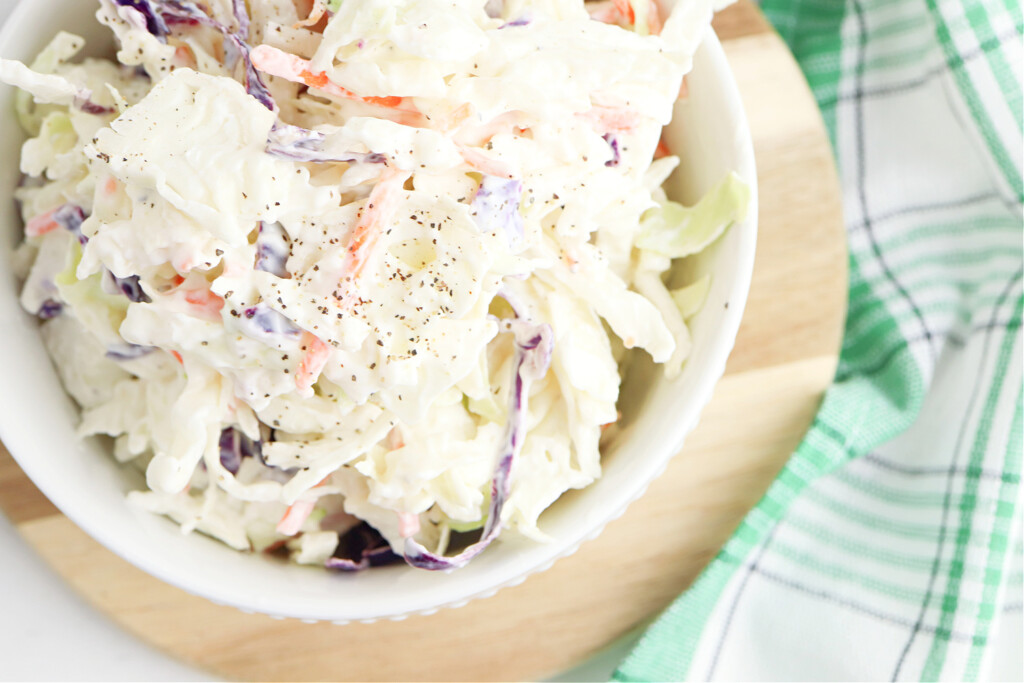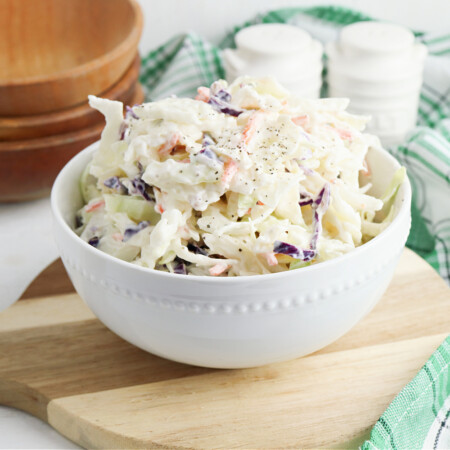 Rate this Recipe
Creamy Coleslaw
This Creamy Coleslaw will be the star side dish at your next potluck or summer cookout! Fresh, crunchy cabbage is mixed with a creamy, zesty and tangy dressing. Yum!
Ingredients
3/4

cup

mayonnaise

1/2

cup

sour cream

2

tablespoons

apple cider vinegar

1

tablespoon

sugar

1

teaspoon

salt

1

teaspoon

black pepper

1 16-

ounce

package coleslaw mix
Instructions
Stir together the mayonnaise, sour cream, apple cider vinegar, sugar, salt, and pepper in a small bowl until well combined.

Pour the dressing mixture over the top of the coleslaw mix

Stir until the cabbage is fully coated.

Cover the bowl and refrigerate for at least 30 minuts before serving.
Love this recipe?
Follow @bubbapie for even more delicious recipes!!