This Sweet Potato Cornbread is a delectable twist on a classic combines the comforting flavors of sweet potatoes with the rustic charm of cornbread for a side dish that's both sweet and savory. Pair it with soups, stews, proteins, holiday dishes or just about anything!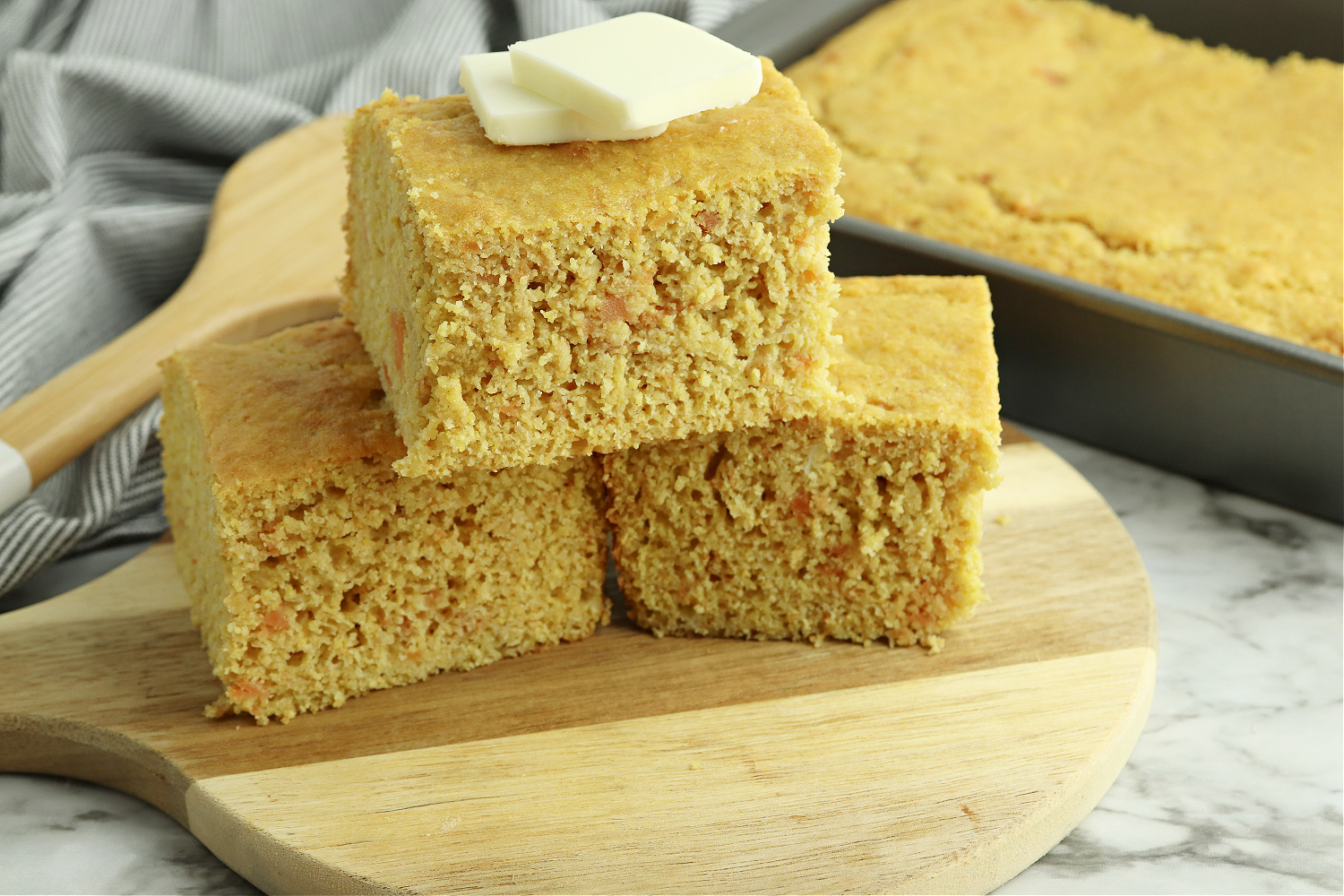 Why You Will Love Sweet Potato Cornbread
FUN, UNIQUE FLAVOR – Sweet potato cornbread offers a delightful balance of savory and sweet notes. This provides a more complex and nuanced flavor compared to traditional cornbread. For more fun Cornbread Variations, check out our Honey Butter Cornbread or our Jalapeno Cornbread.
NATURAL SWEETNESS– The addition of sweet potatoes not only enhances the flavor but also adds natural sweetness and moisture to the cornbread, making it an excellent complement to various dishes.
FULL OF NUTRIENTS – Sweet potatoes are rich in vitamins, fiber, and antioxidants, making sweet potato cornbread a more nutritious choice without sacrificing taste.
VERSATILE – It pairs perfectly with a wide range of meals, from soups and stews to roasted meats and barbecue, making it a versatile and delicious addition to your table.
Sweet Potato Cornbread Recipe
A couple weeks ago, we shared this recipe for Sweet Potato Biscuits that are SUPER delicious! So we thought the next step would be to come up with a fun recipe for Sweet Potato Cornbread! Because…. Who doesn't love Corn Bread?
For step-by-step instructions, check out the printable recipe card below. But here is what you'll need to get started:
SELF RISING CORNMEAL – We like using self-rising Cornbread in this recipe along with baking powder to make this recipe extra fluffy.
FLOUR – Any all-purpose flour will work for this recipe.
BROWN SUGAR – Helps give this recipe that sweet flavor that balances so well with the salt.
BAKING POWDER AND BAKING SODA – Leavening agents that help the cornbread rise while baking.
SALT – Balances with the sweetness of the sweet potatoes and the brown sugar.
SWEET POTATOES – Cooked and mashed. Check out below for some of the best ways to cook your sweet potato.
EGGS – If possible, let your eggs come to room temperature before using them.
MILK -We used 2% milk. But you can use skim or whole milk.
HONEY – A delicious addition that gives this cornbread it's deep, sweet flavor.
BUTTER – Unsalted and melted.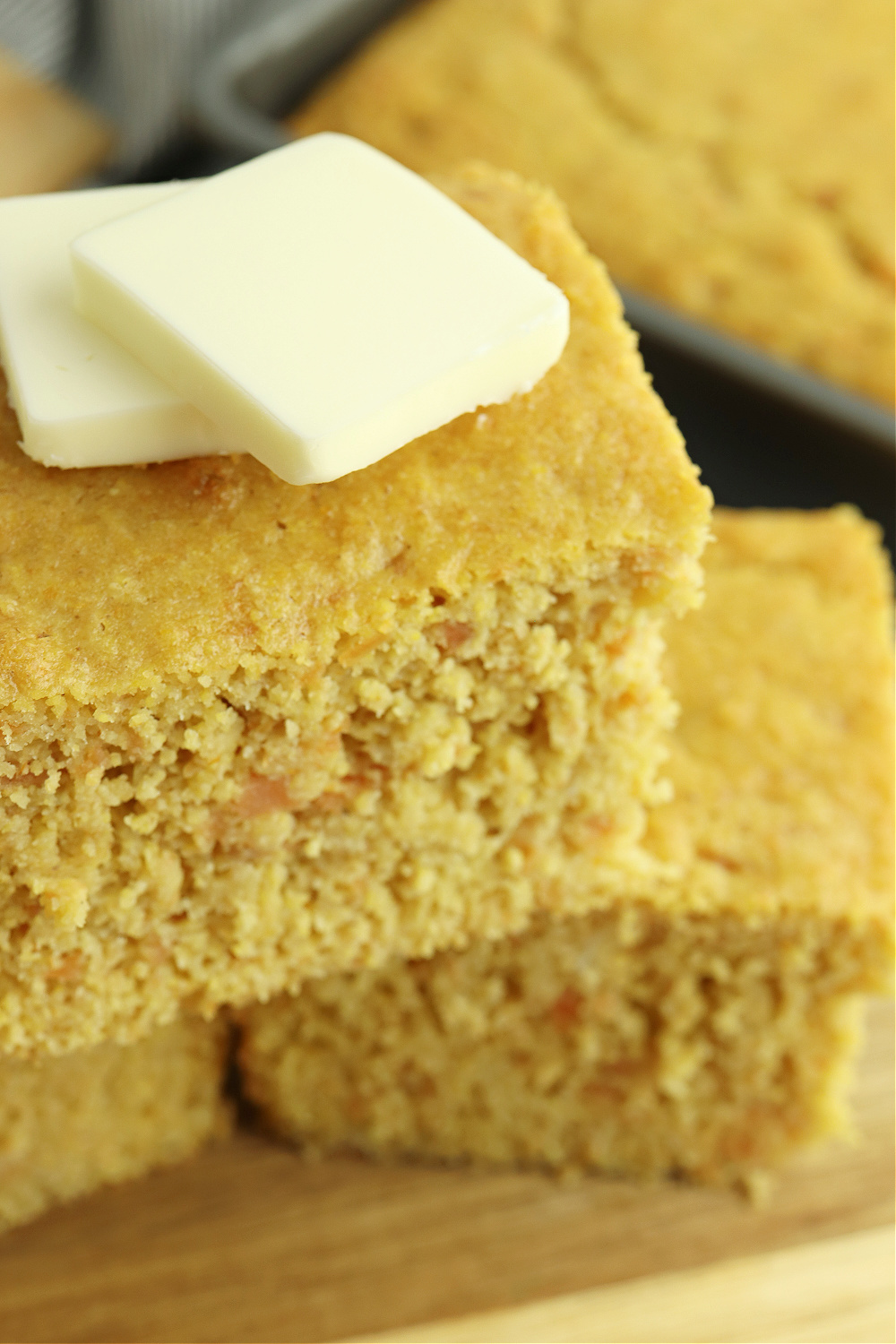 What Is The Best Way To Cook Sweet Potatoes?
You'll need to fully cook your Sweet Potato before adding it to this recipe. Here are some common ways to do this.
BAKING – Baking sweet potatoes in the oven is a common and versatile method. Wash and scrub the sweet potatoes, pierce them with a fork, wrap in foil, and bake at 375°F (190°C) for 45-60 minutes or until tender. Alternatively, you can place them directly on the oven rack.
ROASTING – Cut sweet potatoes in half or cut them into cubes. Toss them with olive oil and your choice of seasonings, and roast in the oven at 425°F (220°C) until they are golden and tender, usually in about 20-30 minutes.
BOILING – Sweet potatoes can also be boiled. Peel and cut them into chunks, then boil until tender.
MICROWAVE – Prick sweet potatoes with a fork, wrap them in a damp paper towel, and microwave on the potato setting until soft, typically around 5-7 minutes per potato.
STEAMING – Steam sweet potatoes until tender, which is a quick and healthy cooking method that retains their nutrients.
INSTANT POT – To cook sweet potatoes in an Instant Pot, start by washing and optionally cutting the sweet potatoes into smaller pieces. Add 1 cup of water to the Instant Pot and place a steamer basket or trivet inside. Arrange the sweet potatoes on the steamer basket, ensuring they don't touch the water. Seal the Instant Pot, set it to "Manual" or "Pressure Cook," and adjust the cooking time based on the size of the sweet potatoes (14-16 minutes for small, 18-20 minutes for medium, and 22-24 minutes for large). After cooking, allow for a natural release of pressure for 10-15 minutes, then check for doneness using a fork.
Recipe Variations
ADD SPICES – Add spices like cinnamon, nutmeg, allspice, pumpkin pie spice or even a pinch of cayenne for a subtle kick.
ADD-INS – Incorporate ingredients like chopped green onions, shredded cheese (e.g., cheddar or pepper jack), crumbled bacon, or diced jalapeños for extra flavor and texture.
ADD A LITTLE MORE SWEETNESS – Adjust the level of sweetness by adding more or less sugar, honey, or maple syrup to the batter.
NUTS! – Add a satisfying crunch with chopped nuts such as pecans or walnuts.
HERBS – Fresh herbs like chopped rosemary, thyme, or sage can provide a savory twist to your sweet potato cornbread.
MAKE IT GLUTEN-FREE – Replace some or all of the buttermilk with sour cream, yogurt, or even coconut milk for a unique flavor and texture.
MAKE THEM AS MUFFINS – Portion the batter into muffin tins for sweet potato cornbread muffins that are perfect for individual servings or snacking.
USE A CAST-IRON SKILLET – Bake in an oven safe Cast-Iron Skillet for an extra-crispy crust.
TOPPINGS – Drizzle honey, maple syrup, or a savory sauce on top of the cornbread for added flavor.
We hope you enjoy this Sweet Potato Cornbread Recipe. We'd love to hear how it turns out in the comment section!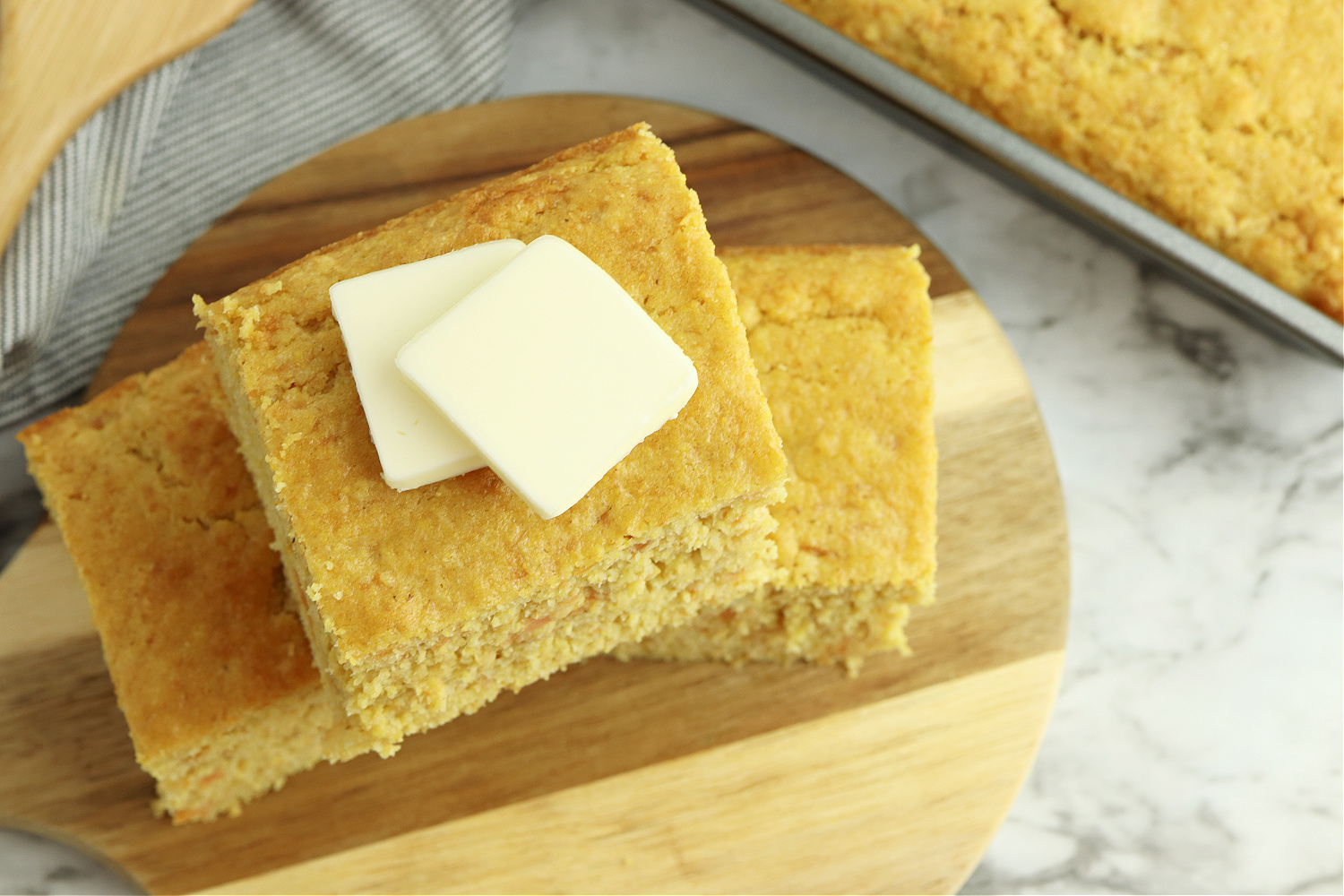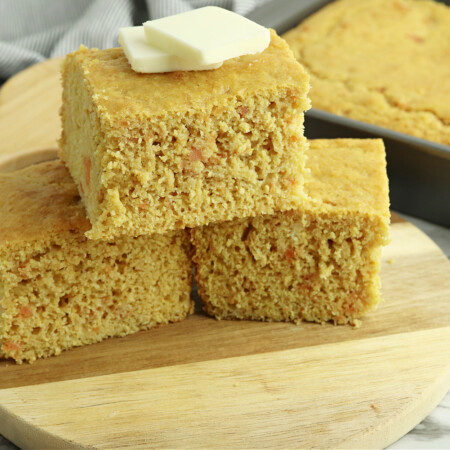 Rate this Recipe
Sweet Potato Cornbread
This Sweet Potato Cornbread is a delectable twist on a classic combines the comforting flavors of sweet potatoes with the rustic charm of cornbread for a side dish that's both sweet and savory. Pair it with soups, stews, proteins, holiday dishes or just about anything!
Ingredients
2

cups

self rising cornmeal

1

cup

flour

1/4

cup

brown sugar

2

teaspoons

baking powder

1/2

teaspoon

baking soda

1

teaspoon

salt

1

cup

mashed sweet potatoes

4

eggs

1

cup

milk

1/4

cup

honey

1/2

butter

melted
Instructions
Preheat the oven to 350 degrees and grease an 8-inch square pan with nonstick cooking spray.

In a large bowl, whisk together the cornmeal, flour, brown sugar, baking powder, baking soda, and salt.

In a separate bowl, stir together the sweet potatoes, eggs, milk, honey, and melted butter.

Pour the sweet potato mixture into the bowl with the dry ingredients and stir until just mixed.

Pour the batter into the prepared pan and bake in the preheated oven for 35 to 45 minutes.
Nutrition
Love this recipe?
Follow @bubbapie for even more delicious recipes!!