This Strawberry Roll Cake is a fun, delicious dessert recipe! Light, airy cake is wrapped around a creamy, whipped layer infused with fresh strawberries!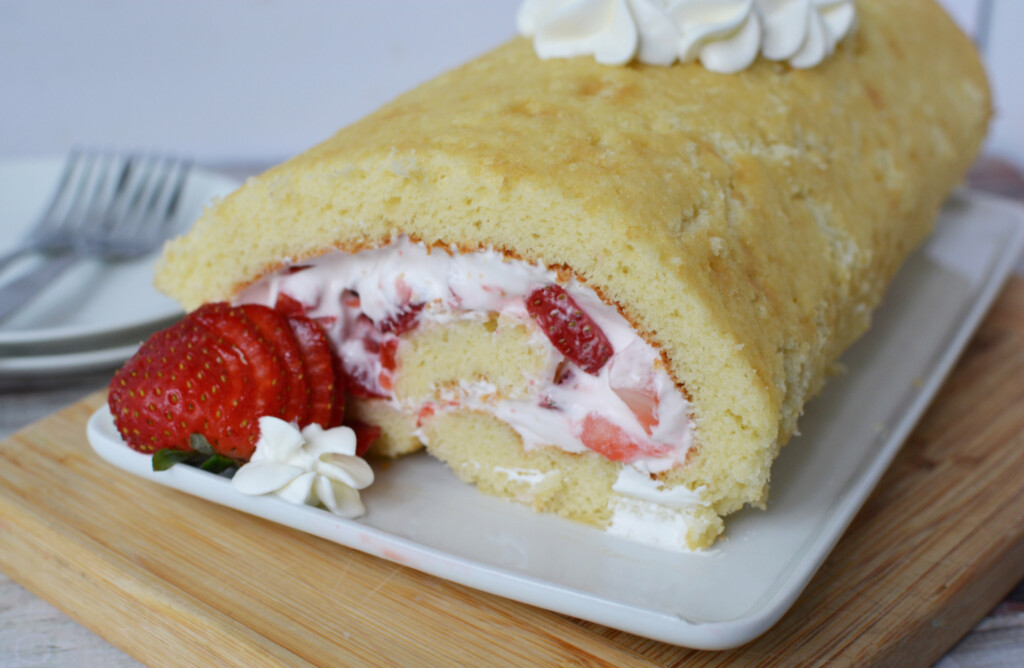 Why You Will Love This Strawberry Roll Cake
NOT TOO RICH – You will always have room for dessert with this recipe! It's light and not too sweet or rich! And with the fresh, bright flavors of strawberries and cream, it's perfect for any festive occasion!
EASY – If you follow our recipe, this roll cake is a breeze to make! We use store bought cake mix for the ultimate shortcut! No need for a special Jelly Roll Pan or any complicated techniques!
DELICIOUS – And yes, it tastes as good as it looks!
What Is A Roll Cake?
Sometimes called a Swiss Roll, Jam Roll, Cake Roll or Jelly Roll, these dessert are very popular in Japan. They generally consist of a light cake or sponge cake layer that is wrapped around a creamy filling.
Strawberry Roll Cake
This Strawberry Roll Cake is so easy to make! And it takes just a couple simple pantry staples that I'm willing to bet you already have in your kitchen! And it's a great use for fresh Strawberries you may have laying around. For step-by-step instructions, check out the printable recipe card below. But here is what you'll need to get started:
EGGS: Used primarily as a binding agent. We use 6 eggs in this recipe to really keep the cake flexible and able to roll.
WHITE CAKE MIX – Any brand will do. You can use other kinds of cake mix as well. Funfetti would be great. Or Yellow or Strawberry Cake Mix would work well in this recipe.
WATER –
VEGETABLE OIL – Used as our shortening. We love baking with oil because it really helps keep the cake super moist.
POWDERED SUGAR – Enough to dust the outside of the roll. And to put into our filling.
HEAVY WHIPPING CREAM – To make our whipped strawberry filling.
STRAWBERRY PRESERVES – You can lighten this dish up a bit by using low sugar Strawberry Preserves.
FRESH STRAWBERRIES – Used in our filling and also as a garnish. Try to find the brightest, freshest strawberries possible!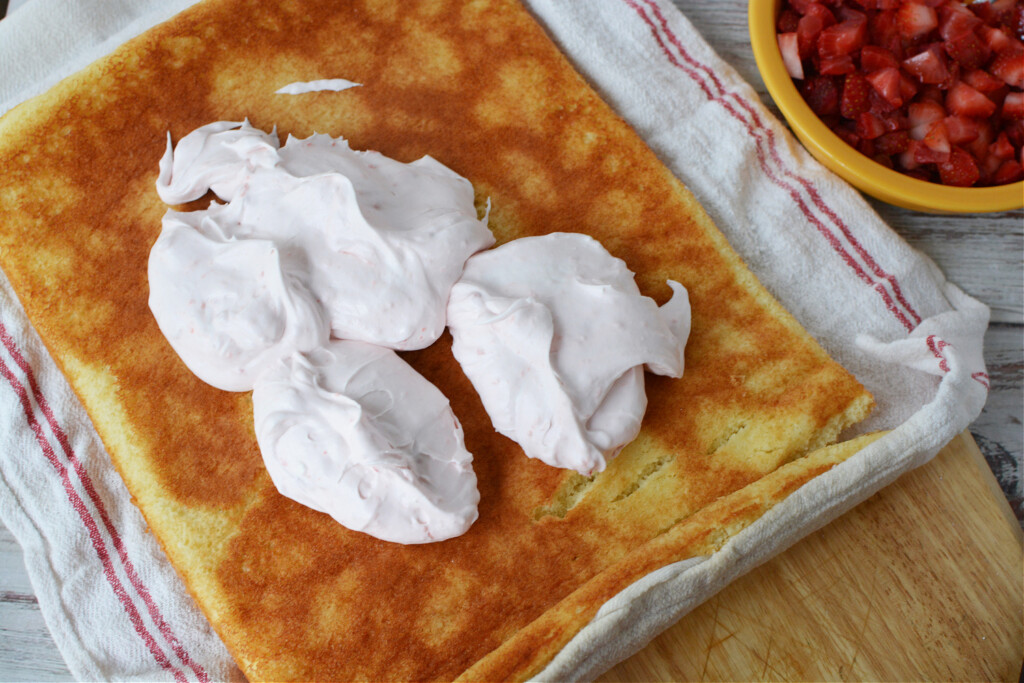 Storage and Freezing
Honestly, I've seen some folks say this Roll Cake needs to be kept in the refrigerator and some say it's ok at room temperature. But I'd error on the side of caution and just keep this in the fridge. It should last about 5 days.
Strawberry Roll Cakes also freeze well! Just wrap it in freezer wrap or plastic wrap or put in a freezer safe container and it will be good in your freezer for up to 4 months. You can thaw it in the fridge. But some people may also like this as a frozen treat!
Notes, Tips and FAQs
WHY IS MY FILLING COMING OUT THE SIDES? – As you roll the cake up, all of the filling inside will get pressed together and start to head outwards. So we advise putting most of the whipped filling in the middle of the cake, with just a thin layer towards the edges. So when it gets pressed together, it excess filling won't come out the sides.
WHY DID MY CAKE BREAK? – You'll want to roll the cake while it is still warm out of the oven, that is when it is most pliable. You may have also over baked your cake, making it too rigid.
USE A SHARP KNIFE – Use a warm, very sharp knife to cut this cake. A dull knife will be messy. Trust us.
DO I HAVE TO USE HEAVY CREAM? – I would not substitute Heavy Cream for anything lighter when making the filling mixture (like half and half). You'll need to stick with Heavy Whipping Cream with this recipe.
REMAINING BATTER – You'll have a little batter leftover. With the remaining batter, you can make 5-6 cupcakes. Bake them for about 14-19 minutes.
Items To Help With This Recipe
We hope you enjoy this recipe for Strawberry Roll Cake. We'd love to hear how it turned out for you in the comment section. Happy Eating!
LOOKING FOR MORE STRAWBERRY DESSERTS? CHECK OUT: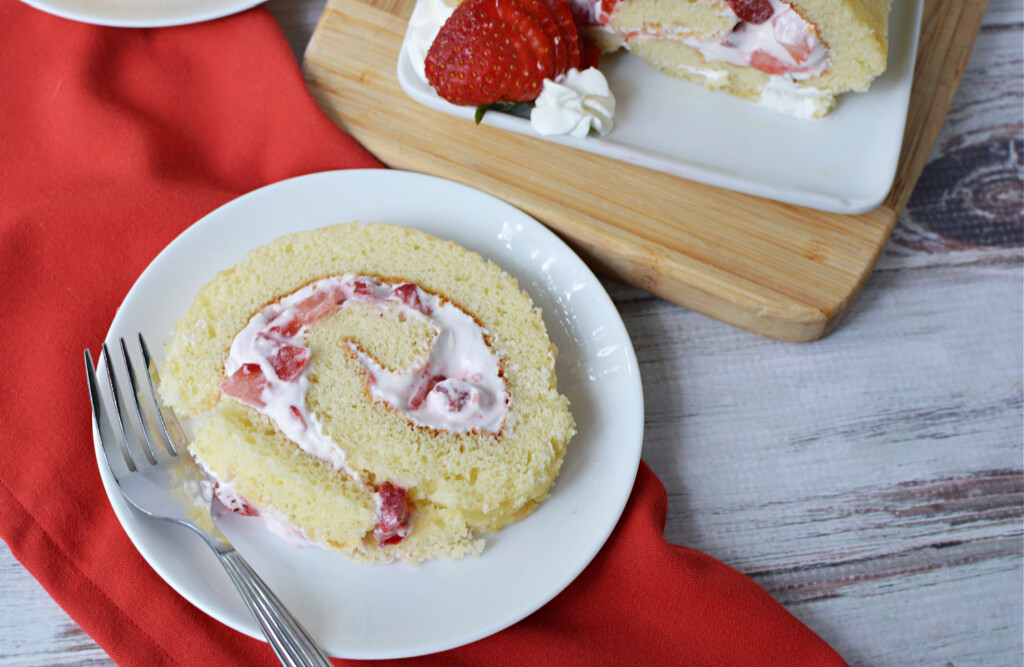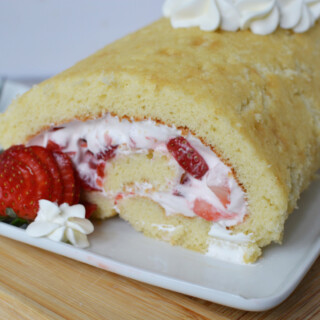 Rate this Recipe
Strawberry Roll Cake
This Strawberry Roll Cake is a fun, delicious dessert recipe! Light, airy cake is wrapped around a creamy, whipped layer infused with fresh strawberries!
Ingredients
6

eggs

1

box

15.25 oz, white cake mix

1/2

cup

water

1/4

cup

vegetable oil

powdered sugar for dusting roll

1

cup

heavy whipping cream

1/2

cup

powdered sugar

1/2

cup

strawberry preserves

1-1/2

cups

chopped fresh strawberries
Instructions
Preheat oven to 350 and line a 15"x10"x1" baking sheet with parchment paper.  Grease parchment paper with nonstick cooking spray.

Add eggs to a mixing bowl and beat for 5 minutes until light lemon in color and bubbly/frothy.

Add cake mix, water and vegetable oil and beat well.

Measure 3-1/2 cups of batter. Spread batter into prepared pan and bake 14-16 minutes or until edges begin to brown and center is set.

Dust a towel with powdered sugar and place the cake onto the towel, parchment paper facing up.

Peel away the parchment paper and discard. Starting on a short end, roll up the towel and cake to create a log. Let stand to cool completely.

Add heavy whipping cream and powdered sugar to a mixing bowl fitted with a wire whisk. Beat for 5-6 minutes or until stiff peaks form. Remove about 1/2 cup of whipped cream and place it into a piping bag fitted with a tip. Set aside.

Fold in strawberry preserves.

Unroll cake and spread filling in the center.

Top with fresh cut strawberries.

Re-roll and place onto a serving platter. Add garnish of fresh whole strawberries and reserved whipped topping. Cover and refrigerate until ready to serve.

Slice into 1" slices and serve.
Nutrition
Love this recipe?
Follow @bubbapie for even more delicious recipes!!