This Pineapple Casserole is a classic recipe that works great as a side dish or dessert. Pineapple, cheese, sugar and crackers come together for a unique and delicious side dish!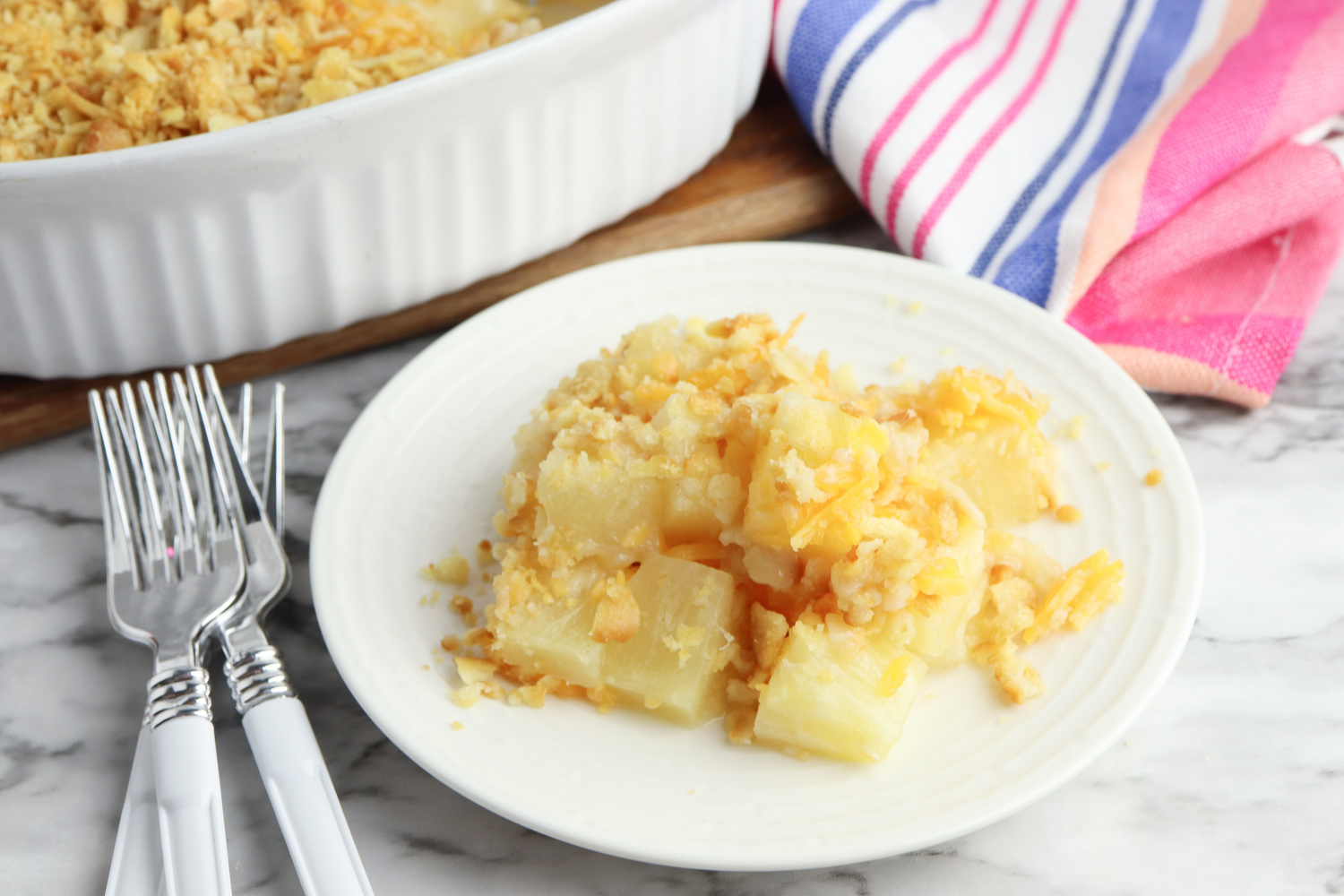 Why You Will Love Pineapple Casserole
EASY – With just a couple of ingredients and a couple minutes of prep, this is a great side dish to throw together for any occasion!
GREAT FOR ANY OCCAISION – This dish goes great with either Turkey or Ham and would be great on a holiday table! And it would also go great with any smoked meat or BBQ dish at your next picnic! And this dish will work as both a side dish or a dessert.
DELICIOUS – This is one of those dishes that you've just got to try to appreciate fully. All those sweet and salty flavors just work together!
What Is Pineapple Casserole?
Sometimes it's called Baked Pineapple or Scalloped Pineapple. It's a dish that has been around for decades. Definitely one of those "my grandma used to make this" dishes! Canned pineapple, shredded cheddar cheese, sugar, flour and a butter cracker topping sounds like a weird combination, we know. But once you try it, you'll understand it!
How To Make Pineapple Casserole
For step-by-step instructions, check out the printable recipe card below. But here is what you'll need to get started:
CANNED PINEAPPLE – Drained (save the juice). We used pineapple chunks. But you could use the smaller pineapple tidbits or even crushed pineapple if you'd like.
PINEAPPLE JUICE – Drained from the can.
SUGAR – This macerates the pineapple a bit and softens the pineapple.
ALL PURPOSE FLOUR – Use Gluten-Free Flour if you need to make this recipe gluten-free.
BUTTER – Unsalted and melted.
BUTTER CRACKERS – Crushed and mixed with the butter for your buttery crumb topping. We used Crushed Ritz Crackers. Again, if you need to make this dish gluten-free, you can use gluten-free crackers.
SHARP CHEDDAR CHEESE – Shredded. We recommend using freshly shredded cheese rather than pre-shredded cheese you can buy at the store. Freshly shredded melts a lot better.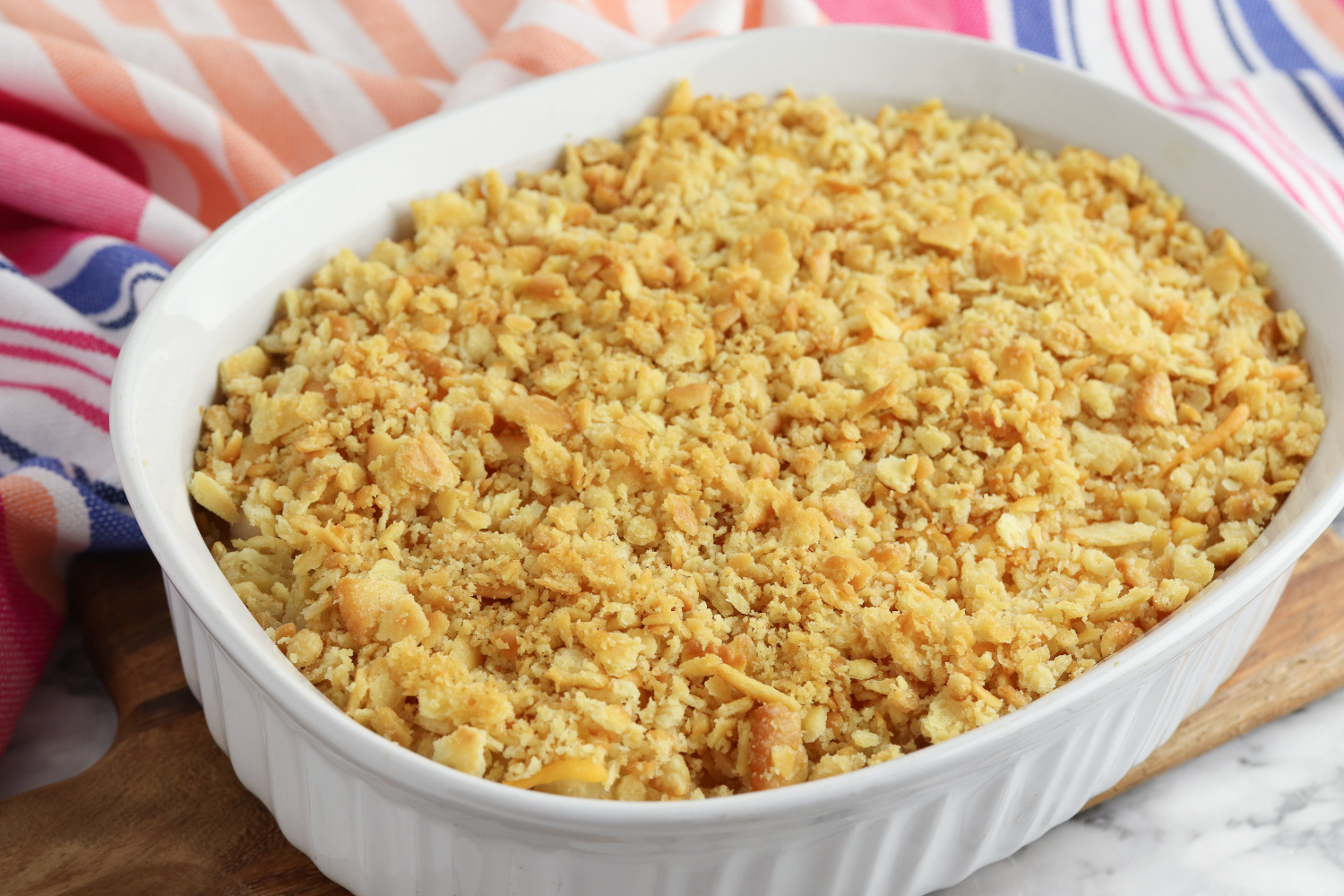 Storage, Leftovers and Freezing
Store leftovers in an airtight container in your refrigerator. They should be good for about 4 days in your fridge. But, that crispy cracker crust will get softer the longer it sits.
Reheat in an oven preheated to 350 degrees for 10 minutes.
I would not freeze this recipe. The cracker crust would get pretty soggy as it thaws.
What To Serve Pineapple Casserole with?
Baked Pineapple Casserole goes great with any savory meats. Easter Ham, Thanksgiving Turkey during the holidays would be perfect to pair with this dish. But it would also be great with any BBQ dish too!
And, as I mentioned before, this makes a great dessert too! You could even top it with vanilla ice cream or whipped cream (or both!).
Can You Make This Ahead Of Time?
Yes, you can make Pineapple Casserole ahead of time. I'd combine your pineapple casserole ingredients and put them in a prepared casserole dish. But don't put the buttery cracker crumbs on it yet. Keep those separate. Put the topping on right before you are ready to put it in the oven.
Notes, Tips and FAQs
CAN YOU USE FRESH PINEAPPLE FOR PINEAPPLE CASSEROLE – We advise against it. Canned pineapple is just a little sweeter and softer and works better in this recipe. And we will need the juice from the can.
HELP, MY TOPPING IS GETTING BURNT IN THE OVEN! – If your buttery cracker topping is starting to get too dark before baking time is over, simply cover the dish with some aluminum foil. You want to keep the topping a nice golden brown.
ADD INS – Add Walnuts, Pecans, Coconut Flakes or Maraschino Cherries to make this even more of a dessert.
DO YOU NEED TO USE CHEDDAR CHEESE? – You can really use any type of shredded cheese you'd like in this dish. Feel free to experiment.
WHAT KIND OF BAKING DISH SHOULD YOU USE? – We used an 8×8 baking dish. But I've seen some people make this in a 9 inch pie dish.
We hope you enjoy this Southern Pineapple Casserole Recipe. Let us know how it turns out in the comment section!
LOOKING FOR MORE PINEAPPLE DISHES? CHECK OUT: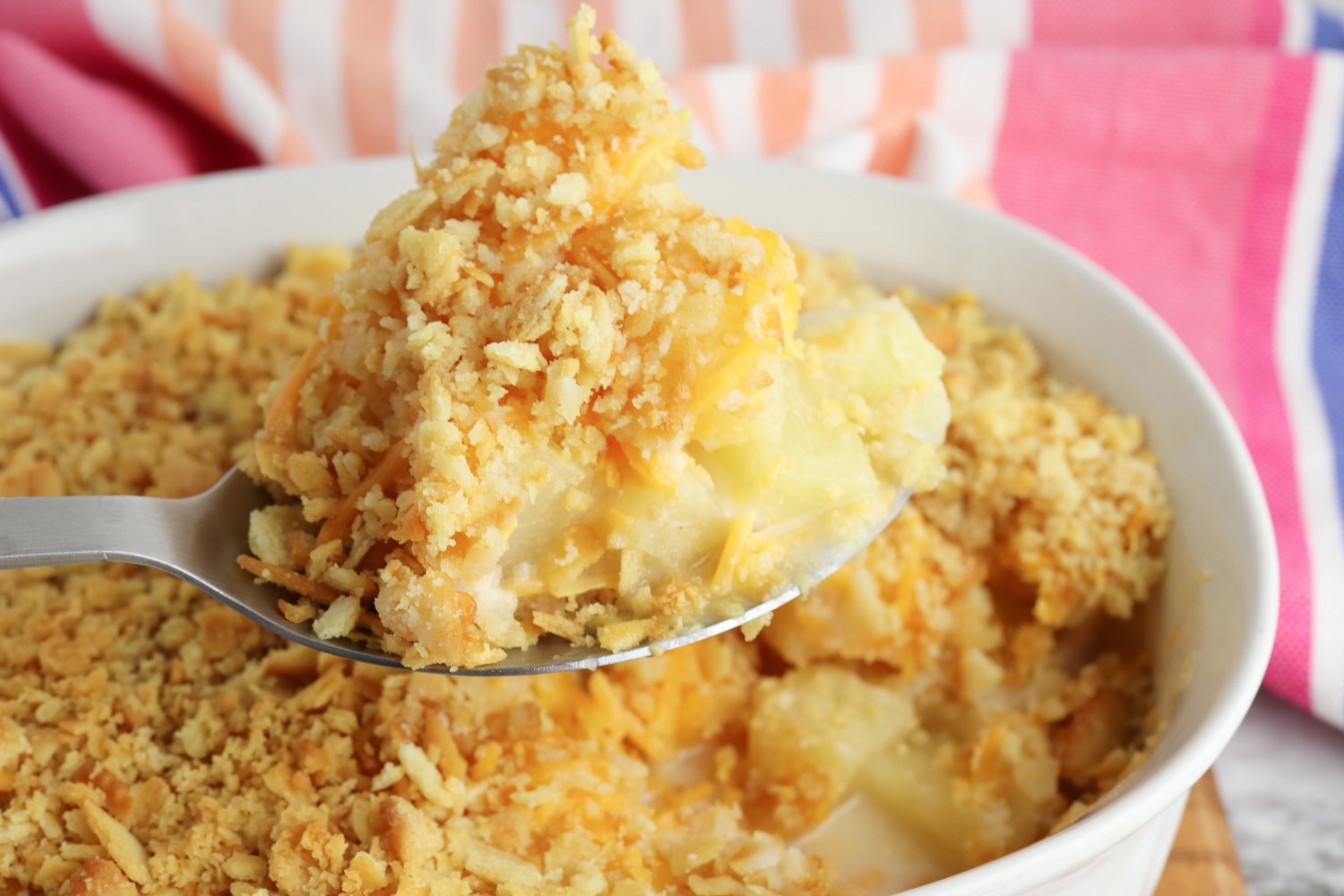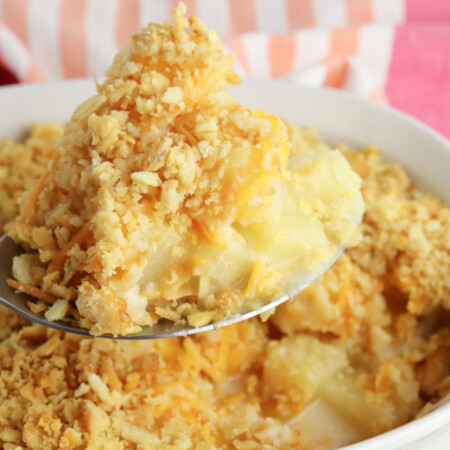 Rate this Recipe
Pineapple Casserole
This Pineapple Casserole is a classic recipe that works great as a side dish or dessert. Pineapple, cheese, sugar and crackers come together for a unique and delicious side dish!
Ingredients
2 20-

ounce

cans pineapple

drained

6

tablespoons

pineapple juice

drained from the can

1/4

cup

sugar

1/4

cup

flour

1/4

cup

butter

melted

1

sleeve butter crackers

Ritz, crushed

1

cup

shredded cheddar cheese
Instructions
Preheat the oven to 350 degrees.

Stir together the pineapple juice, sugar, and flour in a medium bowl.

Add the pineapple chunks and stir to coat.

In a separate bowl, stir together the melted butter and crushed crackers.

Spread the pineapple mixture in an 8x8 baking pan and top with the shredded cheese.

Sprinkle the crushed crackers over the top of the cheese.

Bake in the preheated oven for 30 minutes, until the mixture is bubbly and cheese is melted.
Nutrition
Love this recipe?
Follow @bubbapie for even more delicious recipes!!