With this Homemade Moonpie Recipe, now you can make this Southern Classic Treat in your own kitchen! Marshmallow creme is sandwiched between two graham cracker cookies and dipped in chocolate!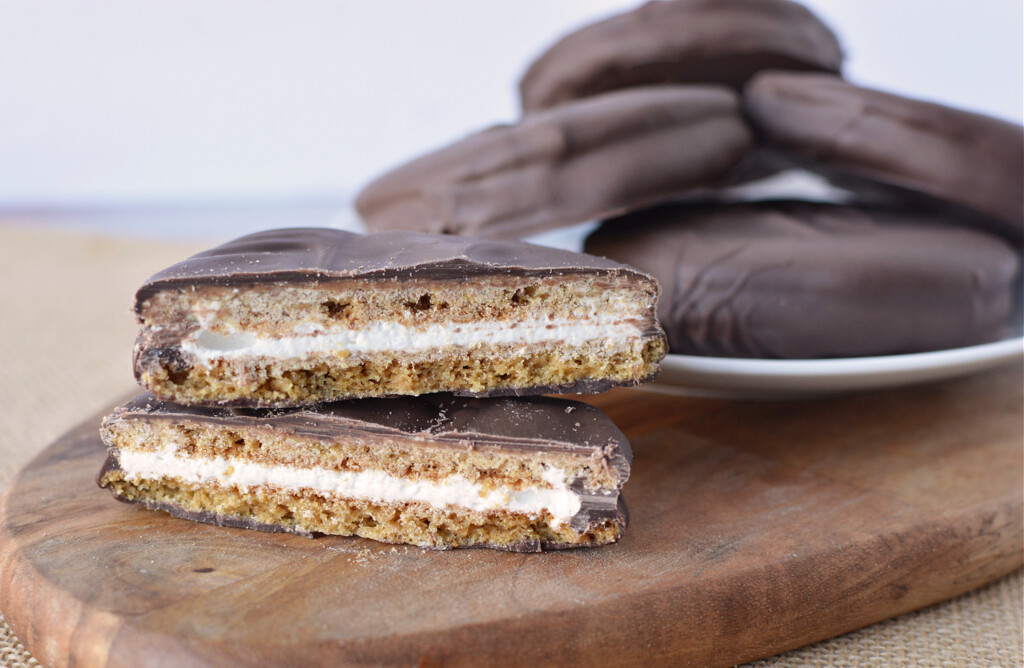 Why You Will Love This Moonpie Recipe
EASY RECIPE – You do not need to be a pastry chef to make this recipe! It's pretty straightforward and simple! Just follow the directions below and we will talk you through it!
KID FRIENDLY – Easy to eat and pick up with little hands, these are great treats for kids as well!
CLASSIC SOUTHERN RECIPE – It's fun to make your own homemade versions of famous recipes from all over the United States! Like the Apple Cider Donut Cake from Vermont or these Avalanche Bars from Colorado. But no where is the US has more famous recipes than the South!
What Are Moonpies?
Invented about 100 years ago by the Chattanooga Bakery, it was inspired by the request of a coal miner asking for a treat that had graham crackers and marshmallows and was "as big as the moon". What resulted was a graham cracker sandwich with marshmallow filling, all dipped in a chocolate shell.
From there, it became a common treat throughout the South. And a common sight in Mardi Gras in New Orleans, being throw from floats into the waiting hands of children (and adults) anywhere.
And yes, it's spelled all one word (Moonpie), not two words (Moon Pie).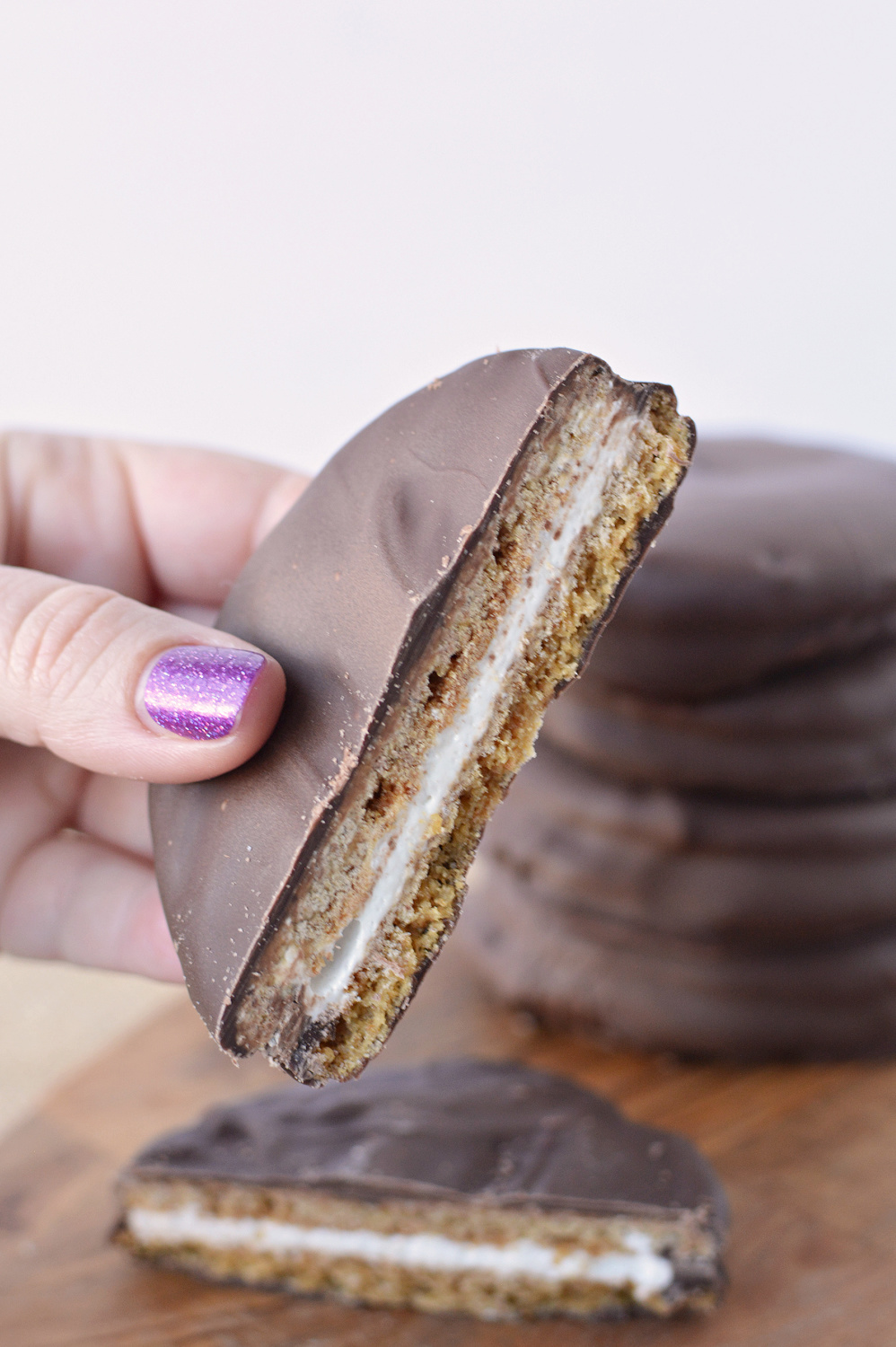 How To Make a Homemade Moonpie
For step-by-step instructions, check out the printable recipe card below. But here is what you'll need to get started:
GRAHAM CRACKER CRUMBS – To get that sandy texture of the originals, you'll want your crumbs to as fine as possible. We recommend using a food processor.
FLOUR – Any brand of all-purpose flour will work.
LEAVENING AGENTS – For this recipe, use a mixture of both baking soda and baking powder.
SALT – It's always important to bake with salt to offset the sweetness of any dessert.
BROWN SUGAR – We recommend using light brown sugar to give these cookies that classic rich flavor.
BUTTER – Unsalted and softened to room temperature.
VANILLA EXTRACT – We always recommend using a high-quality vanilla extract for any baking recipe. I've seen some versions of this recipe use Coconut Extract, we haven't tried this, but go for it if it sounds good.
EGG – Room temperature.
MARSHMALLOW CREME – You need Marshmallow Creme for this recipe, not Marshmallow Fluff. They are different products and not interchangeable.
DIPPING CHOCOLATE OR CHOCOLATE ALMOND BARK – To melt and use as the outside chocolate shell.
Leftovers, Storage and Freezing
Store leftover Moonpies in an airtight container at room temperature. They should stay good for about 5 days. Do to the Marshmallow Creme filling, we do not advise freezing Moonpies. You can make the cookies and freeze those if you'd like before assembling them further.
We hope you enjoy this Homemade Moonpie Recipe! We'd love to hear how it turns out in the comment section below. Happy eating!
LOOKING FOR MORE GREAT TREATS FROM AROUND THE COUNTRY? CHECK OUT: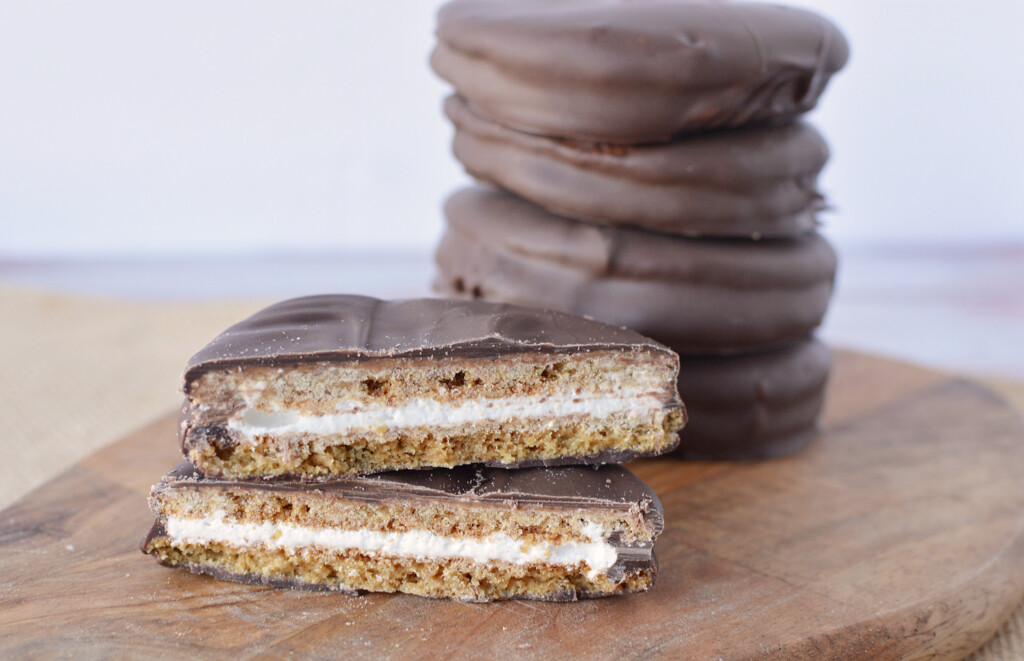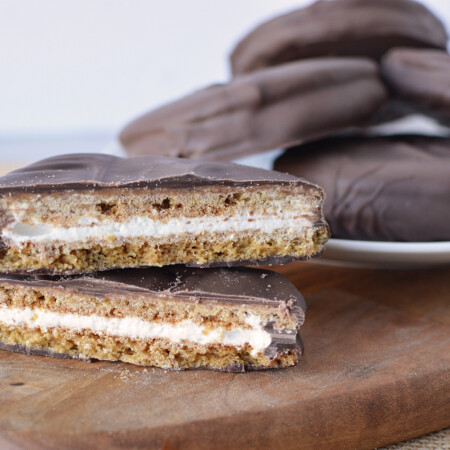 Rate this Recipe
Homemade Moonpie Recipe
With this Homemade Moonpie Recipe, now you can make this Southern Classic Treat in your own kitchen! Marshmallow creme is sandwiched between two graham cracker cookies and dipped in chocolate!
Ingredients
1-1/2

cups

graham cracker crumbs

one full package of 9 whole crackers

3/4

cups

all purpose flour

1/2

teaspoon

baking soda

1/2

teaspoon

baking powder

1/4

teaspoon

salt

3/4

cup

light brown sugar

6

tablespoons

butter

softened

1

teaspoon

vanilla extract

1

egg

1

small tub

7 oz, marshmallow cream

18-20

ounces

dipping chocolate or chocolate almond bark
Instructions
Preheat oven to 350 and line a baking sheet with parchment paper. Set aside.

Mix together graham cracker crumbs, flour, baking soda, baking powder and salt. Set aside.

Beat together brown sugar and butter until fluffy, about 4 minutes.

Add vanilla and egg and beat until combined well.

Add dry ingredients and beat until combined.

Shape dough into a ball and place onto a lightly floured surface. Use a rolling pin to roll dough 1/4" thick.

Use a 3" cookie cutter to create 18-20 cookie rounds. You will need to re-roll the scraps of the dough just like you would sugar cookies.

Place rounds onto prepared baking sheet and bake for 9-10 minutes. Remove from oven and cool completely.

Spread 2 tablespoons marshmallow cream onto the bottom side of a cookie. Gently press another cookie on top.

Repeat until you have 9-10 moonpies. Freeze for 20 minutes.

Heat chocolate according to package directions and dredge moonpies into chocolate, flipping over to coat both sides. Let stand to harden on wax paper. Repeat until all moonpies are covered with chocolate.
Nutrition
Love this recipe?
Follow @bubbapie for even more delicious recipes!!