This Sour Cream Raisin Pie is a classic, old fashioned dessert recipe from Iowa and the Midwest. Yes, it's an odd name, but this creamy custard pie is definitely something you should try out!
Why You'll Love Sour Cream Raisin Pie
OLD FASHIONED – You gotta just love a classic, old fashioned recipe just like your grandma use to make. It's like being transported back in time a couple of decades. This Sour Cream Raisin Pie is just like that!
UNIQUE – Next time you need to bring a dessert for a potluck, pitch in or party, try out this pie. It will be something a little different and your friends and family will love it! That creamy custard filling dotted with plump raisins and the meringue topping is definitely eye catching!
What Is a Sour Cream Pie?
So, where did Sour Cream Raisin Pie come from? There is a good chance this pie gained it's popularity decades ago when having fresh fruit laying around was a little more challenging. Especially in places like Iowa where it was harder to grow throughout the year. But raisins were much easier to have on hand. And so this "fruit" pie became popular for entertaining. It is thought to be created by the Amish or German Population in the Midwest. It was brought to church functions, funeral wakes and potlucks.
It tastes a like like any other custard pie. And with ingredients like cloves and cinnamon, it also works great as a Holiday Recipe, especially perfect for Thanksgiving. But you can make it any time of year.
Sour Cream Raisin Pie
You may be a little timid about the combination of sour cream and raisins in this pie. But, if you plump up the raisins as we describe, they become so juicy and tender, and not chewy at all. Combine that with the light, custard pie filling and you've got a really tasty dessert on your hands.
For step-by-step instructions, check out the printable recipe card below. But here is what you'll need to get started.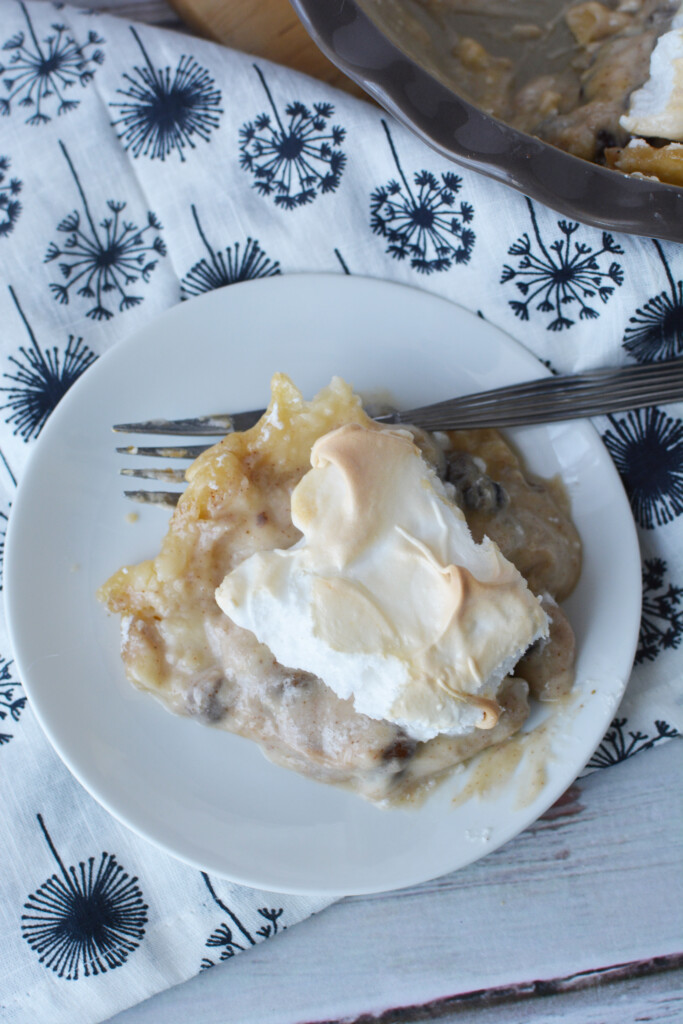 What Ingredients Are In Sour Cream Raisin Pie?
PIE CRUST – One pie crust. Cooked and cooled. We didn't include instructions for making your pie crust. We trust that you either have your own recipe already or, you can just take a shortcut and use a store bought pie shell (we don't judge). But, if you are looking for an easy pie crust recipe, check this one out.
RAISINS – Any brand of raisins. Just make sure to plump them up using the directions below.
GRANULATED SUGAR
CORNSTARCH – Helps to give our custard that delicious texture.
SALT
GROUND CLOVES – The mixture of the cloves and cinnamon gives that pie a delicious flavor perfect for the Fall and/or Thanksgiving.
GROUND CINNAMON
SOUR CREAM – You can lighten this dish up a little by using low fat sour cream.
MILK – We used 2% milk. But, again, you can try using skim milk to lighten up. On the other side, use half and half to make it a little thicker and richer.
EGGS – Divided between whites and yolks.
Do You Need To Refrigerate Sour Cream Raisin Pie?
Sour Cream Raisin Pie needs to be kept chilled in your refrigerator. Keep it in a covered pie dish. We like to use this one. It should stay good in your fridge for about 4-5 days.
Can this Raisin Pie be frozen? We do not recommend freezing this pie. The custard and meringue just does not freeze or thaw well.
We hope you enjoy this Sour Cream Raisin Pie Recipe! Please let us know how it turns out in the comments section! Happy eating!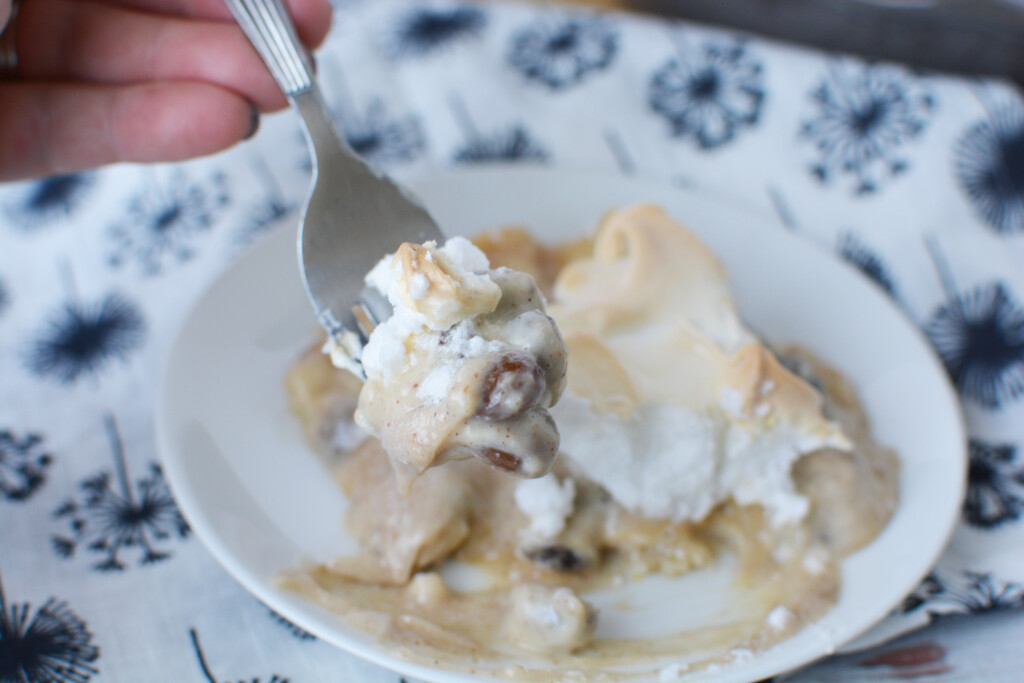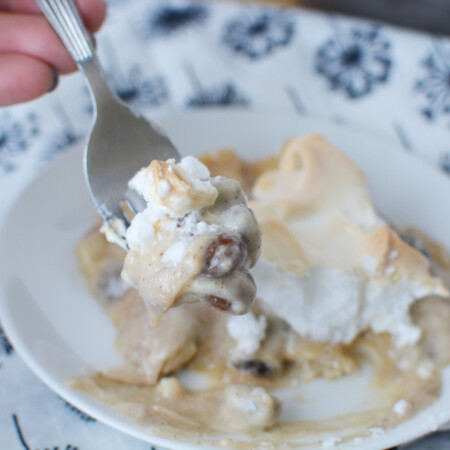 Rate this Recipe
Sour Cream Raisin Pie
This Sour Cream Raisin Pie is a classic, old fashioned dessert recipe from Iowa and the Midwest. Yes, it's an odd name, but this creamy custard pie is definitely something you should try out!
Ingredients
1

single pie crust

cooked and cooled

1

cup

raisins

2/3

cup

granulated sugar plus 6 tablespoons

3

tablespoons

cornstarch

1/2

teaspoon

salt

divided

1/4

teaspoon

ground cloves

1/2

teaspoon

ground cinnamon

1

cup

sour cream

1/2

cup

milk

3

eggs

divided (divide yolks and whites)
Instructions
Place raisins into a saucepan and cover with water. Heat over medium high heat to boiling.

Remove from heat and set aside to cool.

Add 2/3 cup sugar, cornstarch, 1/4 teaspoon salt, cloves and cinnamon to a large saucepan and mix.

Stir in sour cream and milk.

Heat over medium high heat, whisking constantly until thick and bubbly.

Reduce heat to low and cook while constantly whisking for an additional 2 minutes. Slowly drizzle in 3 egg yolks and whisk.

Boil, cooking for 2 minutes before removing from heat.

Drain raisins, reserving 1/2 cup liquid.

Pour liquid into the filling and add raisins. Mix well.

Pour into prepared pie crust, spreading evenly. Set aside.

Add egg whites and 1/4 teaspoon salt to a mixer and beat until soft peaks form. Gradually add 6 tablespoons sugar while beating.

Beat on high until stiff peaks form to create meringue.

Spread over filling.

Bake for 15 minutes or until top just begins to brown. Remove from oven and cool for one hour. Refrigerate for 1-2 hours before serving.
Nutrition
Love this recipe?
Follow @bubbapie for even more delicious recipes!!