This Fluffernutter Sandwich is a fun, delicious New England Classic! Peanut Butter and Marshmallow Fluff are spread on soft, white bread for an easy lunch or snack!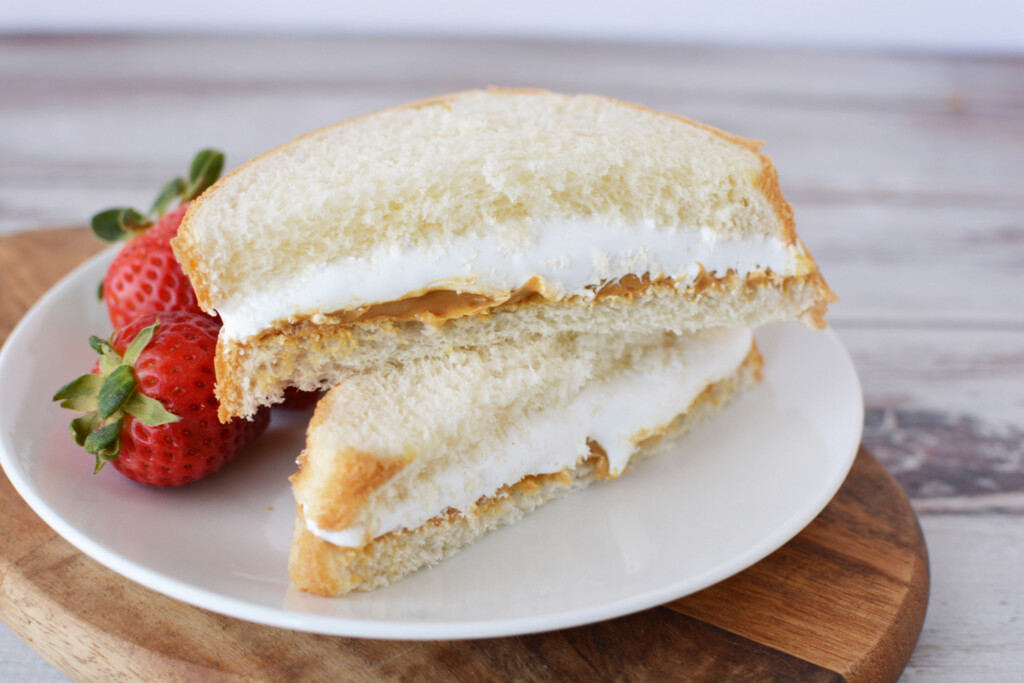 Why You'll Love This Recipe
EASY – There is a reason that almost every kid in the New England area has found childhood memories of eating Fluffernutter Sandwiches for their school lunch or as a quick meal on the weekends. This recipe is SO easy to make. Just 3 ingredients and about 1 minute of prep time!
DELICIOUS – Most of us LOVE sweet and savory combinations. And the Peanut Butter and Jelly Sandwich is always a great option. But combining peanut butter with Marshmallow Fluff gives your taste buds an out-of-this-world experience!
NOSTALGIA – We are all about comfort food here at Bubba Pie. And there is just something so satisfying about enjoying a truly American creation that families have enjoyed for decades.
What Is A Fluffernutter Sandwich?
A Fluffernutter Sandwich is an old fashioned recipe that's been around for about a century. At it's core, it is simply peanut butter and Marshmallow Fluff spread between two pieces of soft, white bread. Although it can be dressed up in different ways (see suggestions below).
In the early 1900's, Marshmallow Creme (and later Marshmallow Fluff) was being developed and suggested for use in different combinations. A lot of this was to put in sodas or mix with ice cream. Eventually, a Massachusetts company run by brother and sister Emma and Amory Curtis put out a recipe book which involved combining their brand of Marshmallow Fluff with peanut butter in a sandwich. This seems to be the first official mention of the Fluffernutter Sandwich. From there, it's popularity grew and it hasn't changed much since.
It's now part of the New England identity. And the sandwich along with Marshmallow Fluff itself, is so popular, Sommerville, Ma (the birthplace of the sandwich) has a festival for it every year!. National Fluffernutter Day occurs every year in October 8th! This sandwich is so popular in the region, that a lawmaker in the Massachusetts legislature wrote a bill to outlaw the serving of Fluffernutter Sandwiches in schools (because, let's face it, it just really isn't very healthy at all). But the introduction of the bill drew outrage from fierce Fluffernutter fans and the bill was dropped!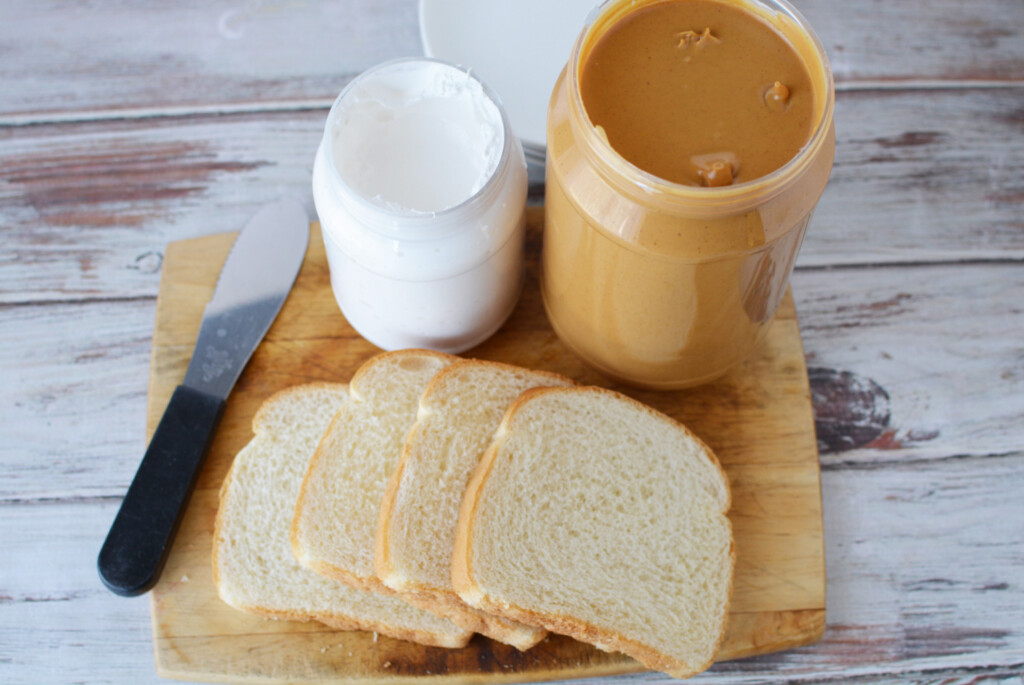 Fluffernutter Sandwich
As described above, it really couldn't be any easier. Just three ingredients and a couple of steps. But read below for some explanation and guidance.
MARSHMALLOW FLUFF – Ok. So getting the real, authentic Marshmallow FLUFF in the blue and white jar with the red lid is pretty important. Do not use Marshmallow Cream. If you can't find marshmallow fluff, you can make your own.
PEANUT BUTTER – Most people use traditional, creamy peanut butter. But you can use crunchy if you'd like. While natural peanut butter is delicious, and great in lots of other recipes, we don't advise using it for Fluffernutter Sandwiches.
BREAD – Soft, white slices of bread (think Wonder Bread) is perfect for this recipe. And, traditionalists may say that is the ONLY bread to use. But you can also improvise this by using Wheat, Whole Grain, Sourdough or any other bread that sounds good to you.
Variations
ADDITIONS – Along with your peanut butter and Marshmallow Spread, you can also add bananas, bacon, honey, jam, jelly, crushed graham crackers or chocolate (either a chocolate spread or chocolate chips!).
SUBSTITUTIONS – Instead of using traditional peanut butter, use Nutella.
GRILL IT! – Once you make your sandwich, heat it on a skillet like you would a grilled cheese sandwich. You'll get a melty, toasty, warm treat that you won't be able to believe!
LOOKING FOR MORE SANDWICH RECIPES? CHECK OUT:
We hope you enjoy this Fluffernutter Sandwich Recipe! We'd love to hear your thoughts on this Comfort Food Staple. Tell us your stories about it or how you like to make yours in the comment section below!
Happy Eating!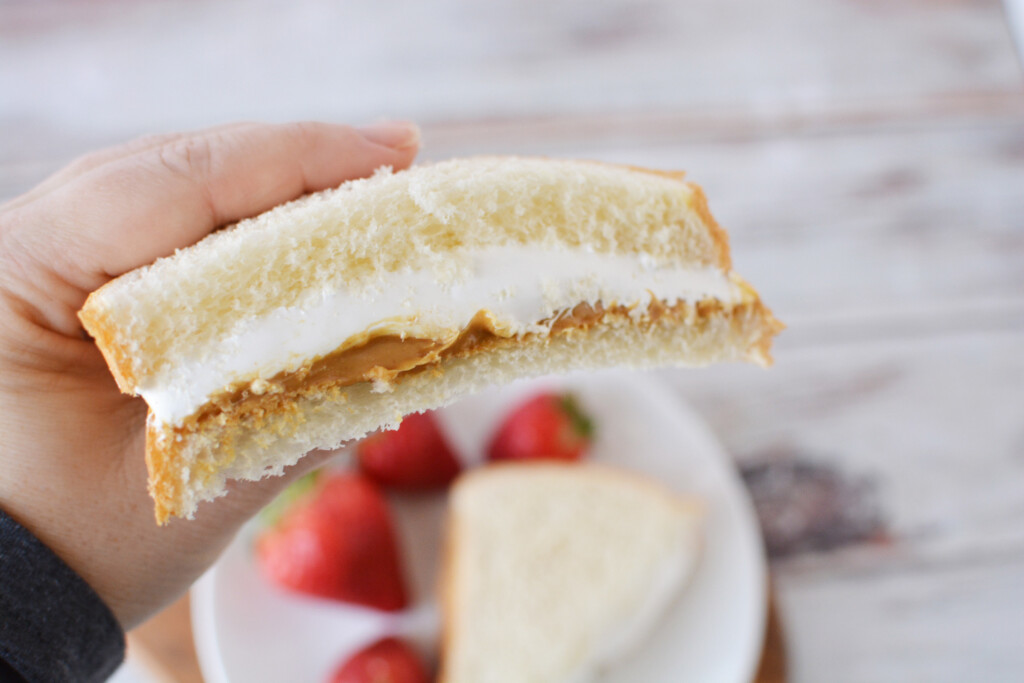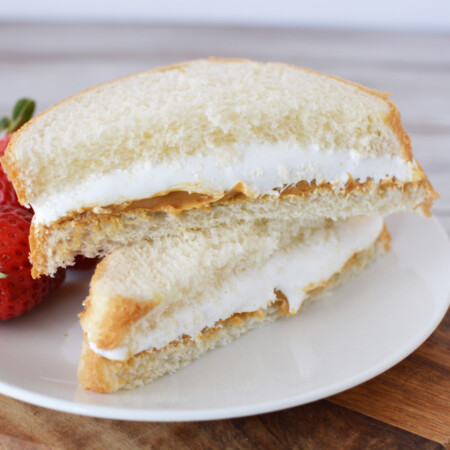 Rate this Recipe
Fluffernutter Sandwich
This Fluffernutter Sandwich is a fun, delicious New England Classic! Peanut Butter and Marshmallow Fluff are spread on soft, white bread for an easy lunch or snack!
Ingredients
2

slices

white bread

3/4

ounces

marshmallow fluff

3/4

ounces

peanut butter
Instructions
To make one sandwich, spread peanut butter on one slice of white bread.

Spread marshmallow fluff on a second slice of white bread. Press both sides together to form a sandwich.

Cut diagonally down the sandwich to create 2 triangles and serve both halves.
Nutrition
Love this recipe?
Follow @bubbapie for even more delicious recipes!!